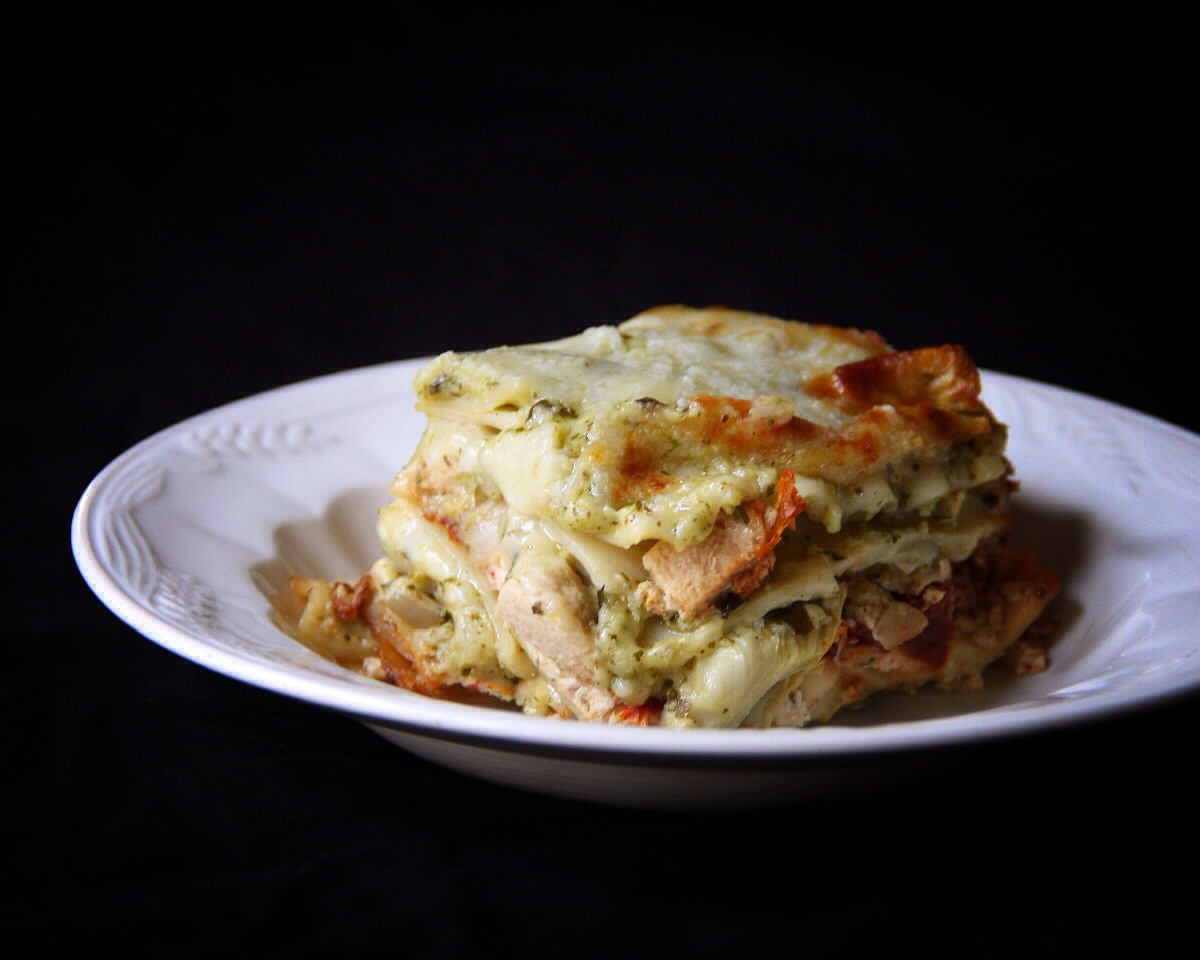 For as long as I can remember, my mom has always had an ever-growing collection of cookbooks. The extensive collection was (and probably still is) filled with local Hawai'i recipe books, Korean, Japanese, and Chinese cookbooks up the wa-zoo. There were books whose covers were aged, pages stained with various ingredients from when she cooked those particular recipes. When we went to the library, she almost immediately went to the cookbook section to scope out new books as well (a trait I have happily, apparently, inherited).
One of the cookbooks I lovingly recall is the original Moosewood Cookbook by Mollie Katzen, first published in the 1970's.  The book was a gift to my parents when they married, from my grandparents. The original book contains handwritten recipes, colorless, hand-drawn pictures. (There's a newer version of this cookbook, where color has been added and many of the recipes have been slightly altered.)
My mom had a handful of staple recipes she'd use from the Moosewood Cookbook. The pasta al cavolfiore (or spaghetti with cauliflower) was probably my most frequent request. The broccoli mushroom noodle casserole was another go-to favorite around our house. However, my top favorite recipe — the one I'd get most excited about when I saw the marinara cooking on the stove, and the cookbook laid out on the kitchen counter, was the vegetable lasagna.
A good lasagna is no small feat.  I think every aspect needs to be flavorful, but not so much that one part of the lasagna overpowers another layer of flavor. The following lasagna isn't one you'll find in the beloved Moosewood, but it's a good one! This pesto lasagna is creamy, very filling and most definitely doesn't lack in flavor.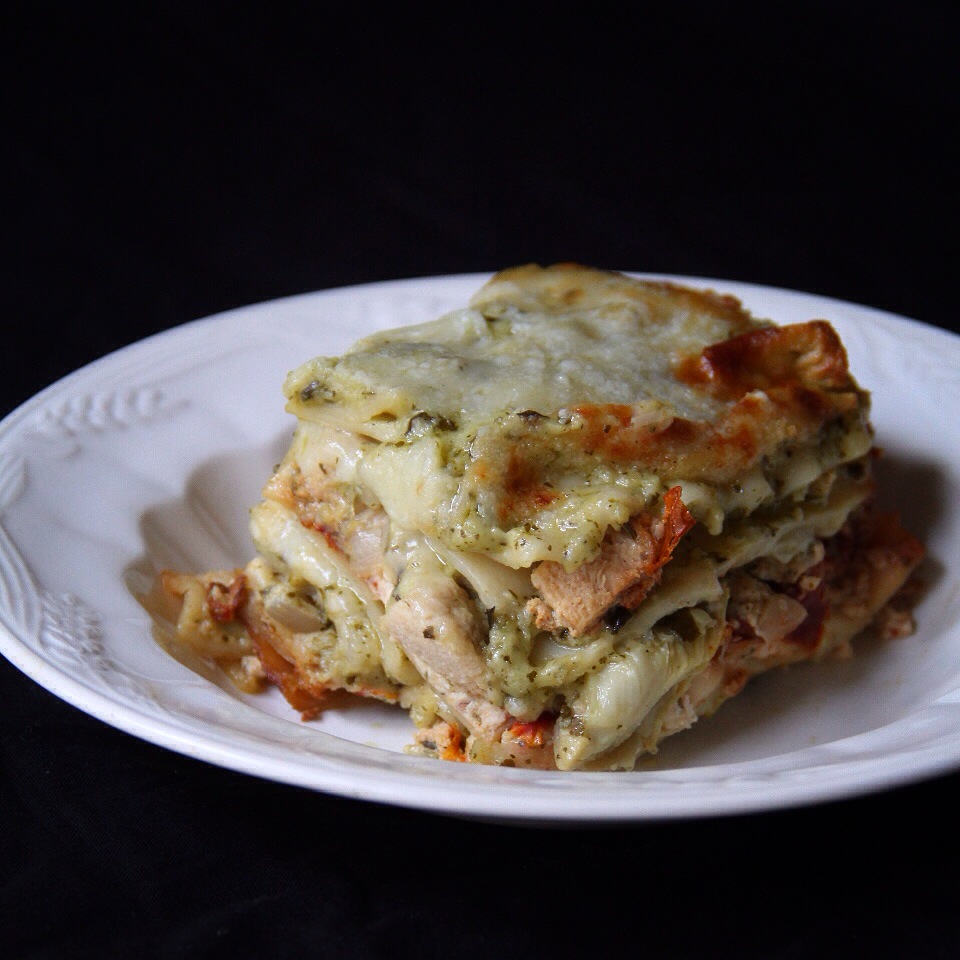 Creamy Pesto Chik'n Lasagna with Artichokes and Sun Dried Tomato Ricotta
Yields 6-10 servings.
Ingredients:
1- 16 ounce box lasagna noodles
4 ounces butter
1/4 cup all-purpose flour
8 ounces prepared basil pesto
1 1/2 cups No-Chicken broth
1 cup whole milk
1/2 cup heavy cream
1 teaspoon granulated garlic
1 teaspoon salt
1/2 teaspoon ground pepper
1/4 cup olive oil
2 shallots, minced
2 cloves garlic, minced
18 ounces Quorn Chik'n Tenders
1- 19.75 ounce can quartered artichoke hearts
16 ounces whole milk ricotta
2 eggs, beaten
8 ounces sun dried tomatoes, julienned
1 teaspoon salt
1/2 cup grated parmesan cheese
1 tablespoon dried thyme
1 tablespoon granulated garlic
1 pound part-skim mozzarella cheese, shredded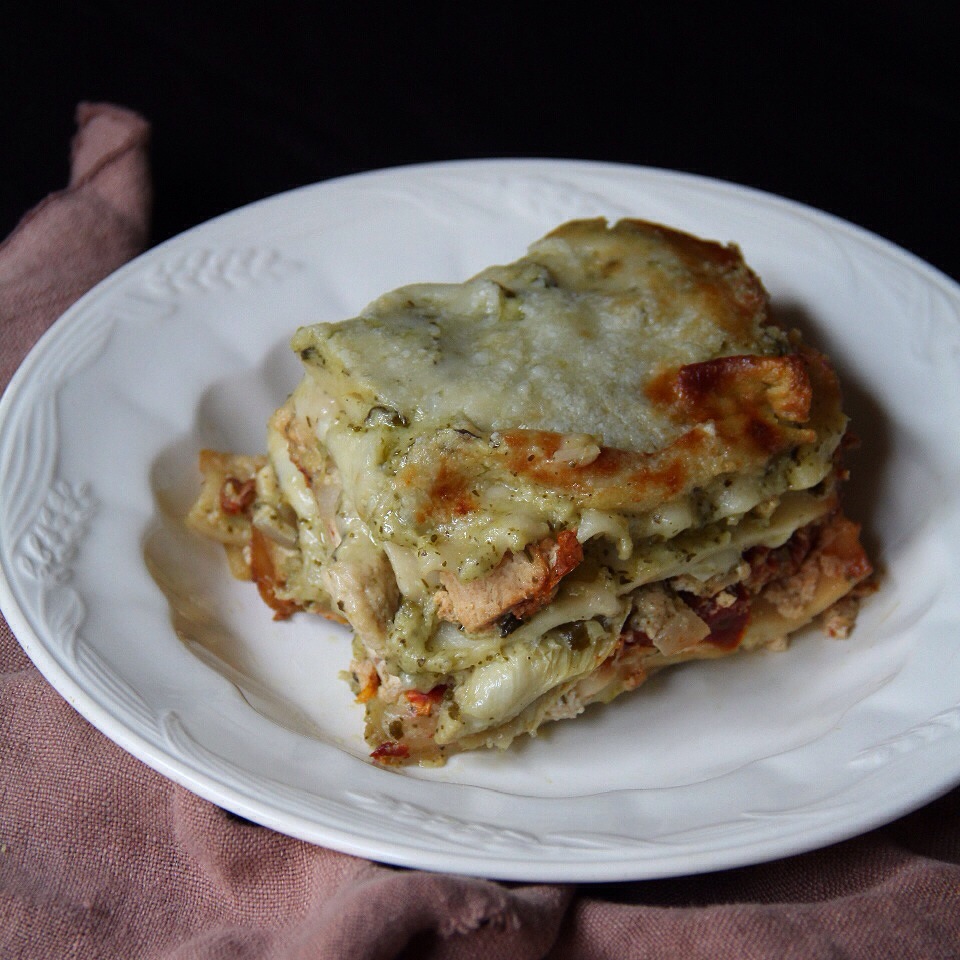 Directions:
Bring a large pot of well-salted water to a boil. Working batches, cook the lasagna noodles until they are soft and pliable but not limp, 6 to 7 minutes. Remove the pasta from the boiling water and lay flat on a sheet tray to cool. Set aside until needed.
Prepare the sauce: In a large heavy-bottomed pot, melt the butter over medium-high heat. Whisk in the flour until a slight paste forms. Cook for 1-2 minutes. Whisk in the pesto, broth, milk and cream. Occasionally stir until the sauce thickens (6-8 minutes). Whisk in the one teaspoon of granulated garlic, teaspoon of salt, and half teaspoon of pepper. Reduce heat to low until the sauce is needed.
Prepare the Chik'n: In a medium pan, heat the 1/4-cup of olive oil over medium-high. Add in the shallots and minced garlic, then sauté until the shallots soften (3-4 minutes). Add the Quorn Chik'n Tenders and artichoke hearts. Sauté until the tenders are golden brown.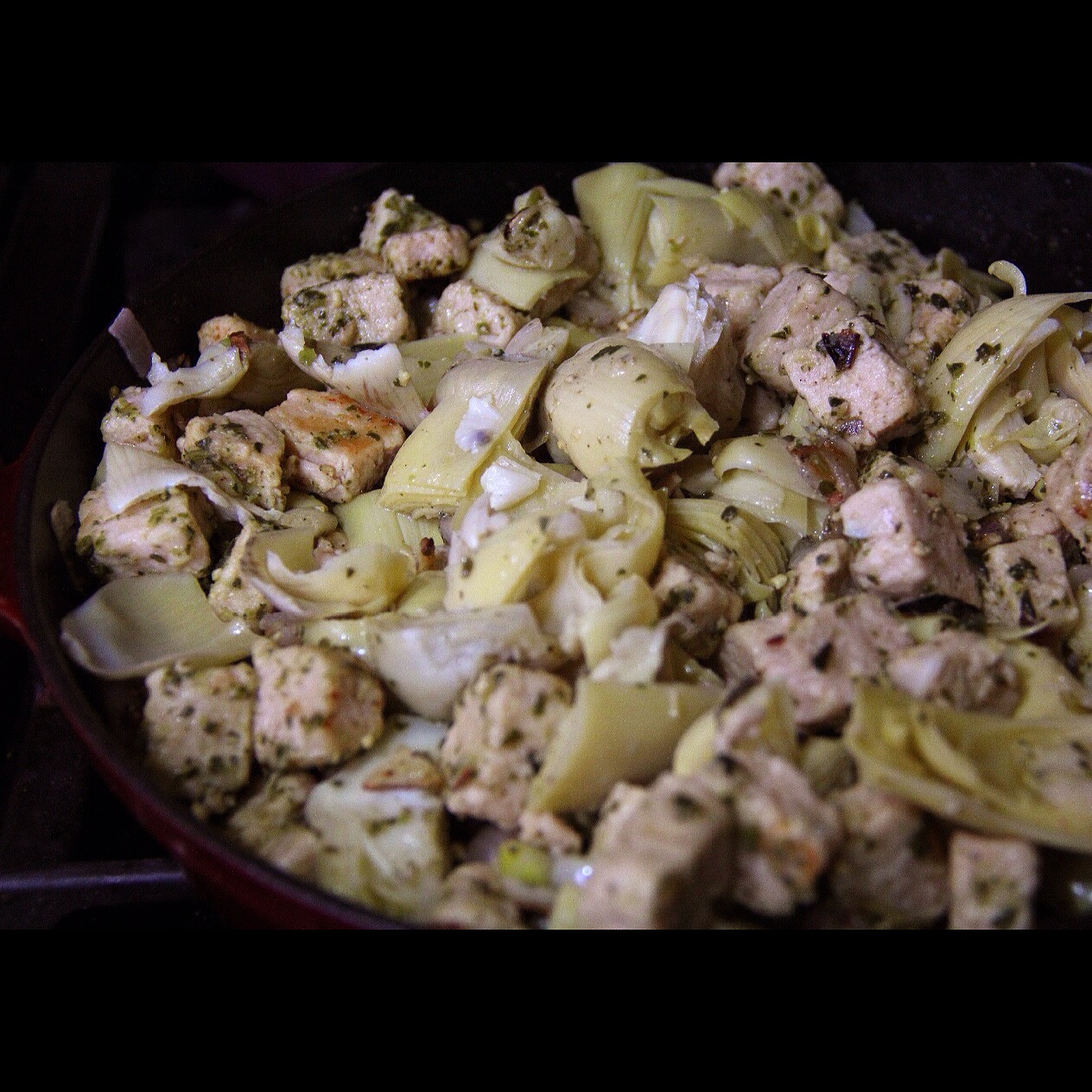 Prepare the ricotta: In a large mixing bowl, combine the ricotta, eggs, sun dried tomatoes, teaspoon of salt, parmesan cheese, tablespoon of dried thyme and the tablespoon of granulated garlic. Stir until well combined.
Preheat your oven to 350 degrees F.
Assemble the lasagna: In the bottom of a 9 by 13-inch deep-dish baking dish, add a couple ladlefuls of sauce and spread out in an even layer. Arrange a layer of the lasagna noodles to completely cover the sauce (4 noodles should work).
Next, add half of the tomato-ricotta mixture, spreading it over the layer of noodles. Add half of the Chik'n over the ricotta layer. Add 1/3 of the sauce over the Chik'n, followed by 1/3 of the shredded mozzarella. Repeat these layers again, then add one more layer of noodles, followed by the remaining sauce, then the remaining mozzarella.
Lightly oil a sheet of foil, then cover the lasagna, oil-side over the cheese. Place the whole pan on a baking sheet (in case of overflow). Bake the lasagna for 1 hour and 15 minutes, removing the foil for the last 15 minutes of cooking. Cool for 15-20 minutes before slicing.