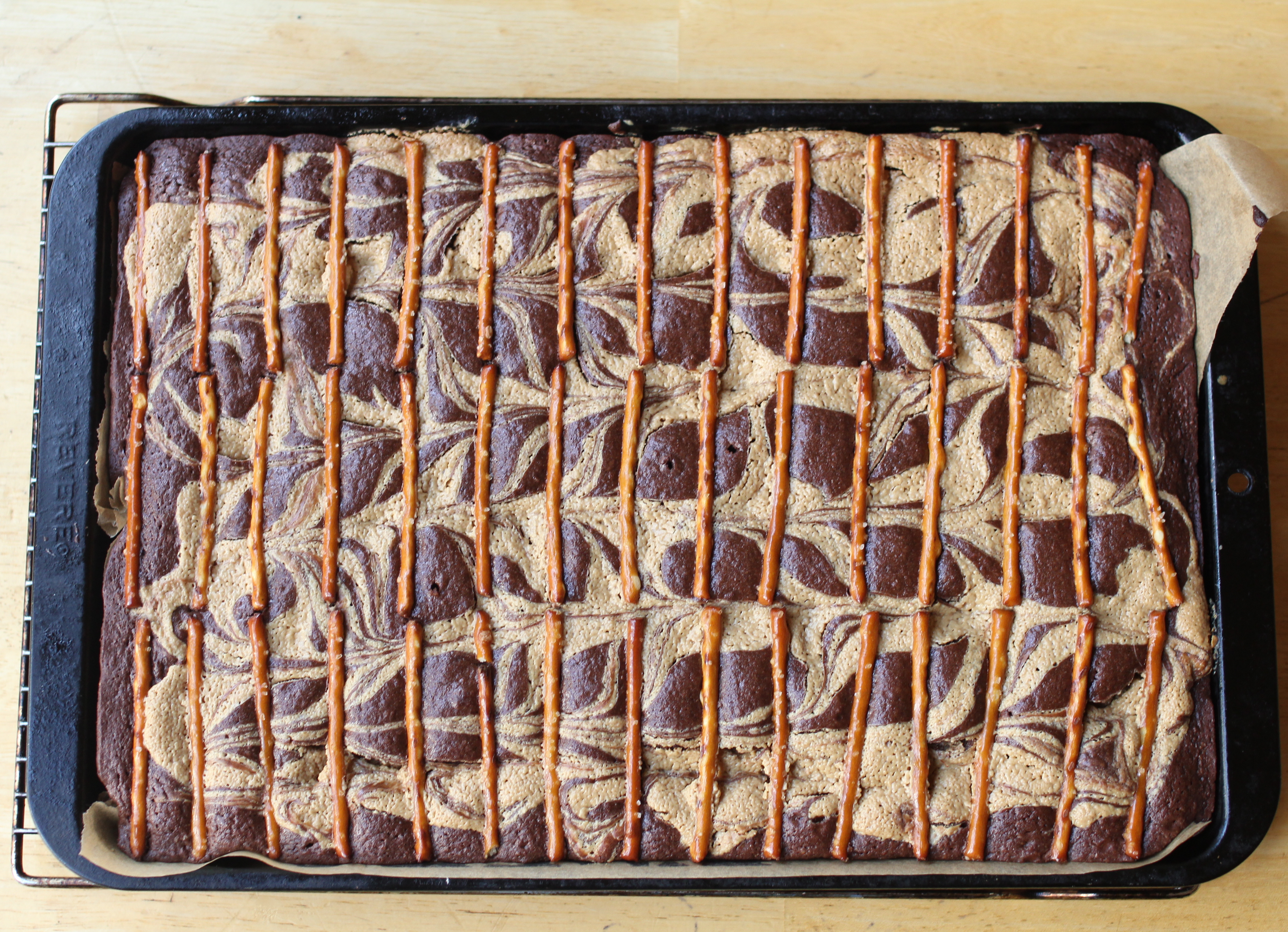 I am not a huge sucker for sweets. Generally, treats for me center around saltiness, crunchiness, and perhaps bourbon or a good beer. Some days, though, a wild hair tickles my fancy and dark chocolate dessert concoctions say please make me. However, I live with three dudes who are in ever constant request of something sweet. My unstated rule of making desserts no more than once a week sort of got thrown out the window over the last few months. One of my go-to dessert options are homemade brownies. They're easy, quick to mix up, and especially simple if you have the basic ingredients on hand (butter, sugar, cocoa, eggs).
The last time I decided to make brownies was for a little dinner party we hosted. I decided to do a little hunting for something more elaborate. I vaguely remembered a peanut butter swirled brownie that failed miserably… Then I remembered a peanut butter swirled brownie I've been wanted to try for years, one topped with pretzel sticks. Yes. A smash-bang-concoction of chocolate, peanut butter, and pretzels. How can a girl go wrong?
These brownies are delectable! They're quite a bit more cake-y than fudge-y, but just go with it. The peanut butter swirl is rich and delicious, atop a not-overly-sweet brownie, and the added salty crunch of the pretzels is perfect. You can also half this recipe and make it in an 8″ square pan.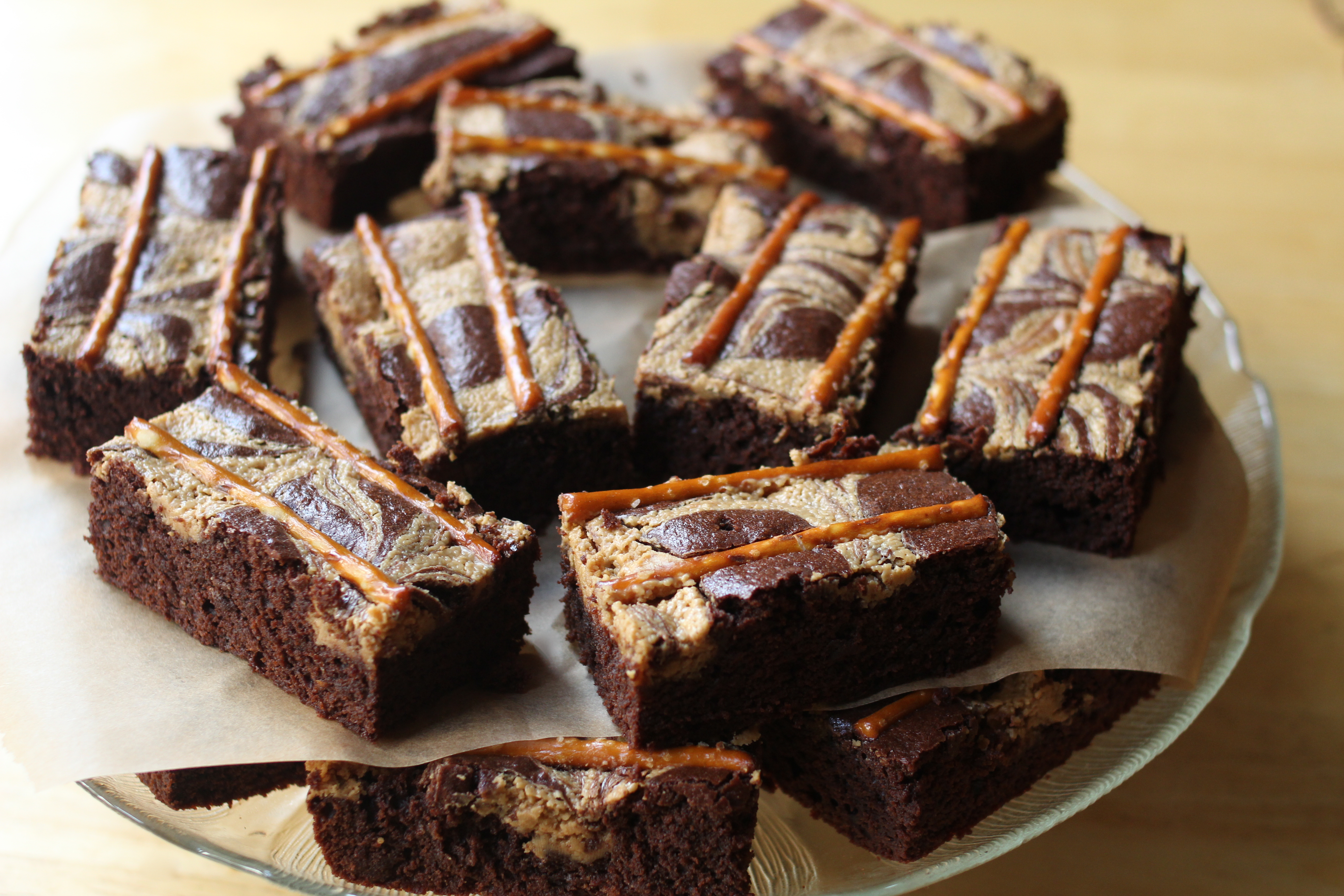 Chocolate Peanut Butter Pretzel Brownies
Make a large 11 x 17-inch pan of brownies.
adapted from Joy the Baker
Ingerdients:
For the Brownie Batter:
2 sticks unsalted butter
4 ounces extra dark chocolate (75-85% cacao), coarsely chopped
8 ounces dark chocolate (60-70% cacao), coarsely chopped
1 1/4 cups granulated sugar
6 large eggs, room temperature
2 teaspoons vanilla extract
1 1/3 cups all-purpose flour
1 teaspoon baking powder
1/2 teaspoon salt
For the Peanut Butter Filling:
4 tablespoons unsalted butter, melted
1/2 cup powdered sugar
3/4 cup smooth peanut butter
1/4 teaspoon salt
1/2 teaspoon vanilla extract
a large handful of pretzel sticks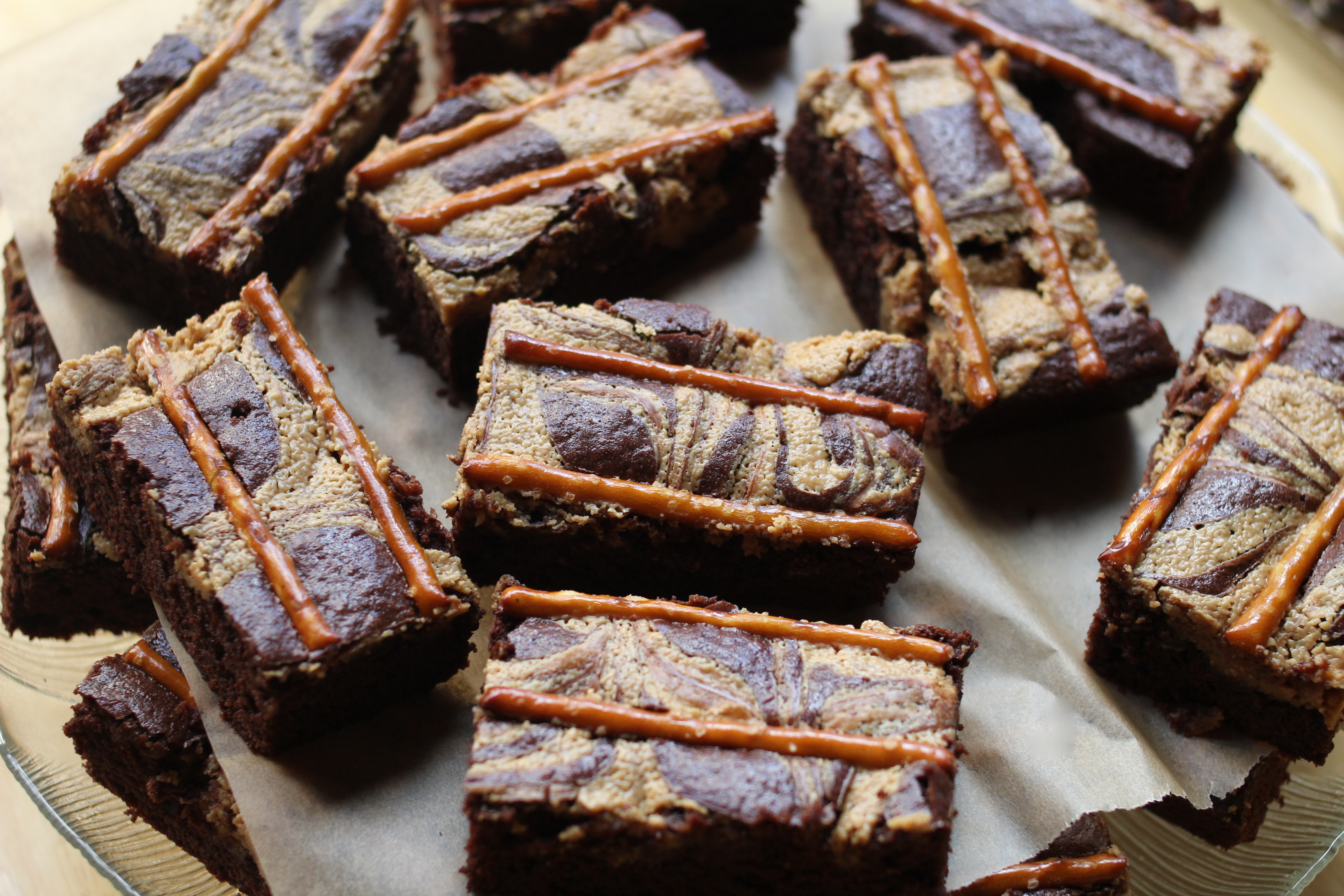 Directions:
Preheat your oven to 350 degrees F. Grease an 11 x 17-inch baking pan. Line with parchment paper so that it overhangs on two sides, then grease the parchment paper.
Boil two inches of water in a medium saucepan. Combine the butter and two types of chocolate in a heat proof bowl. Place over the simmering water, making sure no water gets into the chocolate mixture. Stir until chocolate and butter are melted together. Remove the bowl from the double boiler and let mixture cool slightly. Stir in the vanilla extract.
In a small bowl, whisk together flour, baking powder and salt.
Whisk granulated sugar into the chocolate and butter mixture. Make sure the chocolate mixture isn't too hot, then whisk the eggs in one at a time.
Fold in the flour mixture into the chocolate mixture and pour into your prepared pan.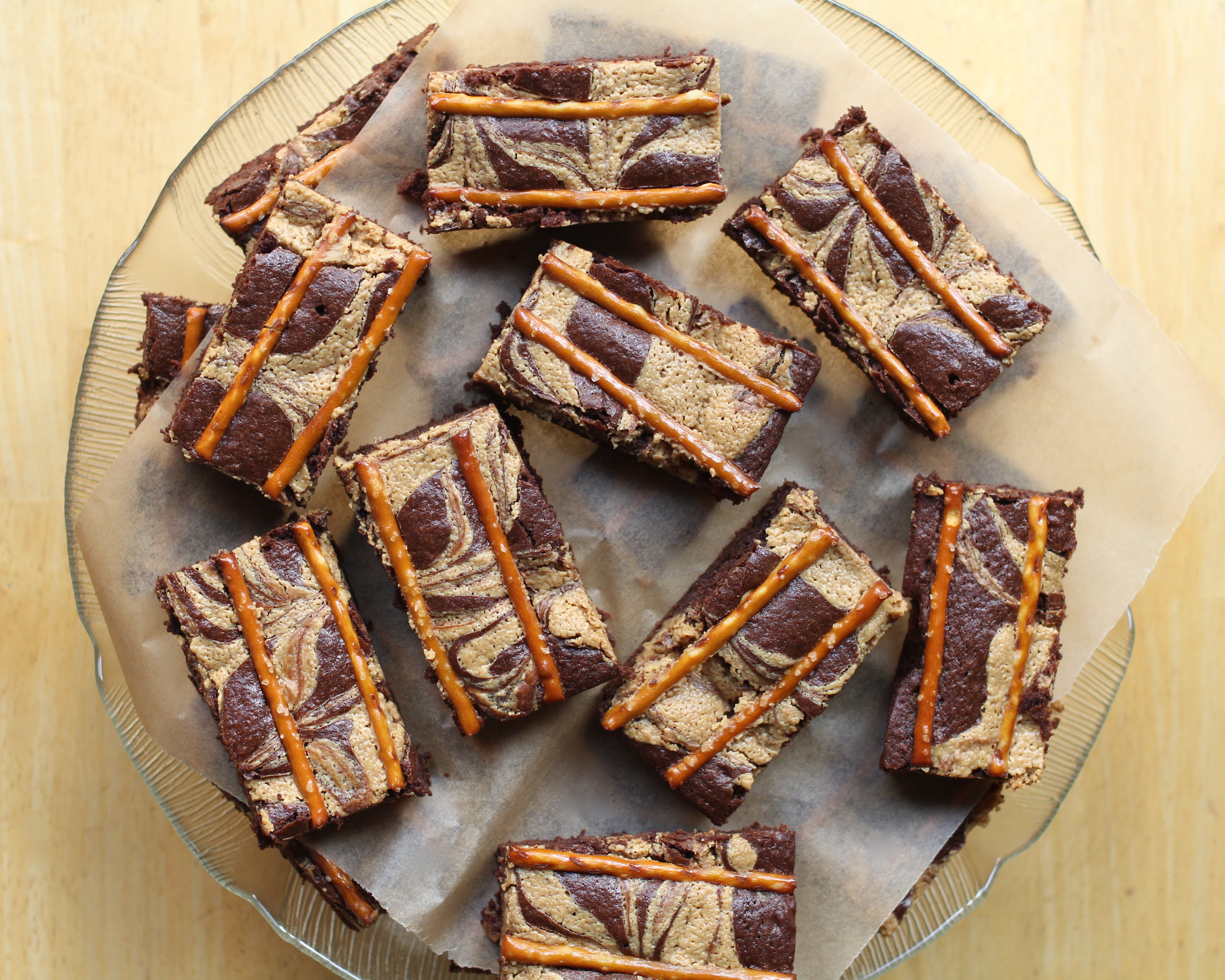 Make the peanut butter mixture: whisk together peanut butter, melted butter, powdered sugar, salt and vanilla extract until smooth.
Pour the peanut butter mixture on top of the brownie batter and use a butter knife to swirl the two together. Arrange pretzel sticks on top of the brownie batter however you'd like. Bake for 45-55 minutes, or until a toothpick inserted in the center comes our mostly clean (a few crumbs are alright).
Let the brownies cool for about 30 minutes before slicing.