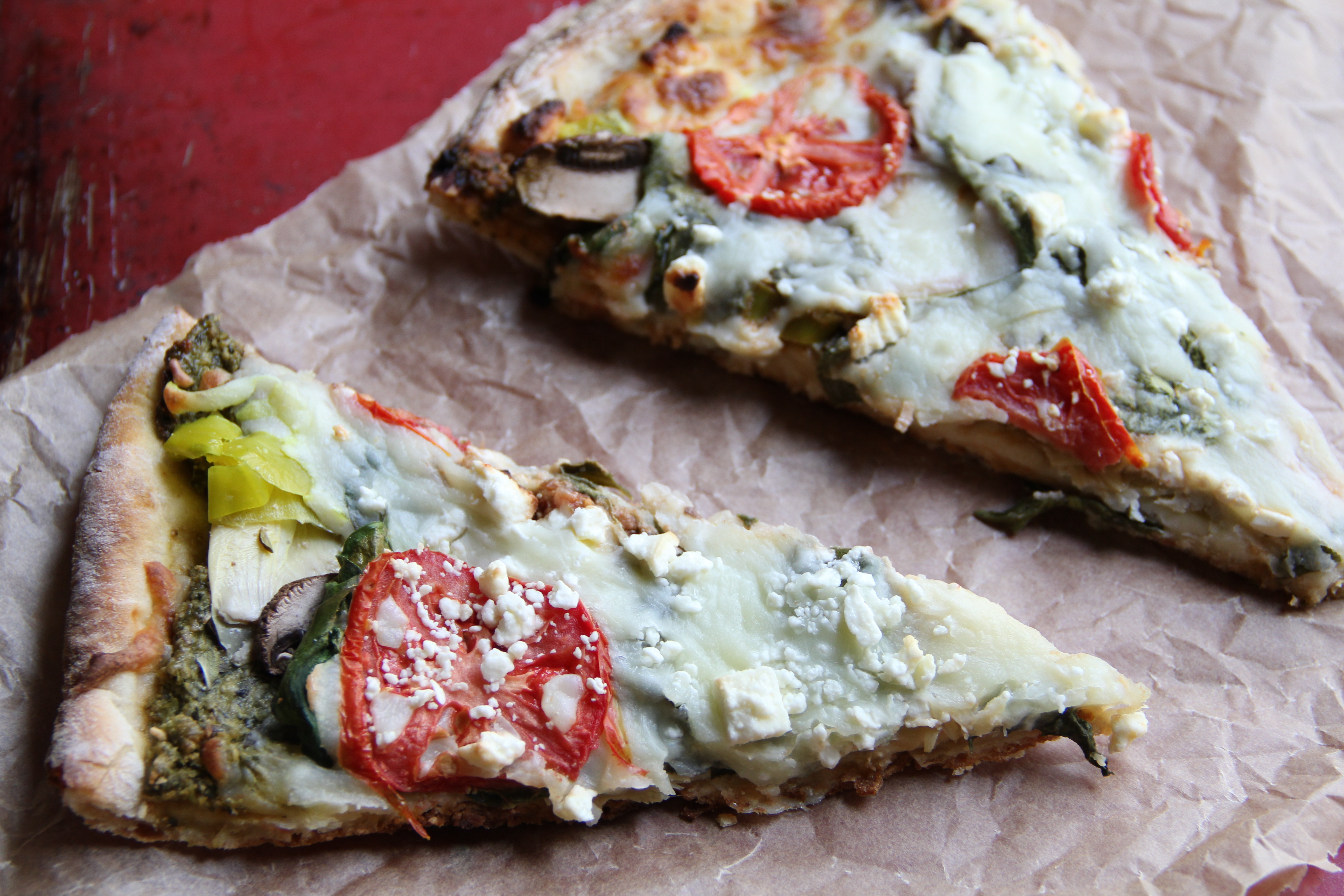 I will tell you right now — when it comes to pizza, I have zero shame. When Pizza Night shows up (at least once a week) I get really excited. I spend copious amounts of time plotting and planning my attack. If there are three of us, I am guaranteed to make at least three large pizzas. If there are four or five of us, I will most certainly make four or five large pizzas. That essentially ends up being, rationally, about 16 slices of pizza per person. Let's not do any calorie counting.
Around here, Pizza Night entails at least two guaranteed pies. There will be a cheese pizza. It'll likely be topped with five to eight different cheeses, depending on what I have on hand (don't most normal people have at least eight different types of cheese around the majority of the time?!). The other staple is this pizza. The Mediterranean. It's a great way to sneak spinach into Pizza Night (seriously). It has also become the one pizza that disappears just as quickly as the cheese slices do — a sure sign of success in our house.
My husband refers to olives as "little nasties" so often I leave them off then add them on to individual slices. You can approach that however you please.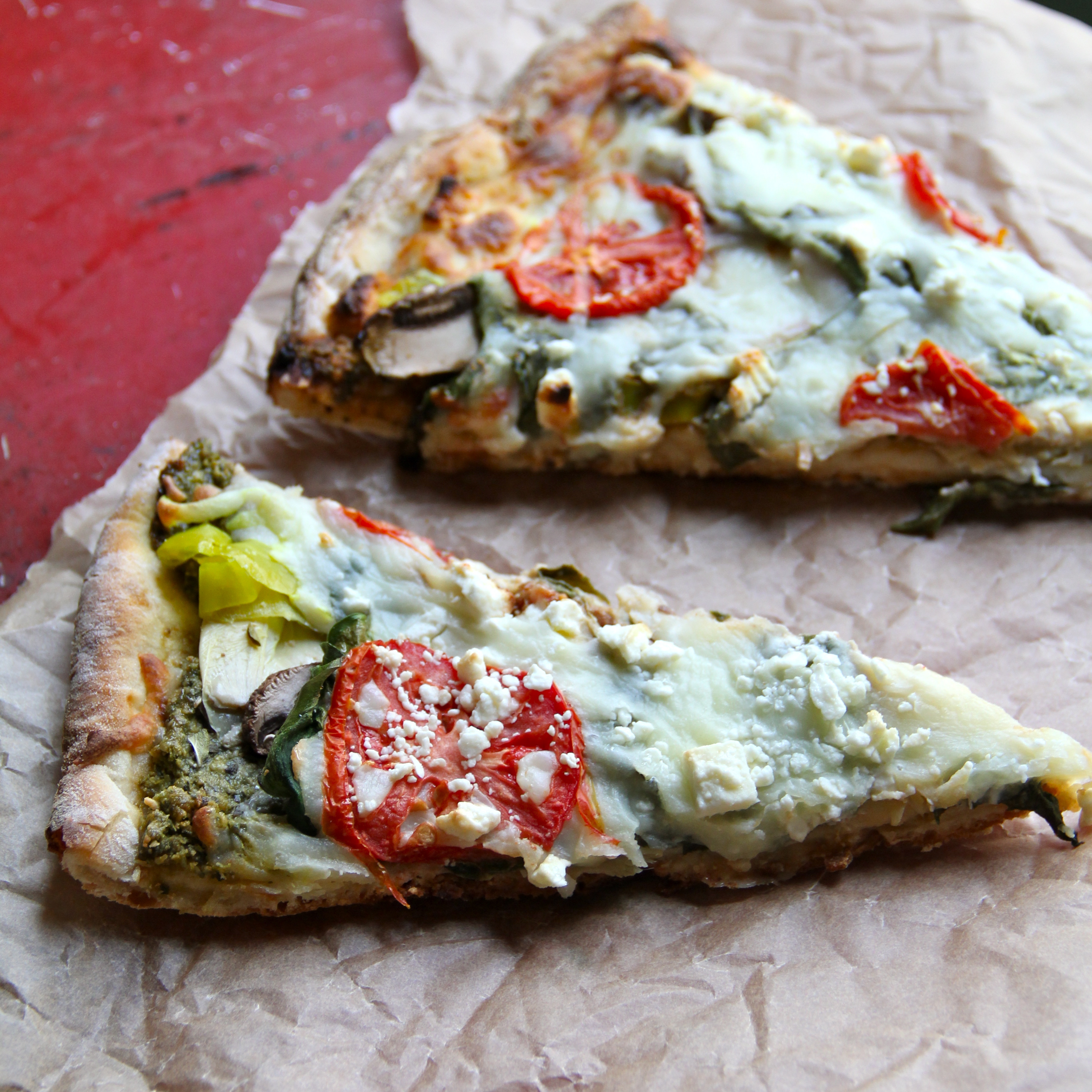 Our Favorite Mediterranean Pizza with Sourdough Crust
Makes one large pizza.
Ingredients:
For the pizza dough:
1/4 cup warm water (110-115 degrees F)
1 tablespoon sugar
1 1/2 teaspoons yeast
1 cup sourdough starter
1/2 teaspoon sea salt
2 cups all-purpose flour (plus 1/4-1/2 cup more)
2 tablespoons vital wheat gluten
For the pizza:
1/3 cup marinara sauce
2 tablespoons prepared pesto
6.5 ounce jar of artichoke hearts
3 ounces fresh spinach
6 large crimini mushrooms, sliced
1/4 cup sliced peperoncinis
8-10 kalamata olives, halved
2 small roma tomato, cut into 1/4-inch thick slices
4 ounces crumbled feta
6 ounces shredded mozzarella
1/4 cup grated parmesan cheese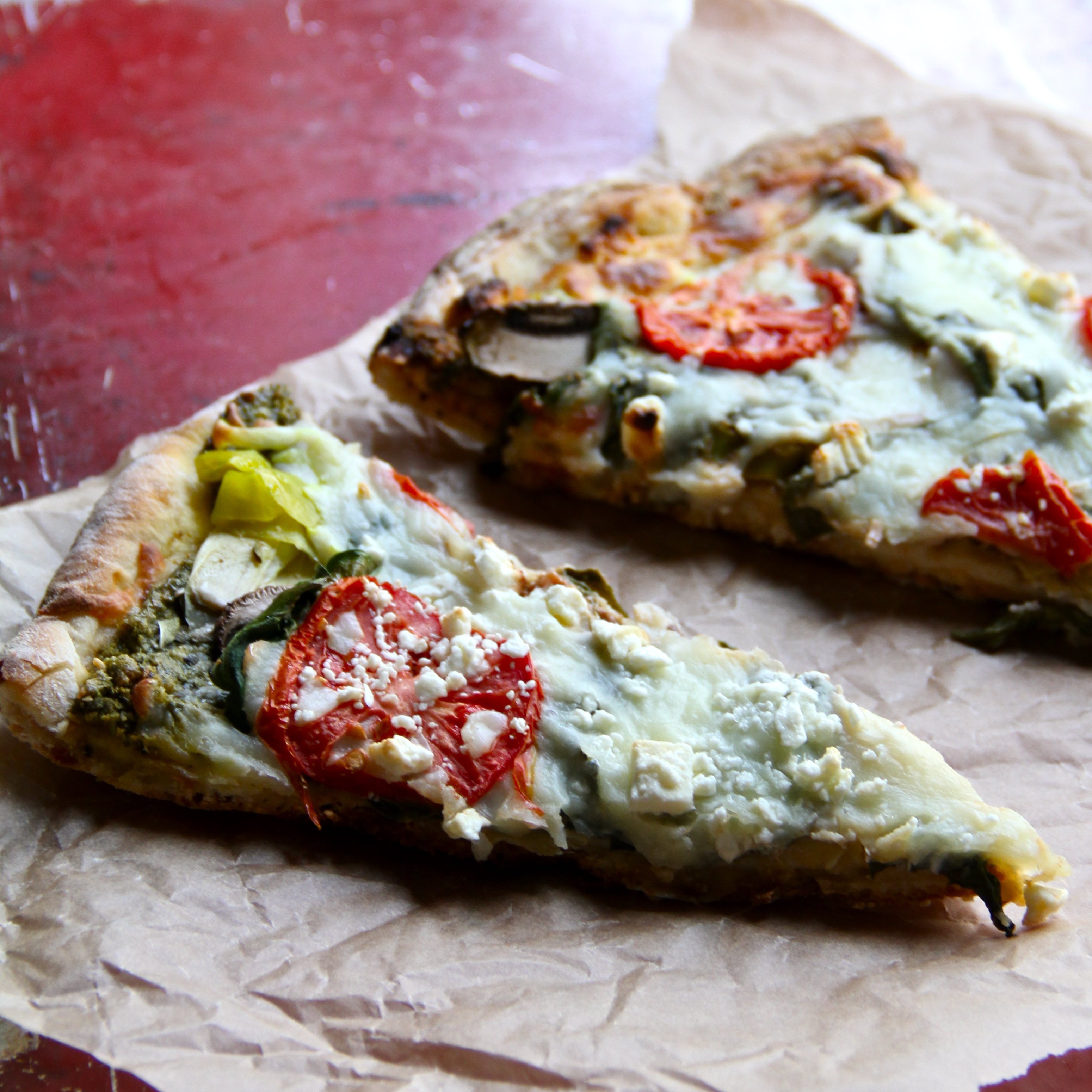 Directions:
Prepare the dough:  in the bowl of your stand mixer, combine the warm water, sugar, and yeast. Stir to submerge the yeast. Allow the mixture to sit and proof for 3-5 minutes, until frothy. Add in the sourdough starter, salt, and half of the flour. Use the dough hook to mix the ingredients until they just come together (2-ish minutes). Turn the mixer off and allow the mixture to rest for 15 minutes.
Once rested, add the remaining flour and vital wheat gluten to the mixture. Use the dough hook to work the dough into a semi-sticky ball. Continue kneading for about 6-8 minutes. By touch, the dough will probably seem really sticky. But lightly dust some flour on it and voila! the stickiness goes away. Lightly coat the bowl with olive oil, turning the dough in it once, to coat. Cover the bowl and allow the dough to rise until doubled (about 1 – 1½ hours).
Prepare the pizza:  preheat your oven and a large pizza stone at 550 degrees F (if your oven only goes up to 500, that's okay) for at least 20 minutes.
Turn the dough out to a lightly floured surface. Use a rolling pin to roll the dough to about 1/2-inch thick. Place the dough on your preheated pizza stone, working quickly. Start at the center of the dough, working outwards, using your fingertips to press the dough to about a 1/4-inch thick, gently stretching the dough until it reaches the diameter you want (I got a 16-inch pizza). You can create a lip, or raised crust, if you want (I prefer not). Prick with a fork about 8 times all over the dough then bake for about 5 minutes, until cooked, but not long enough to brown the crust.
Spread the marinara and pesto sauce both on the prebaked pizza crust, followed by the spinach, artichoke hearts, mushrooms, peperoncinis, olives, tomatoes, then lastly the cheese. Bake for 12-15 minutes, depending on how well-or-not-well-done you like your pizza top! Let the pizza rest for 5-10 minutes before cutting and serving.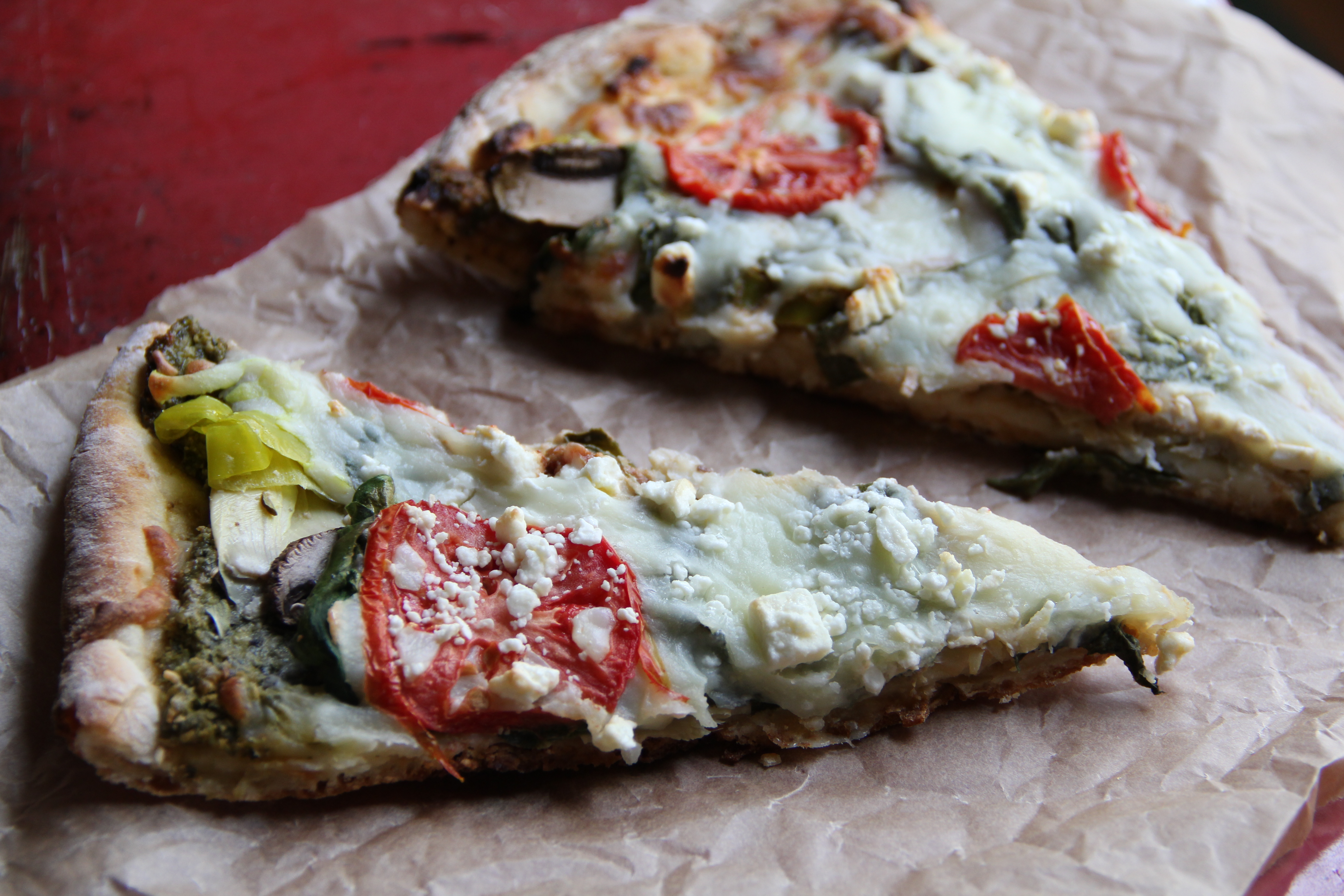 Please follow and like us: