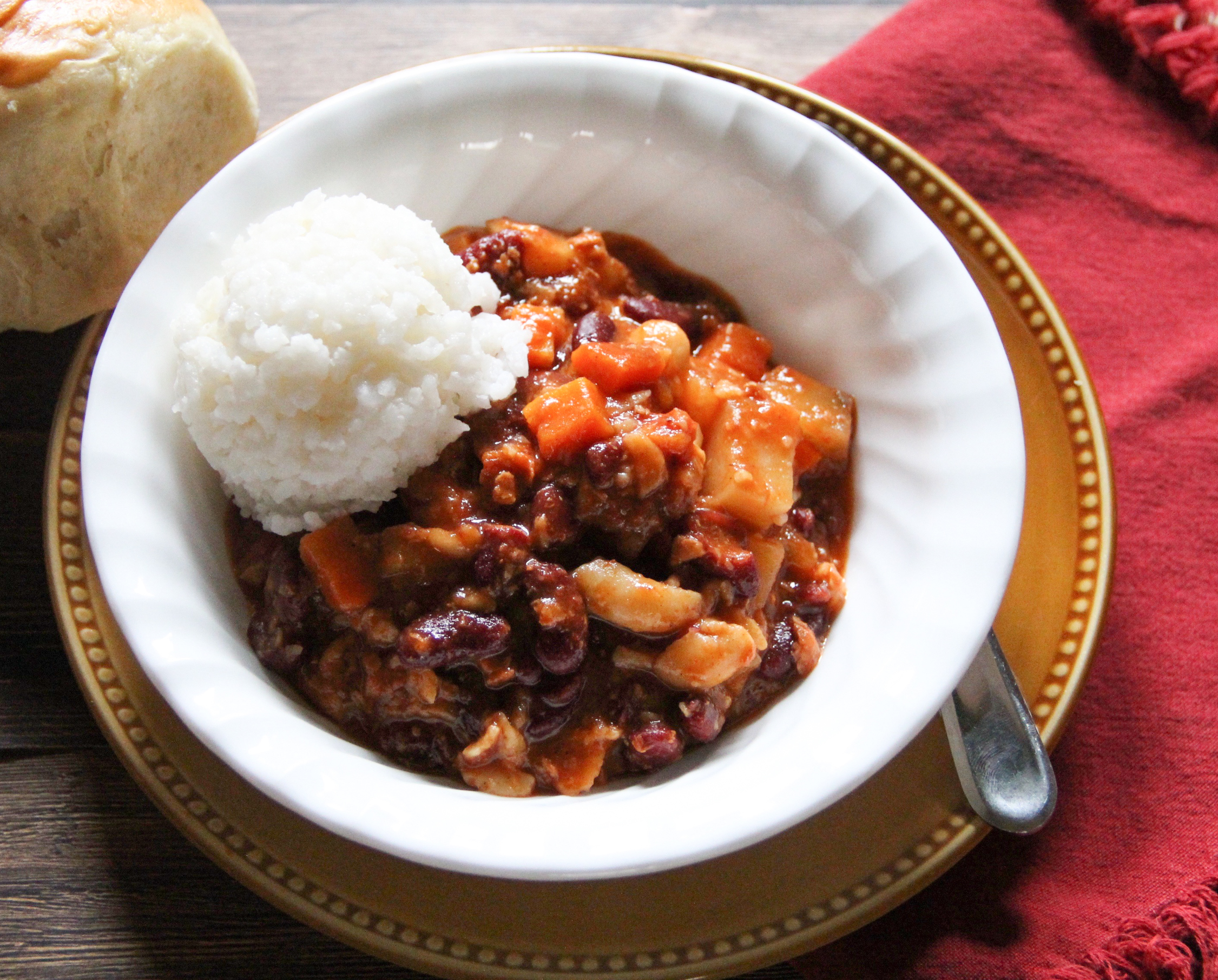 Portuguese bean soup is a Hawai'i cold weather staple (of course "cold weather" means temperatures in the high 50's or so, not like Oregon cold). The traditional version of this soup is meaty and filled with ham hocks, linguica (Portuguese sausage), kidney beans and potatoes. In Hawai'i, Portuguese bean soup is often served with, or over, steamed white rice. It's flavorful, rich, and filling. There are many variations of the soup and it's probably safe to say that most families in the islands have some version of this soup in their recipe repertoire that is unique to their own family.
This vegetarian version uses vegan longaniza (this one) rather than traditional Portuguese sausage. The addition of liquid smoke helps to give the soup a slight smokiness that the ham hocks would generally create. This soup will get quite thick; you can thin it with more broth or water if you prefer.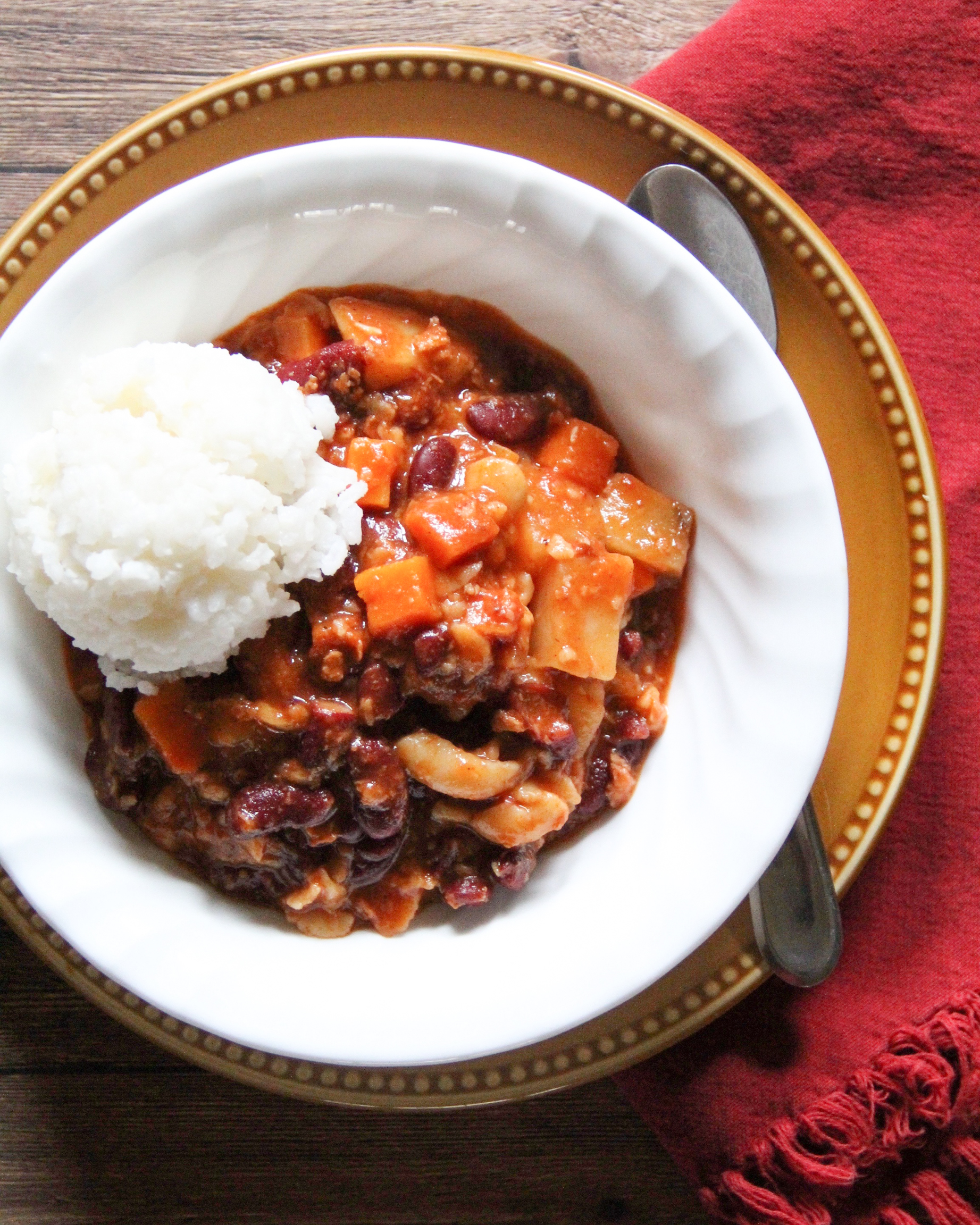 Vegetarian Portuguese Bean Soup
Serves 10-12
Ingredients:
4 cups cooked kidney beans
2 large russet potatoes, peeled and cut in bite-size cubes
3 large carrots, peeled and diced bite-size
1/4 cup olive oil
1 medium red onion, peeled and diced
12 ounces vegetarian longaniza (or soyrizo), plastic casing removed
4 cloves garlic, minced
2 stalks celery, diced
1 teaspoon Chinese 5 spice
16 ounces crushed tomatoes
16 ounces tomato sauce
6 cups No-Chicken broth
1 cup elbow macaroni (dried)
1 bay leaf
1 teaspoon liquid smoke
salt and pepper to your liking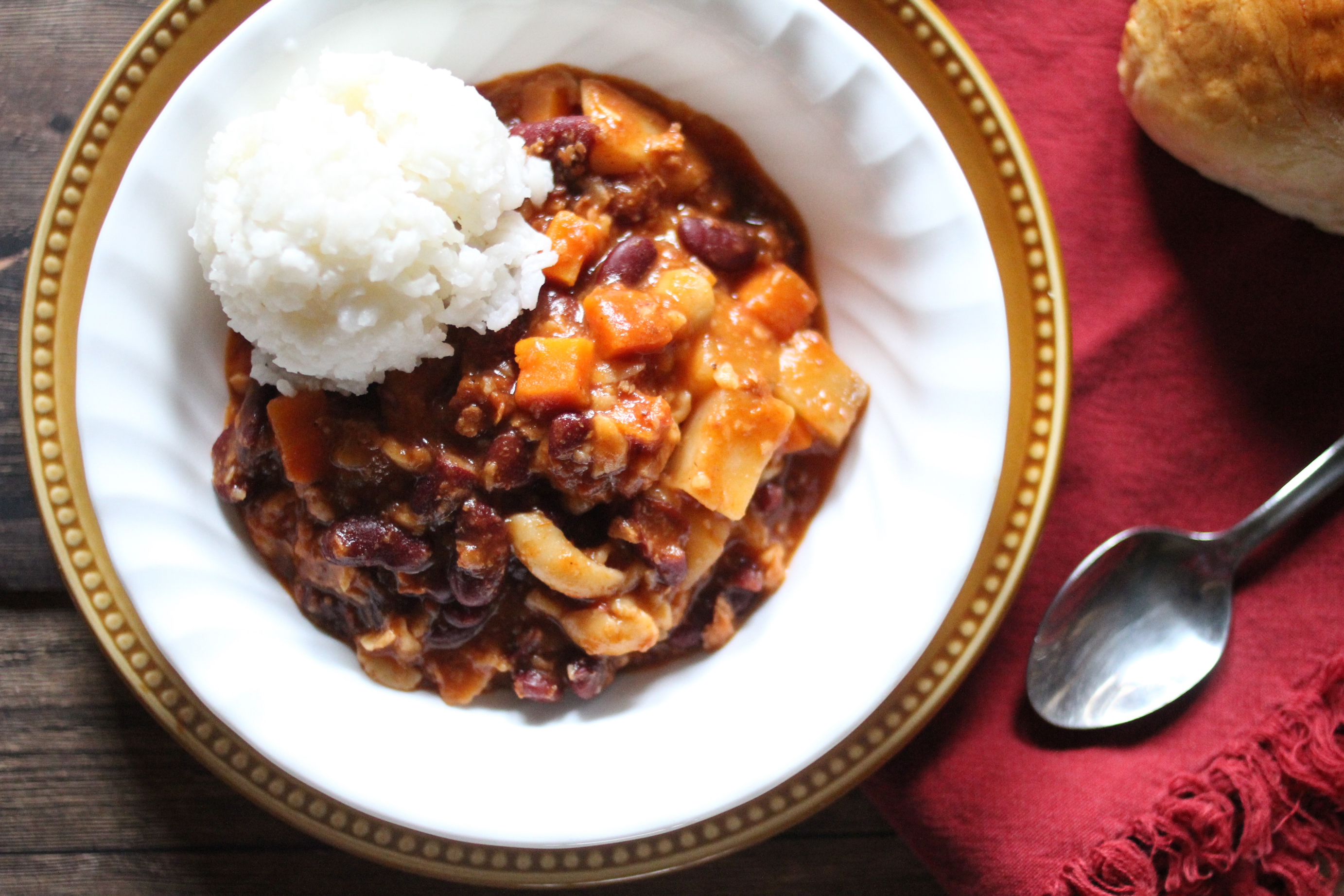 Directions:
In a large stock pot, heat the olive oil over medium-high heat. Add the diced onion and cook until translucent. Add the garlic, celery, and longaniza. Sauté until the linguica slightly crisps and browns (5-7 minutes).
Add the beans, potatoes, carrots, Chinese 5 spice, crushed tomatoes, tomato sauce and broth to the pot. Stir to combine everything. Bring to a low boil, then add in the macaroni, liquid smoke, and bay leaf. Reduce heat to low and cook until the vegetables are tender and the pasta is cooked (1 to 1 1/2 hours). *If the soup is thicker than you like, you can add more broth or water to thin it out.
Taste, then add more salt or pepper to your liking. Serve with steamed white rice.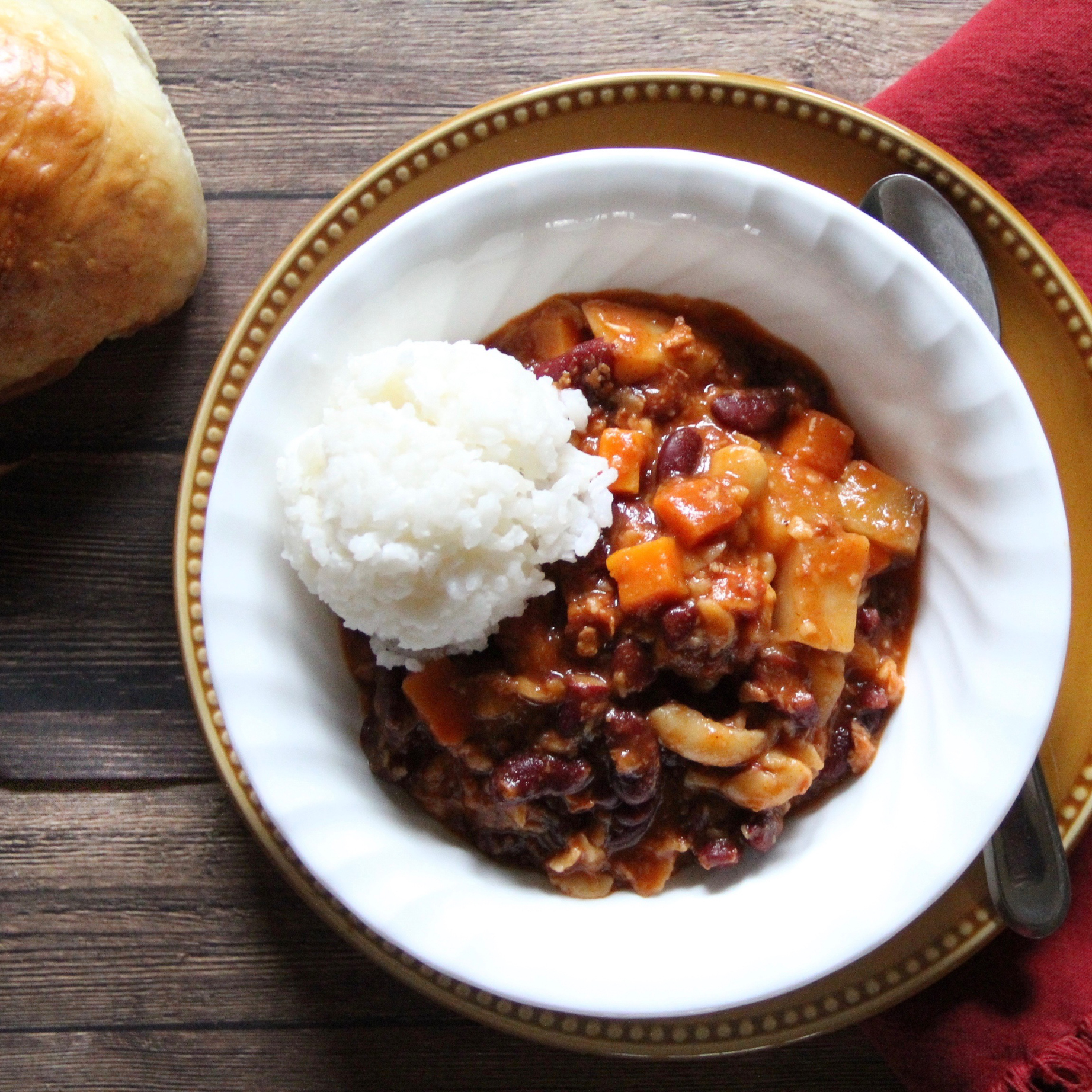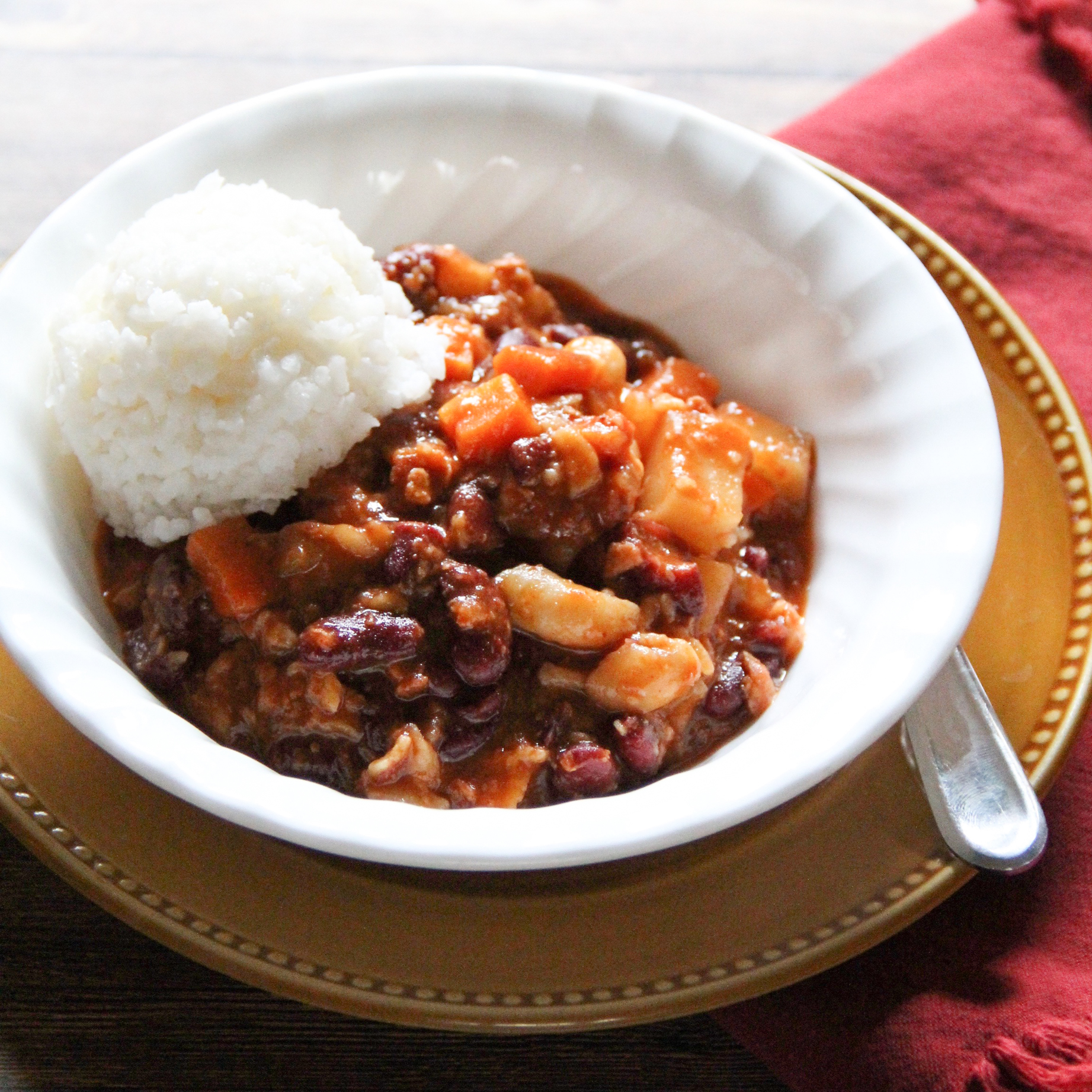 Please follow and like us: