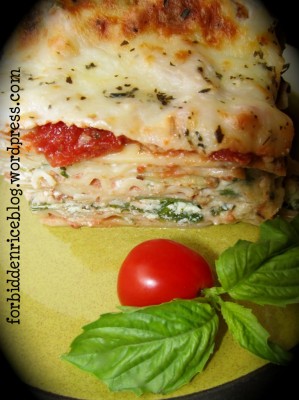 Once upon a time, about 7 years ago, my lovely roommate and I decided we would go on the South Beach Diet. No carbs, mostly protein, vegetables, etc. About one day into our new diet, we were grumpy, overly emotional about nearly anything, and decided to forego our mission with a "fatty run" as we often called our one-stop destination adventure of filling up on a gorgonzola bacon burger, hand cut french fries, and a chocolate banana milkshake. I decided then, as I already had an inkling of, removing carbohydrates from my diet was just a silly plan. I'm pretty certain I could eat pasta of some variety every day. Sauced, un-sauced, tossed with vegetables, baked, layered, for breakfast, lunch, dinner…
Growing up, my mom always made my favorite lasagna. More often than not she'd make a homemade marinara sauce, sometimes meaty and sometimes not. She'd fill this big 'ole monster of a lasagna with different cheeses, spinach, sometimes other vegetables. I created the following recipe for my partner's 12½ year old son's last birthday dinner. The recipe has been altered numerous times since then. I've used bottled marinara sauce before, but don't prefer it. Homemade tastes a million times better. I've left out the artichoke sauce, replacing it with either more spinach filling, or vegetarian "meat" sautéed with other spices and vegetables. I've used only grated mozzarella or fresh slabs of it, or a combination of both. While there are a number of steps, the effort is worth the end results.
Creamy Artichoke Sauce
Ingredients:
2- 13.75 oz. cans artichoke hearts, with the liquid from one can
4 tbsp. butter
2 heaping tbsp. all-purpose flour
2 cups milk
2 cloves garlic, minced
pinch of salt
fresh ground pepper, to taste
Directions:
Over medium heat in a medium-sized saucepan, melt the butter.
Once melted, add in your heaping tablespoons of flour and whisk in thoroughly, until you have a thick paste-like consistency. Allow this mixture to cook for about 4 – 5 minutes, paying close attention so it doesn't burn. The mixture will turn a light golden color.
Add in the minced garlic and stir thoroughly. Pour the milk in, one cup at a time, making sure to whisk continuously so the sauce stays very smooth rather than clumping up. Whisk in about ¼ cup of the reserved artichoke heart liquid. Cook for about 10 minutes, stirring constantly. The mixture will thicken up.
Fold in the artichoke hearts. Season with salt and fresh ground pepper. Reduce the heat to low and allow the sauce to cook for an additional 5 – 10 minutes.
Garlic-Basil Red Sauce
Ingredients:
¼ cup fresh basil, roughly chopped
1- 28 oz. can diced tomatoes (I used diced fire-roasted tomatoes)
8 – 10 cloves of garlic, roughly chopped
¼ cup chopped yellow onion
¼ tsp. red chili pepper flakes
¼ cup grated parmesan cheese
1 tbsp. heavy cream
pinch of salt
fresh ground pepper, to taste
1 tbsp. olive oil
Directions:
Heat the olive oil over medium-high heat in saucepan. Add in the chopped garlic and onion. Sauté for 2 – 3 minutes. Add in half of the chopped basil, red pepper flakes, salt, and pepper. Sauté for an additional 2 minutes. Add in the canned tomatoes and allow the mixture to heat all the way through (3 – 4 minutes).
Pour the mixture into a food processor (or high-powered blender) fixed with the large chopping blade. Pulse the mixture until it's smooth in consistency.
Add in the remaining basil, parmesan cheese, and cream. Blend until the basil is well incorporated and the sauce is smooth (2 or 3 minutes). Return to the stove to keep warm.
Spinach-Tofu Mixture
Ingredients:
1- 14 oz. block of firm tofu
1 pound fresh spinach, roughly chopped
2 eggs
2 cloves garlic, minced
¼ cup grated parmesan cheese
salt and pepper to taste
pinch of fresh ground nutmeg
Directions:
Drain the tofu. In a large bowl, crumble up the tofu with your hands until it resembles the consistency of ricotta cheese. Add in the eggs and mix with the tofu thoroughly. Again, your hands are the best tool here! Don't be afraid to get messy!
Stir in the garlic, parmesan cheese, salt, pepper, and nutmeg. Toss in the chopped spinach. Continue to fold the spinach into the tofu mixture until it's well incorporated.
Remaining Lasagna Ingredients:
16 lasagna noodles, cooked according to the package's instructions
1½ cups shredded mozzarella cheese
16 slices of mozzarella, cut 3 x 1½ x ¼-inch slices
½ tsp dried basil or oregano (or a combination of both)
Directions:
Preheat the oven to 375° F. Spread about ½-cup of sauce in the bottom of a 13 x 9 x 2-inch baking pan. Layer lasagna noodles on the bottom of the pan, overlapping them by about ¼-inch. Add about ½-cup of sauce over the noodles. Spread the spinach-tofu mixture over the sauce. Lightly spoon another ½-cup of sauce on top of the spinach layer and top with half the mozzarella slices.
Next, layer on more noodles, overlapping by ¼-½ inch. Spread the creamy artichoke sauce over the noodles, followed by the remaining mozzarella slices.
Layer the remaining noodles on top, lightly pressing down to compact the different layers. Spoon on the remaining sauce.
Spread the shredded mozzarella over the top. Sprinkle on the basil and/or oregano. Bake for 30 – 45 minutes. Allow the lasagna to rest (out of the oven) for 15 minutes before serving.