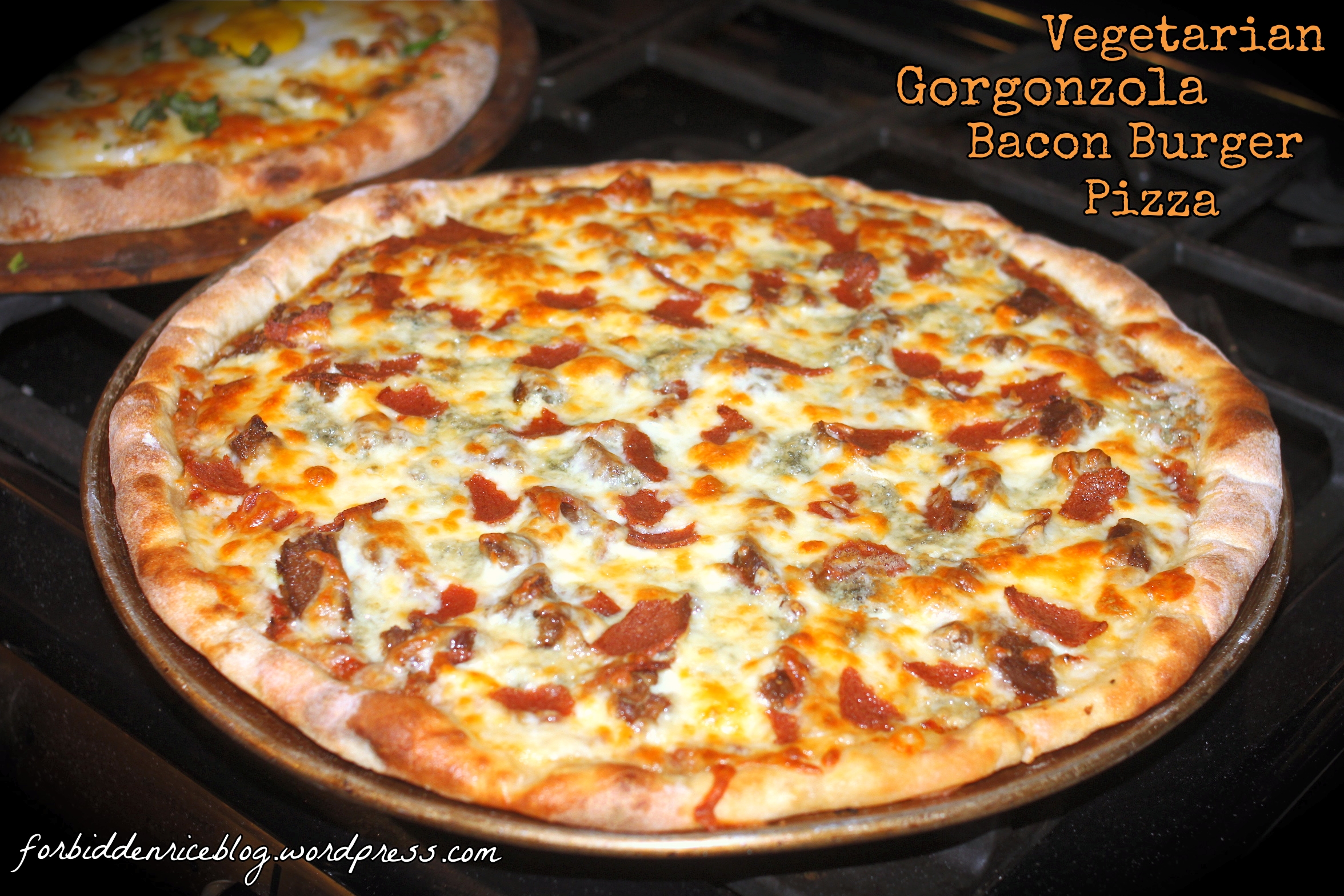 Sometimes I'm pretty sure I can demolish pizza like a teenage boy. I love the versatility of pizzas: sauces of whatever variety you like, toppings galore, dessert, dinner, breakfast… Really, the possibilities are limited only to your imagination. I have very much turned into a pizza snob over the last couple of years, and eagerly prefer making my own at home than ordering out… Especially when made with a good sourdough crust!
My husband often likes a good veggie burger, although it takes a little convincing for me to jump on board. I'm not so into burgers. Except for one in particular I've mentioned before… A couple years ago I created a vegetarian version of the gorgonzola bacon burger I would crave a couple times a year while still in college. The aftermath of eating such a thing always felt a little less guilt-inducing (or artery clogging). When the topic of burgers came up as a dinner thought, I realized there was no reason I couldn't combine burgers and pizza… was there? I was certain that I wasn't the first person to decide this.
The curiosity of a gorgonzola bacon burger pizza crept in quickly. I decided it would either be delicious or not at all – with 50/50 odds, there wasn't much to lose. I opted for vegetarian breakfast sausage as the "burger," both because we had some on hand, and because the flavor is a bit more "meaty," than many veggie burgers. The sautéed onions add a great sweetness that balances well with the tangy gorgonzola, slightly spicy sausage, and salty bacon. The leftovers were good the next day, too!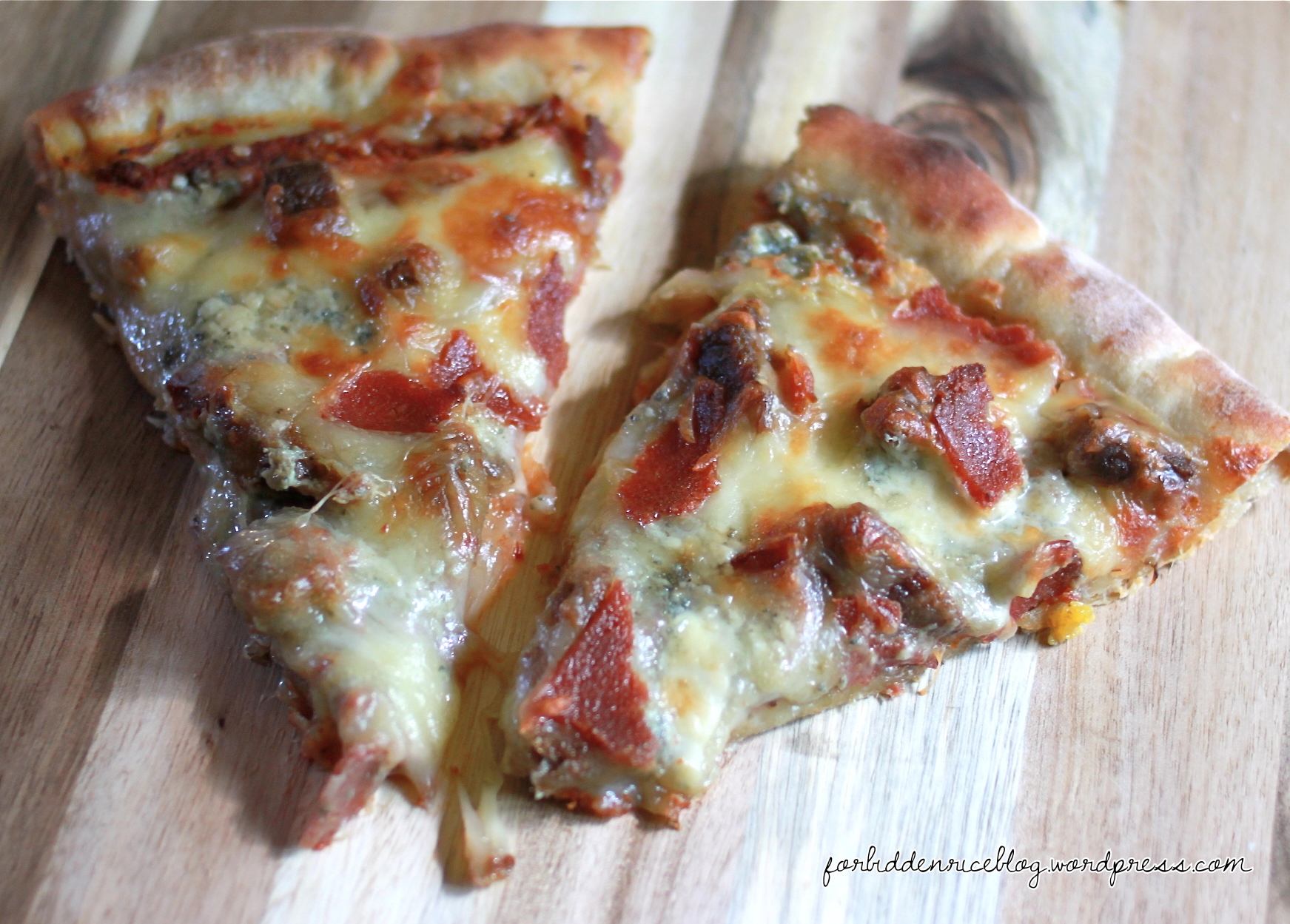 Vegetarian Gorgonzola Bacon Burger Pizza
Makes one large (16-18 in.) pizza
Ingredients:
½ recipe of this dough, or enough of your preferred recipe for 1 ball of pizza dough
8 oz. Yves Meatless Breakfast Patties
4 – 6 slices Lightlife Smart Bacon
3 oz. gorgonzola cheese
1 cup packed shredded mozzarella cheese
¾ cup prepared marinara sauce
¼ cup fresh chopped basil
1 small sweet onion
¼ cup + 1 tbsp. good quality olive oil
¼ tsp. fresh ground pepper
¼ tsp. sea salt
Directions:
Preheat your oven to the highest setting it will go (ours goes to 550°F). If using a pizza stone, place it in the oven to preheat as well, for at least 30 minutes.
Peel the onion, then cut it in half, then slices about ¼-inch thick. Heat ¼ cup of olive oil over medium-high heat. Add the sliced onion to the heated oil, then sprinkle in the salt and pepper. Stir to evenly coat everything. Sauté until the onion is translucent and melt-in-your-mouth tender (5-7 minutes). Set aside until needed.
Use the same pan and heat the additional tablespoon of oil. Cook the bacon until crisp, over medium high heat (2-3 minutes on each side). Remove to paper towels or a cooling rack until needed.
Roll out the pizza dough into a 16-18 inch round (approx. the size of your pizza stone or pan). Place on your preheated stone, working quickly. Prick with a fork all over 8-10 times. Bake the dough for 2-4 minutes, until not doughy, but also not browned at all.
Roughly chop up meatless breakfast patties. Roughly break up the cooked bacon. Spread the marinara sauce evenly on the pizza crust. Evenly distribute the chopped breakfast sausage, bacon, and sautéed onions. Sprinkle on the crumbled gorgonzola cheese, then the mozzarella.
Bake for 12-15 minutes, until golden on top and the crust, nicely browned. Top with the fresh chopped basil. Allow the pizza to cool slightly, then cut and serve.