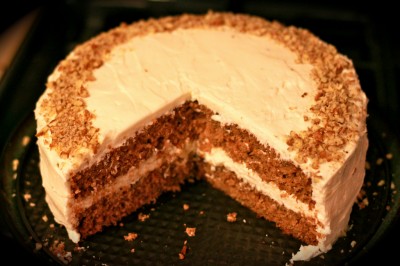 Some days require cake, regardless of special occasions. Fancy cake, plain cake, frosted, unfrosted, cupcakes, layer cakes, sheet cakes… Cake. I've struggled with food in the past — counting calories religiously, limiting myself with numbers and quantities. Worrying about where exactly these calories will or won't go. It took a long time to get to a place where I can allow myself to enjoy desserts, food, meals, without hesitating about calories and wondering whether or not that balances with the number I've worked off for the day. To delight in a mid-week cake just because it sounds good, or because my body's craving it, is a good freedom. Plus, in moderation (it's not as though I'm baking cakes daily and over-indulging), it's nice to simply enjoy something sweet after a good meal. Or for breakfast the following morning… without the added self-imposed guilt.
This is a fantastic cake to give in to. The brown butter adds a slight nutty taste, the honey's not overpowering, but very present in each bite, and the banana adds a perfect amount of sweetness. While I'm not usually too fond of frosting, the whipped honey buttercream works nicely with this cake. It's very much worth trying!
Brown Butter Honey Banana Cake
Ingredients:
½ cup unsalted butter (1 stick)
¼ cup + 2 tbsp. sugar
¼ cup good quality honey
1 tsp. vanilla extract
1 egg, at room temperature
¾ cup banana puree (approx. 2 medium bananas)
1 ¼ cup all-purpose flour
¾ tsp. baking powder
¼ tsp. baking soda
¼ tsp. salt
¾ tsp. ground cinnamon
¼ tsp. ground nutmeg
¼ tsp. ground ginger
¼ cup buttermilk
Directions:
Preheat the oven to 350º F. Prepare two 8-inch round pans by buttering them, lining the bottom with parchment paper, the re-buttering and lightly flouring. Here's a quick, lovely tutorial if you need it.
In a small pan on the stove, heat the butter over medium heat until it's completely melted, whisking often. Once it has melted, it'll start getting foamy. Keep a close eye on the butter at this point, as it can go from browned to burnt pretty quickly. Keep whisking, paying attention to the smell of the butter. It will have a nutty aroma and turn a lovely shade of light brown when ready. Remove the pan from your stove, then strain the butter into the bowl of your mixer.
Beat the brown butter with your sugar, honey, and vanilla. Keep beating until the mixture cools off slightly (about 3 – 4 minutes). Add the egg and beat until the mixture looks light and airy (1 – 2 minutes). Beat in the banana puree.
In a separate bowl, sift together the flour, baking powder, baking soda, salt, cinnamon, nutmeg, and ginger. Alternately add the dry ingredients and your buttermilk to the banana mixture, until all the ingredients are well incorporated.
Evenly divide the batter between your two cake pans. Bake for 25 minutes, or until a toothpick inserted in the middle of the cake comes out clean (or with few crumbs attached). Remove the cakes from the oven and allow to cool in pans for about 10 minutes, then loosen sides, remove from pans, and cool completely on wire racks.
Prepare your whipped honey buttercream, then frost your cake and enjoy!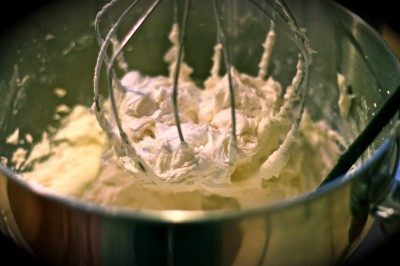 Whipped Honey Buttercream
Ingredients:
¾ cup unsalted butter (1 ½ sticks), at room temperature
6 tbsp. good quality honey
3 cups confectioner's sugar
2 tbsp. heavy cream
1 tsp. vanilla extract
Directions:
In the bowl of your mixer, cream together the butter and honey, mixing for about 2 – 3 minutes, until the butter is light colored and slightly fluffy.
Add in 1 cup of sugar, incorporating at a low speed. Once the sugar is fully combined (about 2 minutes), increase the speed to medium-high. Beat until the mixture is creamy and smooth. Repeat with the remaining sugar, adding it one cup at a time.
Add the heavy cream and vanilla to the sugar mixture. Beat on medium-high until the frosting is smooth (1 – 2 minutes).
Makes enough frosting for a 2-layer 8-inch round cake.