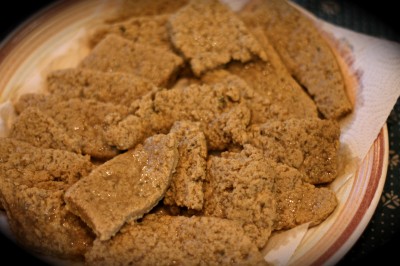 Don't be scared. What is this plate of spongy looking stuff?! Why is it on your food blog?! I know. It's a little freaky looking. It's seitan: a vegetarian "meat" product, made from the proteins (gluten) of wheat. I told Craig there's no way I can photograph this stuff to make it look appetizing. I considered photographing fried seitan, or even a recipe containing it. But really I want to post this recipe, bare as it is, because the end product is so versatile. You can use it in various dishes, but the included recipe is just to create a basic batch of seitan; what you do with it is up to you.
When cooking meat at home became a non-option, I went crazy with trying numerous vegetarian "meat" alternatives: tofu, tempeh, beans, grains, seitan. I've always enjoyed tofu. I've learned to enjoy tempeh. Beans and grains are staples for our diet, but they don't easily replace the meaty texture I'm sometimes going for in certain recipes. Seitan, however, became a quick favorite for me. It's very chicken-like in texture and it takes on flavors incredibly well. I've made deceivingly good vegetarian "fried chicken," "chicken and dumplings," and "chicken and waffles" with seitan.
A few months back when I thought I had to go completely wheat-free, the idea of not using seitan anymore bummed me out. There aren't any non-wheat products I've tried that compare, especially in texture. Gladly, wheat hasn't been giving me trouble for the last couple of months, so seitan's back on my useable ingredient list.
The main downside of using seitan is the cost vs. the amount of "wheat meat" you get when you opt for store-bought versions. Around here I've found that for 8 oz., you spend nearly $4.00. For my family of three perpetually hungry boys and myself (I do my fair share of keeping up in this realm), 8oz. doesn't exactly cover the amount of seitan needed for a meal. The truth is though, seitan is quite easy to make at home and you certainly yield a larger quantity of the stuff for what you're paying! I was intimidated at first, but having made the following recipe numerous times, let me assure you it's not too difficult. One of the other benefits of making your own seitan is that you can flavor the gluten during the kneading process, using spices and herbs instead of the usual garlic and ginger that store-bought varieties often depend on.
Chicken-Style Seitan (Wheat Meat)
Ingredients:
For the Dough:
1 cup vital wheat gluten * see note
4 tbsp. vegetarian chicken bouillon powder
2 tsp. garlic granules
1 tsp. ground black pepper
½ tsp. ground sage
½ tsp. dried thyme
½ tsp. dried coriander
1 cup water
For the Broth:
4 cups water
½ cup nutritional yeast
3 tbsp. vegetarian chicken bouillon powder
3 tsp. poultry seasoning
1 tsp. ground black pepper
½ tsp. sea salt
* Note: I've been able to find vital wheat gluten in our grocery stores, but if you're out of luck at regular grocery stores, sometimes you can find the stuff in specialty stores or health food stores. You can also order it online from King Arthur Flour, Arrowhead Mills, or Bob's Red Mill. 
Directions:
Prepare the dough: in a large bowl, combine the vital wheat gluten, vegetarian chicken bouillon powder, garlic granules, black pepper, sage, thyme, and coriander. Mix well. Add in the water. Knead the dough for a few minutes. You should end up with a semi-sticky ball of spongy dough.
Roll out to about ¼-½ inch thick. Cut the dough into pieces as big or small as you want, keeping in mind that the dough will swell to at least twice its size while cooking.
Prepare the cooking liquid: combine the water, nutritional yeast, vegetarian chicken bouillon powder, poultry seasoning, pepper, and salt in a large, semi-shallow pan. Bring it close to a boil, then reduce to simmer. Add your pieces of dough, one at a time. Partially cover the pan (so steam has a place to escape) and cook the seitan until most of the liquid is absorbed (about an hour). Flip the pieces of seitan over every so often, making sure they aren't sticking. *Don't throw out the remaining broth once the seitan's cooked, if you're using the seitan right away. You can use it as a base for gravy, especially if making "fried chicken" with the seitan… or simply in a recipe that calls for chicken broth!
Remove the seitan from your broth. I like to set mine on a cooling rack and/or paper towels to dry it out slightly before using, especially if I'm making something fried with the seitan. If you aren't going to use the seitan right away, store it in its cooking broth for up to 7 days in the fridge.