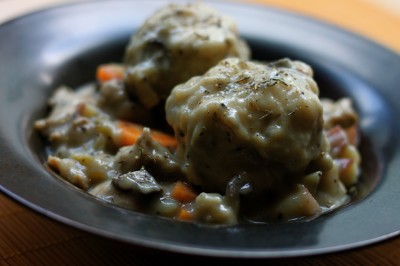 I don't think I've ever had non-vegetarian chicken and dumplings. Don't let that run you off from trying this recipe. Please. I scoured the inter-nets for quite some time, searching for the best chicken 'n dumplins recipes. I knew seitan would be my alternative chicken (sounds creepy, but you know what I mean), but I wanted to get a good idea of what the stew portion of this one-dish meal would be.
Basically, if you're making real chicken and dumplings, it involves cooking a whole chicken, and your broth gains its complexity of flavor from that and the things you cook with the meat. I wasn't cooking a whole chicken, so my flavors had to come from the vegetables, spices, herbs, and broth I was using. While I am a firm supporter of homemade broths, I absolutely love Imagine brand organic no-chicken broth. You can't even tell there's no chicken in there.
Some recipes I saw achieved a soupy, thin stew. Others creamy. Some thick. I wanted a combination of all these things. PLUS dumplings that had a little complexity of flavor on their own. Since you're not cooking actual meat, the time it takes to make this dish isn't as consuming. With all the chopping and cooking time included, I had dinner ready in 50 minutes. Not too bad for something comforting and hearty! Not to mention, delicious.
A six-year-old review: "Julie, I want to eat this EVERY DAY!"  Try it.
Vegetarian Chicken and Herbed Dumplings
Ingredients:
For the stew
16 ounces seitan, cut into bite-size pieces
1 cup celery, diagonally cut into bite-size pieces
1½ cups carrots, cut into bite-size pieces
1 cup onion, chopped
2 cups red potatoes (skin-on okay), cut into small cubes
1 cup diced crimini mushrooms
4 cloves garlic, minced
2 bay leaves
½ tsp. dried thyme
½ tsp. dried oregano
½ tsp. black pepper (or more/less to taste)
¼ tsp. sea salt (or more/less to taste)
6 tbsp. unsalted butter, cut into cubes
6 tbsp. all-purpose flour
6 cups vegetable (or No-Chicken) broth
3 tbsp. heavy cream
1 tbsp. olive oil
For the dumplings:
2 cups all-purpose flour
2 tsp. baking powder
1 tsp. sea salt
2 tbsp. melted butter
1 cup milk
2 tsp. dried thyme
1 tsp. dried oregano
¼ tsp. ground sage
Directions:
Sauté the onion and garlic in olive oil over medium-high heat.  Once the onion is translucent, add the celery, carrots, and potatoes. Allow the mixture to cook until the vegetables begin to soften (10-15 minutes).
Add the seitan, mushrooms, thyme, oregano, black pepper, and sea salt to the pan. Turn to coat everything in the spices and herbs.
Add in the butter, stirring until it's completely melted. Sprinkle the flour over the vegetable mixture. Stir until the flour is well-coating everything and isn't powder-white. Add in the vegetable broth and bay leaves.  Allow the mixture to cook until it begins to thicken up, 10-15 minutes. Prepare your dumpling batter while the stew is thickening.
In a bowl, whisk together the flour, baking powder, salt, thyme, oregano, and sage. Add in the melted butter and milk all at once. Stir until you have a slightly sticky, thick, dough. If it's too dry, you can add more milk 1 tablespoon at a time.
Stir the heavy cream into your stew mixture. Lower the heat to simmer (you don't want to boil the dumplings, or they'll become tough – we're just steaming them in the stew). Drop the dumpling dough onto the stew by rounded tablespoons. It's okay if they're touching one another. Cover your pot and do not remove the lid for 15 minutes. Resist all urges to peek for 15 whole minutes. Seriously. You can do it!
After 15 minutes, check the doneness of the dumplings with a toothpick. If the toothpick comes out clean or with few dry crumbs attached, it's ready to serve up! If the dumplings aren't done, cover the pot and simmer for 5 or 10 more minutes.
Serve and enjoy!
Please follow and like us: