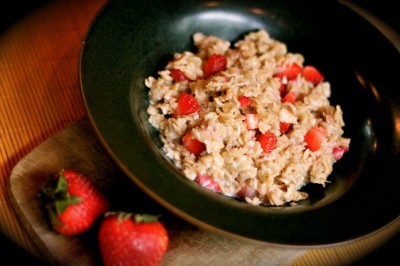 I love oatmeal. For breakfast, lunch, dinner sometimes. Quick oats, old fashioned rolled oats, steel cut. Sometimes mushy, sometimes drier. Usually hot, sometimes cold. You can cook it in water, milk, both. Even a bit of fruit juice if you want a slightly different flavor. Plus you can keep it healthy with fresh or dried fruits, or go over the top and add chocolate, peanut butter, butter, sugar.
Oatmeal can lower cholesterol levels and help reduce your risk of heart disease. It has more soluble fiber than whole wheat. It's chock-full of vitamins, antioxidants, and minerals. It's quick, inexpensive, and versatile enough to borderline ridiculous.
I liked oatmeal as a kid. My mom would make a big pot, following the directions on the Quaker Oats canister: water, milk, a pinch of salt. Then she'd leave brown sugar, butter, more milk, cinnamon, and raisins on the countertop for us to add to our liking. I always added more butter and brown sugar than necessary. I probably still do. There are times I still crave that exact style of oatmeal. However, I've gotten more adventurous about what I add to my oats. Bananas, blueberries, crystallized ginger, chopped macadamia nuts, or walnuts, or pecans. Dried coconut, vanilla, nut butters, agave syrup, dried cranberries, sunflower seeds, crumbled energy bars, pumpkin puree. Endless possibility.
The following recipe is vegan. Or if that ain't your thing, you can toast the oats in butter, add regular dairy milk. It's good though. And easy. And kid-approved (at least here it is).
Strawberries and Cream Oatmeal
Ingredients:
1 tbsp. coconut oil
2 cups old-fashioned oats
1½ cups water
1 cup vanilla rice/soy/almond milk
1 tsp. vanilla extract
2 tbsp. brown sugar
3 tbsp. unsweetened coconut
1 cup strawberries, diced
¼ tsp. ground cinnamon
Directions:
Heat the coconut oil in a medium-sized pot until it liquifies. Add the oats and toss to coat. Toast the oats until they're fragrant and lightly brown (10-15 minutes), over medium heat.
Add in the water, milk, and vanilla. Stir to combine all the ingredients. Let the mixture cook for about 5 minutes. Once it begins to bubble up or steam, stir constantly for about 5 more minutes, until the liquid is absorbed. Once the oats are you preferred consistency (a little bite left, or mushy), they're done. While still over medium heat, stir in the vanilla, brown sugar, coconut, strawberries, and cinnamon.
Serve immediately and enjoy!