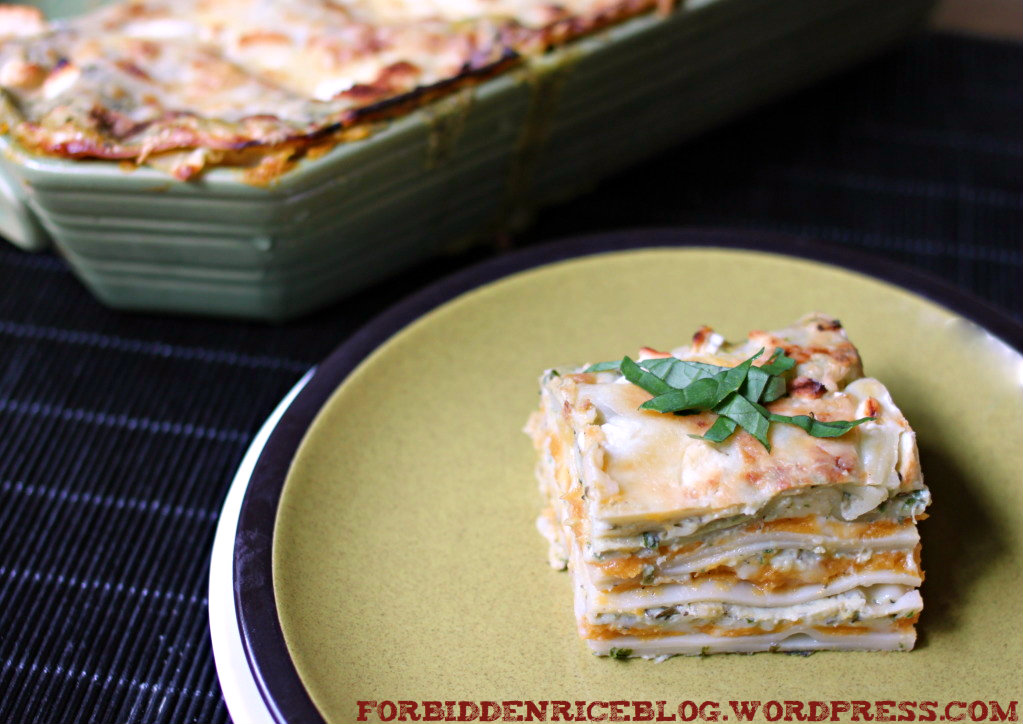 My husband is the burrito king. I don't know how, but he has burrito-truck/authentic taqueria radar. We can be driving down the freeway or through a town we've never been to, and somehow he manages to find the best burritos. We eat a lot of Mexican-influenced meals. I am not complaining, because the truth is I could happily eat a good burrito every day. In the moments I don't want Mexican food, I'm usually craving Italian goodness, or sushi, or weird things like massive amounts of spinach cooked in garlic and tamari. If I could, without regret, eat a burrito for breakfast/lunch, then some kind of pasta for dinner every day, my stomach would thank me.
I've made this lasagna a couple times now and love the odd combination of sweet butternut squash and the savory taste of the basil white sauce, and cheese. Lasagna always takes a little bit of time to prepare, especially when you're making everything from scratch, but it's so worth it. The original recipe is from Giada de Laurentiis on Food Network. After making her recipe to a T, I decided I wanted more flavor in the sauce, as well as more ginger-bite in the squash (thus more cookies, and ginger ones, at that). The squash puree makes this lasagna pretty dense, but that also means it's filling. It's delicious as leftovers, too.
Butternut Squash Lasagna
Ingredients:
2 tbsp. olive oil
2½ lbs. butternut squash, peeled + cut into 1"cubes
¾ cup water
5 ginger cookies*
¼ cup butter
¼ cup all-purpose flour
1 tsp. granulated garlic
½ tsp. onion powder
½ tsp. dried basil
½ tsp. dried oregano
3½ cups whole milk
pinch of fresh ground nutmeg
1 cup fresh basil, loosely packed
3 cups shredded mozzarella cheese
½ cup grated parmesan cheese
salt and pepper, to taste
15 lasagna noodles
* The original recipe calls for Italian amaretti cookies, which are hard, crispy cookies similar to a macaroon, made from ground almonds. I haven't been able to find amaretti cookies, and while I've read you can replace them with graham crackers, almond biscotti, or macaroons, I prefer ginger cookies. Pamela's Spicy Ginger Cookies with Crystallized Ginger, to be exact. 
Directions:
Preheat the oven to 375°F. Lightly grease a 9×13-inch pan (or lasagna baking dish if you've got one). Combine the mozzarella and parmesan cheeses together in a bowl, then set aside. Boil the lasagna noodles according to the package directions, then set aside until you're ready to put the lasagna together.
In a large skillet, heat the oil over medium-high heat. Add the squash, turning to coat in the oil. Sprinkle with salt and pepper, then add the water to your skillet. Cover the pan and simmer over medium heat for 20-25 minutes, stirring occasionally, until the squash is tender. Allow the squash to cool slightly, then transfer to your food processor or high-power blender. Add the ginger cookies and blend until the mixture is smooth. Taste, then add more salt and pepper to your liking. Set aside.
Melt the butter over medium heat, in a medium-sized saucepan. Whisk in the flour, granulated garlic, onion powder, dried basil, and dried oregano. Continue whisking for about 1 minute, then whisk in your milk. Allow the mixture to come to a boil over medium heat, then reduce the heat to simmering until the sauce thickens (5 or so minutes). Whisk in the nutmeg. Pour half of the sauce into your blender or food processor along with the 1 cup of fresh basil. Blend until smooth, then pour the mixture back into your saucepan and stir to combine. Season with salt and pepper to your liking.
Spread about ½ a cup of the basil-white sauce in your baking dish. Arrange 5 of the lasagna noodles on the bottom of your pan, slightly overlapping them (by approximately a ½-inch). Spread one third of the squash puree over the noodles, then one third of the sauce, then one third of the mozzarella/parmesan cheese mixture. Layer 5 more noodles, then one third of the squash, a third of the cheese blend. Add 5 more noodles, the last of your squash puree, then the last of your sauce. Reserve the remaining cheese for later.
Tightly cover the dish with foil and bake for 30-40 minutes. Uncover, then sprinkle with the remaining cheese. Continue baking the lasagna uncovered, until the top is golden brown (15-20 minutes). Let the lasagna stand for 10-15 minutes before serving.
Enjoy!