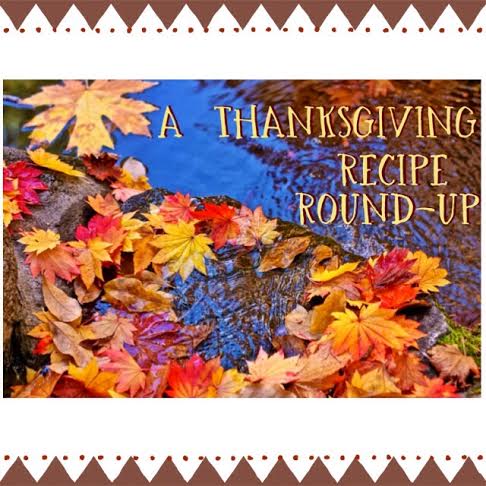 Alright, we've arrived at Thanksgiving week. First things first – where the heck has this year gone? Are we really getting back into the swing of the holiday season? Okay, the shock is wearing off…
While growing up, to my family, Thanksgiving included an all day cooking affair for my parents. The kitchen would be bustling and crowded from early morning hours up until the dinner table was set. We were a family of six, often extended to nine or ten with my Uncle Ronnie and some family friends. The meal most usually consisted of the familiar cast of Thanksgiving dishes: roasted turkey, turkey pan gravy, sometimes oven roasted ham as well, stuffing, mashed potatoes, rice (because what meal in Hawaii doesn't include rice?!), dinner rolls, green bean casserole with crispy fried onions, a fresh green salad, cranberry sauce (you know, the kind that comes in the shape of the can, grooved lines included), sweet potato casserole, pumpkin pie, pumpkin crunch…
These days, Thanksgiving dinner has taken a different route for me. We don't roast a turkey since meat isn't a staple for us. My favorite parts of this particular meal has more to do with the side dishes than the actual main dish, anyway, so that's where my focus usually diverts to. The thing is, when people think of a vegetarian Thanksgiving meal, it seems their attention usually goes to what will be missing rather than the potential for an equally enjoyable feast. I decided to research a vast number of recipes to put together a list of vegetarian dishes that would make up a great Thanksgiving meal, or at least offer some options for including vegetarian dishes in your traditional Thanksgiving plans.
Within this post, you'll find some ideas for appetizers or small courses, stuffing recipes, side dishes of various sorts, fresh cranberry sauces, main courses that don't include the word Tofurky, dinner rolls, desserts, and cocktails. Hopefully something for everyone, as every one of these recipes would be a great addition to any meal.
With that, here's to a season of being reminded of everything we have to be thankful for… happy cooking and eating, folks.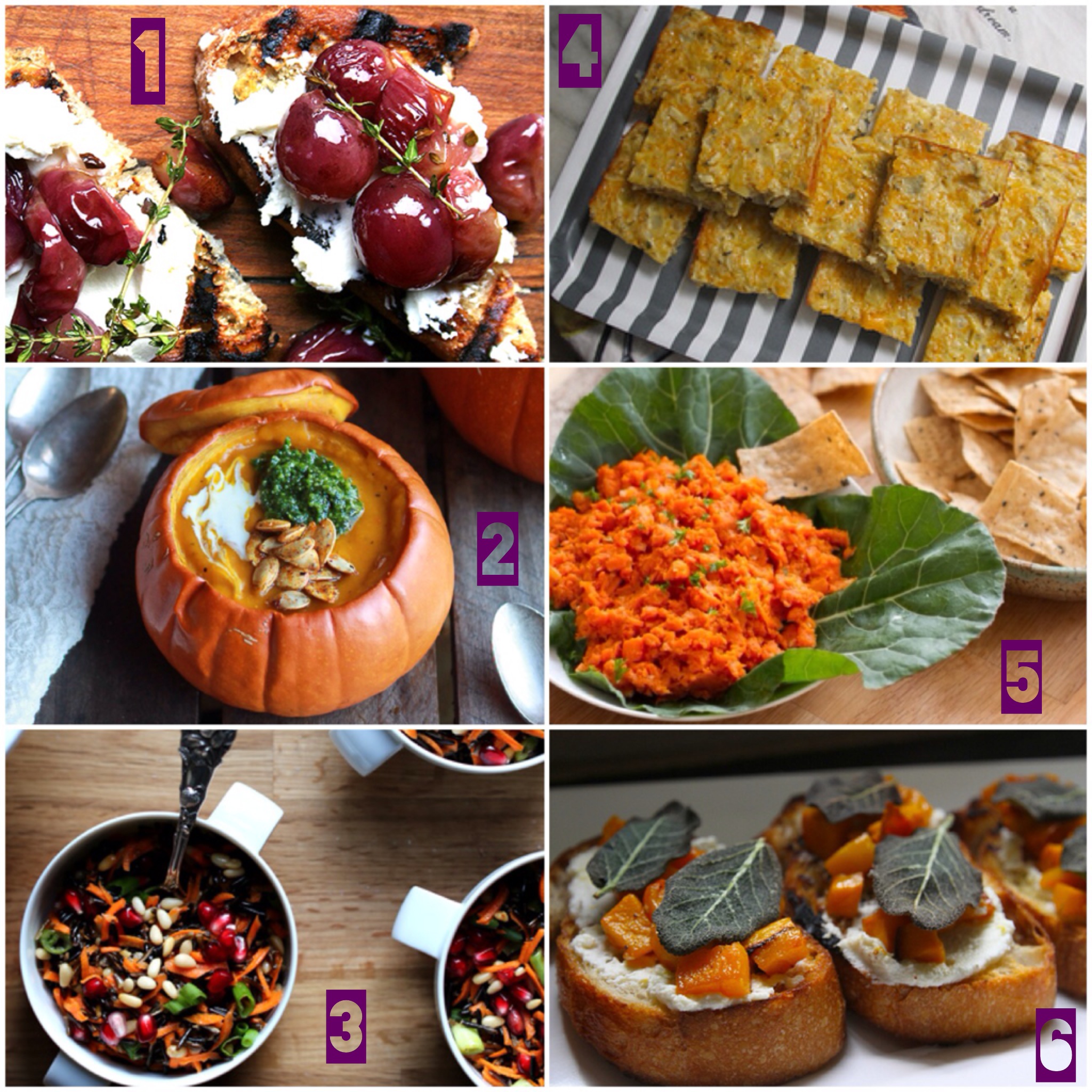 Appetizers + Small Bites
……………………………………………………………………………
1. Roasted Grapes with Thyme and Fresh Ricotta by Alexandra's Kitchen
2. Roasted Garlic Sage Pesto Pumpkin Soup by Half Baked Harvest
3. Wild Rice Salad with Pomegranate and Pine Nuts by Earthy Feast
4. Baked Artichoke Squares by Shutterbean
5. Moroccan Carrot Dip by A Thought For Food
6. Butternut Squash Ricotta and Sage Crostini by Shutterbean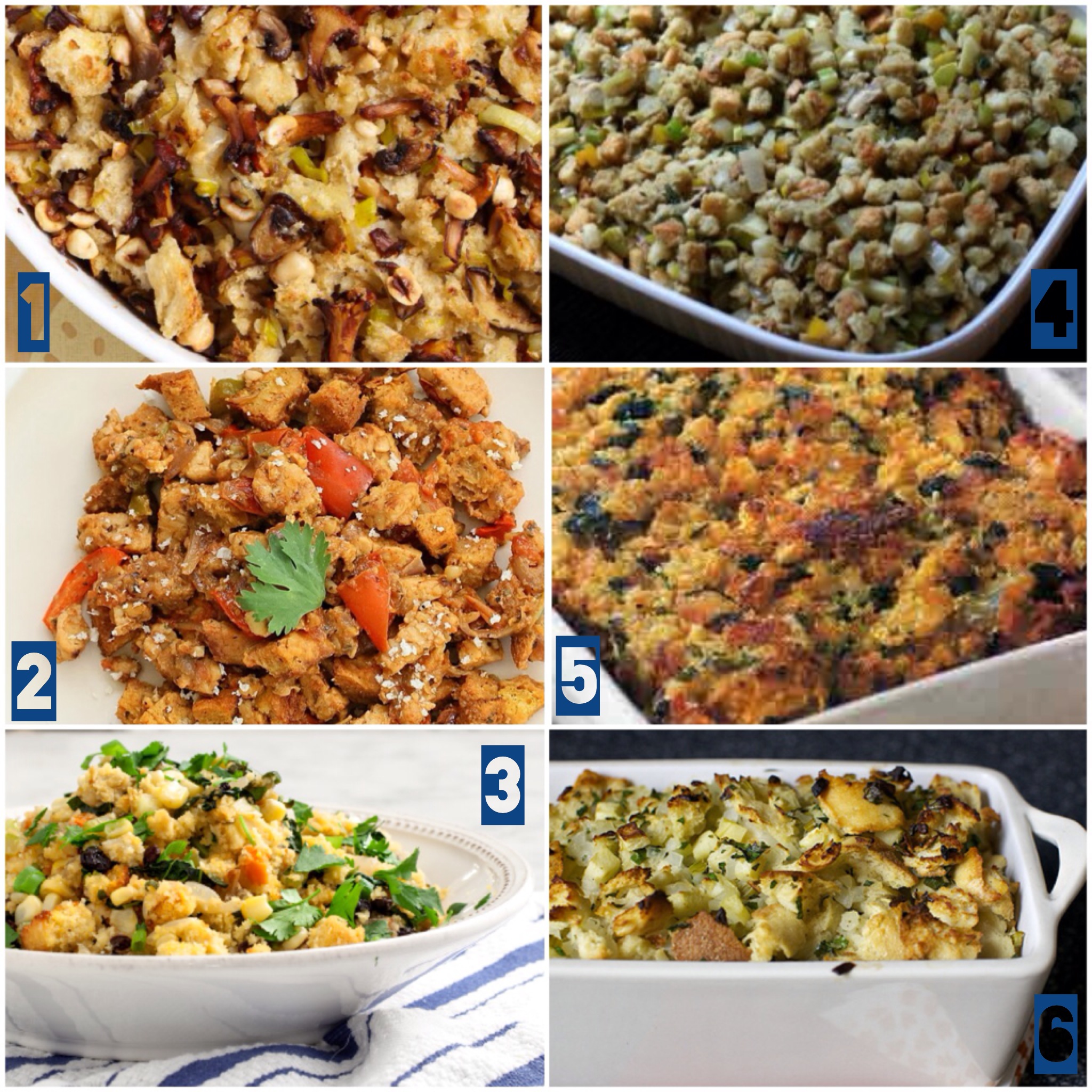 Stuffing + Dressing
……………………………………………………………………………
1. Wild Mushroom, Leek and Filbert Dressing by Martha Stewart (use vegetable broth)
2. Pumpkin Bread and Tempeh Stuffing by Vegan Richa
3. Poblano Cornbread Stuffing by Love and Lemons
4. Vegetarian Shiitake Leek Stuffing
5. Southwest Cornbread Stuffing with Corn and Green Chilies by Bon Appétit
6. Apple and Herb Stuffing by Smitten Kitchen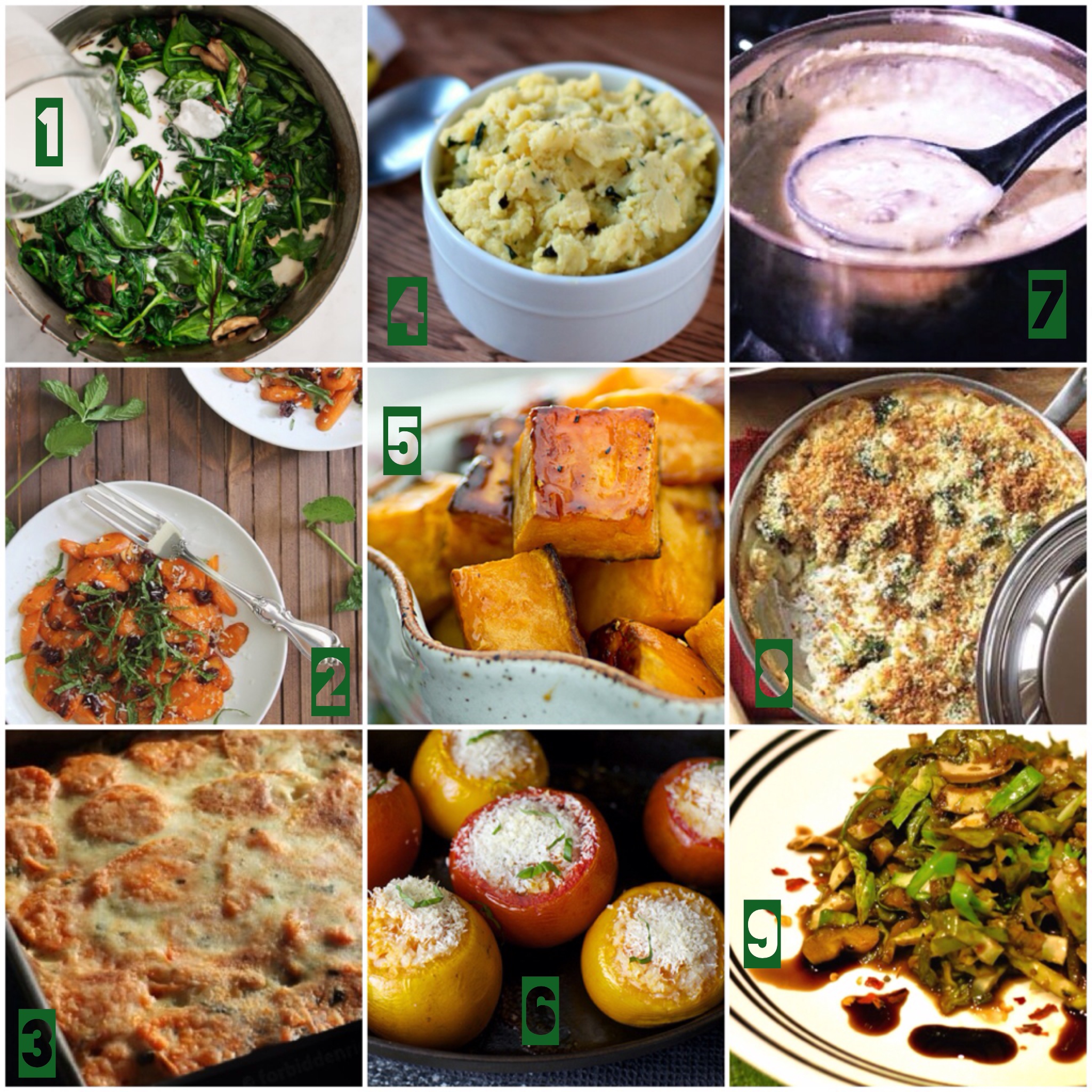 Veggie Side Dishes
……………………………………………………………………………
1. Coconut Creamed Spinach by Love and Lemons
2. Coconut Roasted Carrot Salad by Healthy Green Kitchen
3. Scalloped Yam Casserole
4. Goat Cheese Basil Mashed Potatoes by High Heels to Hot Wheels
5. Apple Cider Glazed Sweet Potatoes by Oh My Veggies
6. Rice Stuffed Tomatoes by Smitten Kitchen
7. Vegetarian Mushroom Gravy
8. Golden Broccoli Gratin by Williams Sonoma
9. Shredded Brussels Sprouts with Garlic and Balsamic Vinegar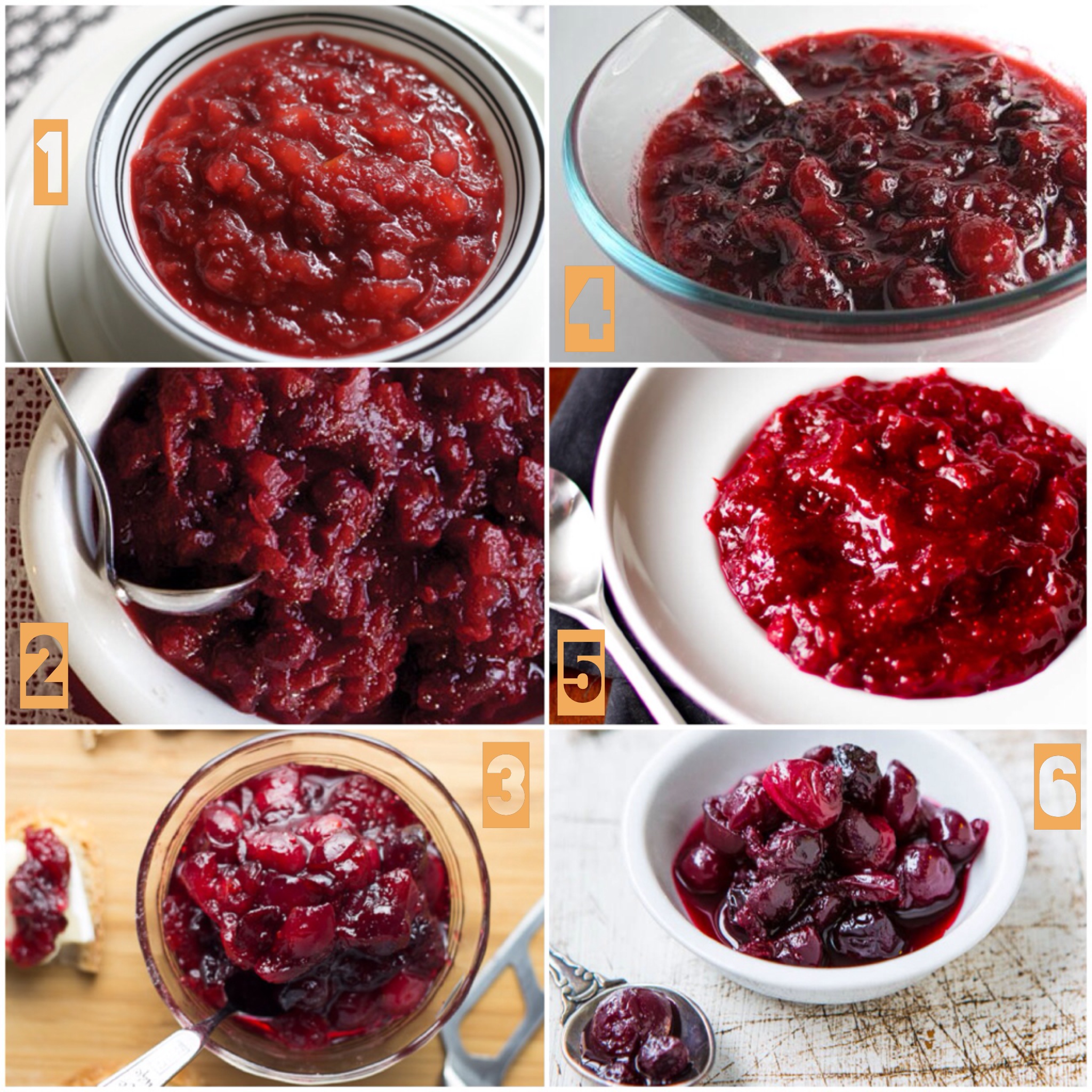 Cranberry Sauce
……………………………………………………………………………
1. Cranberry Apple Pear Sauce
2. Cranberry Ginger Chutney by Saveur
3. Bourbon Maple Cardamom Cranberry Compote by Ginger and Toasted Sesame
4. Mary Bogue's Outrageous Cranberries in Cabernet Sauvignon by Foodista
5. Ginger Orange Cranberry Sauce by Oh My Veggies
6. Caberet Cranberry and Blueberry Sauce by Averie Cooks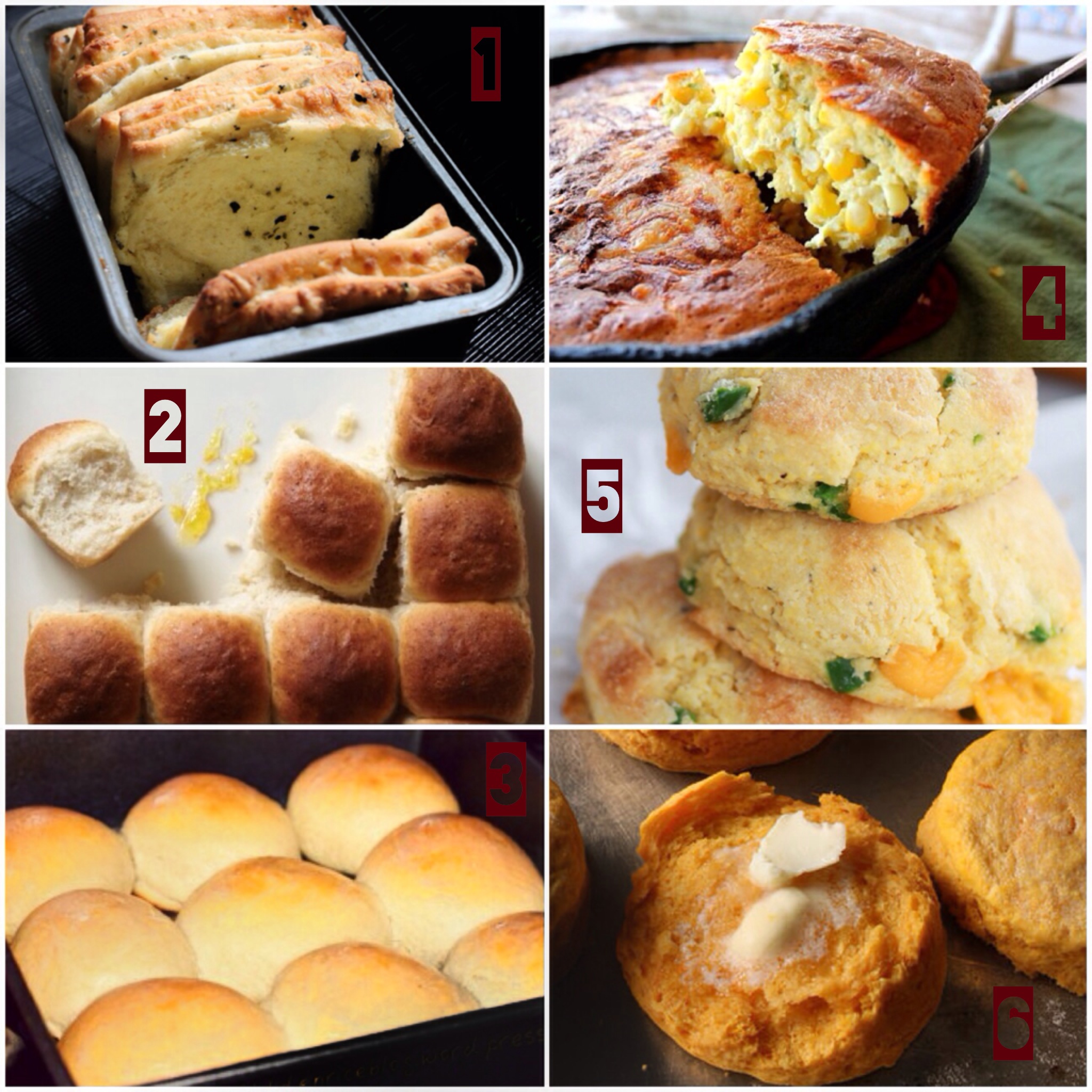 Rolls + Breads
……………………………………………………………………………
1. Cheesy Herb Pull-Apart Bread
2. Wheat Germ and Honey Dinner Rolls by Vegetarian Times
3. Soft Pull-Apart Dinner Rolls
4. Sweet Corn Cheddar Spoonbread by The Bojon Gourmet
5. Sweet Honey Jalapeno Cheddar Cornbread Biscuits by Half Baked Harvest
6. Sweet Potato Biscuits by Kate Ramos at Chow.com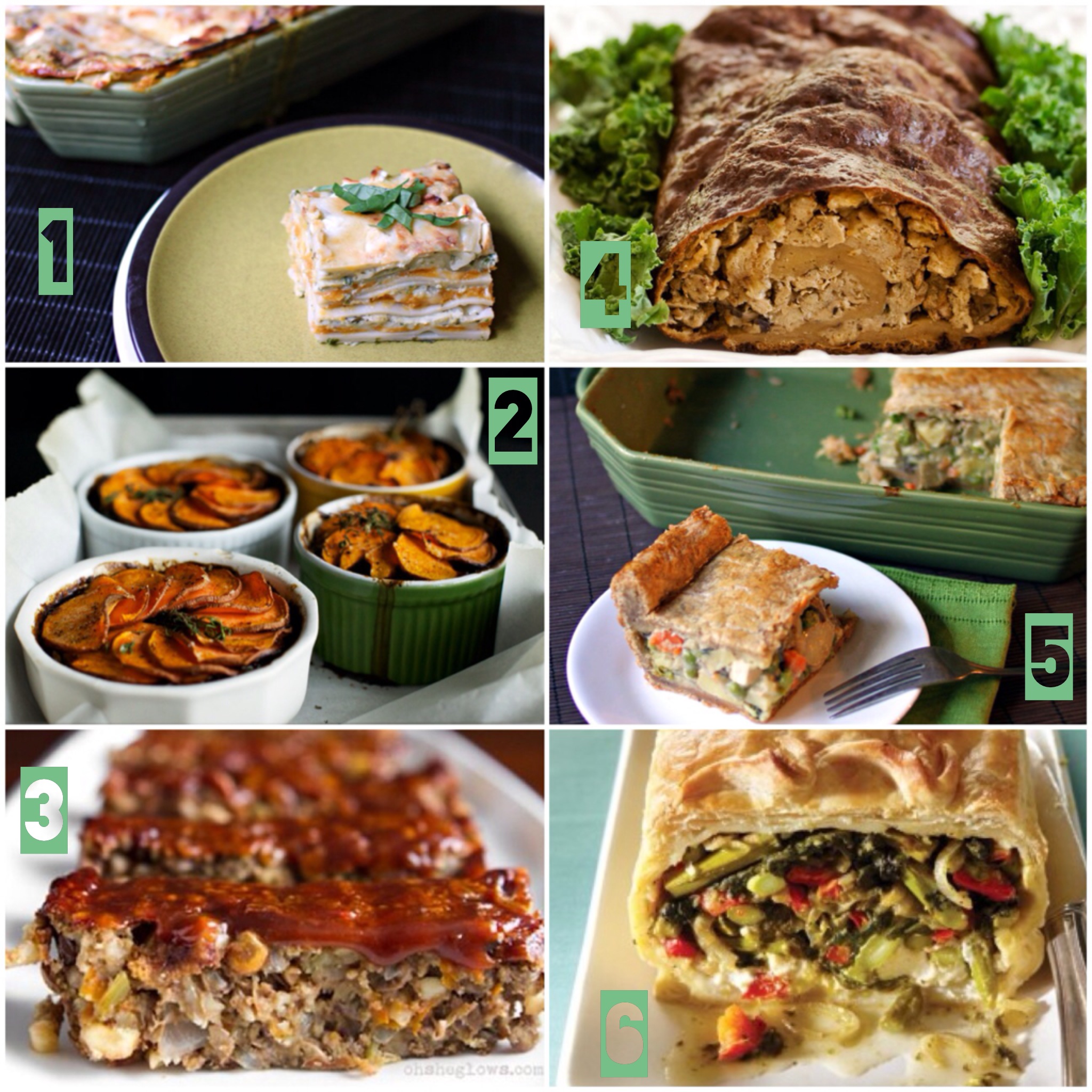 Main Dishes
……………………………………………………………………………
1. Butternut Squash Lasagna
2. Mushroom + Stout Pot Pies with Sweet Potato Crusts by The First Mess
3. Glazed Lentil Walnut Apple Loaf by Oh She Glows
4. Seitan Roulade with Oyster Mushroom Stuffing by VegNews Magazine
5. Double Herb and Cheese Stuffed Crust Veggie Pot Pie
6. Vegetable Wellington Redux by Vegetarian Times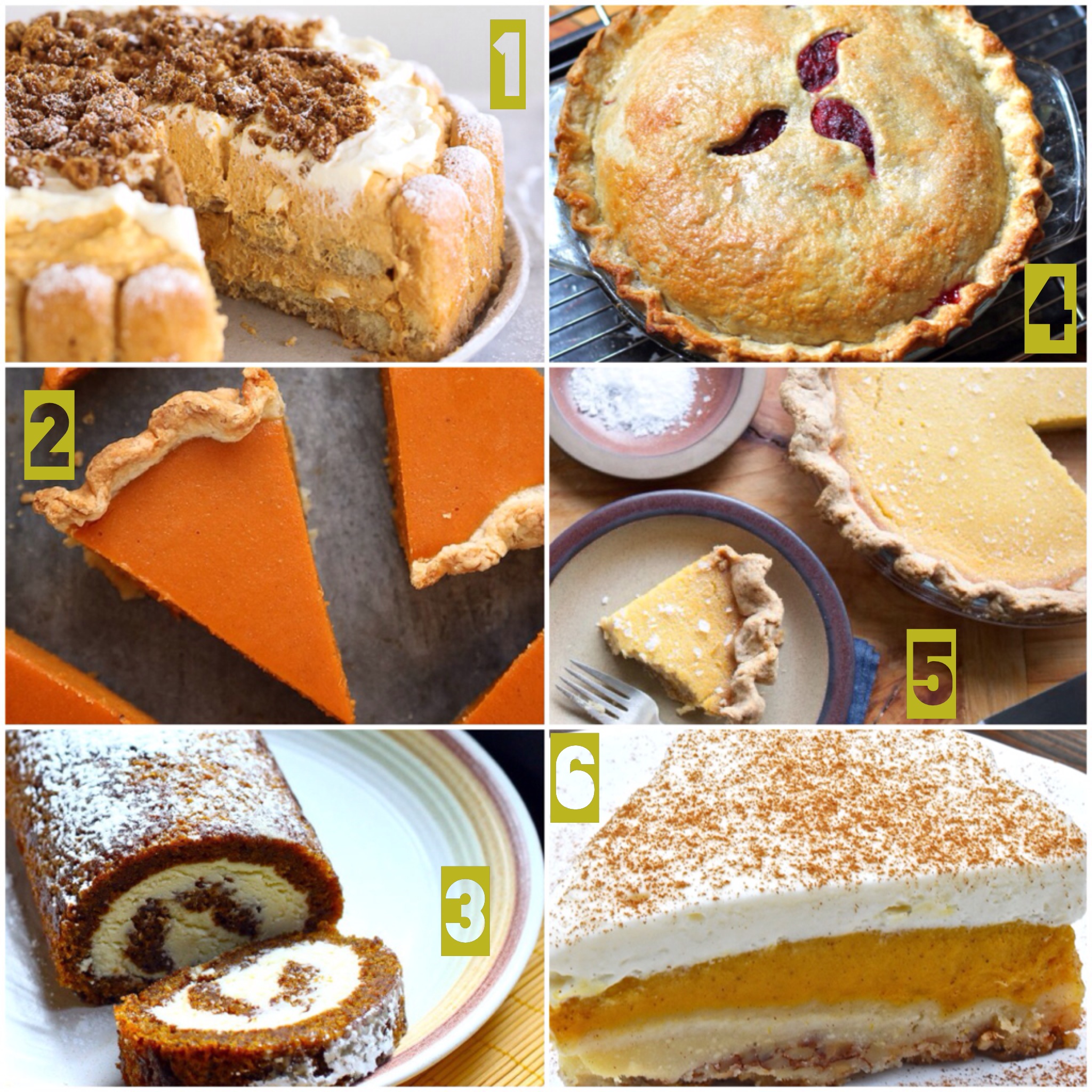 Dessert
……………………………………………………………………………
1. Pumpkin Tiramisu by Foodie Crush
2. Dad's Perfect Sweet Potato Pie by Joy the Baker
3. Pumpkin Roll with Cream Cheese Filling
4. Spiced Apple Cranberry Pie
5. Salted Honey Pie by A Sweet Spoonful
6. Hawaii Style Pumpkin Crunch from Ai Love Baking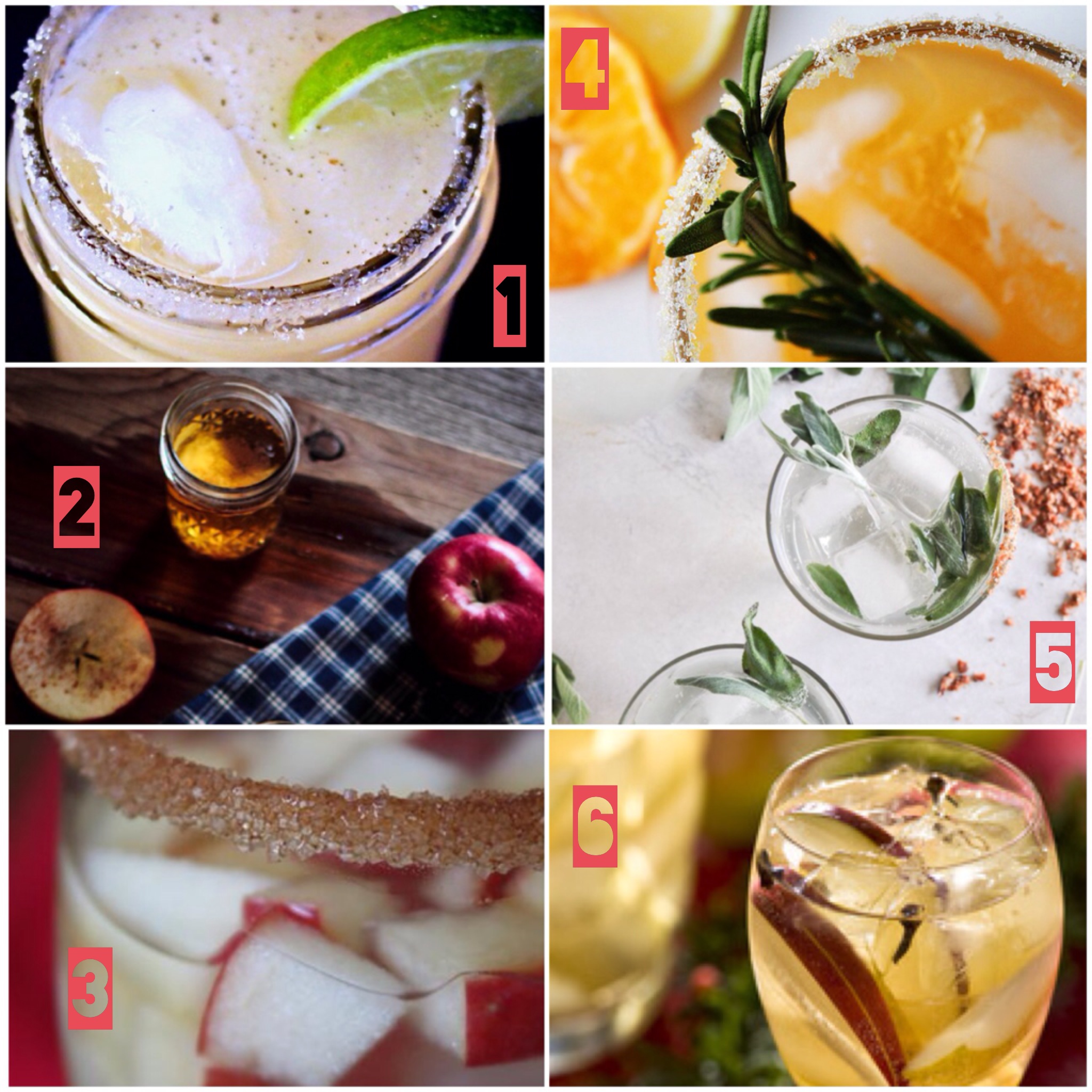 Cocktails + Beverages
……………………………………………………………………………
1. Vanilla Bean and Pear Vodka Cocktails
2. Hot Bourbon Apple Cider by Pastry Affair
3. Honeycrisp Apple Sangria by Nutmeg Nanny
4. Winter Sun Cocktails by Two-Tarts
5. Honey Sage Gin Fizz by How Sweet It Is
6. Fall Spiced Pear Sangria by Stephen Phillips at HGTV