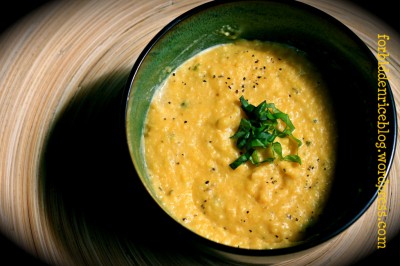 Honestly, I can't tell you what the difference is between grits and polenta. I've read various things here and there, and the most I can gather is that both are a type of mush made from coarse ground corn: typically yellow corn for polenta, white corn for grits. Polenta is Italian, grits are American.
When I met my husband, he and the kids would ask for "cheesy grits" for breakfast or dinner now and then. What we call "grits" here isn't like grits I've had in Southern-style restaurants, or down south for that matter. Its got a little more texture to it than the mush I've enjoyed.
If you're going to try this recipe, I'd opt for buying polenta, not to be confused with corn meal of course. That's what we get in bulk here in Ashland. Whatever you call it, this is tasty. I make a giant pot for breakfast, which we enjoy exactly like the following recipe. When doing something similar for dinner, I'll often accompany it with homemade garlic-basil marinara to top it off with. That's good, too. Polenta is great on its own, or served as a bed for meat, seafood, etc. Plus it's pretty simple, straight forward, and the stirring isn't too overwhelming.
Creamy Cheesy Polenta
Ingredients:
3 cups vegetable broth
3 cups milk
1½ cups polenta
1½ tsp. sea salt
1 tsp. black pepper
½ tsp. granulated garlic
½ tsp. dried thyme
3 tbsp. unsalted butter
1¾  cups shredded sharp cheddar cheese
2 tbsp. grated parmesan cheese
1 tbsp. fresh basil, minced fine
Directions:
Combine the broth, milk, salt, pepper, granulated garlic, and dried thyme in a heavy-bottomed pot. Bring to a low rolling boil.
Pour the polenta into the simmering liquid, stirring in a circular motion, to prevent the polenta from clumping up. Continue to cook for 20-30 minutes, stirring constantly. It'll take a little while for the liquid to start being absorbed, so don't fear if your polenta looks like the grains have settled on the bottom, leaving your cooking liquid at the top. Just keep stirring.
Once the cooking liquid has been absorbed and you're left with a pot full of creamy, thick polenta, stir in the butter, cheeses, and fresh basil. Taste and add more salt or pepper to your liking.