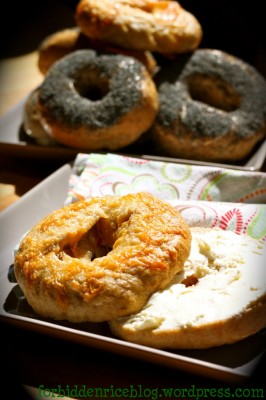 My sourdough starter has become one of my new favorite tools and ingredients in our kitchen. I am sure the novelty will wear off eventually, but for the time being its been fun. Fresh bagels somewhere at the top of my list of favorite foods to eat. I could easily eat fresh bagels daily. Plain, toasted, topped with cream cheese, as a vehicle for an egg sandwich, sweet, savory. I could be classified as a bagel glutton. (Happily.)
The idea for sourdough bagels sounded phenomenal. I don't think I've ever had a sourdough bagel before, although I know it isn't some radical new idea. My love for sourdough bread is about equivalent to my love of fresh bagels though, so it all seemed absolutely necessary.
I researched sourdough bagels near and far, pulling a little of this and a little of that from everything I was reading, thus ending up with the following recipe. While many (most) of the recipes I reviewed called for malt syrup, I decided to forego that and use what I already had: pure cane syrup straight from Louisiana. Cane syrup is sweeter than molasses, but I think either would work just fine. Or even plain cane sugar if that's what you have. Also, I should say I've never weighed out ingredients before like I did with this recipe, but keeping things exact is a good plan for this dough. The hardest part about making these bagels is probably the two days it takes, most of which is simply waiting. But the wait's definitely worth the end result!
Sourdough Bagels
yields approx. 10 bagels, 3½" in diameter
Ingredients:
for the sponge:
215 grams warm water
140 grams sourdough starter
¼ tsp. commercial yeast
180 grams unbleached flour
5 grams vital wheat gluten
for the dough:
¼ tsp. commercial yeast
130 grams unbleached flour
100 grams whole wheat flour
5 grams vital wheat gluten
6 grams sea salt
1½ tsp. molasses or pure cane syrup
water
1 tbsp. baking soda
¼ cup poppy seeds (optional)
½ cup grated sharp cheddar cheese (optional)
any other topping you'd prefer for your bagels–or leave them plain
Directions:
Prepare the sponge: In a large mixing bowl (preferably the one to your stand mixer), combine the warm water, sourdough starter, and yeast. Combine well. Stir in the unbleached flour and vital wheat gluten. Cover lightly with plastic wrap or a towel and allow the sponge to rest at room temperature for 2 hours.
Prepare the dough: After the sponge has rested for 2 hours, attach the bowl to your stand mixer, fitted with the paddle attachment. Stir in the ¼ tsp. yeast, salt, and molasses/syrup. Combine well, then add in the unbleached flour, whole wheat flour, and vital wheat gluten. No need to add the flour a little at a time. Keep mixing until all the ingredients become coherent. Use the dough hook now and allow it to knead your dough for about 10 minutes. If the dough becomes sticky, sprinkle in a little more unbleached flour. The dough should be elastic-like, but stiff. Cover the bowl with plastic wrap and allow it to rest at room temperature for one hour before refrigerating overnight (at least 10 hours).
Prepare your bagels: The next day, remove your dough from the fridge and allow it to come to room temperature for about an hour. Prepare two baking sheets, coating lightly with oil or silicone sheets, or parchment paper. Once the dough has reached room temperature, turn it out onto your work surface. Divide the dough into portions weighing about 100 grams (3½ ounces) each. Roll each portion into a tight, smooth ball. Pierce the middle of each ball with your thumb, then toss the ring around your index finger, stretching the hole your just made, forming your typical bagel shape. Make the hole in your bagel a little wider than you'd expect from a bagel—the dough will spring back both as it rests and while it's boiling. Once all the bagels are formed and resting on your prepared baking sheets, let them sit for 10-15 minutes.
Preheat your oven to 500°F, with the two racks close to the center of your oven. Bring a wide pot of water (about 6-7 inches deep) to a boil. Add the baking soda to this water.
Check to see that your bagels are ready for poaching: Drop one of the bagels into a bowl of room temperature water. Within 10 seconds the bagel should float to the top of the bowl. If it doesn't, allow the bagels to rest for an additional 5-10 minutes, then test again.
Cook the bagels: Once the bagels are ready, drop as many as will comfortably fit in your pot of water (I fit 5 at a time). Cook for one minute, then use a slotted spoon or skimmer to flip the bagel. Cook for 1-2 minutes (the longer, the chewier your bagel will be). Place the bagel, pretty side up, on your prepared baking sheets. Sprinkle the tops with your preferred topping (or leave plain if that's the route you're going).
When all of the bagels have been poached and coated to your liking, bake for 5 minutes. Switch the baking sheets—the bottom sheet to the top, top sheet to the bottom, rotating them front to back as well (to promote even cooking). Bake for an additional 5 minutes, or a few minutes longer to the darkness of your liking.
Transfer to a cooling rack and allow the bagels to cook 20-30 minutes at least before eating.