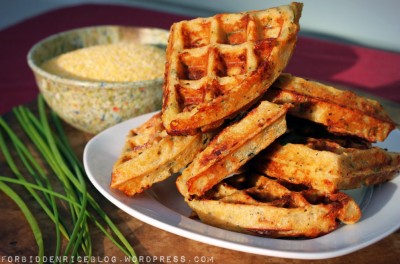 A couple years ago, we got a waffle iron and I quickly became enamored with making various types of waffles: brown butter, buttermilk, whole wheat, plain, cinnamon apple, blueberry, overnight yeasted waffles. Then one day Silas came home and said in the most awful, hilarious, British accent, "Julie, I would like some chicken and waffles, please!"
Chicken and waffles? I'd heard of it, read about it, seen it advertised in the South or in the Bay Area of California, but never tried it. The combination sounded sketchy to me. But then as I read various recipes, it seemed the waffle was always served alongside the fried chicken – waffle with butter and syrup, chicken simply fried. This made sense in my head: the salty-sweet combination I so often crave – like, french fries and vanilla milkshakes, or fried eggs with syrup laden pancakes, or pretzels with peanut (or cookie) butter.
But I decided to opt out of the salty-sweet combo and instead test a savory waffle the "chicken" could hang out on, bathed in creamy gravy. The first time I did this I made a cornmeal waffle, which was kind of like cornbread cooked on the waffle iron. It was delicious. I made fried chicken "tofu" to go with the cornmeal waffles. Also delicious.
Recently while browsing through my blogroll, I saw a recipe for gluten-free lunch waffles. I was intrigued, especially after seeing that one of the main ingredients was a pot of cooked polenta. I love creamy, cheesy polenta. I didn't go the gluten-free route, mainly in order to use just what I had on hand – all purpose flour. These waffles crisped up amazingly – probably because of all the cheese in the batter. I made some chicken-fried tempeh and a creamy "chicken" gravy. The combination was heaven. These waffles were great on their own and can easily be served in whatever way sounds good to you!
Cheddar Chive Polenta Waffles
Recipe largely adapted from Joy the Baker 

Ingredients:
1 cup water
½ cup polenta
½ cup (1 stick) unsalted butter
1 cup milk
1 cup all-purpose flour
¾ tsp. salt
1 tsp. black pepper
1 tsp. baking powder
½ tsp. granulated garlic
½ tsp. dried thyme or ¼ tsp. fresh thyme, minced
¼ tsp. dried sage
pinch of cayenne pepper
1 large egg
¾ cup grated sharp cheddar cheese
3 tbsp. chopped chives
Directions:
Bring the 1 cup of water to a boil in a small pot. Steadily pour the polenta into the boiling water, stirring as your pour (to prevent clumping). Reduce heat to medium-low. Continue stirring, cooking the polenta for 5-10 minutes. Remove from heat and stir in the stick of butter until completely combined. Stir in the milk until you're left with a creamy pot of goodness. Set the polenta aside to cool.
While the polenta is cooling, combine the flour, salt, pepper, baking powder, garlic, thyme, sage and cayenne in a large mixing bowl. Whisk. Add the polenta mixture to the flour mixture, mixing well. Stir in the egg until well combined. Fold in the cheese and chives.
Heat your waffle iron according to the waffle maker's instructions. Lightly oil and spoon some of your thick polenta batter onto the waffle iron and cook according to the waffle maker's instructions. Cook until crisp and golden brown.
Serve however you desire… plain, topped with chicken and gravy, as a vehicle for a fried egg sandwich… the options are limited only to our imagination and taste buds.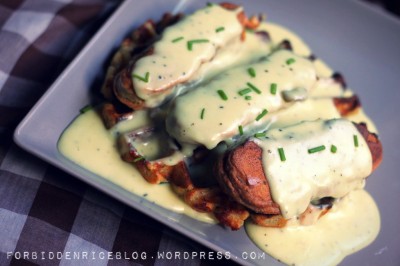 Please follow and like us: