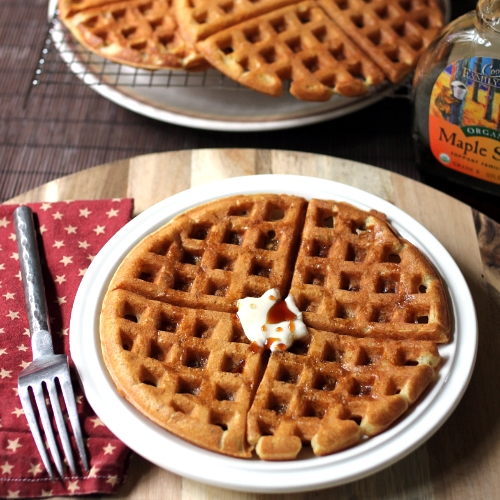 I have a current obsession with homemade waffles. Last week it might have caused us to eat waffles for breakfast, lunch, and dinner… Even dessert. I'm not really sorry, so hopefully you aren't waiting for my apologies. For a while, we only had a Belgian-style waffle iron (you know, the ones that make really deep, thick waffles). Truth be told, I could barely eat one Belgian waffle before being full. Then my mother-in-law let me have her thin-style waffle iron and things went downhill. Something about these thin waffles makes it where you can eat 2 or 3 (or 4 or 5 if you're my husband) before you feel like you've possibly had too many waffles… It's tricky business.
I enjoy savory waffles just as much as sweet waffles. I find myself constantly scouring the inter-webs for new recipes. Recently I came across this malted waffle recipe from Tracy Benjamin of the exquisite site, Shutterbean, while looking for recipes. I almost got out of bed to make them right that second. Instead I dreamt of them, then opted for a waffle breakfast.
The first time I heard of malt powder was when I making homemade bagels a few years ago. I get barley malt powder (which will sometimes say barely malt flour, not to be confused with malted milk powder). Barley malt is made from fermented grain, then dried and ground. The fermentation and drying process turns the grain's starches into sugar, leaving a lightly golden-colored, slightly sweet powder. The beauty of malt powder in baked goods is the lovely brown and shiny color it allows, as well as a naturally tasteful sweetness.
These particular waffles are wonderfully crisp on the outside (I love waffles that don't immediately go soggy once removed from the waffle iron!), but tender and flavorful on the inside. Topped with fresh berries and maple syrup, they cannot be beat for a delicious breakfast (or lunch… or dinner…).
Malted Waffles
Recipe slightly adapted from Tracy Benjamin @ Shutterbean.com
Ingredients:
1 cup all-purpose flour
½ cup malt powder (I use this, since it's available to me in bulk)
1 tbsp. firmly packed light brown sugar
1 tsp. baking soda
¾ tsp. baking powder
¼ tsp. salt
2 large eggs, at room temperature, separated
1¼ cups buttermilk
3 tbsp. unsalted butter, melted & cooled to room temperature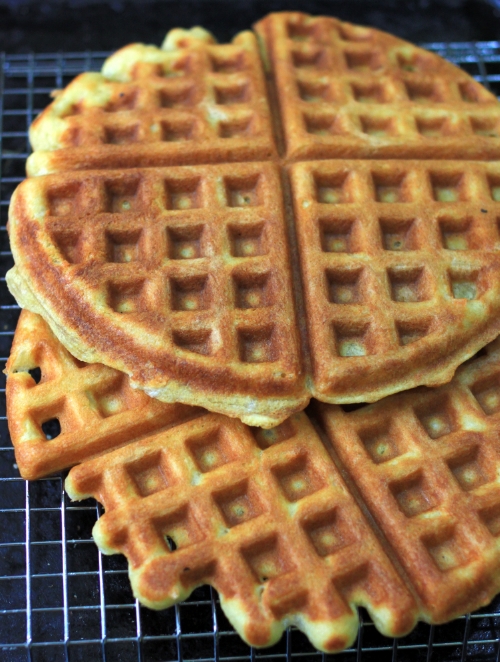 Directions:
Preheat your oven to 250°F. Prepare waffle iron (preferably non-Belgian style) with cooking spray or brush liberally with oil.
Whisk the flour, malt powder, sugar, baking soda, baking powder and salt together in a large bowl.
In a separate bowl, whisk together the egg yolks, buttermilk and melted butter. In a separate bowl, whisk the egg whites until stiff peaks form.
Stir the yolk/buttermilk/butter mixture into your dry ingredients until combined. Lumps are okay. Fold the egg whites gently into the batter, being careful not to break up the airy egg whites too much.
Cook the waffles according to your manufacturer's instructions. Place finished waffles on the rack of your preheated oven and continue to cook your waffles. You should have about 8 waffles. Serve with warm maple syrup, or your favorite waffle toppings.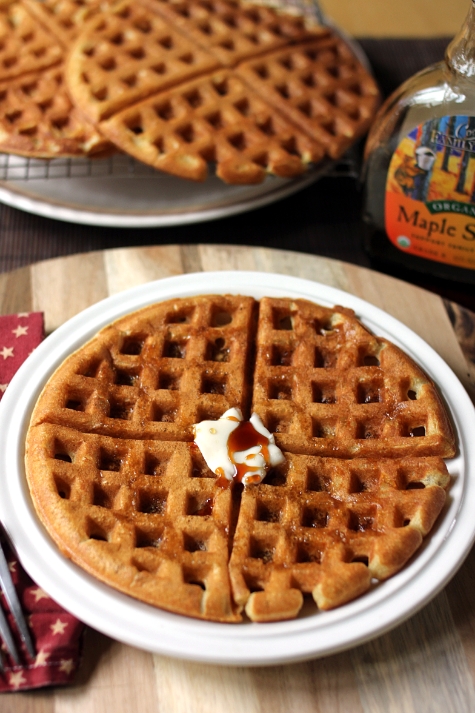 Please follow and like us: