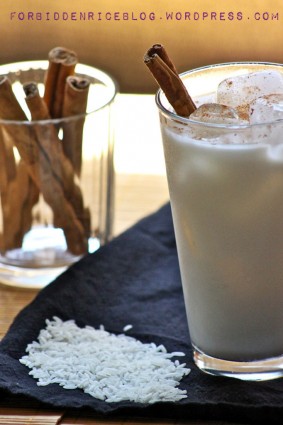 Let's talk beverages. I enjoy good drinks. Not always of the inebriant variety, although living in the Pacific Northwest means that delicious, unique microbrews are vastly available. And beer aside, I have a soft spot for bourbon. And gin. And good tequila. Okay, let's stop there.
Beverages… right-o. Five years ago, my husband introduced me to horchata (or-CHAH-tah). Being the Mexican food king, I listened when he said I had to try this drink that was the perfect accompaniment to our veggie burritos. I've been hooked since, and in fact seek out horchata at every new taqueria we visit, always on the hunt for a good, creamy, nicely cinnamon-flavored horchata. Traditional horchata is merely rice, cinnamon, sugar, and water. Sometimes lime.
We travel to the Bay Area relatively often. There are taquerias all over the place, some better than others. The burritos are frequent, the horchata much anticipated. There's a place in Sebastopol, California that has my favorite horchata of all time, Viva Mexicana – it's the creamiest I've had, by far, and the perfect blend of cinnamon, sugar, rice. If you ever find yourself in the North Bay, this place is a must for the horchata. Plus the burritos and breakfast items are delicious.
The following recipe isn't traditional, as I've included almonds, vanilla, and milk. But it makes for a creamy, sweet, delicious drink. I know I said I'm into non-alcoholic drinks as well, but I've also been intrigued by boozy horchata, which I've seen on drink lists in larger cities or fancy Mexican restaurants. So far I've not gone that route, but am certain I'm not missing out by enjoying my virgin horchata, straight up. You won't be disappointed, either.
Horchata
Ingredients:
1 cup long grain white rice
¼ cup almonds
3 Ceylon cinnamon sticks
11 cups water
¾ – 1 cup sugar
1 cup half and half or whole milk
1½ tsp. vanilla extract
ground cinnamon for serving
Directions:
Place your rice, almonds, and cinnamon sticks in a large container or pitcher. Add the water. Soak for 8-10 hours (overnight) at room temperature.
Place the grains of rice, almonds, cinnamon sticks, and about half of the soaking water into a blender (don't throw out the remaining water – it's your horchata in the making!). Pulse for 20-30 seconds at a time, until the rice and cinnamon sticks are broken up (but not too small! The pieces of rice should be about 1/8-inch in length).
Pour the broken up grains of rice, almonds, cinnamon sticks and water back into the remaining soaking water. Stir thoroughly. Add in the sugar, vanilla, and milk/half and half, stirring again. Refrigerate for an hour or two, until cold.
Strain out all of the rice, cinnamon stick, and almond pieces. Stir well. Serve over ice and sprinkle a little ground cinnamon on the top of each glass before serving (if you want… you know, for aesthetic purposes).
The horchata will keep in the fridge for a few days. Separation will happen, which isn't a big deal – just stir before pouring.
Please follow and like us: