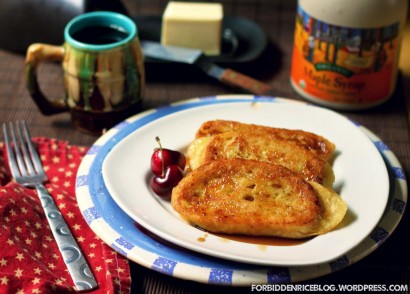 When I was a kid, my mom would make French toast for breakfast at least once a week. Being the weird child I was, I didn't like these custardy pieces of bread, coated with butter and maple syrup. I liked that she'd cook them up, wrap the leftovers and put them in the fridge… When I got home from school hours later, I'd take the cold French toast and make a cream cheese and jelly sandwich (I didn't like peanut butter).
Mom often used regular sliced sandwich bread for her French toast, unless we happened to have French bread leftover from the previous night. Thin slices of cinnamon-sugar eggy custardy French toast. That's the way I prepared it later on when I re-discovered French toast. Sometimes I like to use cloves, orange zest, and brown sugar in my milk-egg mixture.
About a year ago though, I was reading Molly Wizenberg's A Homemade Life and came across the following recipe. It's by far my favorite French toast. While very straightforward and simple, this French toast is magic. There's no cinnamon, just fresh nutmeg. You cook each slice in a deep pool of oil, rather than butter. It creates a perfectly crisp outside and a delicate, tasty, egg-custard inside. This recipe never disappoints; do yourself a favor and try it.
Burg's French Toast

Recipe adapted from A Homemade Life 
Makes 2 to 3 servings
Ingredients:
3 large eggs, lightly beaten

1 cup whole milk

1 tablespoon sugar

1 teaspoon vanilla extract
¼ teaspoon salt

pinch of freshly ground nutmeg

canola or other neutral vegetable oil, for frying

6 to 8 slices day-old bread, sliced on the diagonal about 3/4-inch thick

pure maple syrup, for serving

Directions:
In a wide, shallow baking dish, whisk the eggs with the milk, sugar, vanilla, salt and nutmeg until well combined.
In a large, heavy skillet, preferably cast iron, pour in enough oil to thoroughly coat the bottom (seriously coat it – not add in a bit of oil and turn the pan to move it around; get enough oil to really cover the pan's bottom).
Meanwhile, place 2 or 3 slices of the bread in the egg mixture. Let stand, turning once, for 1-2 minutes.

Use tongs to transfer the bread slices to the skillet. Cook over moderately high heat, turning once, until golden brown on each side – about 2 minutes on each side.
Remove the bread to paper towels or a cookie cooling rack and let stand for 1 minute before serving. Repeat with the remaining bread slices. Serve hot with maple syrup.
*These really are best served right after they've sat for a minute after cooking; my experience is that they deflate the longer they sit. I suggest serving the slices as they're ready, rather than waiting to serve them all at once.