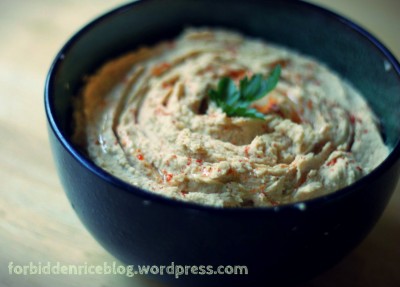 One of my favorite last minute foods to make for groups of folks is homemade hummus. Sometimes I just like to make it because it tastes good. It's easy, quick, and so much tastier than buying store-bought varieties. While you can use canned beans, cooking your own simply allows you to incorporate another layer of taste… Because although they're easy and quick, canned beans don't have a whole lot of flavor going on.
There are various ways you can beef up this recipe, but this is a simple and straightforward version. Add in some fresh chopped parsley, or roast your garlic (plus a few more cloves), try different spices in the bean broth. You can serve this all on its own, with chips, with vegetables, on a sandwich, in a wrap, with some falafel balls.
Homemade Hummus
Ingredients:
1 cup dried garbanzo beans
1 tbsp. sea salt
1 tbsp. ground cumin
1 bay leaf
2 tsp. ground black pepper
1 tsp. smoked paprika
water
1/3 cup tahini
¼ cup fresh squeezed lemon juice
2 cloves garlic
1 tbsp. good quality olive oil
½ tsp. smoked paprika
½ tsp. ground cumin
salt, to your liking
Directions:
Soak the dried garbanzo beans overnight. The next morning, drain and rinse. Place the soaked beans, sea salt, ground cumin, bay leaf, black pepper, and smoked paprika in a large pot. Fill with enough water to cover the beans by one inch. Bring to a low boil, then cover and reduce heat to low. Cook until the beans are tender (about 1-2 hours).
Drain the beans (you can reserve the cooking liquid for later use if you want, but it's not necessary). Place in a food processor fitted with the large chopping blade. Also put the tahini, fresh lemon juice, garlic, olive oil, and cumin in the food processor. Blend until very smooth. If the mixture gets too thick, you can add a little more oil. Taste and add salt to your liking. (Remember, add a tiny bit, blend completely, and taste again. You can always add more, but once it's too salty there isn't much you can do to fix your hummus!)
Place in a serving bowl, then drizzle the top of the hummus with a little olive oil and sprinkle on a small pinch of smoked paprika. Serve with pita chips, or fresh vegetables, or however you best enjoy your hummus!