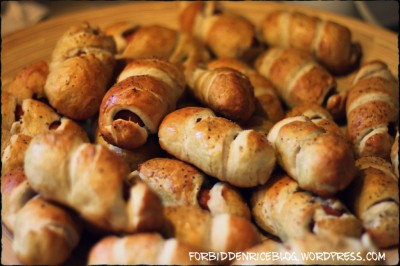 When I was a little kid, the majority of my play time was spent hanging out with my little brothers and older sister. And by hanging out I mean beating the crap out of one another, then making up just long enough to play long games of freeze tag all over our yard, or hide-and-seek, until mom said it was time for dinner. There were neighborhood kids that would come over and play sometimes, too. I had friends that I spent time with at school, but never actually invited over for play dates. Once, when I was seven or eight I had a friend come over just for the sake of hanging out. It was big deal in my world.
I distinctly remember my mom making a giant plate of hot dogs for lunch, leaving the buns and fixings out next to them for us to prepare, buffet style. I also recall the liters of Pepsi and Sprite next to the hot dogs and the way my arm not-so-casually knocked over the soda into the buns, into the hot dogs, allowing them to go for a bubbly swim. I was very embarrassed in front of my cool friend, blushing then hiding accordingly. It's funny how such little things can be the source of such incredible childhood embarrassment.
When it comes to easygoing kid meals, I tend to rely on hands-on food that's simple, easy, and requires little dishware. Pigs in a Blanket are more or less the epitome of this. Generally they're hot dogs wrapped in crescent rolls or biscuit dough, then baked. You can pick them up, dip them in ketchup, mustard, or nothing at all. They're easy. A few years back, I saw pretzel dogs for the first time. An avid fan of soft pretzels, this sounded both delicious and fun.
I couldn't tell you the last time I had a "meat" hot dog; its been years. And the truth is, I'm not exactly fond of most vegetarian hot dogs. When we decide to cook them, though, vegan Smart Dogs are by far my favorite. They're fat free, low calorie, and include ingredients you can actually pronounce. Really, though, you can use other veggie sausages to make these pretzel dogs, too. I made a batch of Field Roast Mexican Chipotle  pretzel dogs as well, which were deliciously spicy! If their frankfurters were available locally, I would've certainly used them, too.
When you roll the dough around the hot dogs, make sure to seal them well, as you'll boil them before baking. If the dough comes apart anyway, no big deal, though… Just press it back together the best you can before putting them in the oven. Boiling these in baking soda laden water creates a perfectly chewy, pretzel outer shell that has just the right amount of crispness.
Sourdough Pretzel Dogs
Adapted from Joy the Baker
Yields approx. 32 mini-dogs.
Ingredients:
2 cups sourdough starter
1 cup warm water
1 cup flour
2 cups water
2 tbsp. sugar
4 tsp. active dry yeast
8 cups all-purpose flour
4 tsp. sea salt
¼ cup butter, melted and cooled
10-12 cups water
1 cup baking soda
1 large egg, beaten with a splash of water
salt and coarse black pepper
16 veggie hot dogs or Field Roast Sausages, cut in half
Directions:
In the bowl of an electric stand mixer, combine the sourdough starter, one cup of warm water, and one cup of flour. Allow the mixture to rest for about 20 minutes. Sprinkle in the sugar and yeast. Set aside the mixture for about 10 minutes, until it begins to foam and froth.
Once the yeast/starter mixture is frothy, add in the melted butter and sea salt. Mix on low speed with the dough hook until well combined. Add the remaining 8 cups of flour, about 1 cup at a time. Increase the speed to medium and knead the dough until it's smooth and pulls away from the side of the bowl. Beat for about 4-5 minutes.
Remove the dough from your bowl. It'll be soft, very pliable, and not overly sticky. Coat the bowl with some olive oil, then place the dough back into the bowl. Turn once to coat, then sprinkle lightly with flour, cover with plastic wrap, and store in a warm place to rise for about an hour, until it's doubled in size.
Preheat the oven to 425ºF. Line two or three baking sheets with parchment paper then brush the paper lightly with oil. This is important, or else the pretzels will stick.
Combine the 10-12 cups of water and the baking soda in a large pot and bring to a boil. While the water is coming to a boil, turn the dough out onto a clean, slightly oiled surface. Divide the dough into 32 pieces.
Roll each piece of dough, using your fingers on both hands at the center of the dough, moving outwards while rolling. Roll the dough to about 12-inches long. Wrap the dough-rope around a hot dog, making sure to seal the ends well.
Once the water has come to a boil, gently lower a few of the hot dogs into the water. Boil for about 30 seconds, then remove carefully using a slotted spoon or spatula. Place on your prepared baking sheet. Brush the boiled dough with the beaten egg mixture, then sprinkle with coarse sea salt and black pepper.
Bake until deep golden brown, about 13 minutes. Transfer to a cooling rack before serving. Serve with your favorite mustard and/or ketchup. Enjoy!