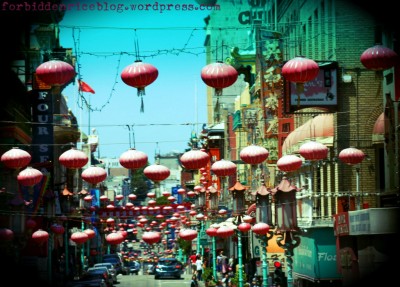 We recently went on a family trip to the Bay Area. Long before I met Craig, he and Vincent spent a lot of time around San Francisco. Part of what's included in those experiences is a vast number of favorite hole-in-the-wall restaurants and food memories. I've been fortunate enough to have been exposed to a number of those places through these two Wrights and it's those places that are often a pertinent part of our travel.
Generally, food is a huge aspect of our travel plans anyway, with or without the kids. We seek out reviews of local family-run places, or well known tiny spots that can't be beat. I'd rather eat at a restaurant of that nature than somewhere over-priced, overly-fancy, or hoighty-toighty any day.
We didn't research too much ahead of time for this trip, leaving things flexible and open to the kids' cravings. However, as it turns out, when you're traveling with two boys, these two in particular, their dietary cravings go something like this throughout the day: sugary pastry things, pizza, burritos, sugary sweet things, pizza, burritos, pizza… So, save for a few places throughout the four and a half days we were on vacation, that's what we ate. And by the end of our trip, all I was craving included light greens, dark greens, and a lot of water.
There were a number of places we thoroughly enjoyed. Originally I thought I'd review them, broken down by the days we ate there. However, since there's a very noticeable running theme in what we consumed, I thought I'd just tell you about them based on food-type.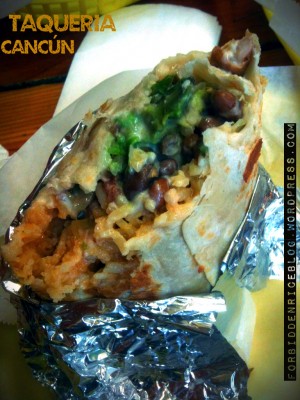 As is often the case with our family, there is Mexican food. It's quite the substantial meal for us as well as the style of food we'll have at least a couple times each week. Once upon a time my husband wrote an article for the local paper, reviewing and rating a number of local taquerias and veggie burritos. His sons are enchilada and veggie burrito connoisseurs. We tried a couple new places, but made sure to include our top favorite, Taqueria Cancun in the Mission District of San Francisco. Neither my husband or myself (nor the kids for that matter) have tried anything there except their veggie burrito. Keep in mind, "vegetarian" is used loosely here, as I'm sure lard is probably used in their beans and tortillas, perhaps the rice as well. But the blend in this burrito is perfectly creamy, tasty, and magical. They're voted "Best Veggie Burrito" in San Francisco consistently for good reasons.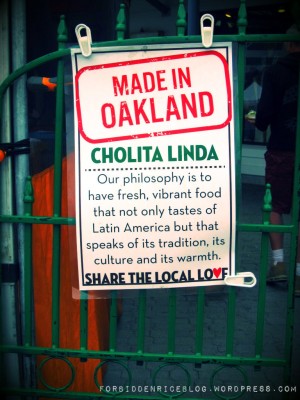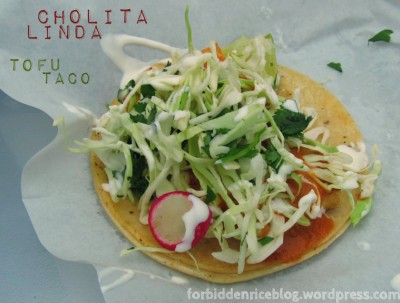 The last time we were in the Bay Area, we attempted to try Cholita Linda at the Oakland Friday Farmer's Market, but they weren't set up soon enough for the time we had available. We visited the Sunday Jack London Square Farmer's Market in Oakland during this visit, stumbling upon Cholita Linda's food booth, which miraculously didn't have a large line. Although we'd heard the fish tacos were dynamite, we opted for tofu tacos. They were incredible! The tofu was cooked similar to fried fish, then topped with a tasty spicy salsa roja, crisp green cabbage, crema, and cilantro. I immediately knew this was going to be a try-at-home recipe ASAP.
Our last day in Berkeley, we opted for eating in town rather than driving out of our way into San Francisco for a Mission burrito. Taqueria La Familia had good reviews on Yelp and was barely a mile away, so we decided to try it. Craig, Silas, and I each got a veggie burrito with black beans. Vincent opted for cheese enchiladas, pinto beans, and rice since we were eating there, rather than in the car. The burritos were tasty, though not really comparable to those we crave in the city. Vincent said his enchiladas were delicious, the sauce perfectly spicy.
The other child-daily-craving: pizza. Being a college town, we knew that there'd be good pizza around us. Bobby G.'s in Berkeley offered a large selection of specialties and signature pizzas, though we opted for a simple New York style pie topped with artichoke hearts and feta cheese. The crust was perfect: chewy, crispy, light, nicely flavored. The sauce was equally flavorful. And on top of that, while I waited for our pie, I had a nice selection of beer to pick from for a pint.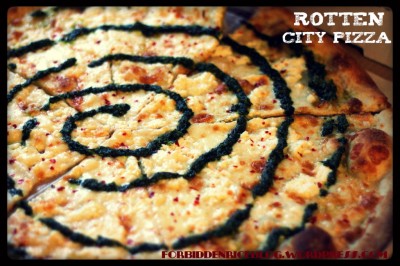 Another night, we opted for Rotten City Pizza in Emeryville. I liked the seemingly no B.S. attitude of this place. All the pies are 18-inches, New York style (or Sicilian when they feel like venturing that way). The ingredients are fresh, locally and sustainably or organically sourced when possible. And although the prices were a little high for our preference, tax is included and the pizza's well worth it. We quickly decided on their Blanco Verde pie – fresh mozzarella, ricotta, parmigiano, red chili flakes, and arugula pesto. I could've eaten the entire 18-inch pizza myself.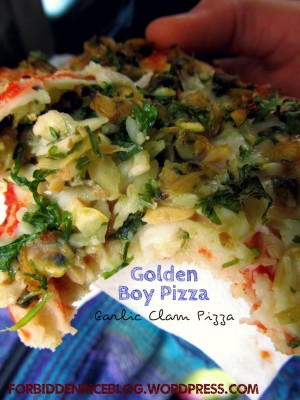 In San Francisco, Golden Boy Pizza in North Beach is legendary with good reason. The pizza is Sicilian style, meaning the crust is about an inch thick and the slices are rectangular. At Golden Boy, the menu isn't extensive: cheese, pepperoni or sausage, clam and garlic, pesto vegetarian, or combination. Can a wrong decision be made? Hell no. Although it was only about 11:30 in the morning, Golden Boy was packed with people, a line of about 10 out the door. We decided to get our slices to go. Craig and Silas got a slice of cheese, Vincent opted for the pesto veggie, and I ventured to the clam and garlic. The crust is thick, but divinely crisp and holds up well to the toppings. The garlic clam pizza was coated in chopped clams, loads of garlic, and lots of chopped parsley. To give you an idea of how good this pizza was: Vincent hasn't touched a bit of seafood in over a decade. He ate a bite of my pizza. On top of that, he's not one to share food with others, especially something that has previously been chewed… Silas didn't finish his slice of cheese pizza. In the car, Vincent worked from the side that wasn't eaten, right up to the parts Silas nibbled. That's good pizza!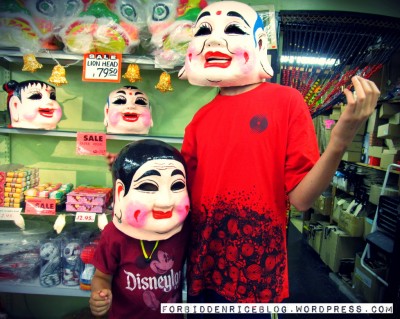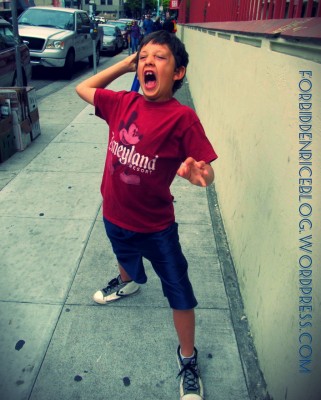 Most of our mornings were filled with sharing various treats from bakeries nearby: blueberry muffins and sticky buns from The Bread Workshop in Berkeley, a cinnamon roll bigger than my husband's head and an apple fritter nearly of equal size from Dream Fluff Donuts, a pecan roll and frosted cinnamon-raisin danish from The Bread Garden Bakery. One of our favorite bakeries in San Francisco is Golden Gate Bakery  in Chinatown. It's widely known for their egg tarts; tiny custard-filled goodies that people line up down the block to consume. Personally, I'm a bigger fan of their custard buns – soft, sweet bread that encases a lightly vanilla-flavored egg custard. While I wandered around with the kids before heading to our car, Craig got in line at the bakery for custard tarts. When he got back to the car, he informed us that the custard tarts weren't available once he got to the front of the line. The woman behind the counter offered him coconut buns that had just come out of the oven instead. Truth be told, I loved these much more than the custard tarts we initially came for. The bread was soft, melt-in-your-mouth delicious, the custard inside was perfectly sweet and coconut flavored. The only disappointment was that we'd only gotten one each!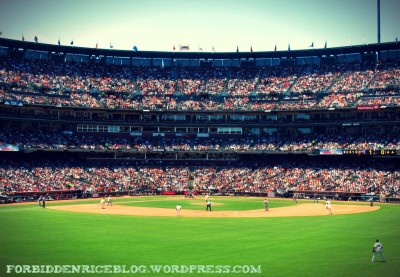 One of our weekend adventures was a baseball game in AT&T Park, watching the San Francisco Giants play the Cincinnati Reds. We'd decided to pick up lunch from the Whole Foods Market close to our hotel. While the kids and Craig picked out Tofurky sandwiches laden with lettuce, tomato, and cheese, I scoped out the sushi counter. My family later made fun of me for bringing sushi into a baseball game, but the truth is, I'm glad I did! The sushi was provided by Genji Sushi, and I picked out the Vegetable Salad Dressing Roll. It was an inside-out roll made of multi-grain rice (a blend of black rice, millet, corn, brown rice, white sorghum, red beans, buckwheat rice, foxtail millet, black soybean, glutinous rice, job's tears, white sesame, amaranth, barley, and black sesame), carrots, cucumbers, avocado, and green leaf lettuce, served with ginger miso dressing for dipping. I was very pleasantly surprised! The roll was a great blend of texture and flavor.
Being in Berkeley, especially so close to UC Berkeley and the infamous Telegraph Avenue, home to many ethnic restaurants and food choices, we decided to try something completely different. Much to the surprise of Craig and I, both kids were into the idea of trying Ethiopian food we'd seen close by. We went to Ethiopian Restaurant on Telegraph. (The above photo isn't from the restaurant; it's pulled from the inter-webs to give you a better idea of what I'm about to describe.) One of the central elements to Ethiopian cuisine is a spongy sourdough-tasting bread called injera. Ethiopian food is often made up of bread, stews, spices, and grains. The different stews come served on a plate, lined with a large (15-20 inch) round of injera, in different piles. We opted for the 14-combination vegetarian dinner. Not long after ordering, we were brought a huge platter of one unrolled injera, topped with piles of red lentil, split peas, collard greens, cabbage and potato, mushroom stew (AMAZING!), cabbage and potato, bulgur, zucchini and carrots, fava beans, and a cold green salad (some of these were doubled up, thus the "14-combo" not 10), and a basket of rolled up injera. The bread is your utensil through the meal: you rip off pieces of injera and use it to "pinch" up the different stews. This meal was so filling, delicious, satisfying, and fun for all of us.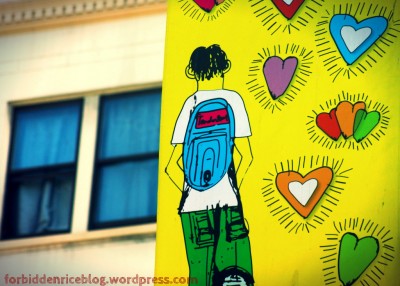 Overall, this was a fun trip filled with many adventures, food-adventures, and motivation to come back to the Bay soon… If you ever find yourself near any of the above mentioned eats, do yourself a favor and stop in for a delicious treat.
Please follow and like us: