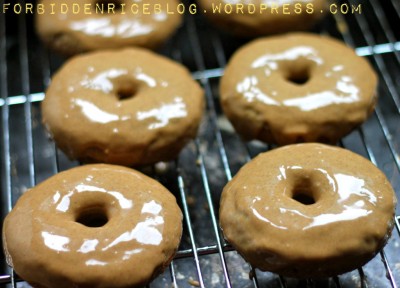 Sometimes I will be getting through my day and out of nowhere I'll think of a recipe that needs my attention ASAP. Six loads of dirty laundry to get through? No bigs. Dogs that need brushing so I don't need to vacuum three times a day? Later. Make sure the bills get paid on time? Oh, I've got 9 more hours for them to be "on time." I'll get to it. Make healthy baked doughnuts because they sound deliciously non-guilty, indulgent, and like an adventure? On it.
This recipe was born on a whim. I had homemade chai-spiced applesauce in the fridge and bananas that were quickly going bad. These doughnuts are more cake-like than your  average fried doughnut, but they are really damn tasty. The applesauce and mashed bananas also create a ridiculously moist crumb. I had never tried making a nut butter based glaze before, but it worked fantastically as far as flavor and texture.
These doughnuts are best eaten the day you make them. While you can keep them for a few days, the glaze is absorbed by the doughnut and loses its shiny, glaze-like appearance by the second day. A cross between doughnuts and banana bread, these treats are easy to make and light enough to keep you from worrying about eating them.
Whole Wheat Applesauce Banana Doughnuts with Almond Butter Glaze
Yields 6 regular sized doughnuts
Ingredients:
¾ cup whole wheat flour
1 tsp baking powder
¼ tsp sea salt
¾ tsp ground cinnamon
a pinch of fresh ground nutmeg
1 egg
2 medium sized ripe bananas
¼ cup applesauce
1 tsp vanilla extract
½ cup smooth almond butter
2 tbsp unsalted butter
½ tsp coconut oil
½ cup confectioner's sugar
Directions:
Preheat your oven to 350° F. Lightly grease a regular-sized doughnut pan.
In a medium-sized bowl, use a fork to mash up the banana until few lumps remain. Stir in the applesauce, vanilla, and egg until thoroughly combined.
Add the flour, baking powder, salt, cinnamon, and nutmeg to your wet ingredients, stirring until everything is just combined. Spoon the batter into your prepared doughnut pan (filling about 2/3 full).
Bake for 12-15 minutes, until a toothpick inserted into the doughnuts come out clean.
While the doughnuts are baking, prepare your glaze. Melt the butter over medium-low heat. Stir frequently until the butter turns a nice golden brown color (10 minutes or so). Stir in the almond butter and coconut oil until the mixture is smooth. Remove from heat and stir in the confectioner's sugar, ¼ cup at a time, until the mixture is smooth. If it's too thick, add ¼ teaspoon more of coconut oil.
Cool the doughnuts on a wire rack until you can easily handle them. Dip into your glaze, then return to your wire rack to let the glaze set (10-15 minutes).
Please follow and like us: