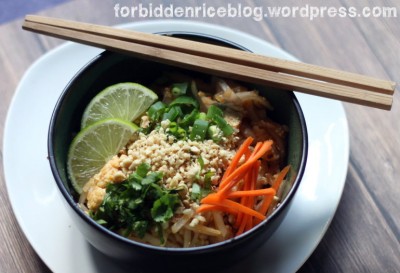 Having no real training in cooking, most of my learning has come from wandering into the kitchen with little fear of making huge mistakes. That doesn't mean that when I have a huge kitchen failure, I don't get frustrated or swear out loud, or have another beer, vowing to do better next time. A lot of times what I intend to make comes out different than what I had planned. The real trick is simply allowing room for that to happen. I've learned that sometimes you need to simply not over-think what could go wrong, or what the perfect method of following through with a recipe might be. Jump in. Make mistakes. Hopefully create something that tastes good.
Oftentimes, after we've eaten out, I'll leave the restaurant wanting to know how to create similar dishes at home without the cost of going out to eat. One dish that has prompted that feeling numerous times is pad thai. I have always been intimidated by the idea of making this dish at home, though. Perhaps because of the use of ingredients I'm not used to. Perhaps because I've had REALLY good pad thai and the idea of creating something at least equally as satisfying at home seemed farfetched.
The other day, I approached pad thai with a "what the hell," attitude. I researched the inter-nets for favorite recipes, for traditional pad thai recipes, for far from traditional pad thai recipes. The overall feeling I walked away with was that there were some key ingredients: fish sauce, tamarind, eggs, peanuts, and rice noodles. The rest? Make something work, pull ingredients that sound as though they'd work well together. The following recipe is the culmination of my experimenting. I would make this again, although I would probably experiment with the sauce more.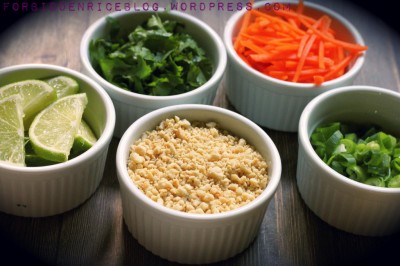 Homemade Pad Thai with Tofu
Serves 6-8 people
Ingredients:
4 tbsp. canola oil
1 shallot, thinly sliced
4 cloves garlic, minced
1- 12.3 oz. box extra-firm silken tofu, cut into ½-inch cubes
1/3 cup fish sauce
3 tbsp. oyster sauce
¼ tsp. red chili pepper flakes
¼ cup light brown sugar
2 tbsp. tamarind paste
1 tsp. rice vinegar
juice from one lime
sriracha sauce
¾ cup carrots, julienned
2 eggs, lightly beaten
1½ cups fresh bean sprouts
1- 14 oz. box pad thai style rice noodles
¾ cup unsalted roasted peanuts, chopped
3 scallions, chopped
2 tbsp. cilantro, chopped
Directions:
Bring a large pot of water to a boil. Add the entire box of noodles, stirring once. Turn off the heat and allow the noodles to sit until completely softened (15-ish minutes). Strain, rinse with cold water, and then set aside.
Heat 2 tablespoons of oil in a wok or large cast iron pan, over medium-high heat. Add the sliced shallot and garlic. Sauté until the shallot is tender. Add the cubed tofu, occasionally stirring until the tofu is lightly golden on each side (10 or so minutes). Set the mixture aside in a small bowl until needed.
Heat the remaining 2 tablespoons of oil in your wok or pan. Add the fish sauce, oyster sauce, red chili flakes, brown sugar, tamarind paste, rice vinegar, fresh lime juice, and your preferred amount of sriracha sauce. Whisk together to combine all the ingredients well. Bring the sauce to a simmer, then add the cooked noodles, scallion-tofu mixture, and julienned carrots. Continuously stir the ingredients together, allowing the sauce to evenly coat everything. Cook until the sauce (and noodles) begin to caramelize on the bottom of the pan (3-5 minutes).
Push the noodles to one side of your pan, then pour the beaten eggs onto the empty side. Gently scramble the eggs until they're just cooked through, then stir everything in the pan together again. Add in the fresh bean sprouts, scallions, and cilantro.
Remove the pan from the heat, then serve immediately, garnished with the chopped peanuts, slices of lime, and additional chopped scallions and cilantro if you'd like. You can also add more sriracha if you like your noodles even spicier!