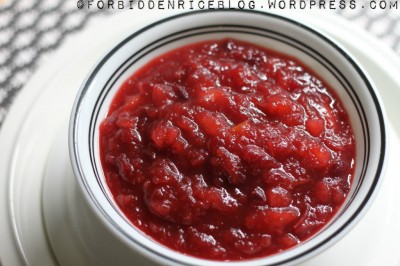 The first time I made homemade cranberry sauce after meeting my husband, he was very, very hesitant to try it. He said he'd never liked cranberry sauce before… I realized he was referring to the canned, jellied cranberry sauce you most especially find around Thanksgiving. We recently revisited that conversation. He asked me, "What other foods do you get that come out in the shape of the can, with the lines from the can also engraved on the food?" To which I replied, "dog food." "Exactly," he said. "You don't see me eating dog food!"
Luckily, homemade cranberry sauce is an entirely different entity. At least a million times better than dog food. He tried my homemade version years ago and said it was the best cranberry sauce he'd ever had. Honestly, I love that cranberries are so inexpensive this time of year. You can find them easily, too. I could eat cranberry sauce every day. I like it as an accompaniment to a meal, but I also love a bowl of the stuff at any given time throughout the day, on its own. Warm or cold.
The following cranberry sauce combines apples, pears, and cranberries. The apples and pears both offer their sweetness to balance out the tart berries. You can use whatever variety of  pears and apples you prefer. I still have a bunch of Gravenstein apples laying around, so that's what I used. We were also recently given some pears, too. I am not sure what variety they are – perhaps Seckel pears, a smaller, light green colored, crunchy, very sweet fruit. You can use what's available to you, though for this recipe I'd suggest something with a notable sweetness.
I dare you to eat only one bowl of this stuff.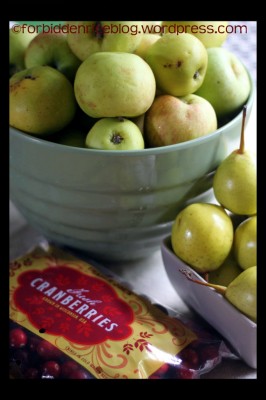 Cranberry Apple Pear Sauce
Serves 4-6 people
Ingredients:
1- 12 ounce package fresh cranberries
2 cups apples, peeled and cored, cut into bite-size pieces
1 cup pears, peeled, seeded, cut into bite-size pieces
1- 2 inch piece of ginger, finely grated
2/3 cup light brown sugar
1 cup no-pulp orange juice
1 tsp. vanilla extract
1 tbsp. pure maple syrup
½ tsp. ground Ceylon cinnamon
½ tsp. fresh ground nutmeg
Directions:
In a large pot, combine the cranberries, apples, pears, ginger, brown sugar, and orange juice. Stir to evenly distribute everything. Turn the stove on to medium heat. Occasionally stir the mixture as it cooks, until the cranberries begin to burst (15-20 minutes).
Once the mixture has thickened and both the apples and pears are fork-tender (25-30 minutes total cooking time), remove the pan from the stove. Stir in the vanilla, maple syrup, cinnamon and fresh nutmeg. Serve at room temperature, or allow the cranberry sauce to cool, then refrigerate it.