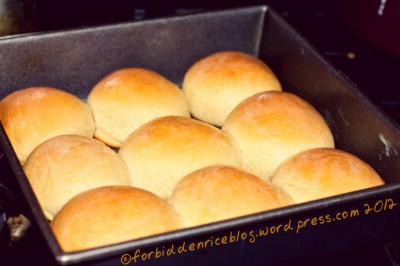 I have a soft spot for homemade bread. No, I'm not talking about that location in my stomach, right around my belly button… Although baking often doesn't help that spot, either. I used to be intimidated by homemade breads. I'd bake them, only to wind up with very heavy, dense loaves of bread. Often, loaves that would burn on the top, have little softness to them, and even more importantly, were disappointing in flavor.  I finally figured out that like with most approaches to the kitchen, once I stopped psyching myself out about it before I attempted a recipe, everything worked out much better.
Yeast doesn't have to be something you're intimidated by. As long as your water isn't too hot, where it kills the yeast, you should be good to go. One of the best tips I received was to let your tap water run for about 60 seconds on the hottest setting, then measure how much you need after that minute has passed. (Note: I don't like to waste that minute's worth of water, either. Generally I'll collect it and use it to water our indoor plants.) I bake homemade breads often enough that I buy my yeast in bulk, which I've actually found to be much more responsive than the prepackaged stuff, the majority of the time I've used it. If you've got a refrigerated section in around your grocery store's bulk items, look in there.
Initially I saw these rolls on Pinterest. Eventually I figured out the recipe is from King Arthur Flour, though. What I loved about the recipe itself when I tried it, was that everything can be done in one bowl. Homemade bread has never been simpler. (Seriously.) Nor softer, buttery, and delicious with minimal work. You don't have to knead the dough excessively. You don't have to add the flour a little at a time. It's hard to mess these up, plus the rolls are a great accompaniment to homemade soup, pastas, salad, etc. They're equally delicious on their own!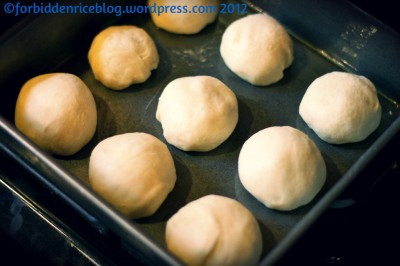 Soft Pull Apart Rolls
Recipe adapted from King Arthur Flour
Ingredients:
½ cup milk, warm (80-95°F)
2/3 cup water, warm (80-95°F)
2 tsp. dry active yeast
2 tbsp. cane sugar
3½ cups all-purpose flour
3 tbsp. nonfat dry milk powder
1½ tsp. sea salt
¼ cup unsalted butter, softened
2 tbsp. butter, melted
Directions:
In a large bowl, combine the warm water, milk, and sugar. Stir. Sprinkle in the yeast, then set the mixture aside for about 10 or 15 minutes to let it proof (it'll get bubbly and frothy).
Once the yeast has proofed, stir in the flour, milk powder, salt, and softened butter. No need for a stand mixer or high tech gadgets here, folks! Use a wooden spoon and mix until all the ingredients are evenly combined. Cover lightly with plastic wrap and set aside until the dough has doubled in size (1 hour).
Lightly grease an 8-inch round baking pan. Sprinkle a surface with a little bit of flour. Dump out the risen dough. Knead for about 30 seconds, then gently roll the dough into balls about 2-2½ inches wide. Place in your greased pan, about ½ an inch apart. Set aside for a second rise, 15-20 minutes. Preheat your oven to 350°F.
Bake the rolls for 22-25 minutes, until nicely golden brown and cooked all the way through. Brush with the two tablespoons of melted butter, then return to the oven for a minute or two, before serving the rolls warm.