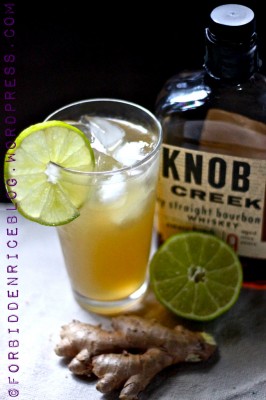 Let's get real here. I love a cocktail. An adult beverage, if you will. I try not to keep an excessive amount of alcohol stocked up in our kitchen, though. If it's easily accessible, I'll make a drink while cooking. Then I'll often have another with dinner. Perhaps after dinner, too. If it's not there, that doesn't become a daily habit. So far so good.
We also don't drink a lot of soda. That's an on-purpose-habit. I grew up with sodas always accessible in our house. I don't remember asking to drink them before popping open a can, from elementary school well into high school. Easily, I probably drank two or three a day. I haven't minded cutting out that unnecessary sugar in my adult life. On occasion I'll buy a ginger ale if my stomach is feeling funky, but other than that I couldn't tell you the last time I drank a soda just for the hell of it.
That said, I wanted a bourbon and ginger drink the other day, but realized that making my own ginger ale probably wouldn't have as much sugar, it would be fresher tasting and with good quality bourbon, would probably make a delicous drink. There are two recipes here: homemade ginger ale that is fresh and easy to customize to your liking – more sweet, less gingery, more gingery and hardly sweet at all… it's entirely up to you. And another recipe for the adult-version I've been drinking for the last couple days. It isn't overly sweet, the ginger and bourbon work nicely together. I like the addition of fresh lime and bitters, which round everything out quite well.
Homemade Ginger Ale and a Bourbon Ginger Cocktail
Ingredients:
For the ginger water:
1 cup fresh ginger, peeled and finely minced *
3 cups water
For the simple syrup:
1 cup cane sugar
1 cup water
club soda
fresh lime
* Once the ginger has been peeled, you can also use the smaller grating surface on a box grater to "mince" the ginger.
Directions:
In a small saucepan, combine the ginger and 3 cups of water. Bring the mixture up to a boil, then turn off the heat and set the pot aside for 30 minutes to cool. (You can also make this ahead of time, refrigerate it, and find that the ginger taste is even more intense.)
While the ginger water is cooling, mix the one cup of sugar and one remaining cup of water together in a small saucepan. Bring to a boil until all the sugar has dissolved (3-4 minutes). Cook for an additional minute, then remove from heat and allow the mixture to cool to at least room temperature. Congratulations, you've just created a simple syrup.
To serve the ginger ale by the glass, fill your cup with ice and then combine a ½ cup of ginger water, ½ cup of club soda, ¼ cup of simple syrup, and a small squeeze of fresh lime juice. Stir and serve.
Bourbon and Ginger Cocktail
Makes one drink.
Ingredients:
¼ cup ginger water
¼ cup club soda
2-3 tbsp. simple syrup
2-4 oz. bourbon
2 tbsp. fresh squeezed lime juice
dash of Angostura bitters
ice
Directions:

Fill a tall glass (pint size) with ice. Combine the ginger water, club soda, simple syrup, bourbon, lime juice, and bitters. Stir well to evenly distribute everything. Serve immediately.