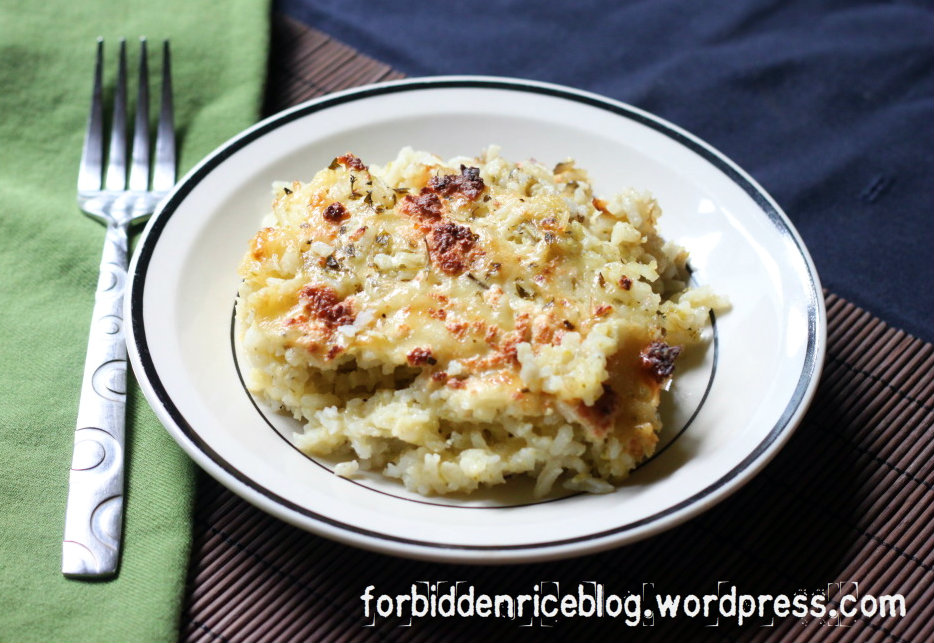 Sometimes you need to throw together a dish on a whim. Since I'm not much of a baker most of the time, I prefer contributing savory items. My utmost dreaded requested item: salad. I love to eat salads, mind you. But when it comes to putting them together, I feel like my creativity goes running in the opposite direction from where I need it. We recently had to contribute a side dish for one of the kids' potluck style dinners. Being quite last minute, I thought, "Oh hell. I'll made a #%$*ing salad." Then I realized I had a lot of rice in the house. And cheese. Cheesy rice? Sounded like a decent savory side that didn't require haphazardly throwing around vegetables.
Long before I started this blog, we'd occasionally eat one-dish meals that consisted of a base of rice, then some kind of sauce thrown in it. Sometimes I'd add veggie sausage, other times broccoli, or tomatoes and corn. When it comes down to it, those meals were like a quick risotto-style dish, only made in half the time. The following rice was born out of knowing my husband's love for roasted Poblano peppers paired with nearly anything. I actually included Anaheim peppers, too, as they aren't spicy but add great pepper-flavor.
This rice isn't overly spicy, but has a great flavor where the peppers are obvious. The cheese adds creaminess, along with a little saltiness that works with the roasted peppers. I ended up opting out of the potluck (sometimes I enjoy being antisocial), but sent the dish along. My husband told me it was quickly gone. I kept a small bowl for myself and ate it with a Quorn brand Turk'y burger and raw spinach. The flavors worked together nicely. You could easily serve this with a bowl of homemade beans, or alongside some enchiladas. Or eat it on it's own. Whatever your game play, it'll be a tasty one.
Cheesy Anaheim and Poblano Pepper Rice
Ingredients:
2½ cups long grain white rice
1 tsp. salt
5 cups water (or broth)
3 Anaheim peppers
2 Poblano peppers
4 cloves garlic, minced
½ a yellow onion
6 medium-sized tomatillos
1 cup sharp cheddar cheese, shredded
1 cup monterey jack cheese, shredded
½ cup cotija cheese, crumbled
8 oz. light sour cream
½ tsp. dried, ground coriander
1 tsp. dried oregano
salt and pepper to your liking
Directions:
Roast the peppers. If you have a gas stove, this is easily done by toasting the peppers over an open flame (on high), using tongs to turn the peppers constantly. Once the peppers are nicely blackened on all sides, place in a bowl and then tightly cover the bowl with plastic wrap.
The trapped steam will soften the peppers and loosen their skins. After 15 minutes, pull the stems out of each pepper. Pull the skins off the pepper. I like to do this under running cold water, as it seems to help make the job quicker. You can also use a paper towel to rub off the loosened skins. Holding one end, squeeze the pepper length-wise, to remove the bulk of its seeds.
If you are using an oven, turn it on to the broiler setting. Brush each pepper with 1-2 teaspoons of vegetable, sunflower, or another high-smoke point oil. Arrange the peppers on a baking sheet, then place the sheet on the highest rack in your oven. Keeping a close eye on the peppers, remove them once dark, blackened spots appear. As with stove-top roasted peppers, place in a bowl and cover for 15 minutes. Follow the above directions for removing the skins and seeds.
Cook the rice. Place the 5 cups of water and salt in a large pot with a lid. Bring to a rolling boil over high heat. Stir in the rice, then cover the pot and reduce the heat to low. Cook for 22-25 minutes, until the  water has evaporated completely.
Turn off the heat. Use a fork to fluff up the rice, then cover again and let the rice sit for 5 minutes.
Attach the large chopping blade to your food processor (or use a high powered blender). Add the roasted Anaheim peppers, one of the Poblano peppers, garlic, onion tomatillos. Blend until smooth. Add in the sour cream until completely combined.
Preheat your oven to 375°F. Lightly oil or butter a 9×9 inch baking pan.
Dice up the remaining Poblano pepper. Fold the diced Poblano pepper as well as the blended pepper mixture into the rice. Add about half of the cheddar, half of the monterey jack cheese and half of the cotija cheese, coriander, oregano, pepper and salt, stirring until everything is evenly combined. Pour the rice into your prepared baking dish.  Sprinkle on the remaining cheddar, monterey jack, and cotija cheese.
Bake for 20-25 minutes, until the top is nicely golden brown. Allow the rice to sit for 5 minutes before serving. Enjoy while still hot.