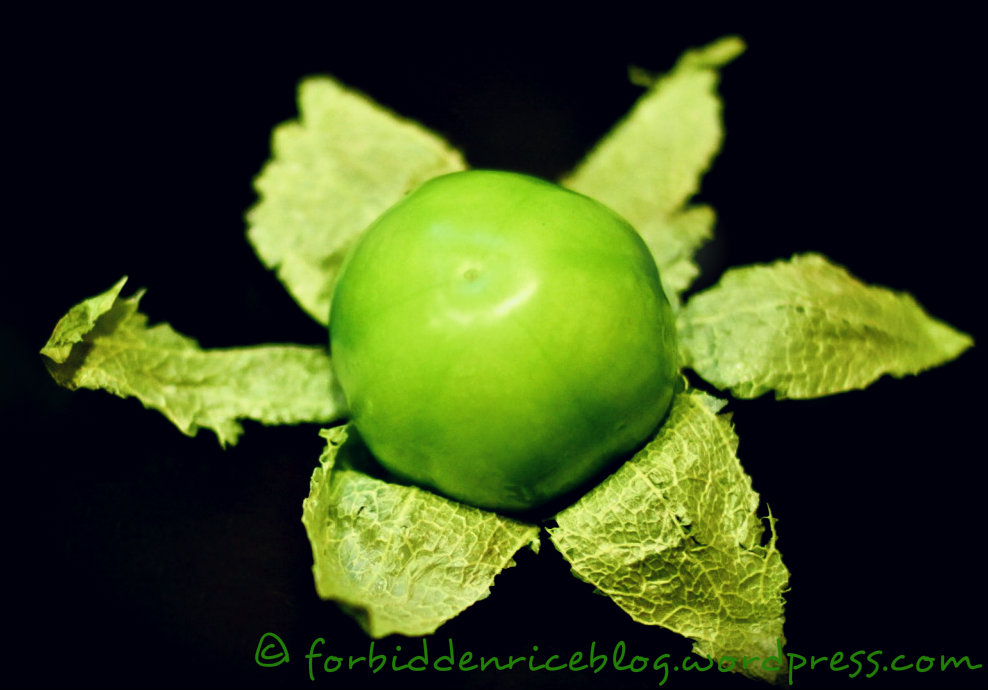 There are times that the senselessness of what's going on around me leaves only an overwhelming feeling of distance. This morning I read, "If we have no peace, it is because we have forgotten that we belong to each other," a quote from Mother Theresa. It resonated with everything I was feeling in the moment. So how does the distant feeling and the need for remembering how we all belong to one another find some kind of balance? I don't really know. I only know that in the midst of chaos and questions, there's still love. And the need for loving one another. And then the answer to all the other questions? I find myself in the kitchen. Back to a very basic need that makes sense to me; cooking and creating something that has a literal fulfillment despite all the questions everywhere else.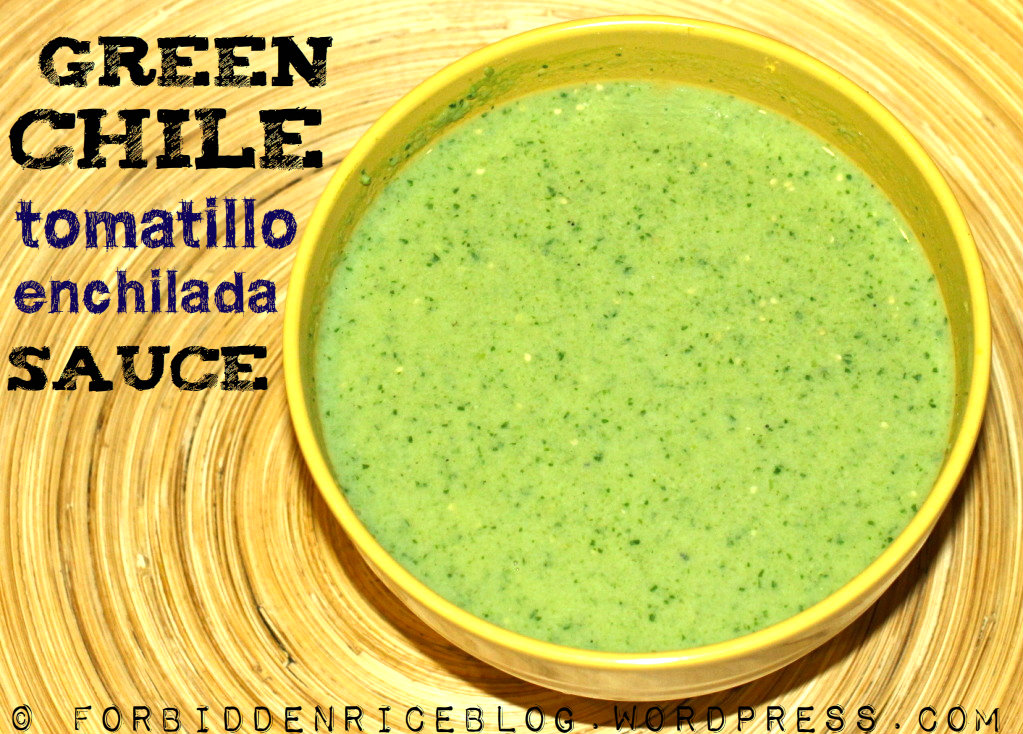 This enchilada sauce may leave you with some other kinds of questions, though. It's not a traditional enchilada sauce, to say the least. I used Poblano and Anaheim peppers hoping for a sauce that had flavor but didn't leave our mouths on fire. I didn't do a very good job at first. When I blended up the peppers, garlic, onion, and tomatillos, the sauce was so spicy I knew I couldn't make enchiladas and expect 7-year-old Silas to eat more than a few bites, despite his love of spicy food. I added the spinach into the mix, merely because we had a ton of it in the fridge. Still spicy. So I added some milk, which balanced out some of the heat and also created a creamier sauce.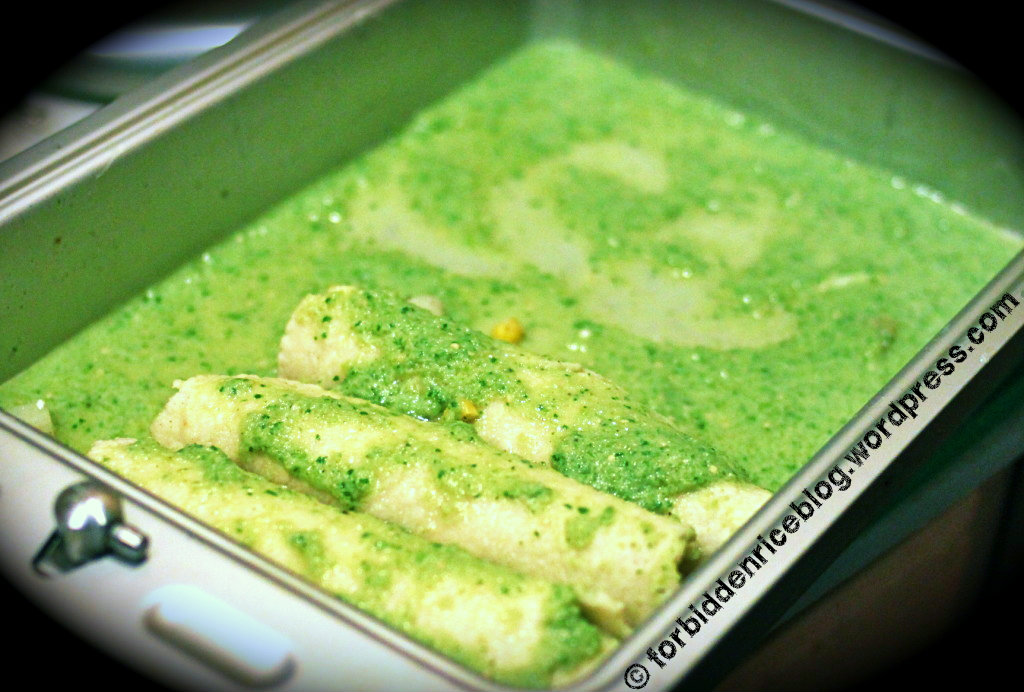 You can use this enchilada sauce to make (duh) enchiladas, but it also works really nicely as a salsa for dipping fresh, warm, tortilla chips. It's delicious on black eyed peas (say what?), on eggs… basically, anything that may require some fresh spiciness.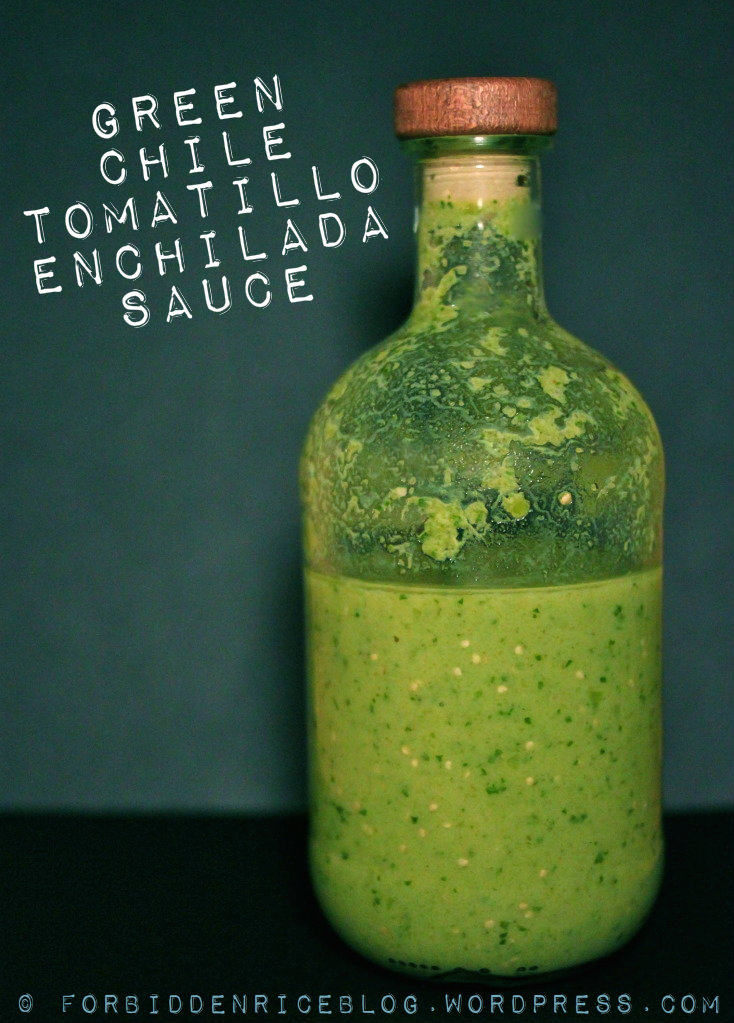 Green Chile and Tomatillo Enchilada Sauce
Yields about 5 cups of sauce
Ingredients:
3 large Poblano peppers
2 large Anaheim peppers
2 tbsp. oil
6 cloves garlic, minced
½ a large onion, diced
1 pound tomatillos
1 cup fresh spinach
2 tbsp. fresh oregano
1½ cups No-Chicken broth
1¼ cups whole milk *
salt, to your liking
* You can add less milk if you want, especially if you like your sauce very spicy. I wanted to cut some of the heat, as the peppers turned out to be much spicier than I'd expected.
Directions:
Roast the peppers. If you have a gas stove, this is easily done by roasting the peppers over an open flame (on high). Use tongs to turn the peppers constantly. Once the peppers are nicely blackened on all sides, place them in a bowl and then tightly cover the bowl with plastic wrap. The trapped steam will soften the peppers and loosen their skin. After 15 minutes, pull the stems out of each pepper. Pull the skins off the pepper. I like to do this under running cold water, as it seems to help make the job quicker. You can also use a paper towel to rub off the loosened skins. Holding one end, squeeze the pepper length-wise, to remove the bulk of its seeds.
If you're using an oven, turn it on to the broiler setting. Brush each pepper with 1-2 teaspoons of a high-smoke point oil. Arrange the peppers on a baking sheet, then place the sheet on the highest rack in your oven. Keeping a close eye on the peppers, remove them once dark, blackened spots appear. As with stove-top roasted peppers, place in a bowl and cover for 15 minutes. Follow the above directions for removing the skins and seeds.
Heat the oil in a large saucepan over medium-high heat. Add the minced garlic and diced onion. Sauté the mixture until the onions are translucent. Combine the onions, garlic, roasted peppers, tomatillos, spinach, and oregano in a food processor or high-power blender. Blend the mixture until smooth, adding little amounts of broth as necessary to help with the blending.
Once the mixture is smooth, pour it into the saucepan you cooked the garlic and onions in. Stir in the remaining broth (if you haven't added it all already) and milk. Taste, then add salt as needed.
Use the sauce in your favorite green (verde) enchilada recipe. I don't have a recipe for you, but made green enchiladas filled with Yukon gold potatoes, sweet corn, monterey jack and cotija cheese. The flavors worked nicely with the spiciness of this sauce! Keep leftovers in a tightly closed bottle or container in the fridge for up to a week.
Please follow and like us: