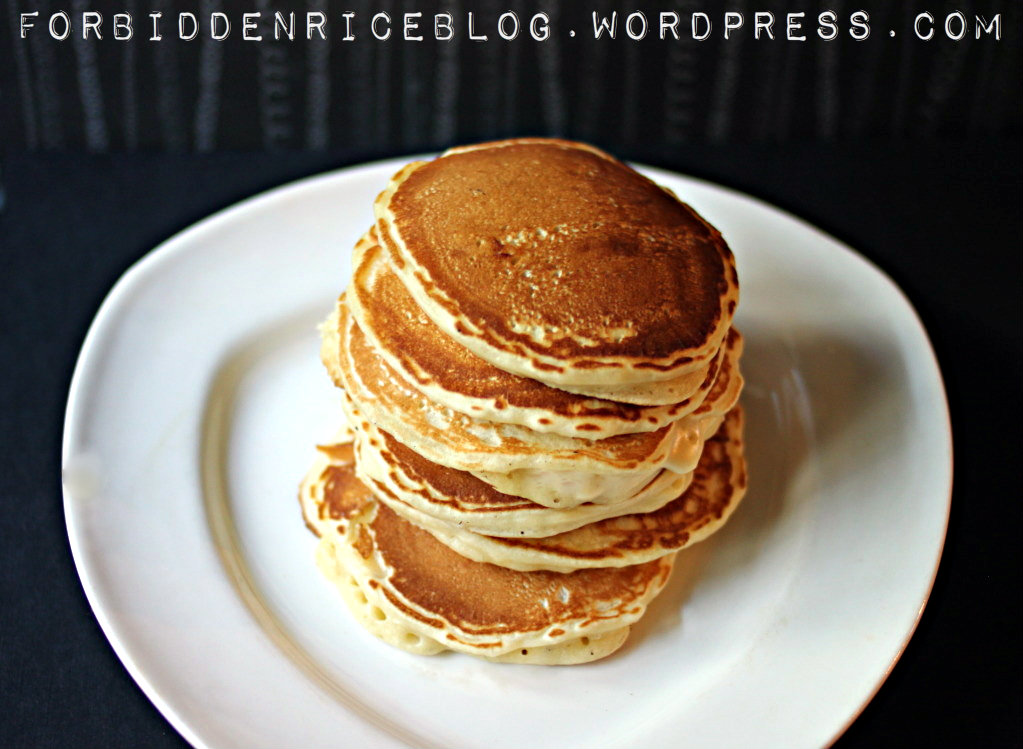 It has taken me two decades to appreciate pancakes. What's wrong with me? How is the idea of dessert-breakfast not appealing? Perhaps it's simply that I'm not big on breakfast. I like black coffee and a glass of water. It's less than exciting.
Sometimes on the weekend I'll get a wild hair in my… head and think, pancakes! It helps that I've got a husband who'll gladly eat a mountain of 'cakes and a stepchild who requests pancakes for every breakfast when given the opportunity. I've got recipes that I've gathered, tried… but ultimately, I often find myself going back to this familiar list of ingredients. The one that I keep in my head, along with memories of my mom, whose pancake repertoire boasts ingredient additions you probably haven't (okay, that I hadn't) thought to put into pancake batter. Corn, sprinkles, fruits of various textures, chocolate, nuts, spices, etc.
But the basic batter ingredients are not exotic. In fact, you probably have everything you need right now sitting in your cupboard. I don't believe in pre-made pancake mixes. Flour, sugar, baking powder, and salt. Who needs someone else to throw those things together? Really. Maybe it's just from my memories of growing up on an island. Maybe it's just that they taste good. But when I find myself really craving pancakes I grew up comforted by, banana 'cakes are absolutely the way to go. I've mashed bananas into the batter before, but have often found my pancakes too dense for my own liking. I prefer slicing the bananas into the batter, folding them in gently. The result? Lightly sweetened, delicate bites of fruit, and a still fluffy pancake. Perfection.
Banana Pancakes
Yields about 12 3-inch pancakes.
Ingredients:
1¼ all-purpose flour
1-2 tbsp. unrefined cane sugar
1½ tsp. baking powder
¼ tsp. sea salt
1 cup milk
¼ cup lightly flavored oil (sunflower, vegetable, etc.)
1 tsp. vanilla extract
1 egg
1-2 ripe bananas, peeled and cut in ¼-inch thick rounds
oil
Directions:
Preheat your oven to 200°F. Place a pan or pot with a lid in the oven to preheat, too.
Drizzle about half a teaspoon of oil into a large, flat bottomed skillet. Place the pan on medium-high heat while you get your batter together.
In a medium sized bowl, stir together the flour, sugar, baking powder, and salt. (I just use a fork to do this.)
Whisk together (I just do this in my measuring cup) the milk, oil, vanilla, and egg until well combined. Add the wet ingredients to your dry ingredients. Use your fork or whisk to stir everything together, just until all the dry ingredients have been incorporated.
Gently fold in the sliced bananas. Test a small drop of batter in your preheated pan. If it immediately begins to puff up, you're good to go. Spoon the a few tablespoons of batter per pancake into your pan, leaving an inch or so of space between each pancake.
Once the top is bubbling (1-2 minutes), flip the pancake over and cook until no longer runny in the middle (check by making a small incision in the middle of the pancake – I mean tiny cut – like ¼-inch max!).
Keep the cooked pancakes in your preheated oven until all the batter has been used up. Serve hot with your favorite pancake toppings. (My favorite for these particular 'cakes are more fresh sliced bananas, chopped macadamia nuts, and warm maple syrup.)