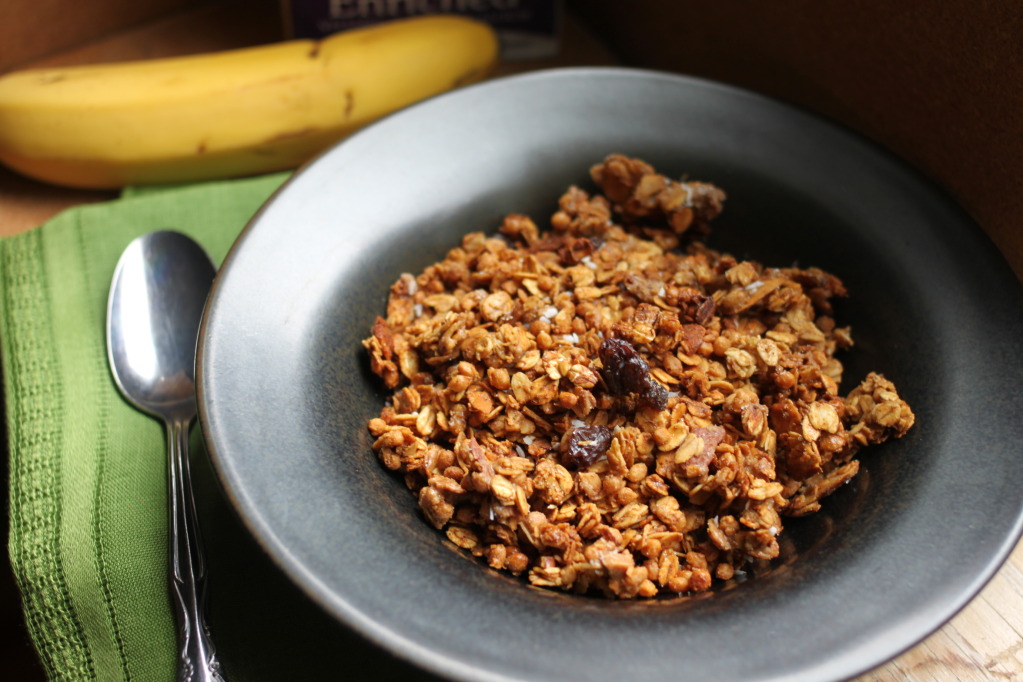 I've been doing a juice cleanse for about two and a half days now. Can I tell you – it's hard to have a food blog, wanting to write about food and look at pictures that do nothing except make me a hungry lady… But in turn be living off of juice and lemon water. However, my body is feeling better. My stomach isn't a plague of discomfort. I've been sleeping at more or less normal people hours. I weaned myself off of caffeine, so I haven't had a cup of coffee in four days now. Since I've gotten migraines from around twelve years old, I fully expected to have headaches as a result of this – but that hasn't happened.
There have been side effects, though. See – yesterday I made a juice of cucumber, celery, apples, beets, ginger, carrots, and grapefruit. All of a sudden I found myself dancing to Lady Gaga while folding about eight loads of laundry. Energy boost? And Gaga – I have not willingly listened to Lady Gaga in my life ever until yesterday. Judge not!
This morning my husband finished off the following granola. He said it tastes better than any store bought variety we've ever gotten. I made another batch this afternoon, including millet, flax seeds, and sunflower seeds, no walnuts. Husband says it's delicious. He and Silas have been eating it nonstop all afternoon. Myself – this morning I had my least favorite juice to date. It included kale, romaine lettuce, beet greens, cucumber, celery, beets, apple, ginger, carrot, kiwi, and meyer lemon. Every new addition was to make the last one taste better. In the end, I had a crap-ton of juice to drink, which I essentially imagined was beer and chugged it all until it was gone… Ten minutes later I felt the energy of a five year old kid, but Gaga didn't make it to my morning playlist.
Almond Butter Banana Nut Granola
Ingredients:
1 large ripe banana
½ cup unsalted almond butter
1/3 cup honey
2 tbsp. pure maple syrup
3 tbsp. coconut oil, melted
1 tsp. vanilla extract
½ tsp. salt
4 cups old fashioned rolled oats
1½ cups crispy rice cereal
1 cup raw sliced almonds
½ cup raw walnuts, chopped
½ cup thinly shredded coconut
1 tsp. Ceylon cinnamon
¼ tsp. freshly ground nutmeg
¼ cup smooth almond butter, melted
1 cup raisins
Directions:
Preheat your oven to 275°F. Get two half sheet pans ready by lining them with parchment paper.
In the bowl of your food processor fitted with the large chopping blade (or in a blender), combine the banana, half cup of almond butter, honey, maple syrup, melted coconut oil, and vanilla. Blend until smooth.
In a large mixing bowl, combine the salt, oats, rice cereal, almonds, walnuts, half of the shredded coconut, cinnamon, and nutmeg. Mix until evenly combined.
Pour the banana/almond butter mixture into the oat mixture. Stir to evenly coat the oats. Pour half the mixture into each of your prepared pans, smoothing it out. Drizzle the top of each pan with the melted almond butter (this doesn't have to be done evenly at all). Bake for 45-50 minutes, stirring every fifteen minutes or so, to ensure even baking. The oat mixture should be nicely golden brown and crispy.
Remove from the oven. Sprinkle the remaining shredded coconut over the top of the granola. Add the raisins to the pans, too. Allow the granola to cool completely before storing in an airtight container.
I enjoy this granola with vanilla almond or rice milk and additional slices of fresh banana. It's also good by the handful. ;)