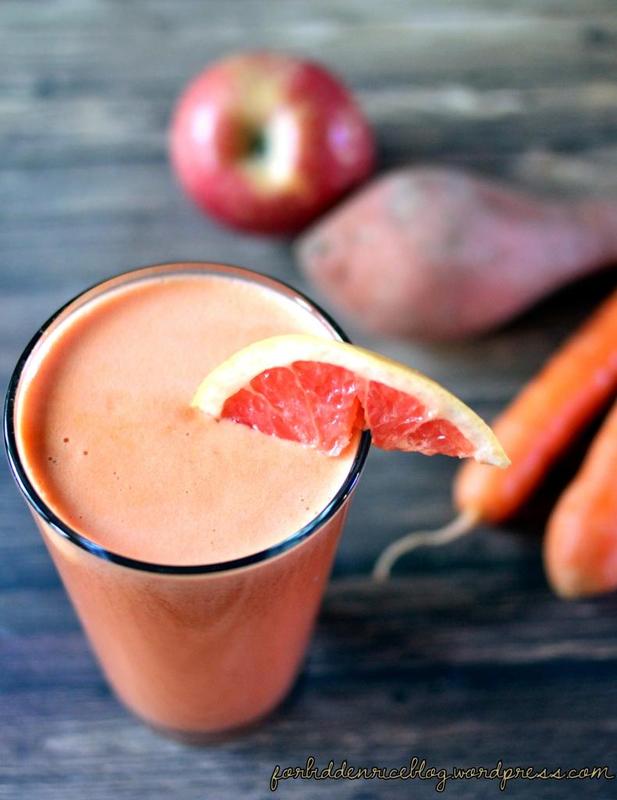 As I was doing my juice fast last week, I told myself I was going to be a green juice kind of girl. I have had green juices and not once have I enjoyed any of them. At first I thought it was the spirulina that I was hating so much, so I tried green juices that were simply green from kale or spinach without a trace of that nasty flavored cyanobacterium. Insert wrinkled nose and instant gag reflex here, post-consumption.
This time was going to be different. Within fifteen minutes of our new juicer arriving at our doorstep, I was hooked on making my own juices. Surely a homemade green juice would make me enjoy it more? Wrong. I was wrong. Again. I made a juice with kale, green grapes, apple, celery, cucumber, lemon and ginger. I felt the need to drink it because I didn't want to waste the ingredients… but unlike the foods I didn't like eating as a kid, I couldn't just swallow the damn thing and not taste it! It was a pretty quick chug, though. I've decided I'm more of an orange juice kind of lady. Or magenta juice kind of lady.
The second evening of my fast, I had just finished an intense workout and found myself feeling H-U-N-G-R-Y. Juice didn't sound like it was going to cut it. But then I made the following juice and I was full about halfway through. The yam was a huge surprise. It offered a creaminess and fullness to the juice, while the grapefruit, grapes, carrots, and apple balance one another with sweetness and tartness. There isn't a single orange in this juice, but the flavor reminded me of the orange creamsicles I remember enjoying as a kid.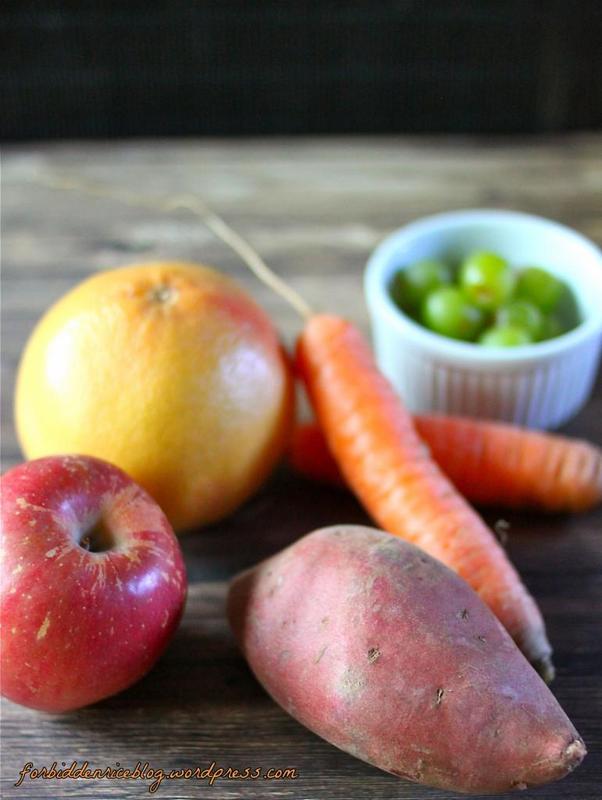 No Orange-Orange Juice
Makes approximately 20 oz. juice
(depending on your fruit)
Ingredients:
1 large ruby red grapefruit
1 medium fuji apple
1 medium yam *
2 large carrots
1 handful green or red grapes (approx. ¾ cup)
* It has been brought to my attention that there is information about the toxicity of raw yams on human bodies. There's equal amounts of information across the net talking of the health benefits, safety, etc., of the exact same raw yams… SO, this note is to say that I've been drinking juices with raw yams in them for a couple weeks now and haven't felt any warning signs, symptoms, or dangers of doing so. I'm not a health expert, nor do I claim to be. Inform yourselves and proceed as you see fit.
Directions:
Peel the yam. Peel the grapefruit.
In a juicer, juice the fruits and vegetables in this order: yam, carrots, apple, grapefruit, grapes.
Drink immediately, over ice if you prefer or simply as is.