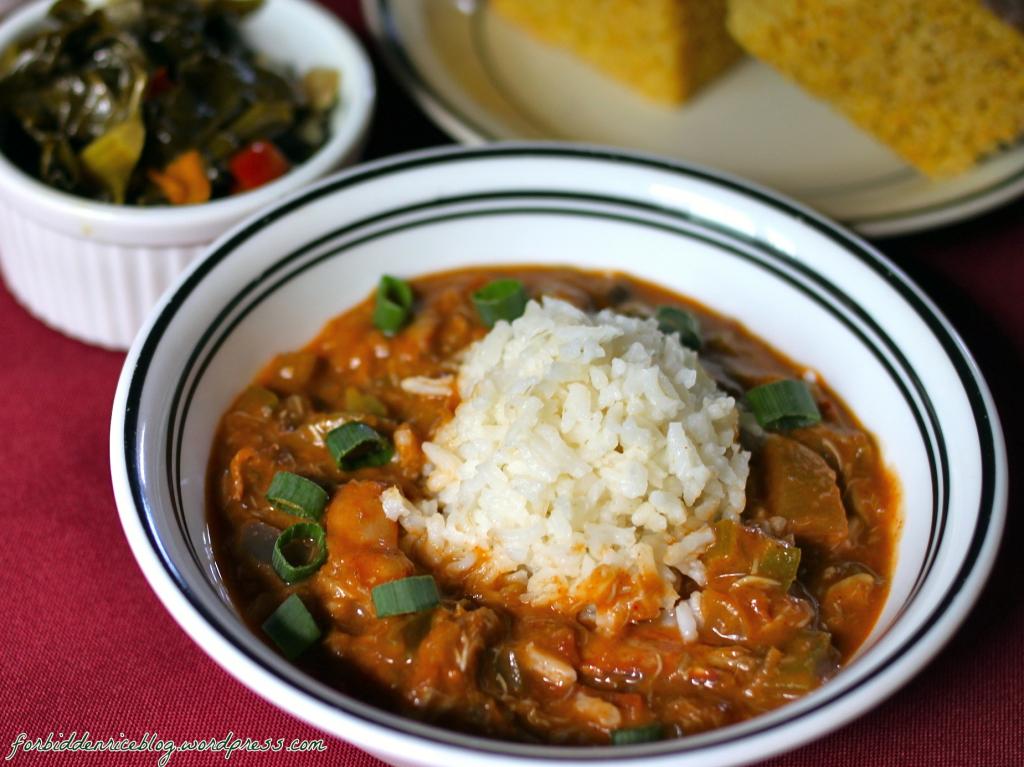 Babe, that's the real thing! is what my Southern born and raised, then West Coast transplanted, husband said as he ate this étouffée (eh-too-fey). Étouffée is a Creole or Cajun dish generally served with some kind of shellfish (most popularly, crawfish), over rice. The easiest way to describe it is to say it's like a chunky stew, but filled with Cajun flavor. Étouffée is roux (roo) based. A roux is used in French cuisine to thicken foods, made by cooking a paste consisting of flour and butter or oil until the raw flour taste is gone. I make a white roux all the time for homemade vegetarian gravy, but étouffée requires a darker roux, made by cooking the flour/butter paste for a longer amount of time. Its flavor is deep, nutty, and rich.
Mardi Gras just happened. My husband and I went out to dinner as a low-key early Valentine's Day meal, along with the intent of having some Cajun cooking. He had a fried oyster po' boy and myself, a catfish po' boy. As we ate, I decided that Oregon is too far from New Orleans, and I was going to cook a post-Fat Tuesday meal the following day, in that respect. My mother-in-law recently made gumbo and last year I had made shrimp creole for the celebrating. As I remembered the amazingly good étouffée we ate a couple years ago in Louisiana and Mississippi, I decided that was the route I'd attempt. Along with some cornbread and vegetarian collard greens.
Can I just say, being a half-Japanese white girl trying to cook some down home southern, Louisiana style, Cajun cooking is intimidating as hell when the folks you're preparing food for are from that area and know authentic from not? Well, it was. Intimidating, that is. But as has always been the case, I use that to drive creating something I can be proud to serve. This dish isn't shy of that at all. It tastes good. It incorporates the flavors I had hoped to have shine through. It got the thumbs up from my husband, mother-in-law, AND 7 year old kid (even if he calls it "The Touffe"). So there. Try it.
Shrimp and Crab Étouffée
Recipe largely adapted from Emeril Lagasse
Serves 8-10 people, served with steamed rice
Ingredients:
For the shrimp stock:
the shells and tails from 1 pound size 21/25 shrimp
½ a lemon, cut into ¼-inch thick rounds
½ a large onion, peeled and cut in half
1 celery stalk, cut in large chunks
1 large carrot, cut in large chunks
1 bay leaf
½ tsp. whole black peppercorns
½ tsp. sea salt
6 cups water
1 cup beer (amber or another light brew)
For the étouffée:
6 tbsp. unsalted butter
½ cup all-purpose flour
2 cups yellow onion, diced
2 cups green bell pepper, seeded and diced
2 cups celery, diced (about 5 stalks)
3-4 cloves garlic, minced
1- 14.5 oz. can fire roasted diced tomatoes
2 bay leaves
2 tsp. sea salt
½ tsp. cayenne pepper
½ tsp. cracked black pepper
1 tsp. smoked paprika
3 tbsp. Cajun seasoning
1 quart shrimp stock
1 pound 21/25 shrimp, peeled with veins removed
1 pound crab meat
½ cup green onion, diced
Directions:
Make the shrimp stock: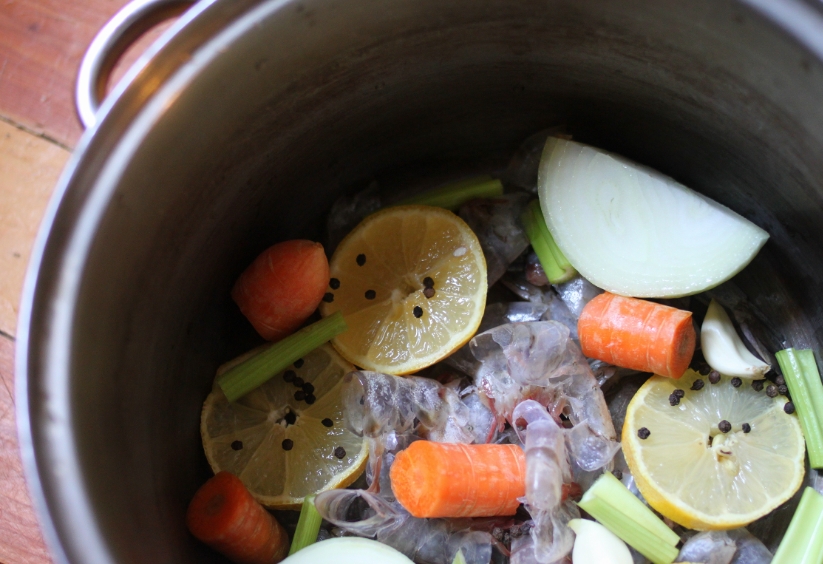 In a large stock pot, combine all the ingredients for the shrimp stock. Bring up to a rapid boil over high heat, then cover and reduce the heat to low. Cook for 45 minutes to one hour. Remove from heat, then strain and set the strained stock aside until needed.
Make the étouffée: In a cast iron Dutch oven pot, melt the butter over medium-low heat. Make a roux by adding the flour to the melted butter, whisking until the mixture is smooth. Continue whisking over medium-low heat until the roux turns a dark caramel brown color (8-10 minutes).
Once the roux has turned a nice shade of brown, stir in the onions, bell pepper, celery, and garlic. Stir often for about 10 minutes, until the onions and bell pepper soften. Add the diced tomatoes, bay leaves, salt, cayenne and black peppers, paprika, and two tablespoons of the Cajun seasoning to the mixture, stirring to evenly distribute everything. Cook for 2-3 minutes, then whisk in four cups of the shrimp stock you made earlier.
Bring the mixture to a rolling boil and then reduce the temperature to a simmer (low heat). Stir in the crab meat. Stir the étouffée occasionally, cooking for 35-45 minutes.
Chop the shrimp into bite sized chunks (about 3 pieces per shrimp). Sprinkle the chopped shrimp with the remaining tablespoon of Cajun seasoning. Once the 35-45 minutes of cooking time has passed, add the shrimp to your dutch oven, stirring again to evenly distribute the ingredients. Cook the étouffée an additional 5-7 minutes, until the shrimp are cooked all the way through.
Serve the étouffée immediately over steamed white rice garnished with the chopped green onions and a side of your preferred Louisiana-style hot sauce.