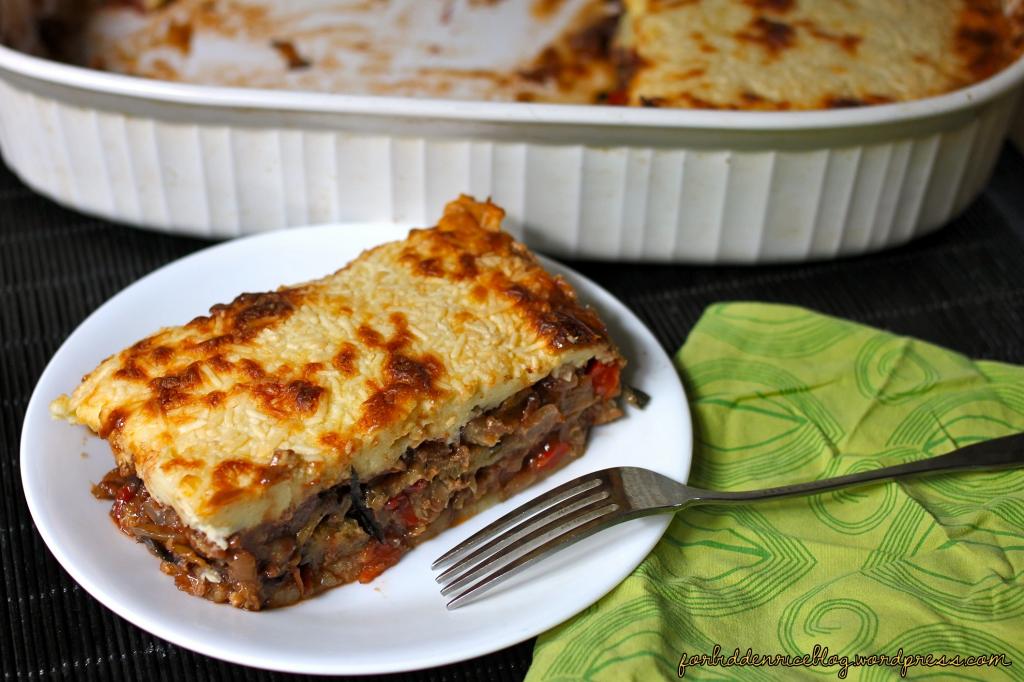 My family has always been largely into music. Growing up, my dad played the French horn, piano and sang in various ensembles. My sister had a knack for the piano and was a percussionist throughout high school. My brothers both dabbled in various instruments, too. My mom could play the piano when she decided she wanted to. Me? I was what you'd call a shower singer. Or an at-the-dinner-table-whistler who consistently got in trouble for her talent. I took keyboard lessons one year, where I learned how to read music. Mostly just the right hand parts, because the left hand  parts confused me. Let's not talk about the summer I decided to teach myself how to play the alto saxophone. Then I took ukulele lessons for a year, where we learned these Hawaiian songs I couldn't ever play right or sing on key. Piano lessons? MAN. I had the same piano teacher as my sister (you know, the prodigy… or at least the girl who enjoyed playing the dang piano). I would improperly bang on the keys one finger at a time (a big no-no when you're supposed to perfectly curl your five fingers across the keys, NO NAILS TAPPING! Yes, I got in trouble for that, too.) One day my piano teacher told my sister during her lesson, "I don't think Julie likes me. If I were having a seizure on the floor, I don't think she'd call the ambulance…" On one hand I thought it was hilarious. On the other, I was sorry that she took my apprehension personally. I think the reason I didn't enjoy my piano lessons was simply that reading music was hard for me. I understood what my final composition was supposed to sound like, I just couldn't ever get there. Even if I practiced as long as I was supposed to each day. Not that that happened most of the time.
These days I enjoy challenging myself. But not on the piano. Or the guitar I received on my 16th Christmas, which has moved with me everywhere I've gone since. No, the kitchen is one of my favorite places to challenge myself. While some days require a simple, quick, thrown together style meal, I actually thoroughly enjoy making elaborate, time consuming dishes as well. I appreciate putting my time and focus into dishes I don't necessarily know how to make, with enough confidence to trust that something delicious will probably occur. Rarely do I follow a recipe step-by-step. If I'm making a new (to me, to my family) dish, I will research the crap out of recipe after recipe, for an idea of what its basic elements are, as well as where there's room for tweaking ingredients and methods of doing things.
Moussaka is often referred to as a Greek dish, primarily made up of eggplant (aubergine), meat, and a béchamel (white) sauce. The truth is, versions of the same dish exist in Turkey, Bulgaria, Romania, Serbia, around the Middle East… There are variations of how the ingredients are put together: in layers, in salad form, alongside other dishes, etc. There are variations in the ingredients: some are based with potatoes rather than eggplant, others use pork, or lamb, or perhaps beef.
I knew that making a vegetarian version of this dish, I wanted to use something similar in consistency to ground lamb. Gimme Lean is a great sausage alternative. My favorite for flavor, by far. The rest of the recipe consists of ideas and ingredients from numerous other recipes. The result is an abundance of flavor. Every layer is individually cooked and flavored, which all work together in the final dish, rather than overwhelming one another. There's spice and warmth, depth, sweetness, and a rich feeling of fullness. Moussaka is not served just-out-of-the-oven-hot, but moderately warm. This helps the layers stay together. Reheating isn't an issue, however, and the flavors are even better the second day!
Vegetarian Moussaka
Makes one 4.5L casserole, serves 10-12 people
Ingredients:
For the red sauce:
½ cup currants, soaked in warm water for 30 minutes
¼ cup olive oil
1½ medium onions, diced
6 cloves of garlic, minced
2 pkg. Gimme Lean ground sausage
1 large red bell pepper, seeded and diced
¾ tsp. ground cinnamon
½ tsp. ground ginger
½ tsp. dried oregano
¼ tsp. ground allspice
¼ tsp. cayenne pepper
2 tbsp. tomato paste
one 28-oz. can whole, peeled tomatoes
1 cup red wine
salt and pepper, to taste
For the béchamel sauce:
6 tbsp. unsalted butter
½ cup all-purpose flour
2 cups whole milk
½ cup heavy cream
1 bay leaf
¼ medium onion
2 whole cloves
1/8 tsp. freshly ground nutmeg
3 egg yolks
½ cup goat cheese
the zest from one whole lemon
salt and white pepper, to taste
For the moussaka:
2 pounds large globe eggplant (about 3 small eggplants)
sea salt
olive oil
3 medium sized russet potatoes, peeled
1 cup shredded parmesan and/or romano cheese
Directions:
Prepare the red sauce:
In a large pot, heat the oil over medium-high heat. Add the diced onions and minced garlic. Cook, occasionally stirring, until the onions are tender and translucent. Add in the Gimme Lean sausage, breaking it up into crumbles. Stir to combine with the onions and garlic. Cook over medium-high heat, stirring occasionally until lightly browned all over.
Stir in the diced bell pepper, soaked (and drained) currants, and all the spices. Cook for 2-3 minutes, until the bell pepper just begins to soften. Add in the canned tomatoes, including the juice, and paste. Use a wooden spoon to mash the tomatoes apart into bite-sized chunks. Stir to evenly combine all the ingredients. Stir in the red wine, then salt and pepper to your liking. Reduce the heat to medium-low. Cook for 45 minutes to 1 hour, until most of the liquid has been absorbed into the fake sausage, and the mixture thickens. *I actually cooked my sauce for nearly two and a half hours. It won't hurt the sauce and in fact deepens the flavors a bit.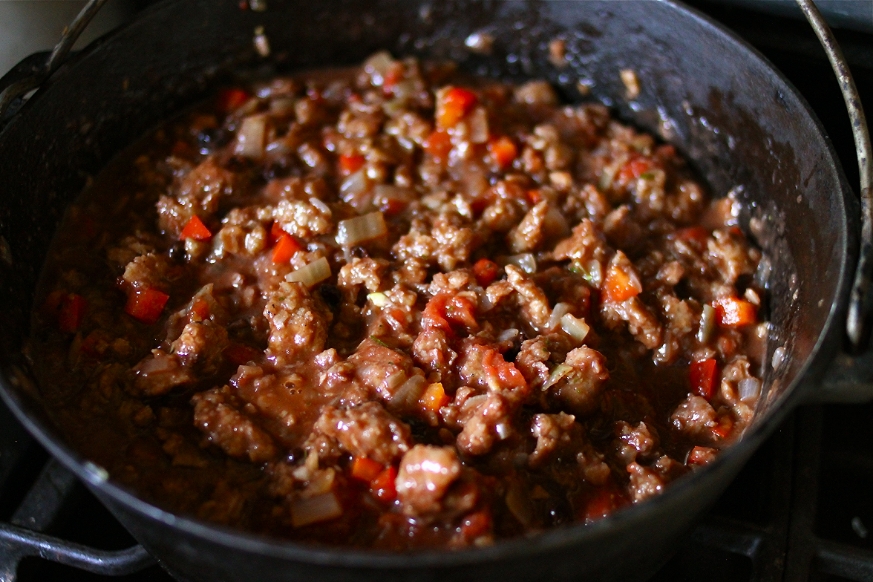 Prepare the eggplant:
While the red sauce is cooking, slice off the top and bottom ends of each eggplant. Cut the eggplant lengthwise, into slabs about ¼-inch thick. Sprinkle each slice, on both sides, with sea salt. Set in a colander in the sink for 30-40 minutes, allowing the eggplant to sweat. (This removes the bitterness from the eggplant.) After the vegetable has had time to sweat, rinse well under cold running water. Pat dry with a dish towel or paper towels.
Preheat your oven to 500°F. Lightly brush each side of the eggplant with oil before lightly sprinkling with salt and pepper. Place in a single layer on a baking sheet or two. Bake for 12-14 minutes, turning halfway through, to achieve a nice dry char on both sides of each eggplant slice. Remove to a cooling rack until the eggplant comes to room temperature.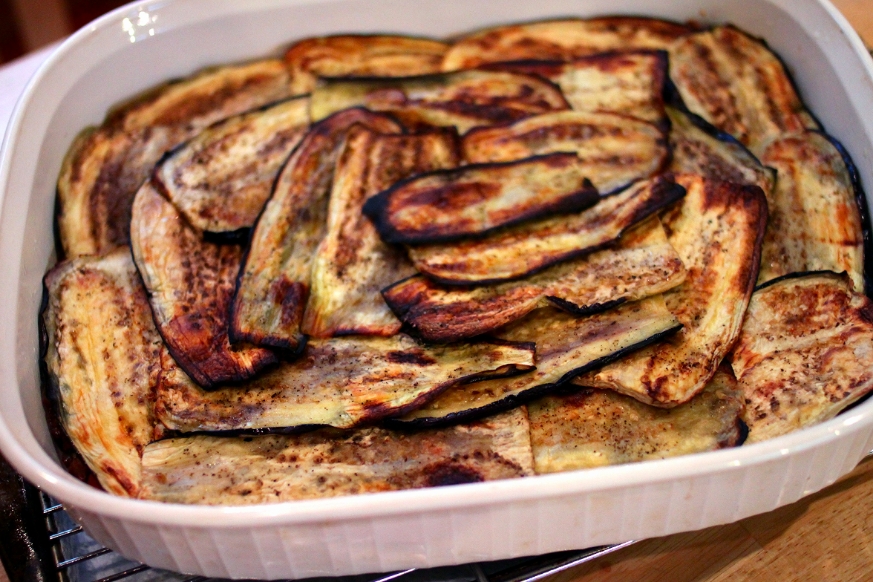 Prepare the potatoes:
Slice the potatoes into rounds about 1/8-inch thick. Heat enough oil in a large frying pan to reach a depth of about ¼-inch. Fry the potatoes in single-layered batches over medium-high heat, for 7-8 minutes until they're tender but still pale in color. Remove from the oil to paper towels to drain. Continue doing this until all the potatoes have been cooked. Increase the heat to high and fry the potatoes until crisp and golden brown on each side (30-60 seconds). Drain well on paper towels again.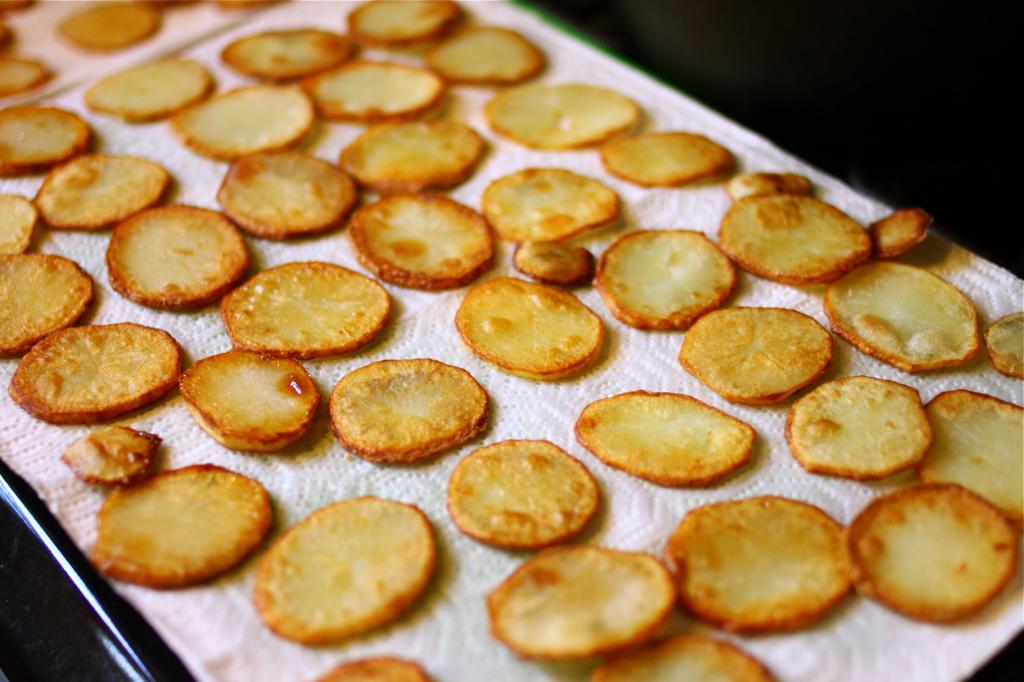 Prepare the béchamel sauce:
Attach the bay leaf to your ¼-onion by piercing the leaf on each end with one of the whole cloves, into the onion.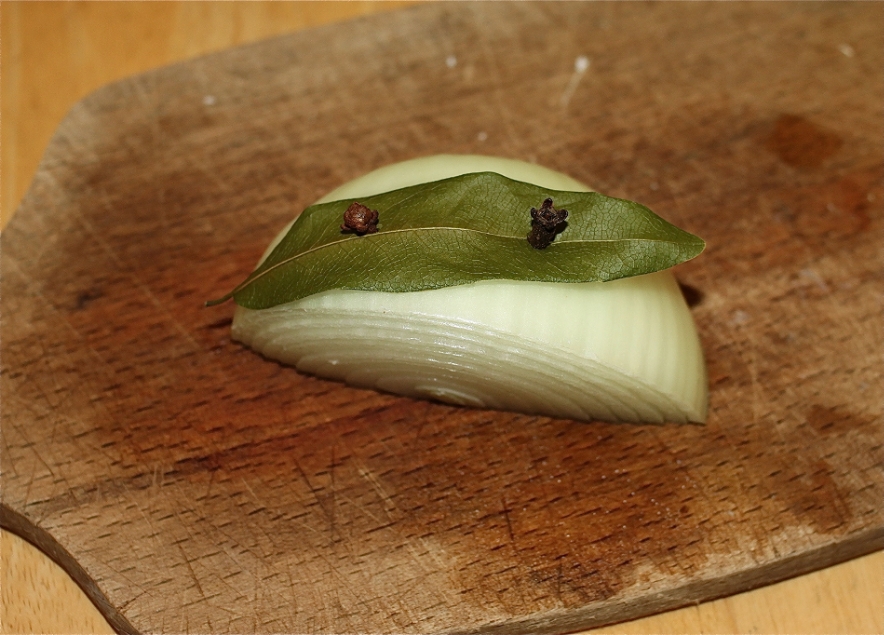 Melt the butter in a medium-sized saucepan completely. Whisk in the flour until you create a smooth paste. Stir continuously for 2-3 minutes, to cook off the flour-taste. Whisk in the whole milk and heavy cream all at once. Add the onion/bay leaf/cloves to the pot. Stir continuously until the mixture thickens (4-6 minutes).
In a small bowl, whisk together the goat cheese, egg yolks, and lemon zest until smooth. Temper the egg yolks by adding the milk/flour mixture to them, one tablespoon at a time, stirring continuously. Add enough of the milk/flour mixture to the yolks to get them to a lukewarm temperature. Whisk the tempered egg yolk/goat cheese mixture into the white sauce, until everything is smooth and well combined. Taste, then add salt and pepper to your liking. Remove from heat.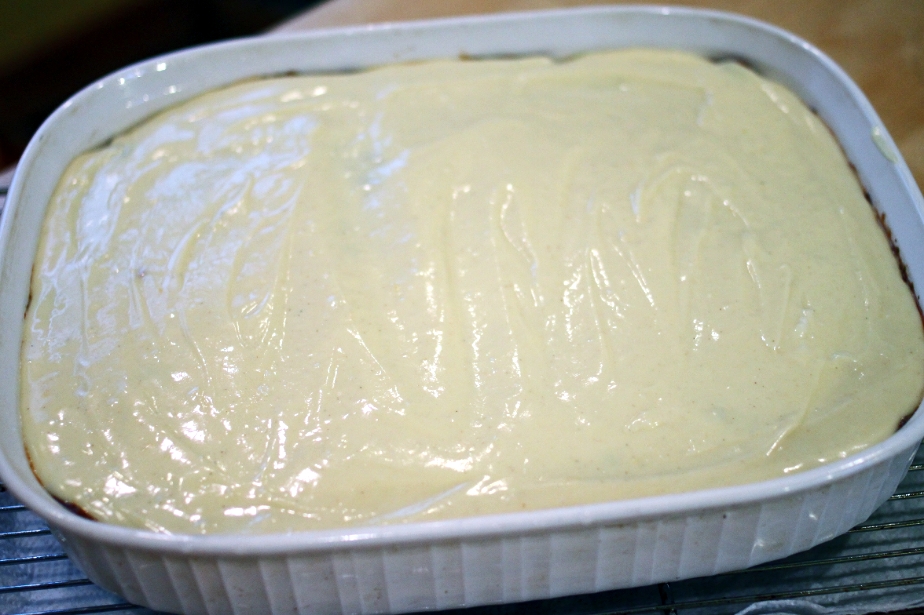 Assemble the moussaka:
Preheat your oven to 375°F. Lightly grease a 4.5-liter baking dish (round or rectangular will do). Arrange the fried potatoes on the bottom of your baking dish, overlapping the edges slightly. Spread half of the red sauce over the potatoes, using a spatula to evenly distribute the sauce. Next, layer the eggplant slices, overlapping them in an even layer. Evenly spread the remaining red sauce over the eggplant layer. Carefully spread the béchamel sauce over the red sauce, smoothing it out as evenly as possible, trying to keep them as two separate layers. Sprinkle the parmesan/romano cheese over the béchamel sauce. *At this point, the moussaka can be tightly covered and refrigerated for up to two days before baking.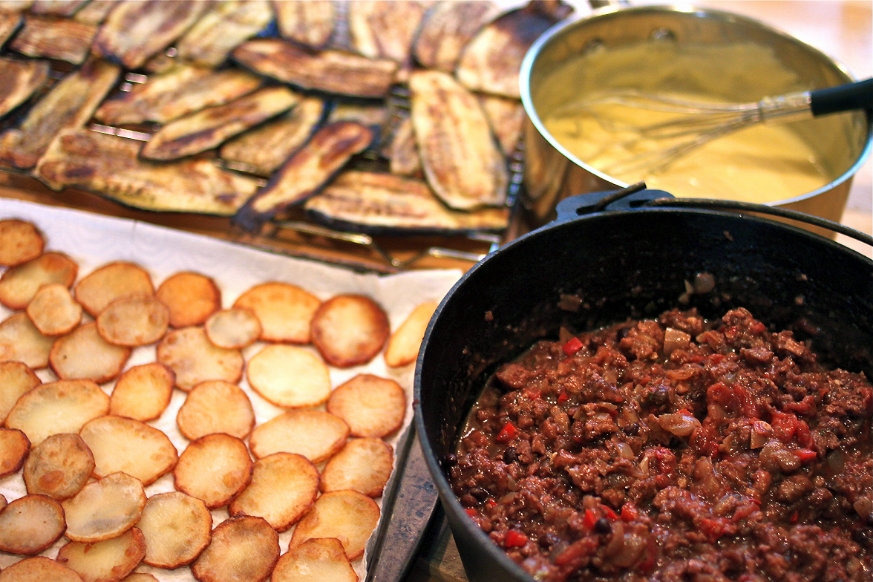 Bake for 35-45 minutes, until the moussaka is bubbly and the top is golden brown. Remove from the oven and let the moussaka sit for 25-30 minutes before attempting to serve (this allows the layers to settle a bit, thus making it easier to serve). I suggest letting the moussaka rest on top of your stove, which will still be nicely warm from the oven having been on.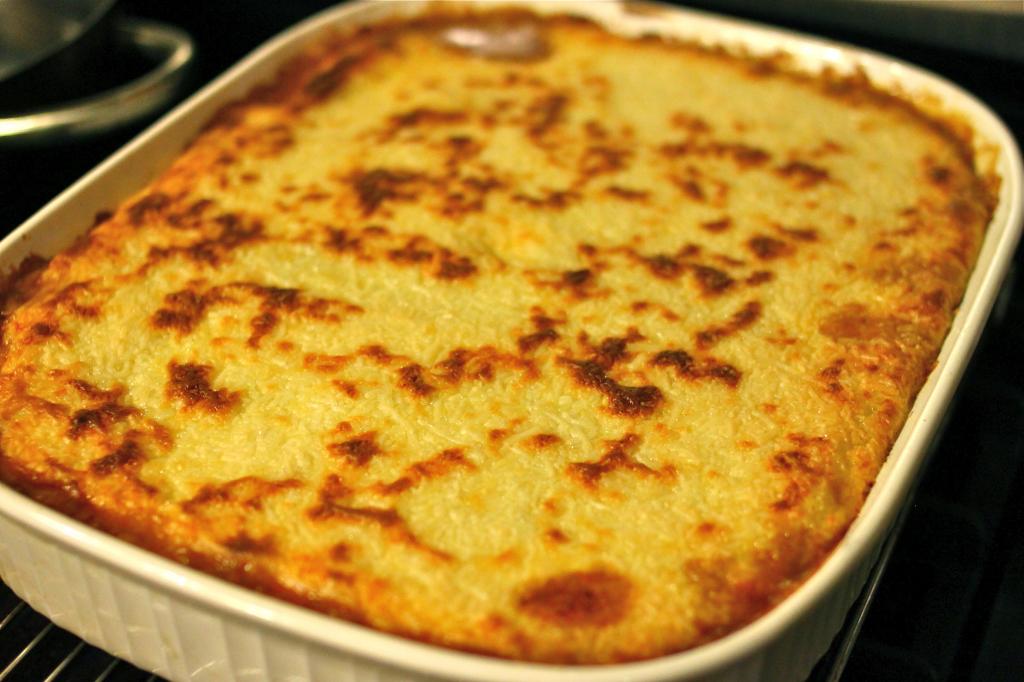 Serve alongside your favorite green salad and perhaps some warm, crusty Italian or French bread. Store leftovers in the refrigerator, covered tightly.