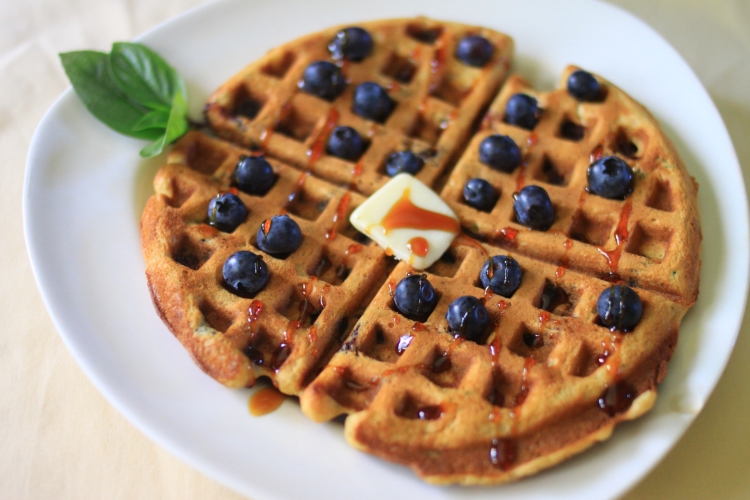 One thing about having a blog, even a food oriented one, is that to some extent your life is wide open to anyone who wanders in across the inter-webs. Then comes the balance of how much do I write here about what's going on in my daily life and how much do I simply just tell you about the recipe you're inevitably going to find in the post? I suppose I could just tell you about blueberries or the incredible amount of basil that's living in my garden (forcing me to come up with new ways to use it). But then I think about my favorite bloggers, how much the writing draws me in just as much as the recipes or photographs. The ones who share about their fears, and loves, losses, failures, successes, mistakes. I suppose I mostly believe that being open in this space is okay, because that's what leaves me relating to other people.
So here's some real talk: this past Saturday, my Grandmother passed away. It was completely unexpected, as last I heard she was healthy, active, happy. She wrote me a month ago and I told myself I'd get to responding later, as our correspondences often led to; my Grandma was my best pen pal for 28 years. Even when I neglected to respond right away, I always received notes, e-mails, the same handwritten letters I knew the penmanship of for nearly three decades. The very first things she wrote me on my birthday were, "This grandmother wishes you the best of everything for your birthday. And may you enjoy many more. You have a very full and interesting life. I love knowing what a nurturing person you are. You care for the people around you. Believe me, that means a rewarding future." They were words of wisdom and support, always love. And as usual, things I had been needing to hear exactly when they came. I will miss this woman immensely, whose intelligence and laughter, warmth and kindness was admirable, radiating to anyone she came into contact with.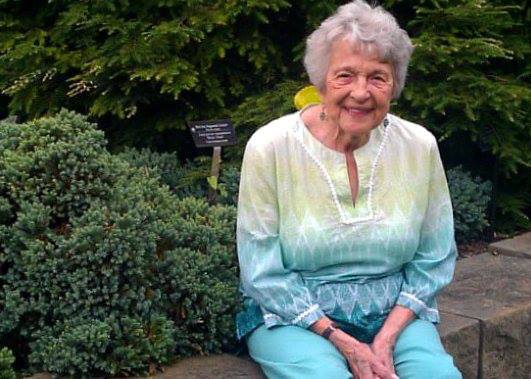 My inclination of dealing with loss and sadness is to pour love into other areas of my life. For me, it's easiest to do that through cooking. I'm sure it's also a distraction to some extent, cooking vast amounts of food even when my energy feels completely depleted and heavy. But that's precisely what I've found myself doing. Plus being in my garden to pick fresh ingredients is relieving. I picture both of my grandparents, who grew gardens I remember fondly, sitting together now, laughing and enjoying one another as they had for more than 60 years together.
I made these waffles the day I lost my Grandma. I like to imagine sharing them with her, over a good cup of coffee, enjoying a filling conversation. The waffles are light, crisp, sweet, and summery. They'll add a little sunshine when you need it most.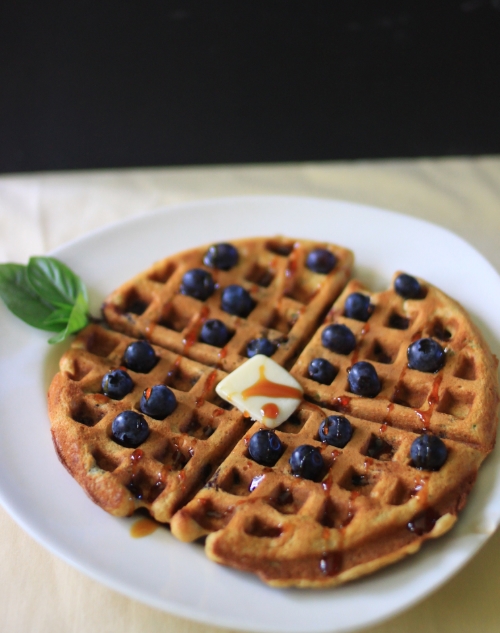 Blueberry Buttermilk Basil Waffles
Recipe modified from this malted waffle recipe by Tracy Benjamin [Shutterbean].
Yields about 6 waffles.
Ingredients:
1½ cups all-purpose flour
½ cup malt powder
¼ cup light brown sugar, packed
1 tsp. baking soda
¾ tsp. baking powder
¼ tsp. salt
¼ tsp. ground ginger
pinch of fresh nutmeg
2 eggs, separated
1¼ cups buttermilk
4 tbsp. melted butter, cooled slightly
½ tsp. vanilla extract
¼ cup fresh chopped basil
1 cup fresh blueberries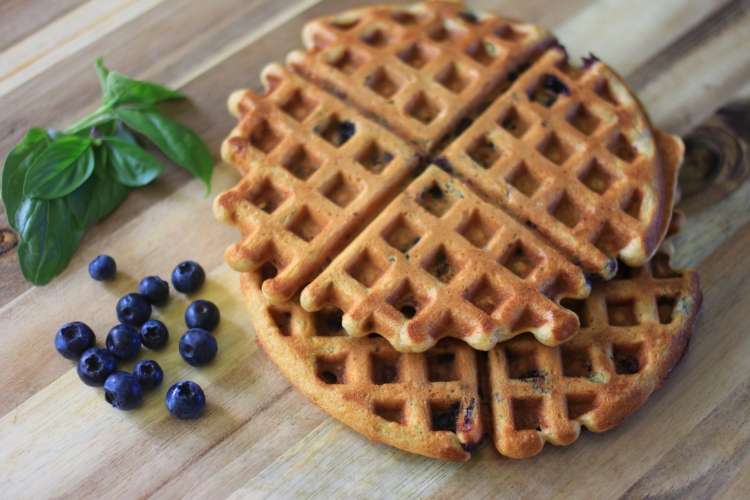 Directions:
Preheat your waffle iron according to the manufacturer's directions. I use a thin one like this, rather than a Belgian waffle iron. Brush or spray with non-stick oil. Preheat the oven to 200°F if you're planning on cooking all of the batter before serving the waffles.
In a large bowl, whisk together the flour, malt powder, brown sugar, baking soda, baking powder, salt, ground ginger, and nutmeg.
Whisk together the egg yolks, buttermilk, melted butter, and vanilla.
Whisk the egg whites until firm peaks form.
Stir the buttermilk mixture into your dry ingredients until just combined. Fold in the basil and blueberries. Gently fold in the whipped egg whites, being careful not to break them up too much.
Spoon the batter onto your heated waffle iron (I used about a scant ¼-cup of batter per waffle). Cook according to your waffle iron's instructions. Keep the finished waffles in your preheated oven until ready to serve them.
Serve with your favorite waffle toppings. I liked extra fresh blueberries, warm maple syrup, and a little butter.