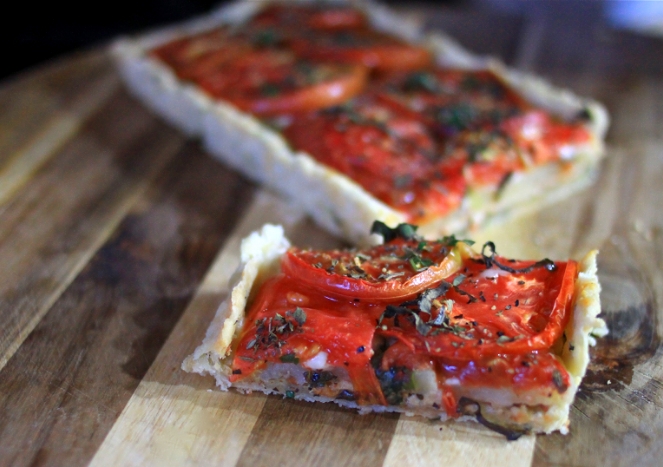 Having a good, flaky pastry crust in your recipe repertoire is a must. This is advice comes from the same girl who has made her fair share of crusts that shrink down from the all sides of the pan they're supposed to line, or pastry crusts so tough and gummy simultaneously even the dogs won't eat it… Crusts that mush down into the bottom of the pan, soggy oily messes of butter and flour and heat. Yes, yes. Kitchen fails happen. Luckily I haven't had a pastry crust fail with the following recipe. I've tweaked it many times to incorporate it into sweet desserts, or savory pies and tarts. Keeping your butter cold is essential, as it keeps the crust from breaking down too quickly once it moves into the oven.
This tart was a dinner experiment, created as a means of using up some tomatoes out of our garden. I contemplated doing the tart as a side dish, but when laziness hit and I decided I wanted less dishes and a more filling dinner-style tart, I threw potatoes into the equation. Perhaps potatoes and tomatoes sounds like a funny combination (or maybe it's just fun to say potato-tomato over and over again). But the 'taters in this tart add some bulk and create a more substantial savory meal.
The ingredients are simple and straightforward, the focus primarily on the fresh tomatoes that are so delicious this time of year. The freshness of the ingredients here makes this a refreshing dinner choice.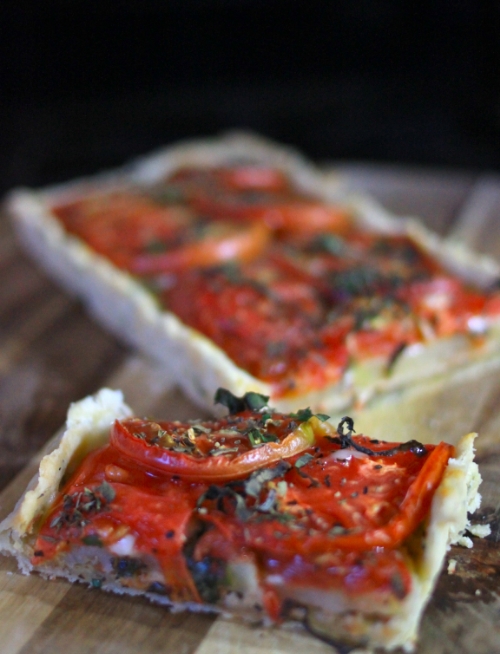 Tomato Potato Tart
Yields two tarts: one 13 ¾" x 4 ½" x 1″ rectangular and one 9″ round tart.

Ingredients:
For the crust:
2 cups all-purpose flour
1 teaspoon sugar
¼ teaspoon kosher salt
½ teaspoon freshly chopped parsley
½ teaspoon freshly chopped thyme
2 teaspoons freshly chopped oregano
1 tablespoon freshly chopped basil
1 stick cold, unsalted butter
2 tablespoons vegetable shortening
6 to 8 tablespoons ice cold water
For the tart filling:
3 to 4 ripe, heirloom tomatoes
2 large yukon gold potatoes
½ cup freshly chopped herbs (I used basil, oregano, thyme, and parsley like in the dough)
½ teaspoon red chili pepper flakes
1 cup smoked mozzarella cheese, shredded
1 cup fontina cheese, shredded
1 cup havarti cheese, shredded
4 teaspoons stone ground mustard
salt and fresh ground black pepper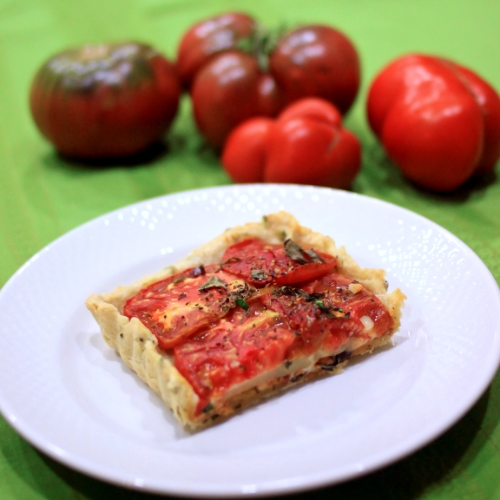 Directions:
Prepare the dough:  combine the flour, sugar, salt, parsley, thyme, oregano and basil in a large bowl. Mix to thoroughly combine. Cut in the butter and shortening, until the mixture resembles a coarse meal. Stir in the ice water, adding six tablespoons at first, working the dough into a slightly moist ball. If you need more water to get the dough into a ball (versus a crumbly mess) add the additional water, one tablespoon at a time. Cover and refrigerate for 45-60 minutes.
Prepare the tart filling: Place the potatoes in a small pot and cover with generously salted water. Bring the potatoes to boiling and cook until fork-tender (12-15 minutes). Drain the water and cool the potatoes to room temperature. Once the potatoes have cooled, slice them into rounds about 1/4-inch thick. Set aside.
Remove the stem and pit of each tomato. Slice the tomatoes into rounds that are about 1/4-inch thick. Place on a baking sheet lined with paper towels (or a dish cloth, coffee filters, etc.). Add another layer of paper towels or another dish cloth over the tomatoes and press gently, to remove some of the excess liquid.
Mix together the smoked mozzarella, fontina, and havarti cheeses. Set aside. Mix together the fresh herbs and red chili flakes. Set aside.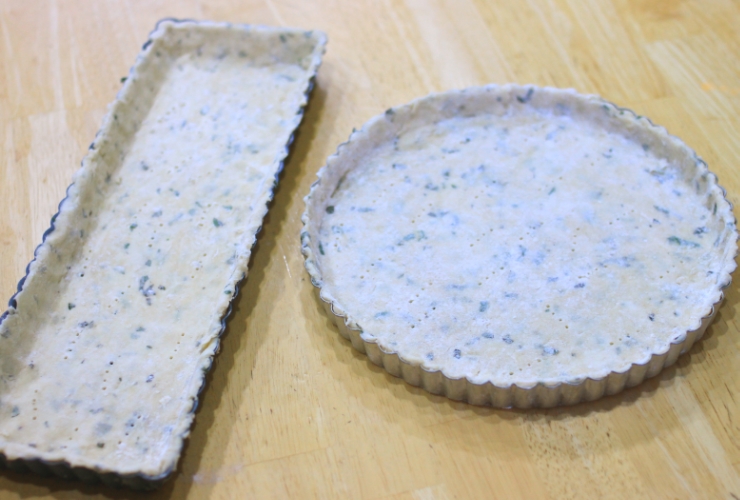 Prepare your tarts: Preheat your oven to 400 degrees F. Lightly oil two tart pans. Lightly flour a flat surface to roll the dough. Split the dough into two equal portions. Roll the dough out to about 1/4-inch thick, large enough to fill the tart pan with a little overhang. Press the dough into your prepared pan, working it up the sides evenly as well. Pierce the dough with a fork 6-8 times. Bake for 12-14 minutes, until lightly golden brown.
Remove the tart crusts from the oven. Brush the bottom of each tart with two teaspoons of mustard. Sprinkle on a quarter of the shredded cheese evenly between the two crusts. Next, add a layer of potatoes to each tart, overlapping them slightly. Sprinkle the potatoes with a quarter of the fresh herbs, some salt and pepper, then another quarter of the remaining cheese. Add a layer of tomatoes, overlapping slightly, followed by the more herbs and cheese, then a layer of potatoes, cheese, herbs, tomatoes, herbs. Bake for 15-18 minutes, until the crust is crisp and the tomatoes are slightly crisp along the edges and very fragrant.
Allow the tart to cool for 10 minutes before cutting and serving. Refrigerate leftovers (and heat in the toaster for best eating later!).