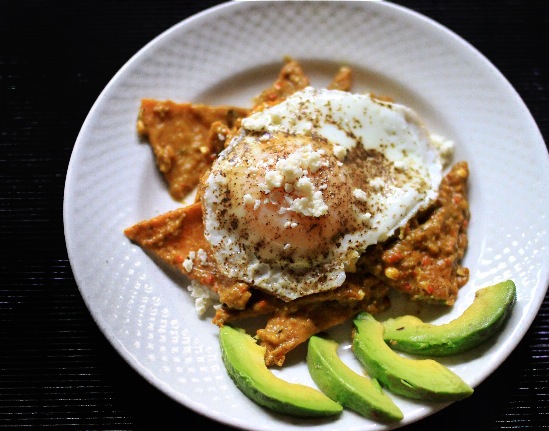 Numerous times, I've shared that I am not a morning person. I don't know when this happened – but it's true. I like a quiet start to my day. One where I can sleep long past the crack-of-dawn, then lay under the covers for another half an hour half-awake until I'm ready to face the day. When that time comes, I enjoy a cup of coffee, perhaps some mellow lady-singing on Spotify, and food is nowhere near a priority of mine.
When it comes to breakfast, I prefer it for lunch or dinner. When it comes to Mexican food, I will eat it for any meal no matter what you call it. One of the first time I had chilaquiles (chee-lah-kee-lehs) was in the MIssion of San Francisco, at a place called Chava's Restaurant. Generally when we're in the area, we go for veggie burritos at Taqueria Cancun, but this particular time we were on a hunt for breakfast. Chava's chilaquiles came as semi-crisp tortilla chips cooked in a hearty pepper sauce, then tossed with scrambled eggs and peppers. The chilaquiles were served with beans and rice. My brain and stomach were both overjoyed and I knew I would be making a version of this dish at home for many meals to come.
Traditionally, chilaquiles are used as a way of using up stale tortillas. Seeing as I like to make my own tortillas for tacos or enchiladas, we rarely have any leftover to go stale. However, fresh tortillas absorb too much oil when you try to fry them, so day-old or store bought corn tortillas are the way to go for this dish… I like to add a fried egg to the top of the chips, rather than scrambling them in because the rich, still runny yolk blends nicely into the sauce as you're eating. Chilaquiles are usually served for breakfast or brunch, but I assure you any time of day is absolutely okay!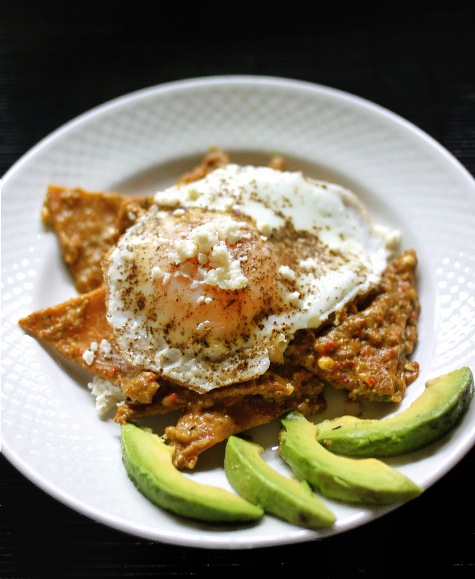 Roasted Poblano Chilaquiles with Eggs and Cotija
Serves two adult-sized folks.
Ingredients:
5-7 day-old corn tortillas, each cut into 6 triangles
1 cup sunflower, canola, or vegetable oil
1 1/2 cups roasted poblano sauce
2 large eggs
2 teaspoons of leftover frying oil
salt and pepper, to taste
1 small, ripe avocado, sliced
2 oz. cotija cheese, crumbled
optional: sour cream, hot sauce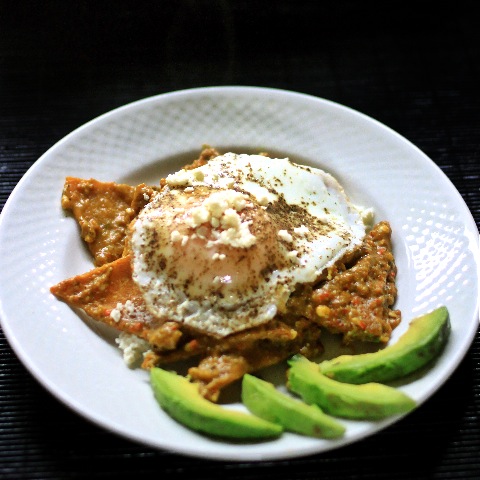 Directions:
Heat the oil in a flat-bottomed cast iron skillet until it reaches 325 degrees F. Line a baking sheet with a few layers of paper towels. Cook the tortilla triangles in batches, until they are golden and crisp (60-90 seconds), flipping once halfway through the cooking time. Drain the fried tortillas on the layers of paper towels, working until all the tortillas have been cooked.  Drain the oil, reserving two teaspoons to fry the eggs.
In you already-hot skillet, add the roasted poblano sauce over medium-high heat. If the sauce is too thick, you can add a bit of water to thin it out. Once the sauce is hot, add the fried tortilla strips, gently stirring to coat the chips with sauce but being careful not to break up the tortillas. Reduce heat to medium-low and simmer until the chips begin to soften (4-5 minutes).
While the chips are simmering in the sauce, prepare the eggs. In a frying pan, add the reserved oil. Heat until the oil is sizzling hot, over high heat. Drop each egg in, one at a time, being careful not to break the yolks. Immediately sprinkle 1/2 teaspoon or so of water onto the hot pan (not over the eggs). Cover the pan with a lid. Cook the eggs for 30-60 seconds then turn off the heat. Let the eggs remain covered, off the heat source for a minute or two. Sprinkle the tops with salt and pepper to your liking.
To serve, divide the now softened tortillas and sauce between two plates. Sprinkle each with the cotija cheese, then top off with a fried egg. Serve with the avocado slices and top with sour cream if desired. Eat immediately, while hot.