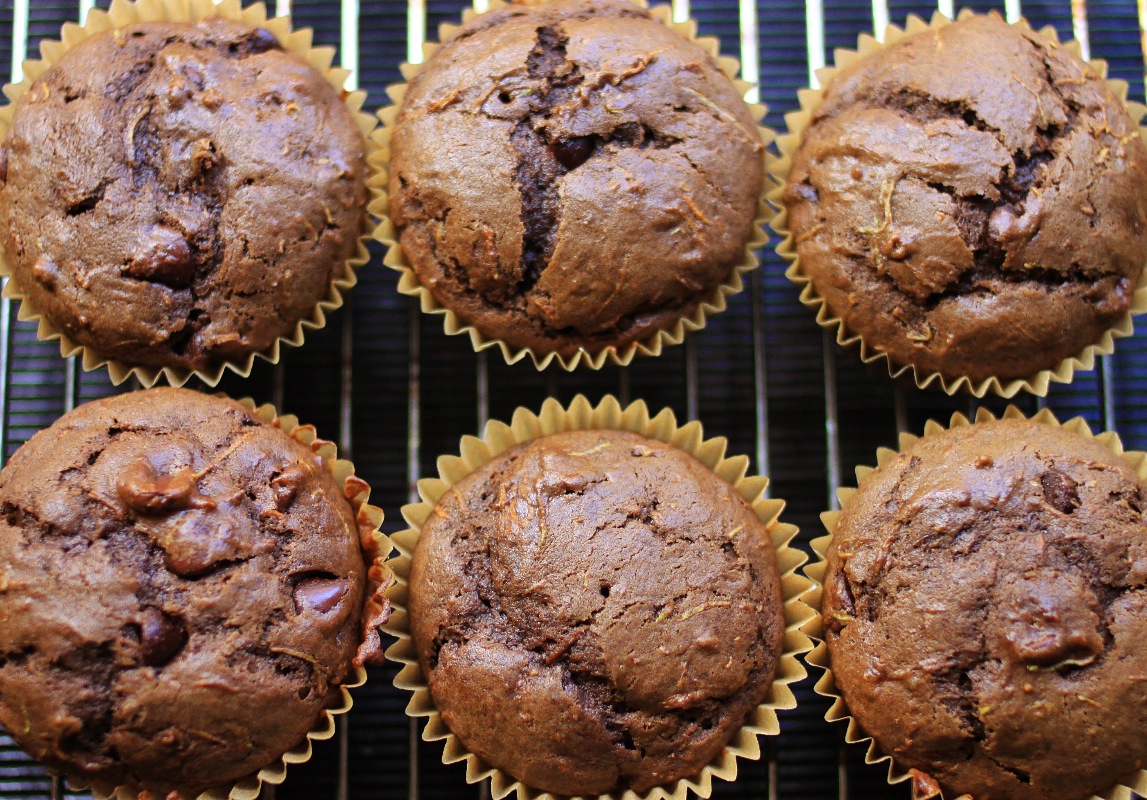 There is a fine line between "cupcake" and "muffin" at times. Some folks say a true cupcake must have frosting. Others say true muffins cannot contain candies in the place of things like fruit. I call these muffins, because the idea started off that way – I wanted to incorporate both carrots and zucchini. Then I came across this recipe from Joy the Baker for zucchini cream cheese pound cake… and I found myself in midst of a dilemma. Cupcakes or muffins? I didn't know which way I was heading, but I love Joy's baking recipes always so I decided to start there and worry less about what to call these things.
These muffin-cakes are so light in texture, moist, and beautifully delicate in crumb. It's hard to stop at just one. The two-fold chocolate incorporation makes these feel like dessert without being overly heavy. I admit I ate one straight out of the oven while no one else was home, then proceeded to eat another while walking out the front door about 10 minutes later, only to have another after dinner… with the intention of having another tomorrow morning. Sorry, not sorry, I say.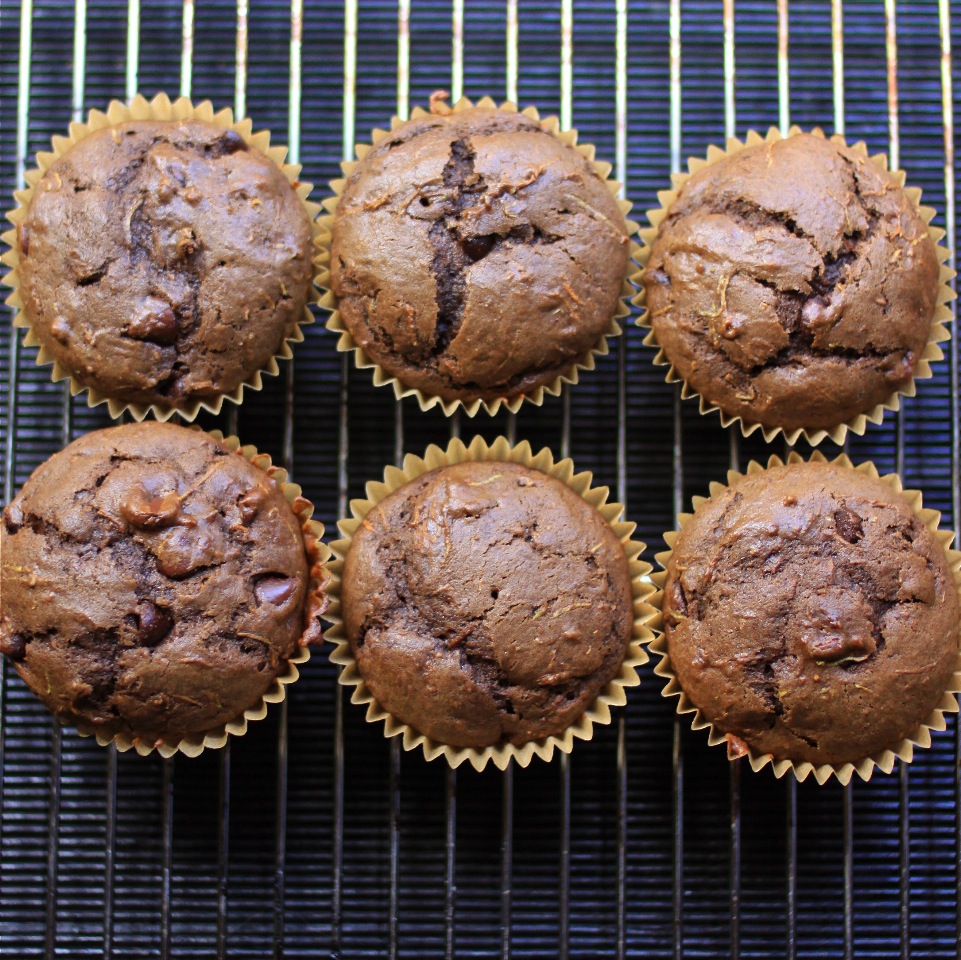 Chocolate Carrot Zucchini Muffins
Yields about 1 1/2 dozen standard-sized muffins.
Ingredients:
1 1/2 cups all-purpose flour
1/2 teaspoon baking soda
1/2 teaspoon baking powder
1/2 teaspoon kosher salt
1/2 cup unsweetened cocoa powder
1/2 teaspoon ground cinnamon
1/4 teaspoon ground nutmeg
4 oz. cream cheese, room temperature
1 cup granulated sugar
2 eggs, room temperature
1/2 teaspoon vanilla extract
1/2 teaspoon almond extract
1 stick unsalted butter, melted completely, then cooled
1/2 cup packed, finely grated zucchini, squeezed well
1/2 cup packed, finely grated carrot, squeezed well
3/4 cup semi-sweet chocolate chips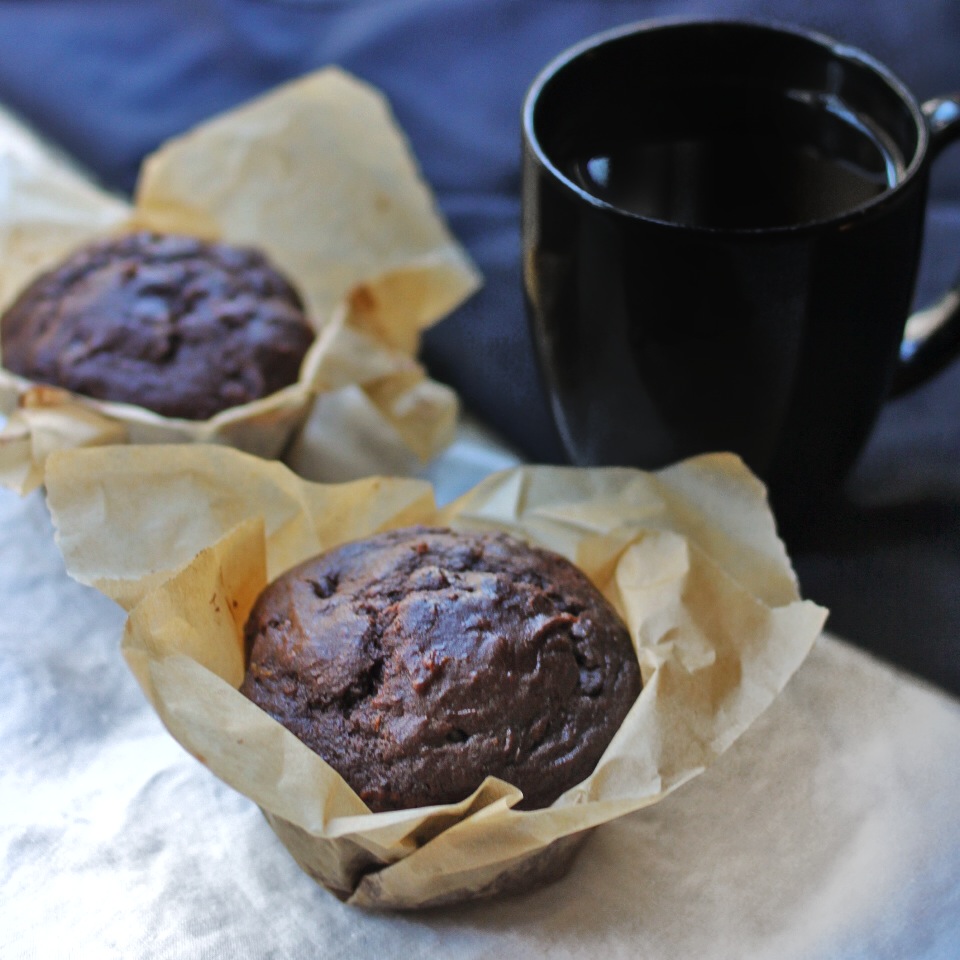 Directions:
Preheat your oven to 350 degrees F. Line a muffin tin with liners or lightly grease each muffin cup.
In a bowl, whisk together the flour, baking soda, baking powder, salt, cocoa powder, cinnamon, and nutmeg until completely combined.
In the bowl of your stand mixer, combine the softened cream cheese and sugar. Beat at medium-low speed until the sugar is incorporated into the cream cheese. Increase speed to medium-high and beat until light and fluffy. Reduce the speed to low and add the eggs, one at a time, until each is well mixed into the cream cheese. Add the vanilla, almond, and cooled off melted butter, beating until completely combined (2 to 4 minutes).
Add the flour mixture all at once, beating just until everything comes together into a batter. Add the zucchini and carrot, mixing until well incorporated. Use a spatula or wooden spoon to mix the chocolate chips into the batter.
Fill each muffin cup about 2/3 of the way full. Bake for 22-25 minutes, until a toothpick inserted in the center of each muffin comes out clean. Transfer to a cooling rack. Eat while warm or once completely cool.