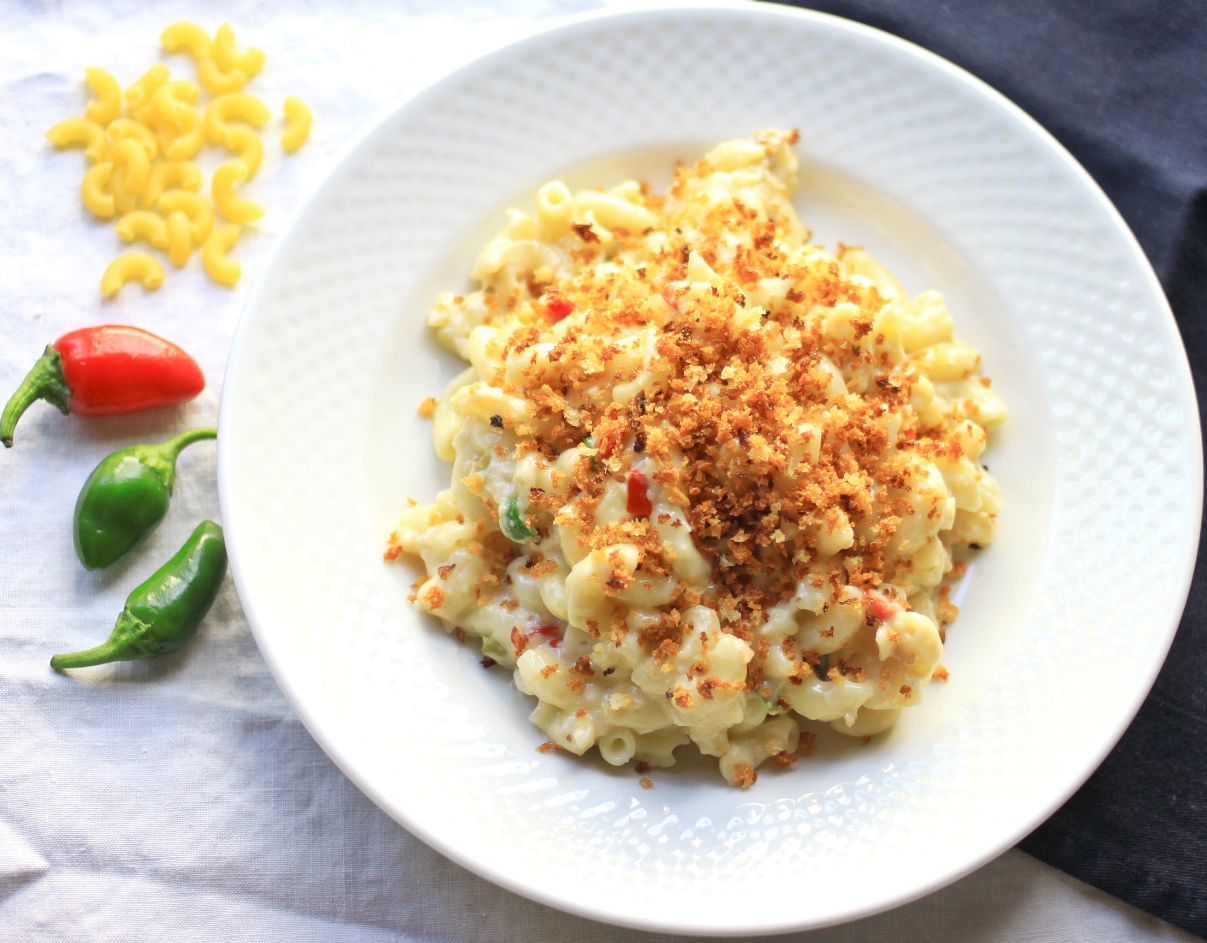 Sometimes a girl reads about mac and cheese about thirty times in ten minutes, while browsing through her blogroll, then sees about ten other mac and cheese photographs over her instagram feed. Forty different mac and cheeses, mind you. The obvious thing that happens then is this girl gets to craving macaroni and cheese for a week before she finally gives in and says, "Okay, self. Let's go for it."
So here we are. I admit: those creepy macaroni and cheese products that come in rectangular cardboard boxes? I occasionally let that be okay. I opt for the organic, Annie's variety, even though I never follow the directions and always add more cheese (un-powdered-varietal), hot sauce, and nutritional yeast… But homemade mac and cheese is a whole different animal.
I'd like to tell you I've made stovetop and baked versions of macaroni and cheese so many times I absolutely have a go-to recipe, but I don't. Until now, perhaps. This recipe is by far my favorite, backed by nearly 15 years worth of mac and cheese making experiences. I think previously, I overanalyzed my methods. I tried to make a perfect sauce that often ended up too runny after being baked, or picked the wrong cheeses that just didn't taste alright in the end result. I've followed recipes that include eggs in the sauce. I've cooked the noodles too hastily, without enough time (or salt).
Let's get real. Mac and cheese is a straightforward beast (a handsome, good tasting sort of beast, that is). It begins with a bechamel (which is just fancy for a sauce made of butter, flour, milk, salt, and pepper – the latter two ingredients being an exception, elaboration, if you will). The real trick is in the cheese. Do not go for cheap, not-so-good cheese. That's where the majority of the flavor is going to come from. Typically cheeses that have a little bit of age to them (say 1 1/2 to 2 years minimum) will give you the best flavor. And salt? Don't skimp at the salt. It brings out the taste of the cheese (really, even though cheese is often a bit salty on its own).
This particular macaroni and cheese features fresh hot peppers. If you want a less spicy mac, you can use sweet bell peppers or anaheim peppers, or even poblanos that will add some pepper flavor without the spice. If you're one of those folks who prefers a creamy mac and cheese to the crispy-topped baked version, you can eat this as soon as the sauce meets the noodles. Just skip the breadcrumb and baking portions of this recipe.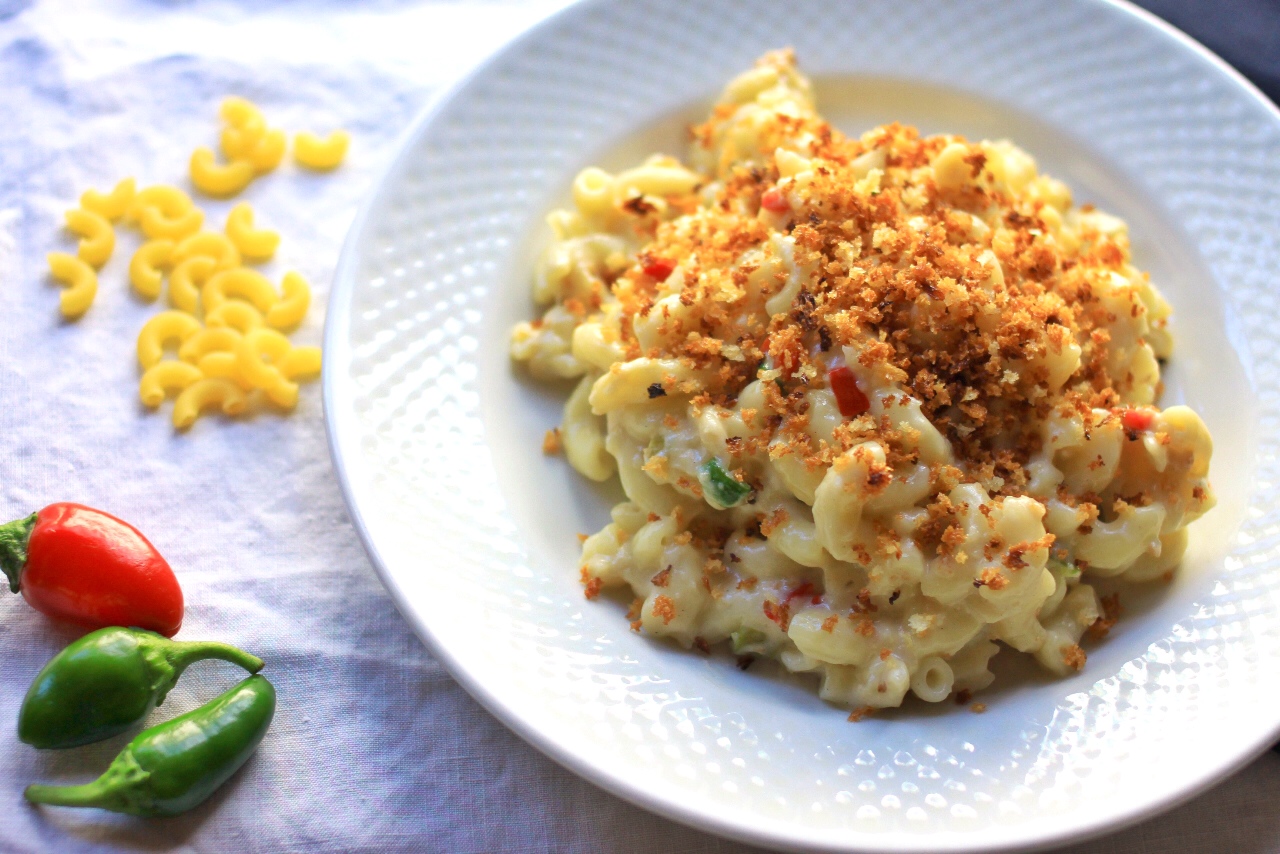 Creamy Jalapeño Macaroni and Cheese
Serves 6-8 people.
Ingredients:
For the macaroni and cheese:
1 1/2 pounds elbow macaroni
2 tablespoons unsalted butter
3/4 cup panko breadcrumbs

For the sauce:
8 tablespoons unsalted butter
10 tablespoons all-purpose flour
2 cups half and half
2 cups whole milk
2 teaspoons kosher salt
8 oz. extra sharp white cheddar cheese, shredded
4 oz. havarti cheese, shredded
4 oz. cream cheese
1/2 cup finely diced fresh jalapeño peppers (or whatever variety you prefer)
1/2 teaspoon granulated garlic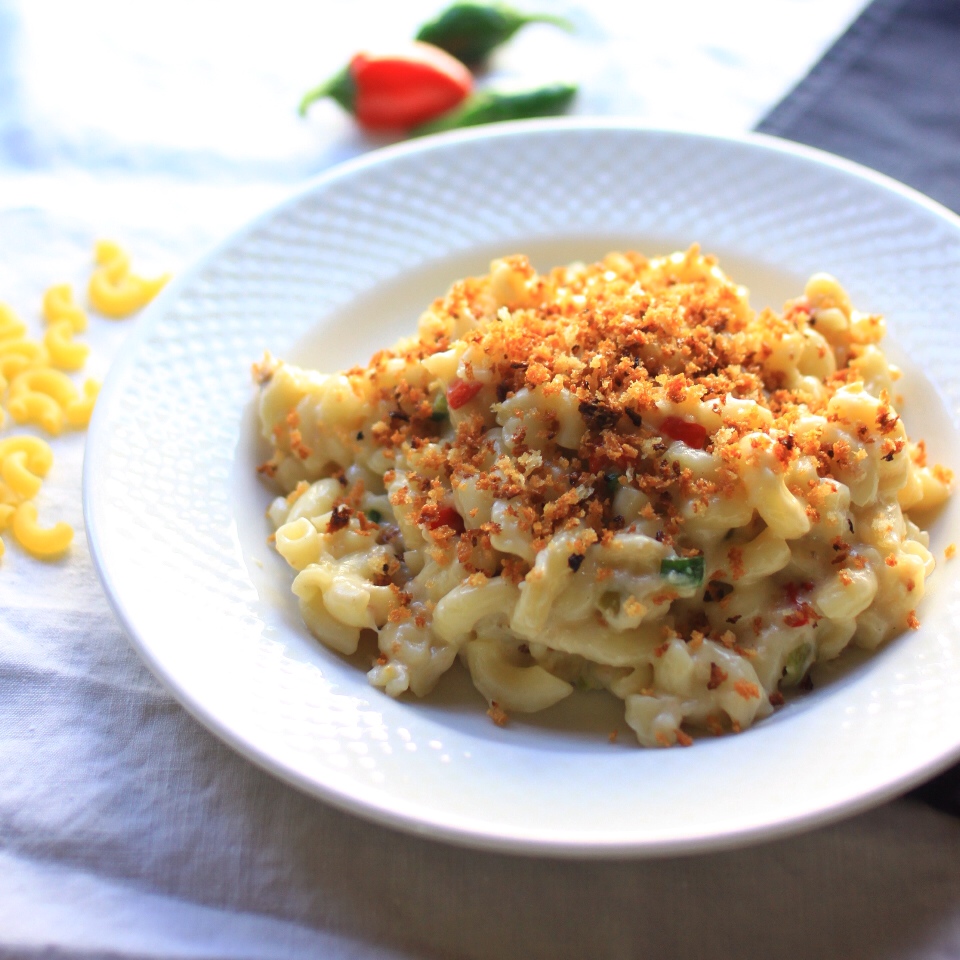 Directions:
If you are going to be baking the macaroni and cheese, preheat your oven to 375 degrees F. Melt the  two tablespoons of butter in a small saucepan over medium heat. Stir in the panko breadcrumbs until they are all nicely coated. Remove from heat and set aside until needed.
In a large, heavy-bottomed pot, melt the 8 tablespoons of butter over medium heat. Whisk in the flour, until smooth. Cook for 2 to 3 minutes. Whisking constantly, add the half and half. The mixture will immediately thicken, just keep stirring. Once the half and half has been completely incorporated, stir in the milk. Continue whisking until the sauce thickens (4 to 5 minutes). Stir in the salt and granulated garlic. (It's important that you add the salt at this point, not earlier into the sauce-making. Added too early, your sauce will be overwhelmingly salty. Added now, it'll seem a bit salty at first, but the final product will mellow this out a bit.)
Add the cheese in, about a half cup at a time, stirring to fully incorporate each new addition. Once all the  shredded cheese has been added, stir in the cream cheese. Continue stirring until you are left with a thick, creamy cheese sauce. Add in the finely diced peppers, stirring to evenly distribute everything. Reduce heat to low.
Bring a large pot of well salted water to a rolling boil. Cook the pasta according to the package directions, until the noodles are just past al dente. Drain the pasta, but do not rinse. Pour the cheese sauce over the noodles, then stir to make sure every inch of pasta has been covered with sauce.
Pour the macaroni into a 9×13-inch baking dish. Top with the buttered panko breadcrumbs. Bake for 30-40 minutes, until the sauce is bubbly at the edges and the breadcrumbs are nicely golden in color.
Serve while hot.