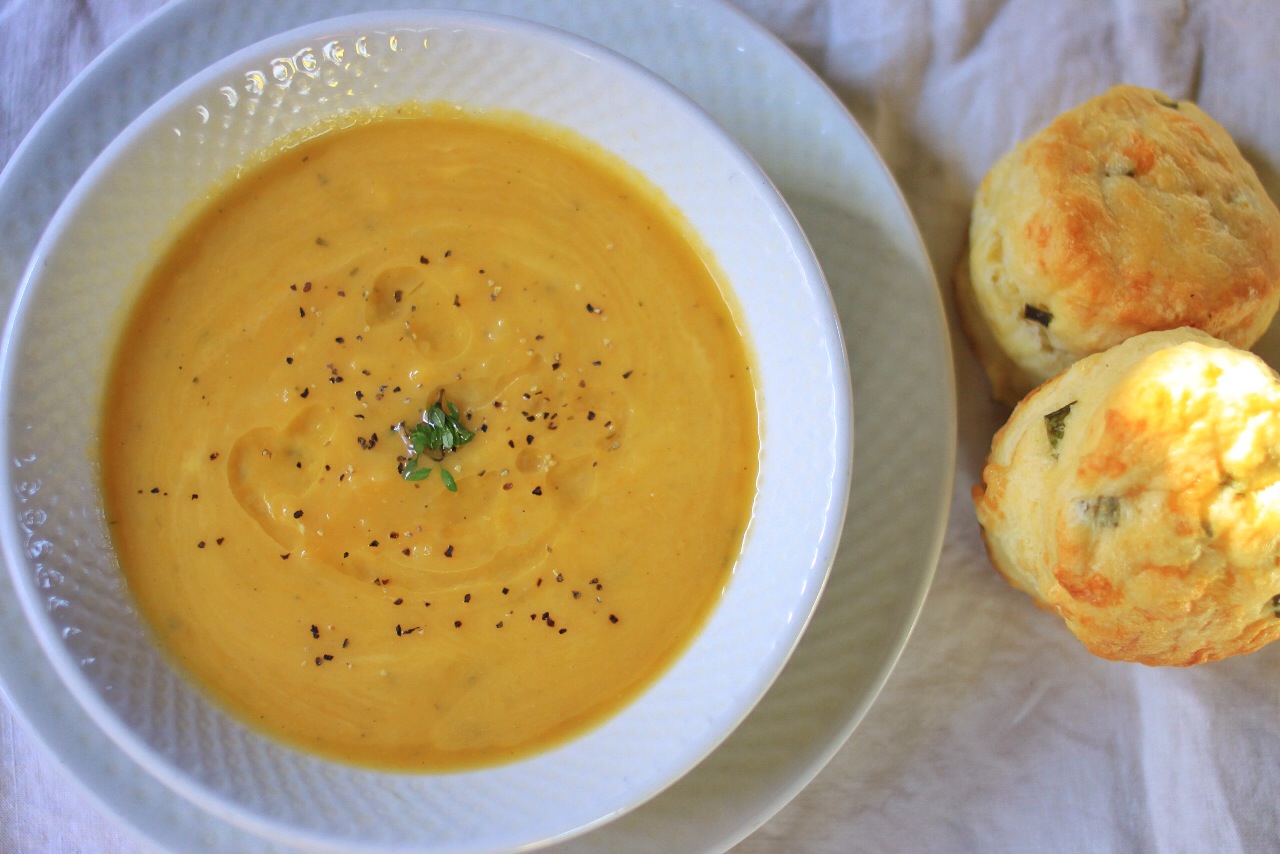 Few things note the change in seasons like soup. Since I have weird-girl-brain sometimes, I need to convince myself that soup is a good meal plan. I don't have any good reasons for my apprehensions, I will tell you right now. I like the idea of soup – especially vegetarian soups where the whole dang thing is made by combining loads of veggies more than anything else. When I make soup, I know it's going to be healthy (more or less, depending on whether I opt for butter, cream, and cheese in this said soup…). I'd like to hope it's not that knowledge that leads me astray.
Sometimes the thing that encourages me to make soup is knowing that I will get to make some kind of homemade bread, carb-y biscuit type of soup-mopper-upper. We'll call it soup incentive.
Anyway, yesterday I decided we had been eating a lot of crap recently. Doughnuts from VooDoo in Eugene (sorry, I didn't post a Day to Day post last week, but we were out of town for a bit…). Greasy cheese pizza because it's a cure-all for any stomach ailments. Questionable, but delicious Mexican meals. Too much tequila. Soup packed with vegetables, and vegan – so no butter, cream or cheese this time – sounded necessary if nothing else.
When it comes to soups, especially at dinner time, I like them to be on the thicker end of the soup spectrum. With a depth of flavor, perhaps multiple tastes going on at once. For this particular soup, roasting the vegetables heightens their natural sweetness and flavor. The russet potatoes add a creaminess without needing to add any dairy. The slightly caramelized leeks add another layer of flavor, while the fresh herbs round everything out. For an even richer flavor, I'd suggest using a homemade vegetable stock. If you don't have any on hand, however, store bought varieties will suffice.
Creamy Vegan Roasted Butternut Squash Soup with Leeks
Yields enough soup for 6-8 folks. 
Ingredients:
3 pounds butternut squash (one large-ish squash)
1 pound russet potatoes (about 3 large potatoes, 5 smaller potatoes)
1/4 cup sunflower (or other light flavored) oil
salt and pepper
3 tablespoons freshly chopped rosemary
3 tablespoons freshly chopped thyme
2 tablespoons sunflower oil
3 cloves garlic, minced
2 medium leeks, tough greens removed, stalks cut into 1/4-inch thick half-moons
8-10 cups of vegetable broth
1 tablespoon red wine vinegar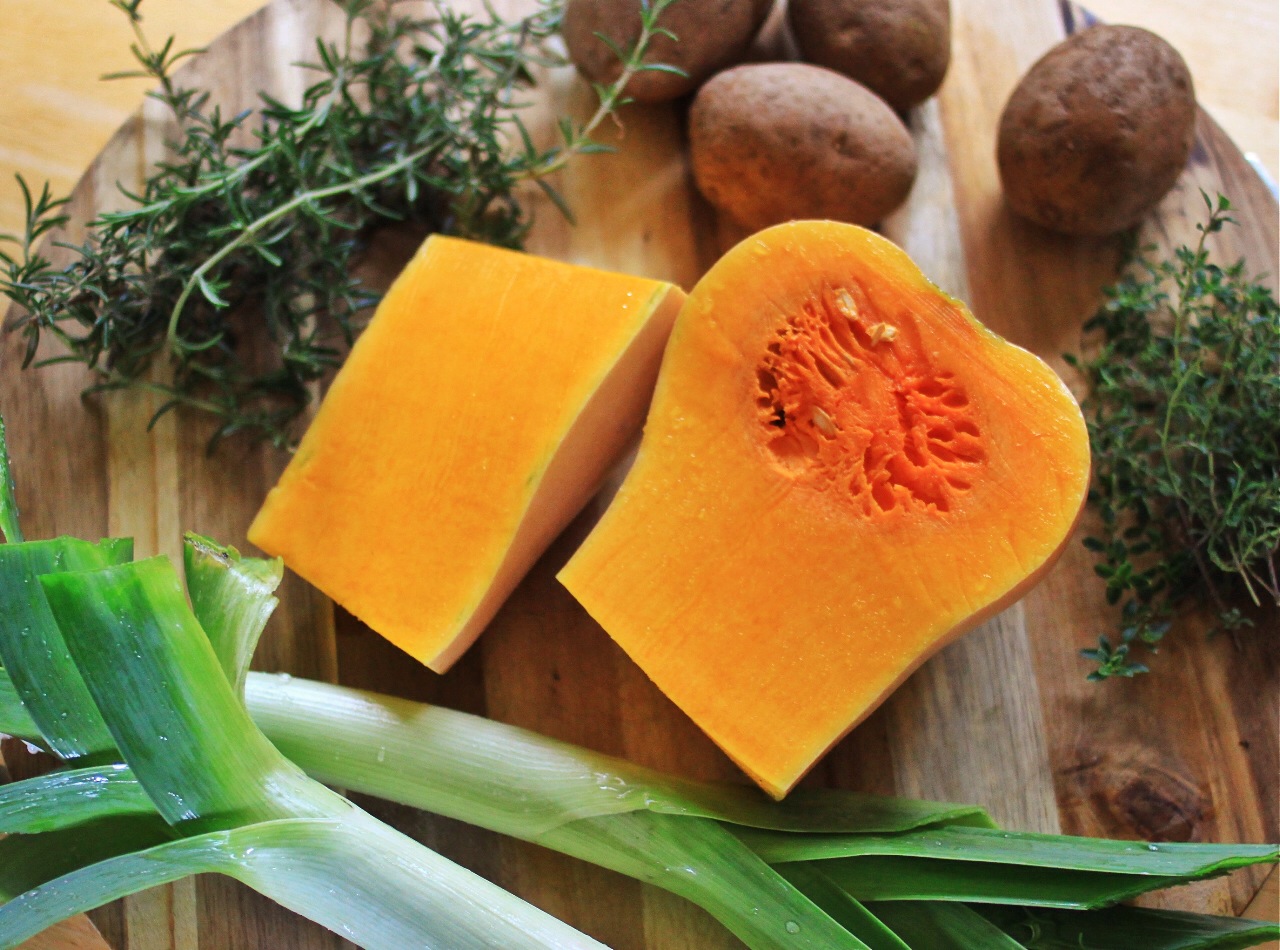 Directions:
Preheat your oven to 375 degrees F. Line two large baking sheets with parchment paper.
Peel the butternut squash, remove the seeds and stringy insides, then cut into one inch cubes. Arrange the cubed squash on one of the baking sheets. Peel the russet potatoes, then cut into one inch cubes. Arrange the potatoes on the other baking sheet. Drizzle the cubed vegetables with the 1/4-cup of oil, then sprinkle a couple pinches of salt and pepper, plus the chopped rosemary and thyme, over the squash and potatoes. Bake until the potatoes and squash are fork-tender (30 to 40 minutes).
While the vegetables are roasting, heat the additional two tablespoons of oil in a large stock pot, over medium heat. Add the minced garlic and sliced leeks. Stir to coat everything with the oil. Occasionally stir the leeks around until they turn a nice golden brown (20 to 25 minutes). Once the leeks have slightly caramelized, combine them, your roasted squash and potatoes, and about half of the vegetable broth, as well as the vinegar, in a high-speed blender or food processor. Blend until smooth. If your food processor or blender cannot hold all of the vegetables at once, work in batches until everything has been pureed.
Return the pureed soup to your stock pot. Bring back up to temperature, also adding enough broth to reach your preferred soup consistency. Taste and add more salt and pepper to your liking.
Serve topped with a drizzle of good olive oil, fresh ground pepper, and chopped thyme.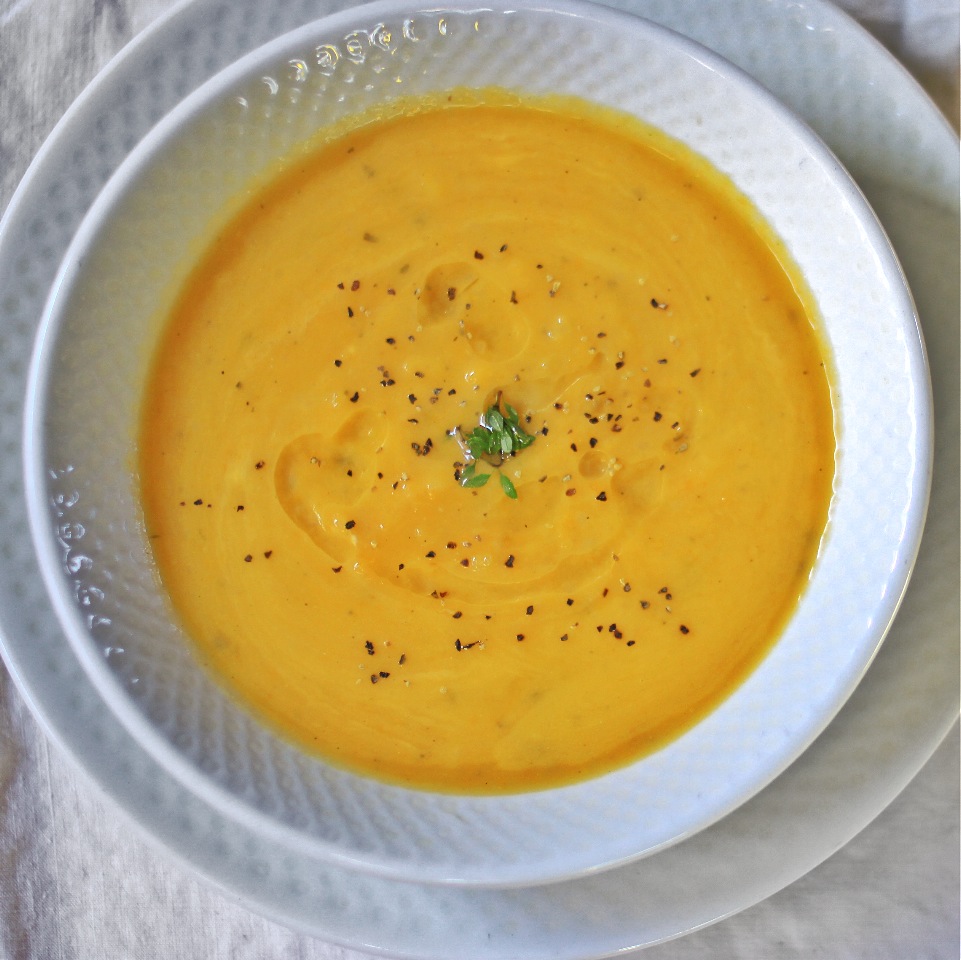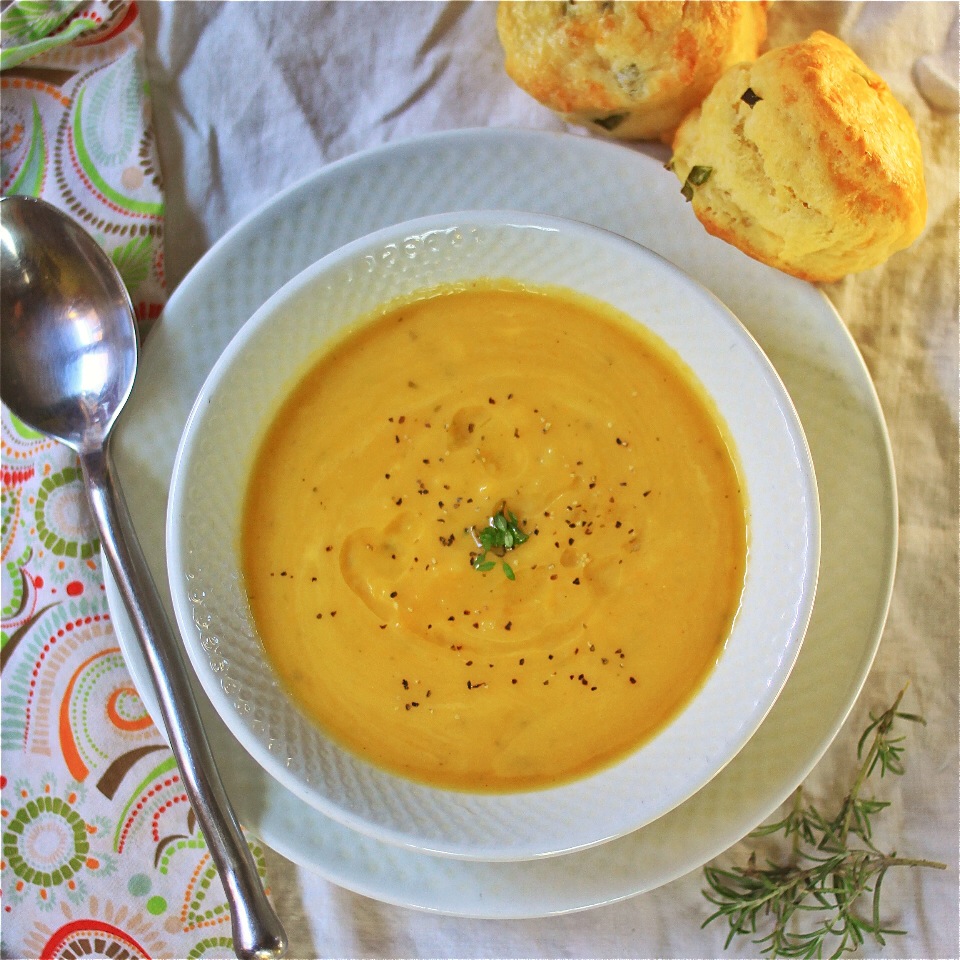 Please follow and like us: