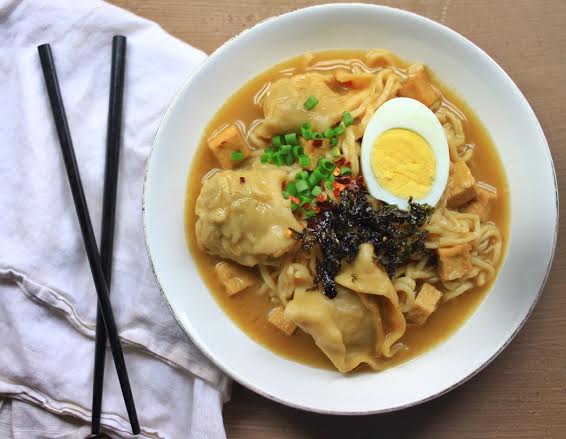 My ideal comfort food is a bowl of noodles. Fancy or plain, it rarely matters. I grew up knowing how to cook Top Ramen by the time I was 7 or 8 and it was one of my favorite go-to after school snacks. In Hawaii we call it saimin (sigh-min). Saimin is essentially the Hawaiian version of what we call ramen here on the mainland. As with so many foods in the islands, the creation of saimin is the result of numerous combined cultures. Traditional saimin recipes include ingredients from a variety of ethnic backgrounds: Japanese, Chinese, Filipino, Korean, Hawaiian, Portuguese – in other words, the people who labored on the sugarcane and pineapple plantations existent in Hawaii in the 20th century.
Like with most soups, the real key to a good saimin is the broth. Traditional saimin broth is often based with a Japanese dashi – a stock made of seaweed, dried fish or shrimp, and water. Often added is chicken stock or even beef stock. Toppings include, but are not limited to kamaboko (fish cake), char siu pork, nori/furikake, hard boiled eggs, green onions, spam.
On Kauai where I am from, there is a noodle house I have mentioned before, Hamura Saimin. My favorite saimin to get there is the Special – a bowl of noodles with their magical broth, topped with char siu, kamaboko, half an egg, wontons, ham, bok choy and green onions. I dream of eating this saimin all the time. However, since Kauai is so far away and I don't cook any meat at home, I had to figure out a way to get my fix.
I wanted a deep, rich broth that was earthy and flavorful. I used mushrooms, miso, seaweed, and fish flakes for that aspect. The inclusion of fish makes this particular broth non-vegetarian, but f you read the note in the directions, however, I've shared a way to keep this entirely vegetarian for you as well.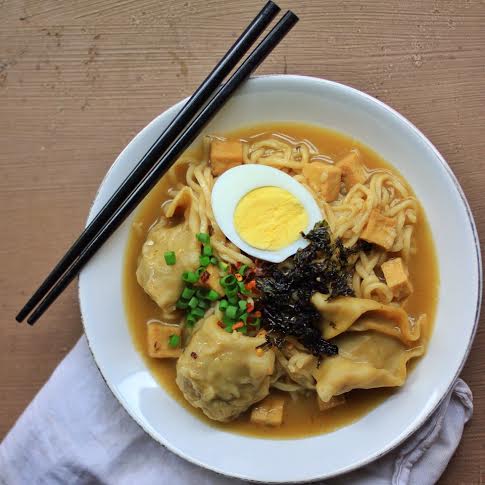 Miso Mushroom Ramen with Vegetarian Wontons and Crispy Tofu
Serves 4 – 6 people.
Ingredients:
For the broth:
2 ounces dried shiitake mushrooms
2 ounces dried porcini mushrooms
one 4-6 inch strip of kombu seaweed, rinsed and wiped off
one 4-inch chunk of white ginger, peeled and minced
1/2 cup bonito flakes
6 cloves garlic, minced
1/2 teaspoon red chili flakes
1/4 cup tamari (low sodium is okay)
1 tablespoon fish sauce
3 tablespoons rice vinegar
3 tablespoons mirin
1/2 an onion, peeled and cut into large chunks
6 whole cloves
1/2 teaspoon whole black peppercorns
3 tablespoons light white miso
8-10 cups No-Chicken broth
For the wontons (yields about 3 dozen):
1 package Gimme Lean Sausage Style veggie meat
1/4 cup scallions, chopped
1 shallot, minced (about 1/4 cup)
2 1/2 ounces water chestnuts, minced
2 cloves garlic, minced
1 tablespoon rice vinegar
1 tablespoon tamari
1 tablespoon sesame oil
2-inch piece of white ginger, peeled and minced
1/2 teaspoon kosher salt
1/4 teaspoon ground white pepper
2 tablespoons of the rehydrated mushrooms from your broth, minced
3 dozen or so wonton wrappers
2 egg whites, lightly beaten with 1 tablespoon water
For the ramen:
6 – 8 ounces ramen noodles *
2 – 4 hard boiled eggs, peeled and cut in half lengthwise
3 ounces extra firm tofu, diced into small cubes
one cup of sunflower, canola, or vegetable oil
1 teaspoon kosher salt
furikake
chopped scallions
red chili flakes
For the noodles, I prefer fresh noodles. These Freshpak noodles from Annie Chun are wonderful. The package says chow mein noodles, but they work well in this ramen. I used two bags (so four packs of noodles, as there are two per bag) for this dish. I find these freshpak noodles among other fresh noodles in our grocery store, but I've also seen them in the freezer section. If you cannot find good fresh noodles, I have also resorted to buying Koyo Ramen before, just for the noodles. This particular brand bakes their organic noodles, rather than frying them. I would use four packages of these noodles (8 ounces) for this recipe, simply discarding the sauce packet of saving it for future use. Should Top Ramen be the only variety you can find, you can use those noodles too.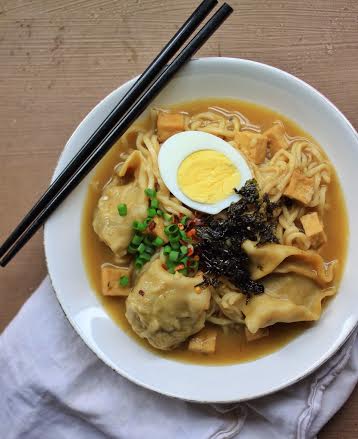 Directions:
Make your broth: Combine all of the listed ingredients for the broth in a large stock pot. Stir well and turn the heat on to medium-high. Once the broth comes to a simmer, reduce the heat to low. Let the broth cook for 3 to 4 hours, occasionally giving it a good stir.
To make this a vegetarian broth, feel free to leave out the bonito (fish flakes) and fish sauce. If you do this, you can add a little more miso or tamari for a deeper, richer flavor. Add as much or as little as necessary for your liking.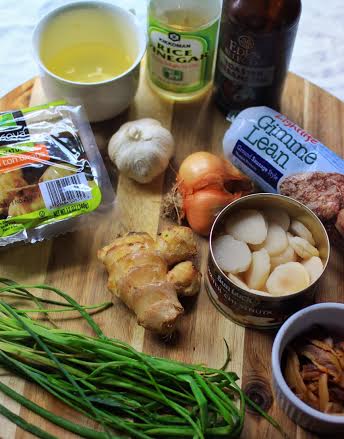 Make your wontons: In a large bowl, combine the Gimme Lean, scallions, shallot, water chestnuts, garlic, rice vinegar, tamari, sesame oil, ginger, salt, pepper, and mushrooms. Mix thoroughly.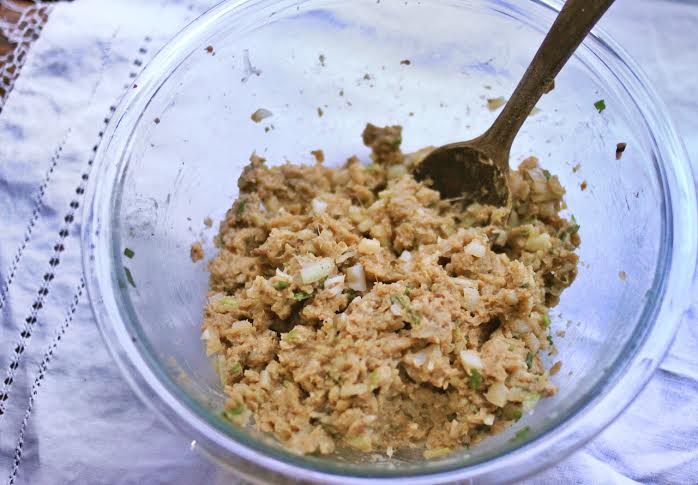 To assemble the wontons, place one wonton wrapper in the palm of your hand. Add about one teaspoon of the mixture to the middle of the wrapper. Dip a finger in the egg wash, and coat all four edges with the wash. Fold the wonton in half, corner to opposite corner, making a triangle. Seal tightly, gently squeezing out the air while being careful not to tear the wonton. Fold the longer two triangle points together and seal to make the wonton shape. Place the folded wonton on a clean, dry baking sheet and cover with plastic wrap to avoid drying out. You can freeze all leftover wontons, as you'll only use about half of them for this recipe. You can deep fry them as an appetizer as another option.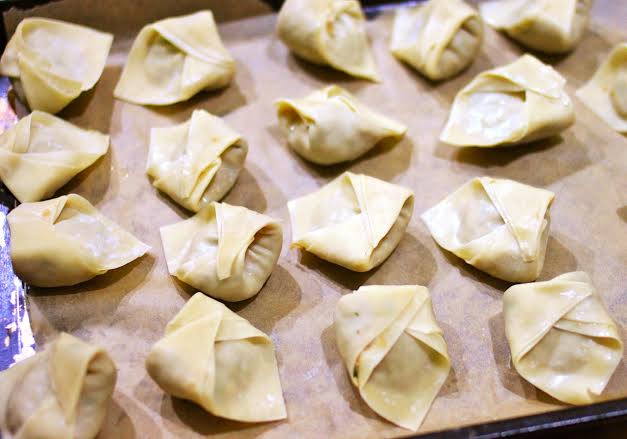 Prepare your tofu: Place the one cup of oil in a wok or frying pan. Stir in the salt. Bring the oil up to 350 degrees F, over medium-high heat. Once the oil is hot enough, gently drop in the cubed tofu (it will splatter, so be careful). Gently stir the tofu as it's cooking until it turns nice and golden brown. Drain the tofu on paper towels and set aside until needed.
Prepare your ramen: Once the broth has cooked for at least three hours, pour it through a fine mesh strainer (I do this into another large stock pot). Return the strained broth to the stove and bring the heat up to a simmer over medium high.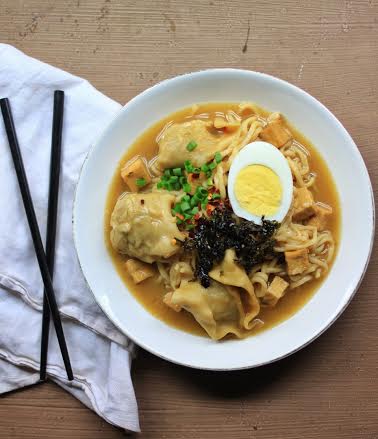 Gently lower the wonton into the stock (15-20 of them). They will likely sink – this is okay. Allow the wonton to cook until they float to the surface of the stock. If you are using fresh noodles, lower them into the stock, gently stirring (chopsticks work great for this) them around. Cook until heated through. If you're using dried noodles, lower them into your stock and follow the package instructions for how long they should cook (usually somewhere around 4 minutes, I think).
To serve, fill the noodles. Next, top the noodles with some crispy tofu squares, half a hard boiled egg, a few wontons, chopped scallions, furikake, and chili flakes if you want. Slowly ladle as much of the broth as you prefer, over the noodles. Serve immediately.