When it comes to being in the kitchen, I've admitted that I have issues with micromanaging anyone else who may want to help. I work better alone when it comes to cooking. Give me some music and an empty kitchen and I will have a food-making-party-for-one so that I can happily feed you (whoever you may be) after my solo time. I've stopped making excuses for this and I don't feel bad about being this way. Truth is, I can play nicely with others if necessary. I can suck up my crazy-brain antics and desire for things to be done a certain way… I just prefer not to. The kitchen is my space of meditation and peace, where a lot of my creative energy goes these days (as well as frenzied desire to make things that taste good and look appealing simultaneously).
That said, sometimes in the week I am left without having anyone else to feed in the middle of the day. More often than not I drink too much coffee then eat whatever sounds good in the moment – salad, eggs topped with spicy salsa, toast, fruit… An almost careless thrown together mess of anything to get through a few hours. Sometimes I get the inkling to experiment with things I'll eventually feed my husband or Silas.
I had some ripe bananas laying around one afternoon and to be completely honest, I did not have high hopes for the following recipe. Yet I was pleasantly surprised. This recipe makes either one large pancake or two medium sized pancakes. There is no flour involved, no leavening (what!). The mashed bananas and eggs work as a binder to keep these pancakes together, while whipping them up adds air in to the mixture, creating a semi-fluffy pancake as well.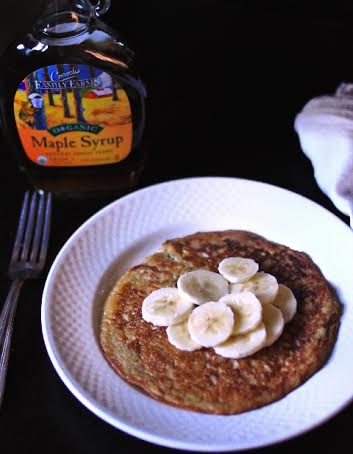 Gluten and Grain Free Banana Pancake(s) for One Lady (or Sir)
Yields one large, or two medium, pancakes.
Ingredients:
1 medium, ripe banana (plus another for serving, if you want)
1 egg
1/2 teaspoon ground cinnamon
1/2 teaspoon coconut oil (plus 1/2 teaspoon more for cooking)
1/2 teaspoon vanilla extract
pinch of fresh nutmeg
Directions:

In a small bowl, mash up the banana with the cinnamon, half a teaspoon of coconut oil, egg, vanilla extract and nutmeg. Beat with a fork until well incorporated and few chunks of banana remain.
Heat a large sauté pan or griddle over medium heat and add the remaining half teaspoon of coconut oil. Pour the mixture onto the griddle for one large pancake, or split it into two pancakes.
Cook for about 3 minutes until the top has mostly set (isn't runny anymore). Gently flip the pancake and cook for another 2-3 minutes, until nicely golden brown.
Serve immediately, topped with coconut butter or butter, and warm syrup.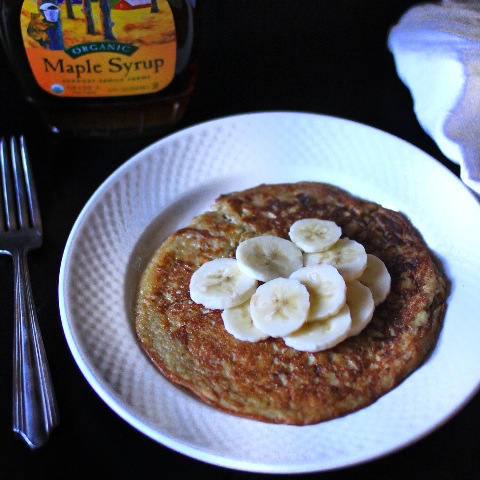 Please follow and like us: