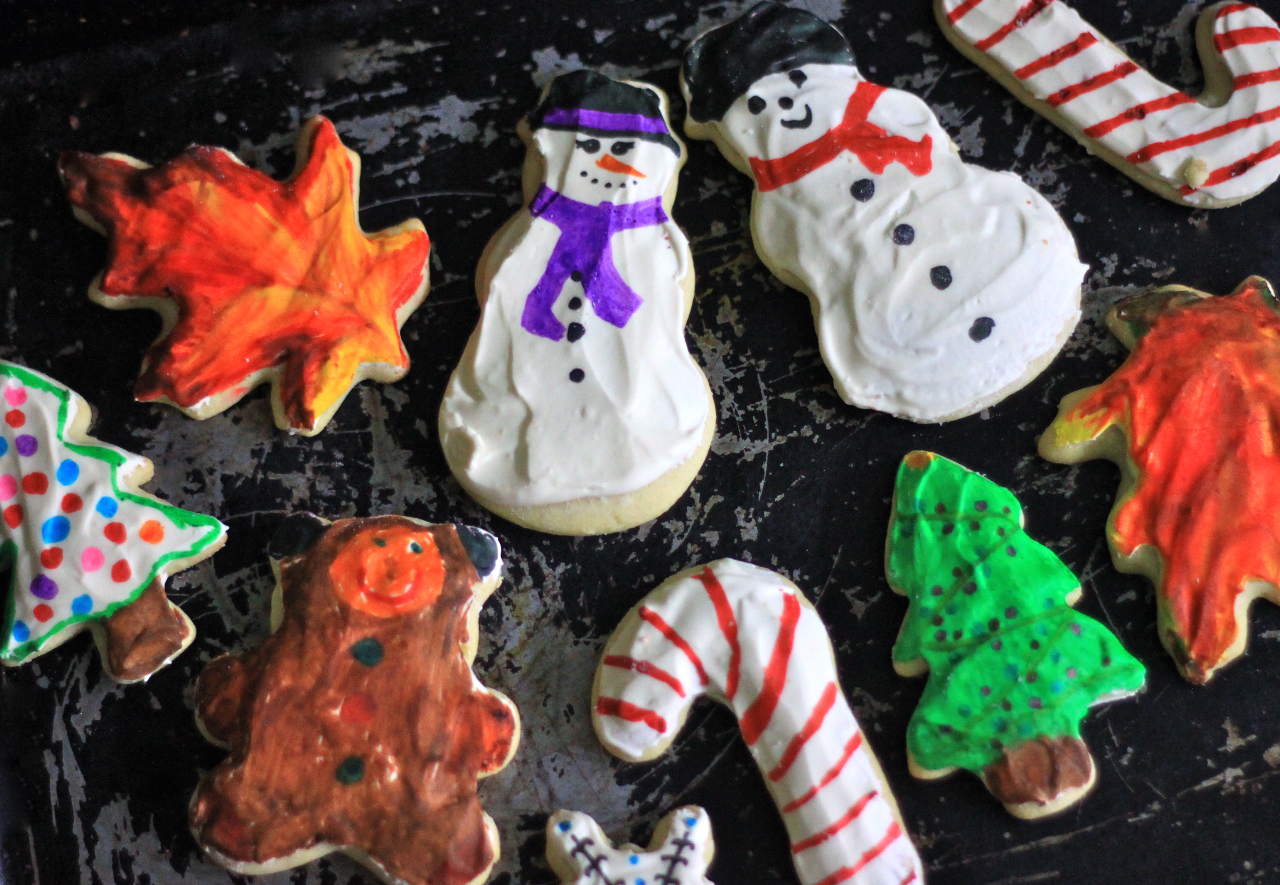 Merry Christmas, friends and folks. I know, I know… A cookie recipe? On Christmas? Well, yes… consider it a gift. If you're feeling the holiday baking burnout, I don't blame you. I think I'm there, too. Don't worry though – these cookies needn't be saved simply for the holidays. They are simple, tasty, and a great starting place for cut-out cookies.
I've used the same recipe for sugar cookies for decades. (Pardon me, have I reached an age where "decades" can be used to describe periods of time in my life? Holy crap…) This year, however, I had decided I wasn't making sugar cookies. I didn't have any real reasons except trying new things sounded more fun (I didn't do that either, by the way, as far as cookies go). At the last minute, I decided to order some food coloring pens and make a batch of plainly frosted cookies that the family could decorate to include in some homemade gifts for people. I decided to try a new recipe for the first time in years…
I have discussed my need for solitude in my kitchen, but this time of year seems perfect to push those boundaries at times. Making cookies specifically for Silas to help decorate reminded me of the fun that can arise from letting go of obsessive tendencies to control everything about how recipes will turn out – be it the way they look, taste, etc. We had Nana over helping decorate as well, and my husband even joined in for a few cookies despite his possibly broken ribs.
The recipe for these cookies was based on these sour cream-nutmeg sugar cookies by Foxes Loves Lemons. The yogurt I included, rather than sour cream, keeps the cookies extremely moist. While I don't particularly enjoy using artificial coloring, I did enjoy using my new food coloring pens to decorate these cookies. They offer  an easier way to pay attention to detailing without the mess of frosting. The cookies themselves aren't overly sweet, which I enjoyed. Topped with just a light amount of royal icing, the sweetness reaches just the right amount.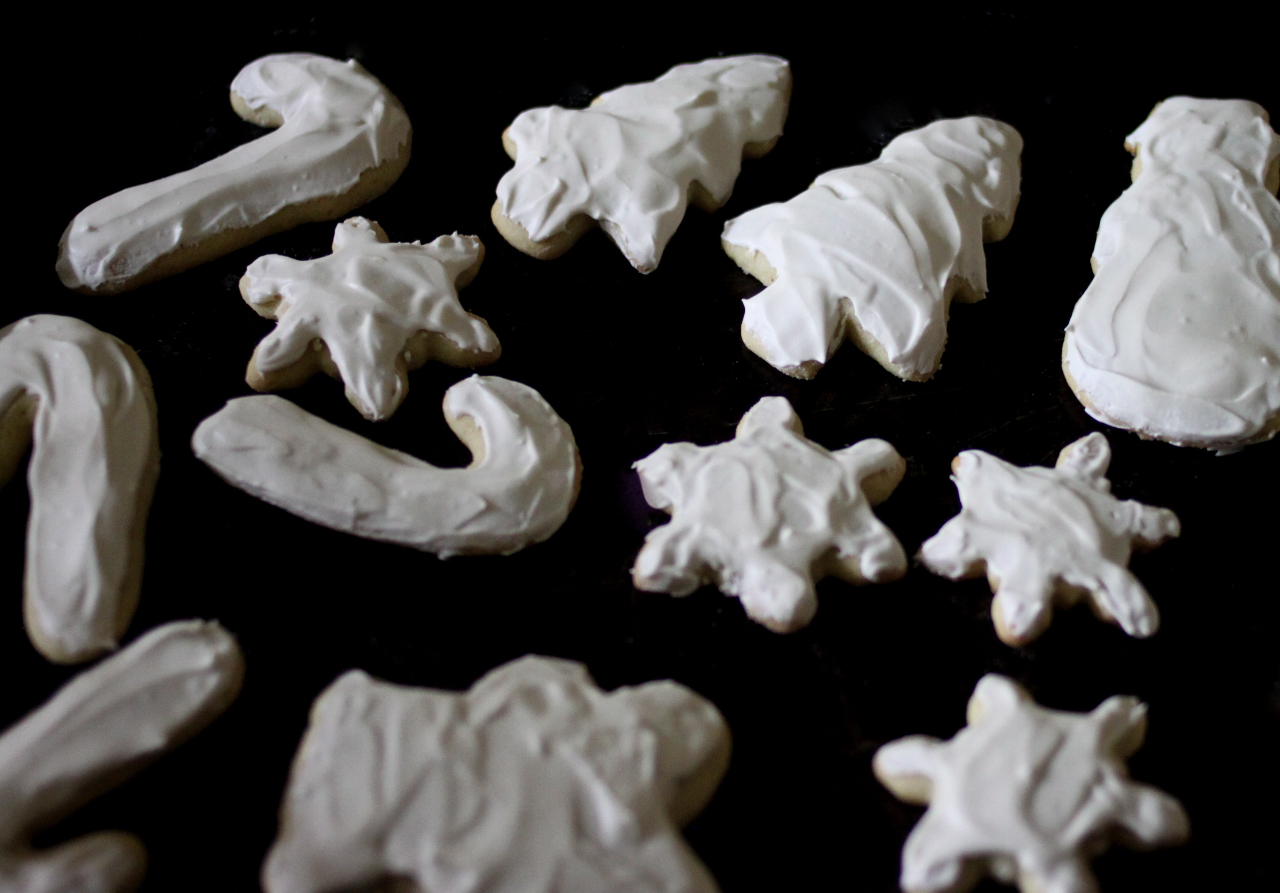 Yogurt Nutmeg Sugar Cookies with Royal Icing
Yields 2-3 dozen cookies, depending on how you cut them.
Ingredients:
3/4 cup granulated sugar
1/2 cup unsalted butter, room temperature
1/2 cup Greek style yogurt
1 large egg
1/2 teaspoon baking soda
1/2 teaspoon pure vanilla extract
1/4 teaspoon almond extract
1/2 teaspoon freshly ground nutmeg *
2 1/4 cups all-purpose flour
* Really, if you can find whole nutmeg and grind it yourself, the taste makes all the difference in the world. I have stopped buying pre-ground nutmeg completely because I find it too coarse.
2 pasteurized egg whites
1/2 teaspoon vanilla extract
1/8 teaspoon almond extract
2 cups confectioner's (powdered) sugar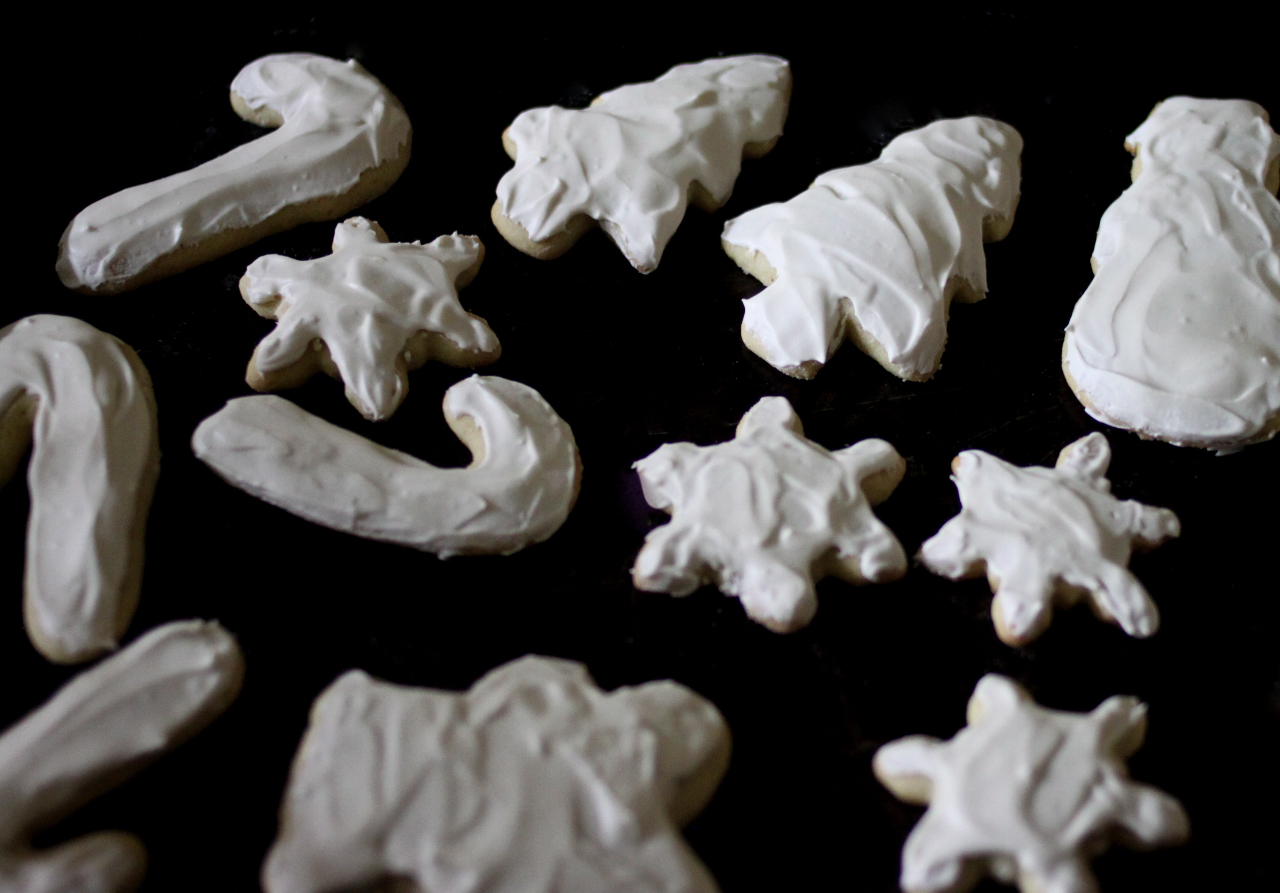 Directions:
In your mixer, beat the sugar, butter, yogurt, egg and baking soda at medium speed until it's well combined. Add in the vanilla, almond extract and nutmeg.
Gradually beat in the flour, about one-third at a time. The dough should not be too dry, but not too sticky. If it's too sticky, gradually add a bit more flour.
Split the dough into two small discs, flattening them slightly. Wrap each disc tightly in plastic wrap and chill at least one hour.
Preheat oven to 375 degrees F. Unwrap, then place the dough on a well floured surface. Roll the discs of dough to about 1/8-inch thickness. Cut it using your favorite cookie cutters.
Bake the cookies for 8 minutes OR until they just begin to brown around the edges (start checking them at 6 minutes). They will be very soft when they come out of the oven. Carefully transfer the cookies to a cooling rack and let them cool completely on a rack.
While the cookies are baking, prepare your icing. In the bowl of your stand mixer, combine the egg whites, vanilla, and almond extract. Beat on low speed until frothy. Add the confectioner's sugar, about half a cup at a time, mixing on low speed until each sugar addition is fully incorporated. The mixture should appear shiny. If you want to add color to the frosting, do so at this point. Turn the speed up to high and continue beating this way until stiff, glossy peaks form in the mixture (5-7 minutes of beating on high speed). Transfer the icing to pastry bag and pipe it on your completely cooled cookies as desired. Or use a small offset spatula to frost the cookies. Decorate as you desire.