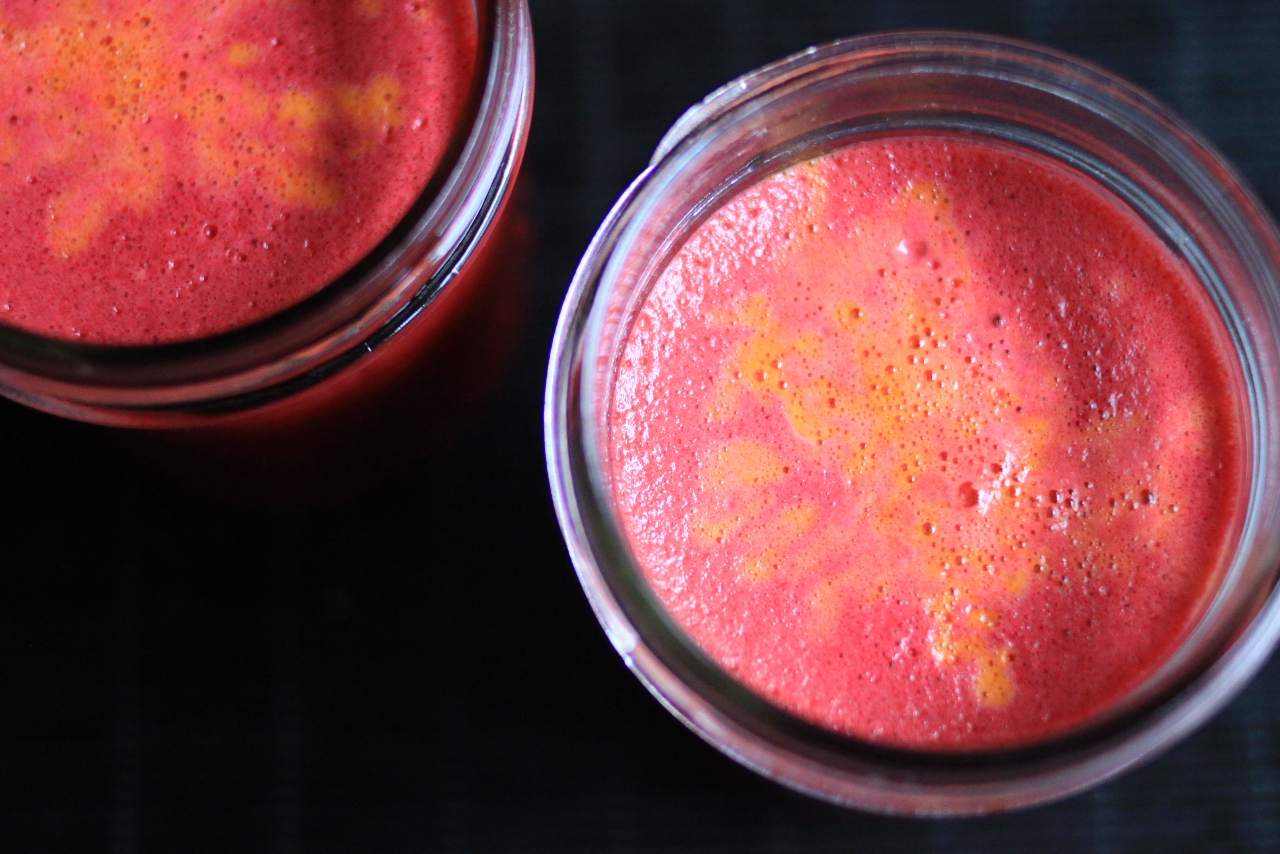 A while back, I did a juice cleanse. Prior to, and since then, I've read numerous articles here and there about the true benefits of juice cleanses. Most articles debate the actual health benefits of juicing. The truth, for me, is that when I did my three day juice cleanse, I had a lot more energy, my hunger was successfully filled, and it was an easy way to cut out some of the extra, heavier foods, I tend to include in my daily diet.
As I have said often, when it comes to food in general, I believe mainly in balance. I don't think a juice-only diet is particularly spot-on and certainly isn't a great option for everyone, but here and there, especially when only done for a few days and paired with exercise and a decent amount of sleep, it's entirely okay. Long term, I believe the healthier route probably falls along the lines of including juices into an already balanced diet of fruits, fresh vegetables, whole grains and lean proteins.
I sort of jumped off the juicing kick, despite the folks at Breville sending me a free replacement  juicer when ours died without warning. The other day, however, fresh juice was the one thing I was majorly craving. Being a lady who enjoys listening to (and indulging in) the foods my body wants, I raided our refrigerator and fruit bowl to make a juice.
The result was this pleasantly balanced, slightly spicy juice. I love using ground turmeric for the color, especially when cooking rice or broths. Fresh turmeric, however, also has a great slightly spicy flavor with notes of ginger and orange. It's high in manganese and iron, as well as a great anti-inflammatory. Along with the ginger in this juice, the spiciness is fully present but not overwhelming, balanced nicely with the sweetness of apple, orange, sweet potato and carrots. Juice cleanse or not, this is a great juice completely worthy of being consumed anytime you want.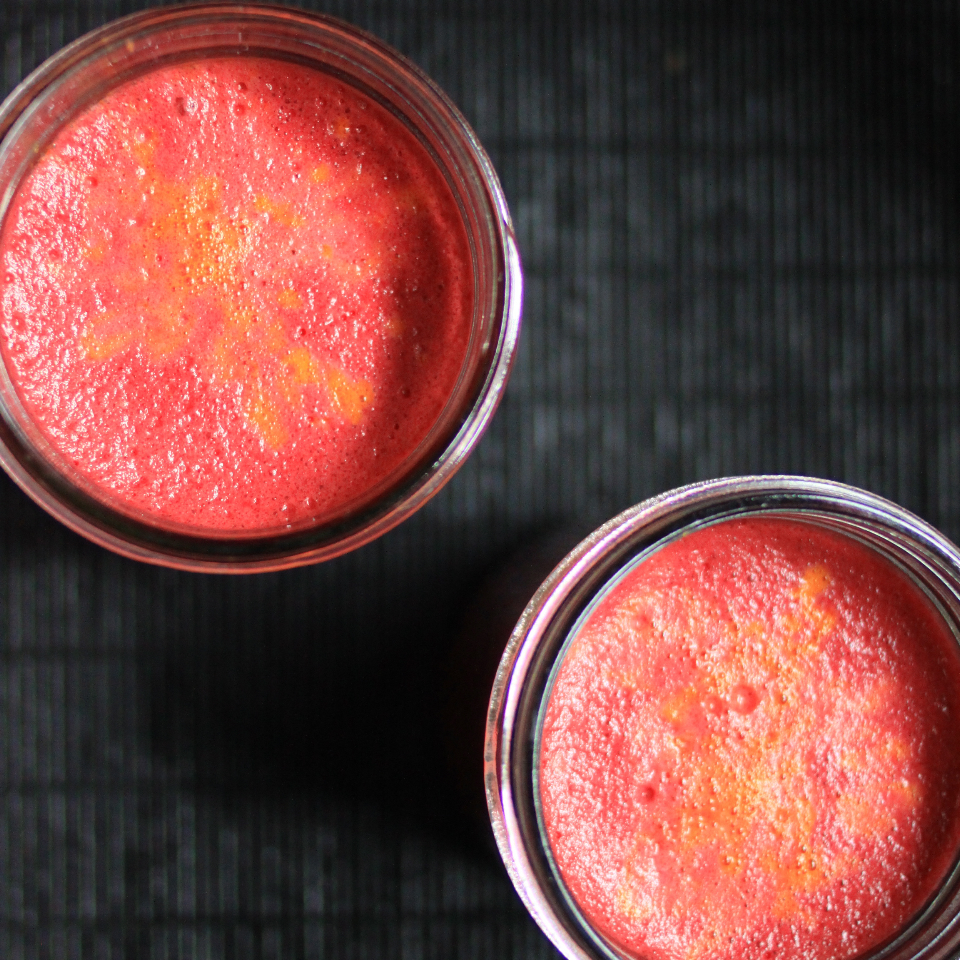 Spicy Red Juice
Yields about 24 ounces of juice.
Ingredients:
1 large fuji apple, cored
1 large sweet potato (yam), peeled
1 large navel orange, peeled
2 stalks celery
1- two inch piece of ginger, peeled
1- one inch piece of turmeric root, peeled
1 large beet, peeled
2 large carrots
1/2 a meyer lemon, peeled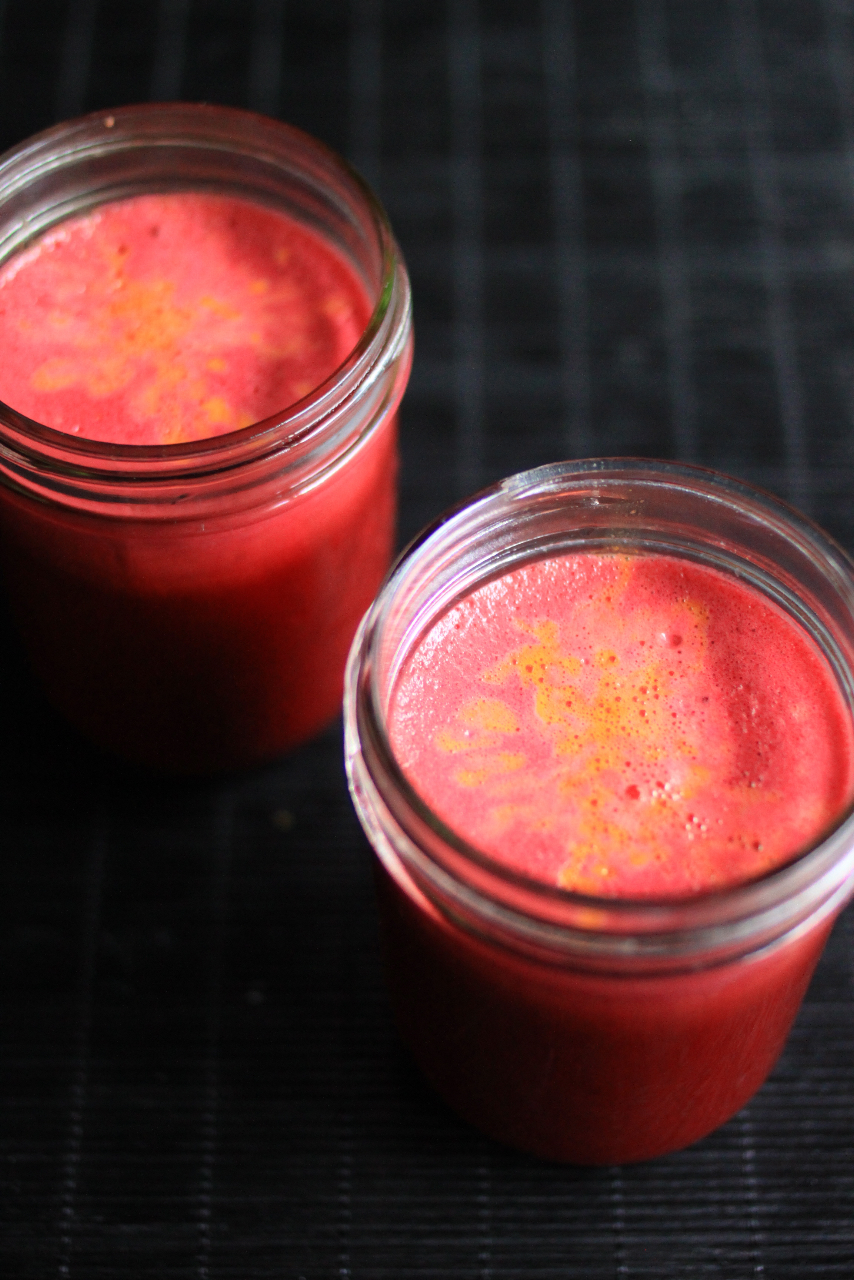 Directions:
Run all of the ingredients through a juicer such as this one. Stir and drink immediately.
*For the highest quality of nutritional benefits, fresh juices are best consumed right after being processed so the ingredients don't have time to oxidize while being exposed to air. :)