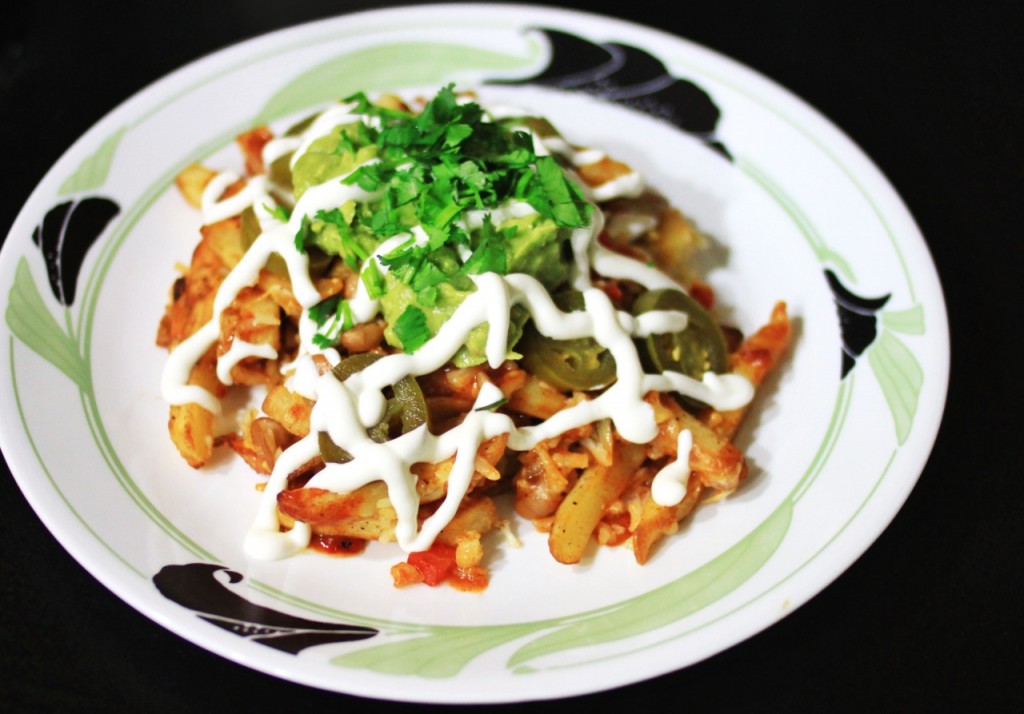 A couple months ago, we went to Stockton, California for a collegiate water polo tournament.  As per our usual, we sought out the best Mexican food nearby. The first night, we picked up veggie burritos for everyone from Tepa Taqueria. While picking up our food, my husband noticed a photo on the wall of "nachos fries" and we both said, "what!" We had not ever seen such a thing. The menu stated that these fries came topped with meat, cheese, guacamole, sour cream and salsa. Since my husband's vegetarian and I more or less try to order food out in that way, this sounded like a so-so veggie option, once you removed the meat…
We went by the same taqueria to grab some food for the road when heading home a few days later. This time the kids and I went in and I told Vincent he could go ahead and order before I did so for Craig, Silas and myself. His order went something like, "Can I get the nacho fries… but without meat? And add on rice? Oh, and add beans. And no guacamole." I hadn't even thought about a vegetarian alternative to nacho fries! But immediately ordered a plate for Craig, Silas and I to share along with our burritos. The dish was incredibly filling and the french fries stayed remarkably crisp, even under layers of beans, rice, salsa, guacamole, sour cream…
A week or so ago, both kids asked if I would make a homemade version of nacho fries. Of course "Yes!" seemed like the correct answer… I wound up baking three pounds of french fries, rather than frying them then topped them with homemade beans, rice, enchilada sauce, green chiles, two types of cheese, guacamole, sour cream… Needless to say, between my husband and I, 15 year old Vincent and 8 year old Silas, there were no leftovers whatsoever. It's an easy weeknight meal and as with nachos of any sort – the topping choices are entirely up to your liking. You can consider this recipe a template rather than a full-blown recipe that needs to be followed verbatim.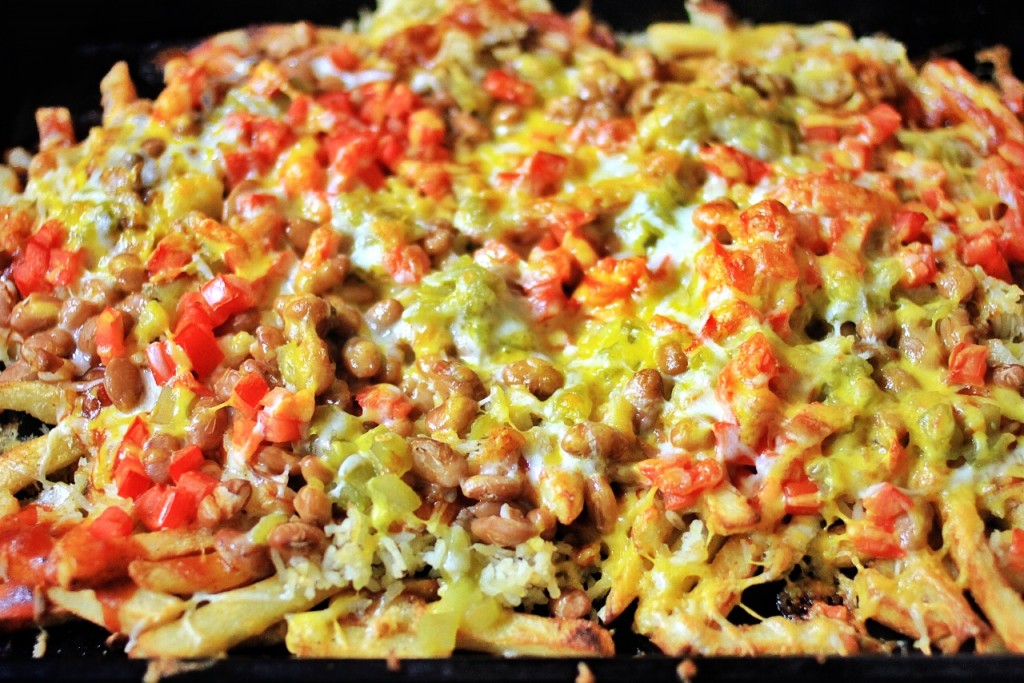 Frychos
Serves 6-8.

Ingredients:
For the rice:
1 tablespoon canola oil
2 tablespoons minced onion
1 1/4 cups long grain white rice
1/4 teaspoon ground cumin
1/4 teaspoon ground coriander
1/2 teaspoon dried oregano
2 tablespoons tomato paste
2 1/2 cups water or No-Chicken/vegetable broth
For the fries:
3 pounds straight-cut frozen french fries (preferably not shoestring)
1/2 teaspoon ground cumin
1/2 teaspoon ground coriander
1 teaspoon granulated garlic
1 teaspoon sea salt
rice, recipe as follows
two 15-ounce cans pinto beans, drained (I prefer home-cooked beans, personally)
one 14-ounce can fire roasted tomato enchilada sauce (medium)
4 ounces monterey jack cheese, shredded
4 ounces medium cheddar cheese, shredded
two 4-ounce cans diced green chiles (mild)
2 roma tomatoes, diced
1/3 cup fresh cilantro, chopped
2 large ripe avocados, halved with the seed removed
1 lime
salt and pepper
sour cream
sliced jalapenos
hot sauce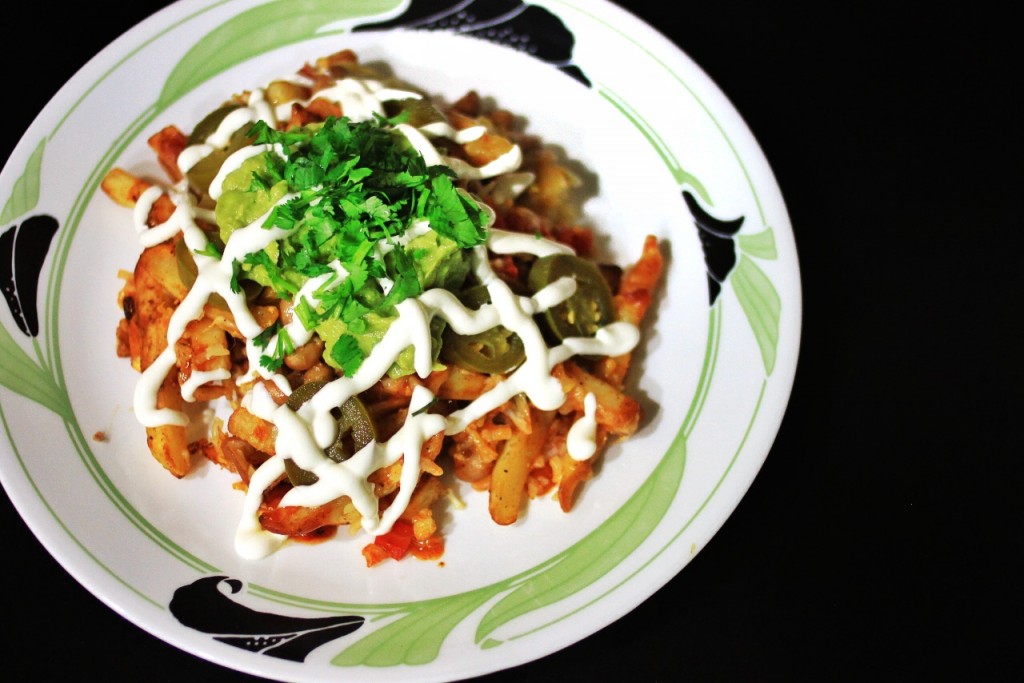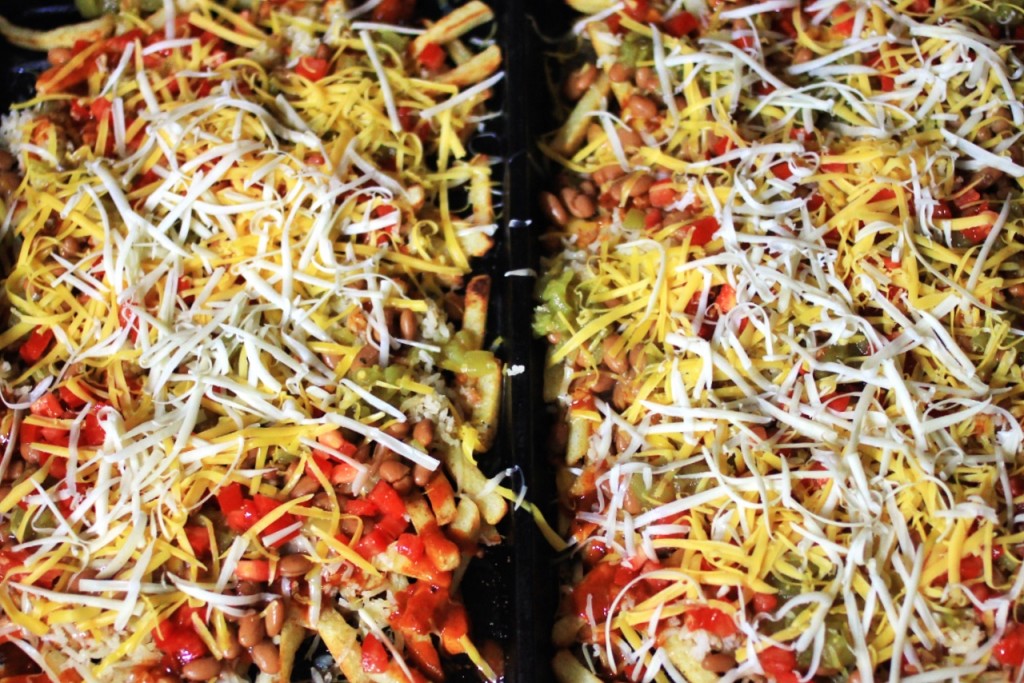 Directions:
Prepare the rice:  in a medium saucepan with a lid, heat the oil over medium-high heat. Add the onion and sauté for a minute or two. Stir in the rice, coating it with the oil and onions. Continue stirring until the grains turn chalky-white colored rather than translucent (5 to 7 minutes). Stir in the cumin, coriander, and oregano, then stir in the tomato paste, evenly coating the rice. Cook for 1 to 2 minutes, then add the water or broth all at once (it will sizzle and bubble up immediately, then settle), stirring well. Cover, reduce heat to low, and cook until the liquid has been completely absorbed and the rice is soft (20 to 25 minutes). Fluff with a fork, re-cover, and keep on low heat until needed.
Prepare the fries:  preheat your oven to 450 degrees F.  Arrange the french fries in a single layer on two baking sheets that have raised sides. Sprinkle with the cumin, coriander, garlic and salt. Bake, flipping the fries about halfway through the cooking time (about 25 minutes total baking time), until golden brown and crispy.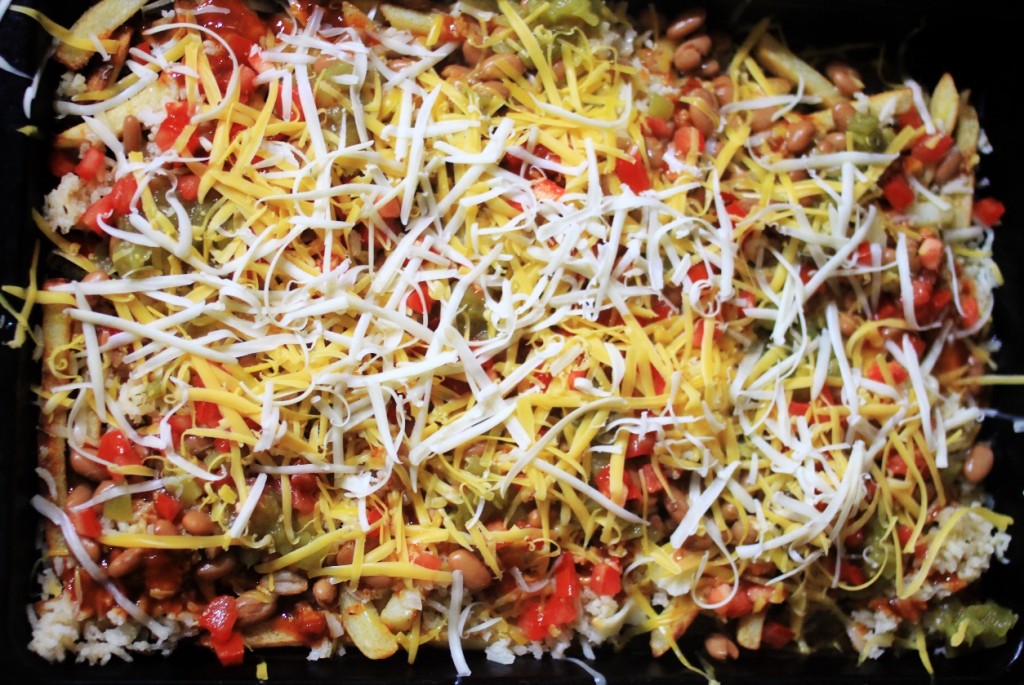 Remove the baked fries from the oven, then turn the oven onto broil. Top the fries with one third of the shredded cheese. Next, evenly spoon the rice over the fries, followed by the enchilada sauce and beans. Sprinkle another third of the cheese over each pan of fries. Next, sprinkle on the diced chiles and diced tomatoes, followed by the remaining cheese.  Place back into your oven, under the broiler. Cook until the cheese is completely melted and just starts to brown (3 to 5 minutes).
While the fries are in the oven, make a quick guacamole by scooping the pitted avocados into a bowl. Mash the avocados with the juice from your lime until creamy. Add salt and pepper to your liking, along with one tablespoon of the chopped cilantro.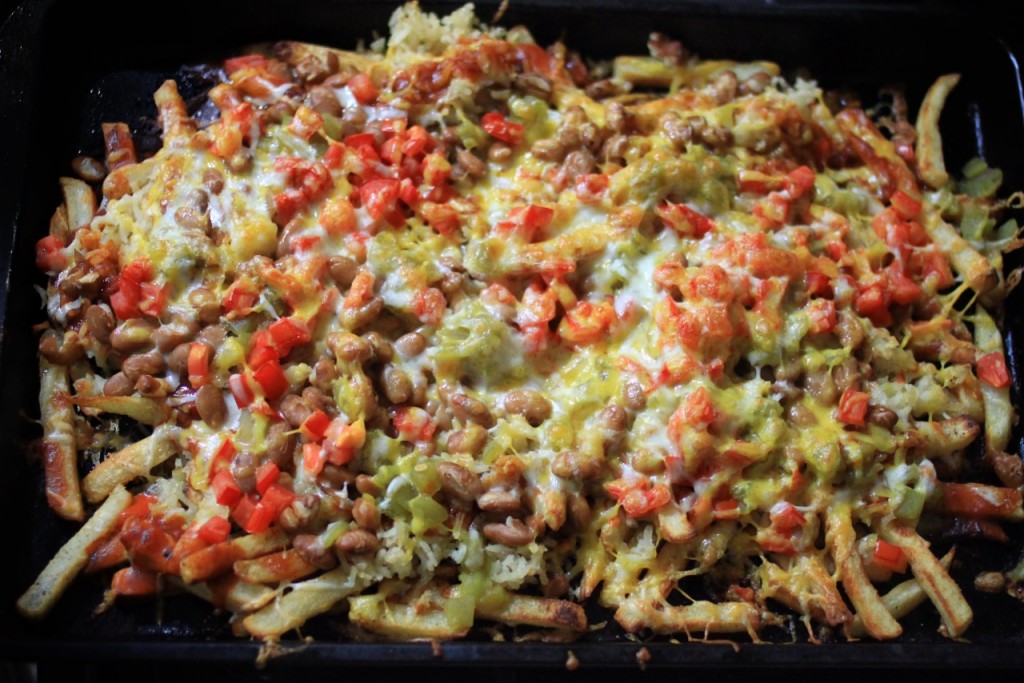 Remove the frychos from the oven. Scoop the desired amount per serving onto a plate, then top with guacamole, sour cream, sliced jalapenos, hot sauce and cilantro if you'd like.