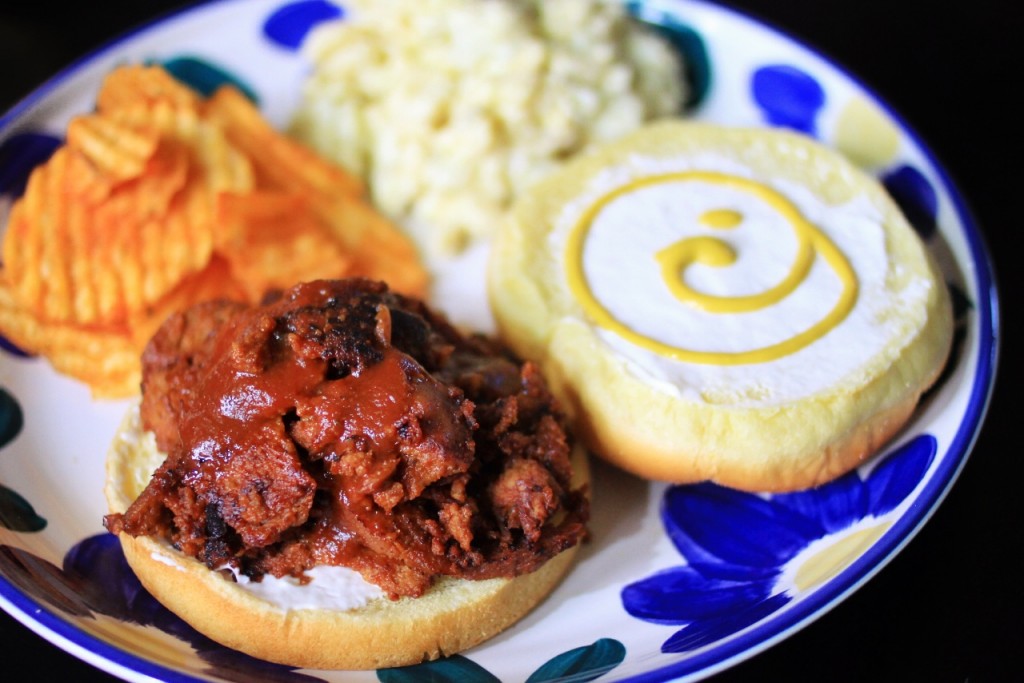 One of my favorite things about learning how to cook has been figuring out how to make ingredients that, originally, I would have bought already made. (Then griped at due to the price versus the quality/quantity of the foods I end up with.) Pesto, breads, certain cookies and treats, hummus, etc. When I decided to experiment with making homemade seitan, the initial reason was that it ran us close to $5-6 for 6 ounces of seitan. To feed a family of four that includes a two dudes over 6-feet-tall and a rapidly growing 8 year old who is also nearly 5-feet-tall these days, that amount of seitan doesn't go very far. $15 for just the seitan alone seemed silly to me when I could purchase a bag of vital wheat gluten for 5 bucks and make four times as much seitan with it.
The thing about seitan is it's super versatile. It takes on flavors well, while maintaining a very "meaty" consistency. My husband is a Southern-born guy. He's been a vegetarian for many years and therefore some of the more Southern dishes he did grow up around, he hasn't been able to eat for decades now. Mainly I came up with this particular barbecued seitan with him in mind. When we had these sandwiches, one bite in, he told me, "this is just like eating a barbecue sandwich down South." Mission accomplished.
I encourage you to read through the entire recipe before attempting to make it. The final step of making the seitan into "barbecue," is filled with a description of what I do personally, rather than real set instructions. Use with your own discretion! :)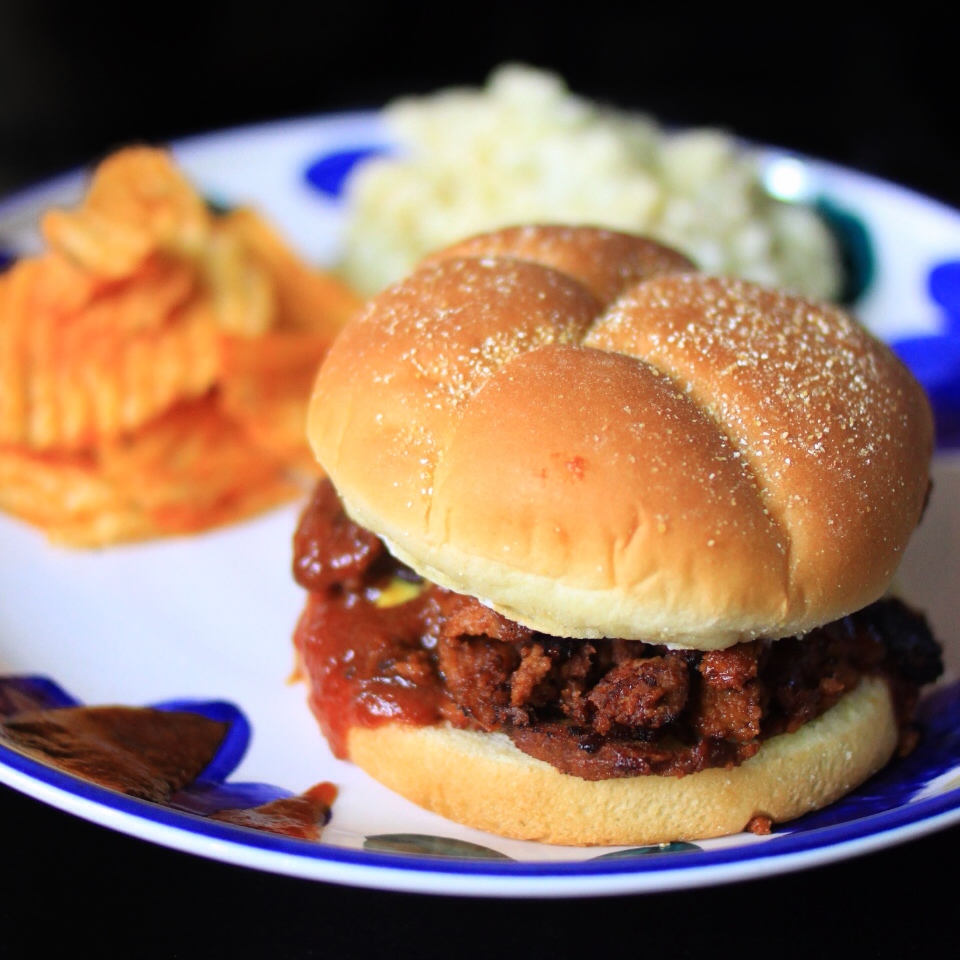 Barbecue "Pulled" Seitan
Yields nearly three pounds of seitan.
Ingredients:
For the seitan:
12.3 oz firm silken tofu
4 cups vital wheat gluten
6 large crimini mushrooms
1 shallot, peeled
2 tablespoons tomato paste
1 tablespoon dijon mustard
1 tablespoon soy sauce
1 tablespoon vegan worcestershire sauce
1 1/2 teaspoons liquid smoke
1 1/2 teaspoons sea salt
1 teaspoon granulated garlic
1/2 teaspoon celery sauce
1/4 teaspoon ground cumin
1 1/2 cups No-Chicken or vegetable broth
For the barbecue sauce:
24 ounces ketchup
1 3/4 cups water
1/3 cup apple cider vinegar
1/4 cup light brown sugar
2 tablespoons vegan worcestershire sauce
2 tablespoons tomato paste
1 tablespoon unsulphured blackstrap molasses
1 tablespoon dijon mustard
1 tablespoon granulated garlic
2 teaspoons dried oregano
1 teaspoon liquid smoke
1/2 teaspoon ground cumin
1/4 teaspoon red chili pepper flakes
Directions:
Prepare the seitan: Preheat your oven to 350 degrees F. In a food processor or blender, combine all the ingredients for the seitan except for the broth. Pulse until the tofu and mushrooms are broken up and the ingredients have combined well. While the machine is running, slowly stream in the broth, until the mixture comes together in a ball of dough (4-6 minutes).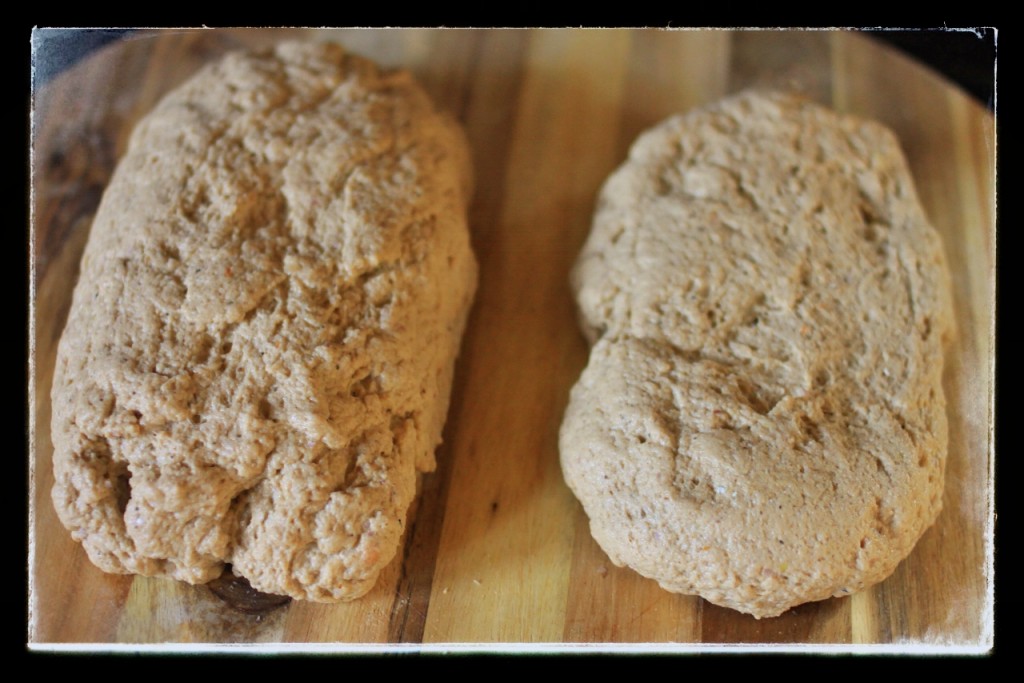 Split the dough into two equal portions, forming each into loaves about 4″x7″. Spray two large sheets of foil with oil/cooking spray. Place one loaf of seitan on each piece of foil, then wrap it up tightly, being sure to seal the ends well. Place in the oven, seam side down, directly on the oven rack in the center of your oven. Bake for 90 minutes, turning the seitan over halfway through the cooking time.
Turn the oven off and allow the seitan to stay in the oven for an additional 30-45 minutes. Remove from the oven and leave wrapped until needed.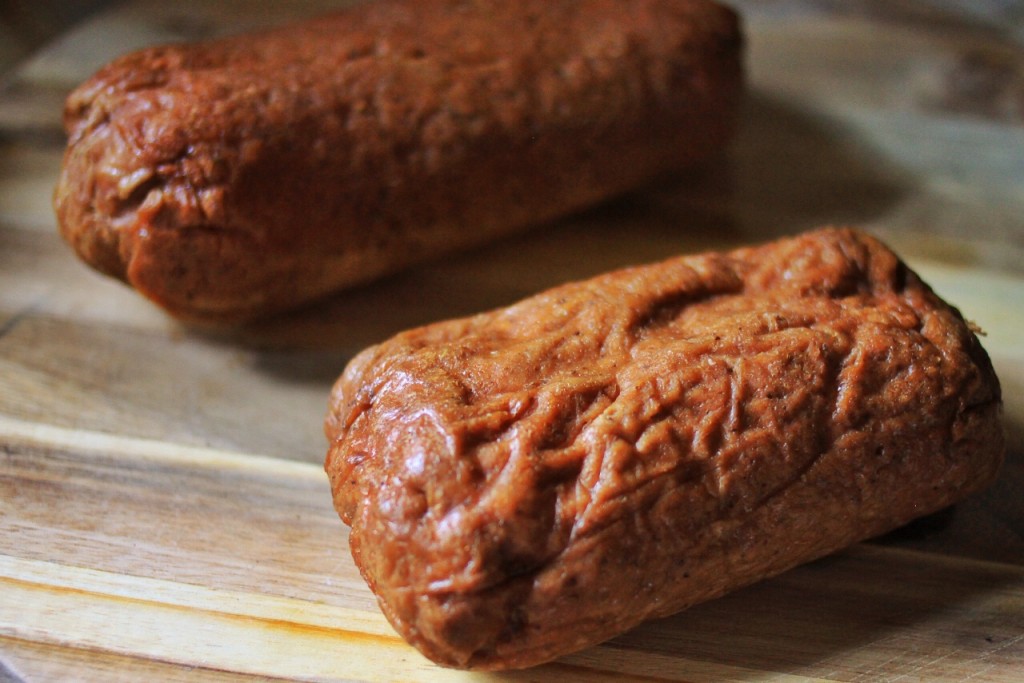 Prepare the sauce: Whisk together all of the ingredients for the barbeque sauce in a saucepan. Turn the heat on to medium, and bring up to a simmer. Let the sauce cook for 20-30 minutes, the turn off the heat.
Preparing "pulled" barbecued seitan: Technically, the seitan is fully cooked at this point. You can slice it as thin or thick as you like, eat it as is, top it with the barbecue sauce (or your favorite sauce), use it as a meat substitute in your preferred dishes…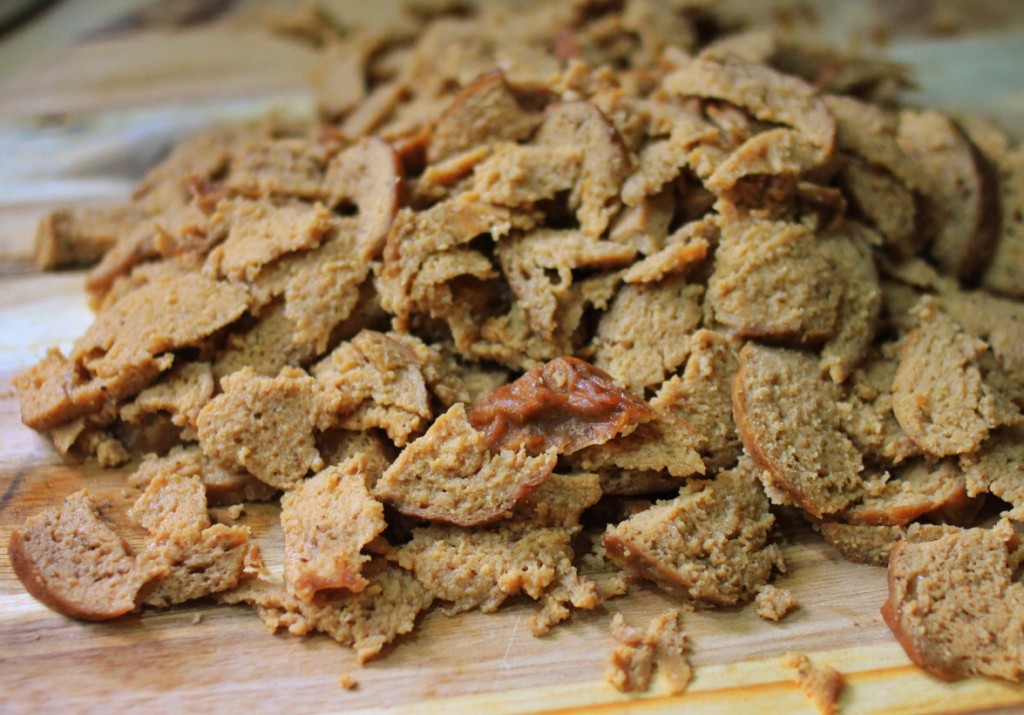 When I am making this seitan for us, I use kitchen scissors to cut the cooked seitan into semi-thin slices until the whole log has been chopped up. This gives it an uneven, rough look and creates some pieces that are thicker or thinner than others – which I like for this particular recipe.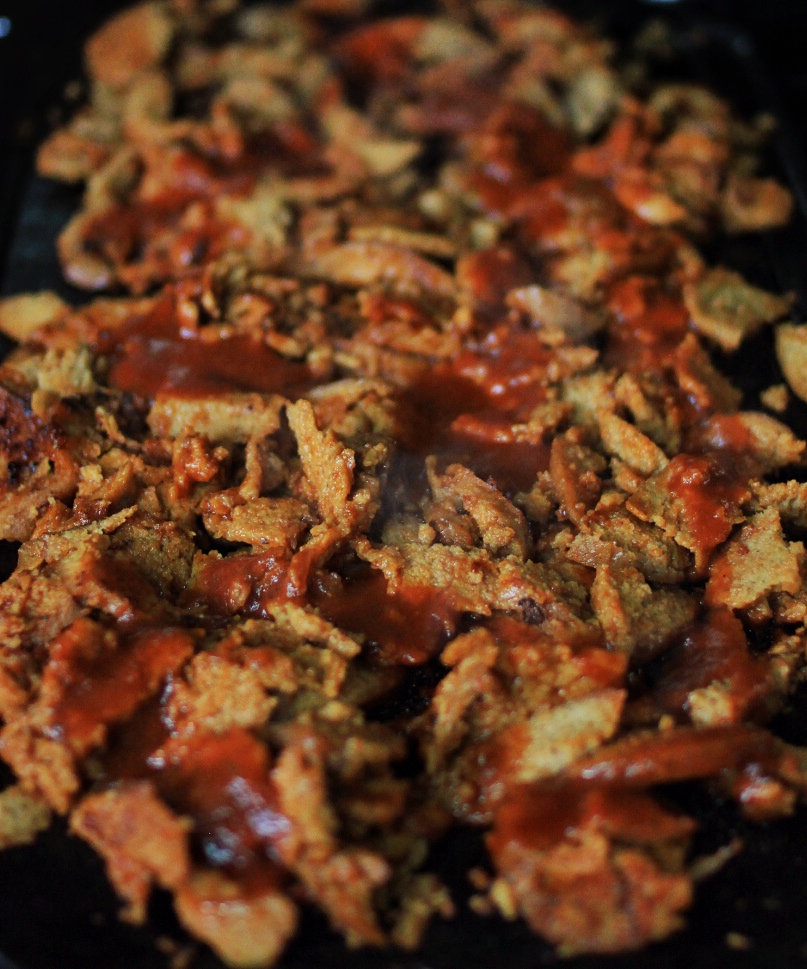 Next, I heat a cast iron stovetop griddle to extremely hot, drizzling it with canola or sunflower oil. When the pan is very hot, I spread the chopped seitan out in a single layer on the griddle. Once the seitan starts crisping and browning, I flip it with a spatula, allowing the second side to crisp up. Spoon about 1/4-cup of barbecue sauce over the seitan, continuously turning it on the griddle until the sauce begins to cook into the seitan. Some places will begin to char, which I encourage (as would be the case with "real" meat barbecue). Add more sauce if you'd like as the seitan is cooking, no more than 1/4-cup at a time. Even as the outside begins to crisp or char, this seitan retains its tenderness.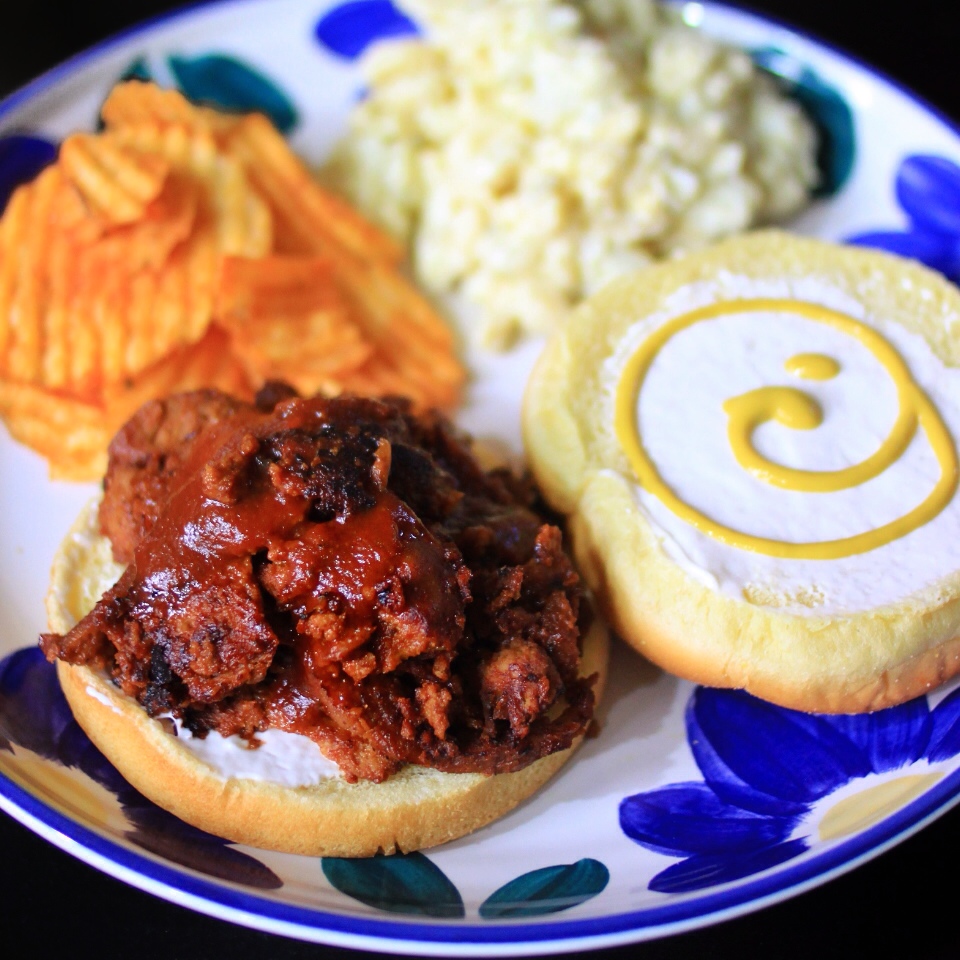 Our favorite way to eat this barbecued seitan is as a sandwich on rolls, consisting only of the barbecued seitan, vegenaise, yellow mustard, and a little extra barbecue sauce.
Reheating is best done on a stove top griddle or in a hot cast iron pan.
Please follow and like us: