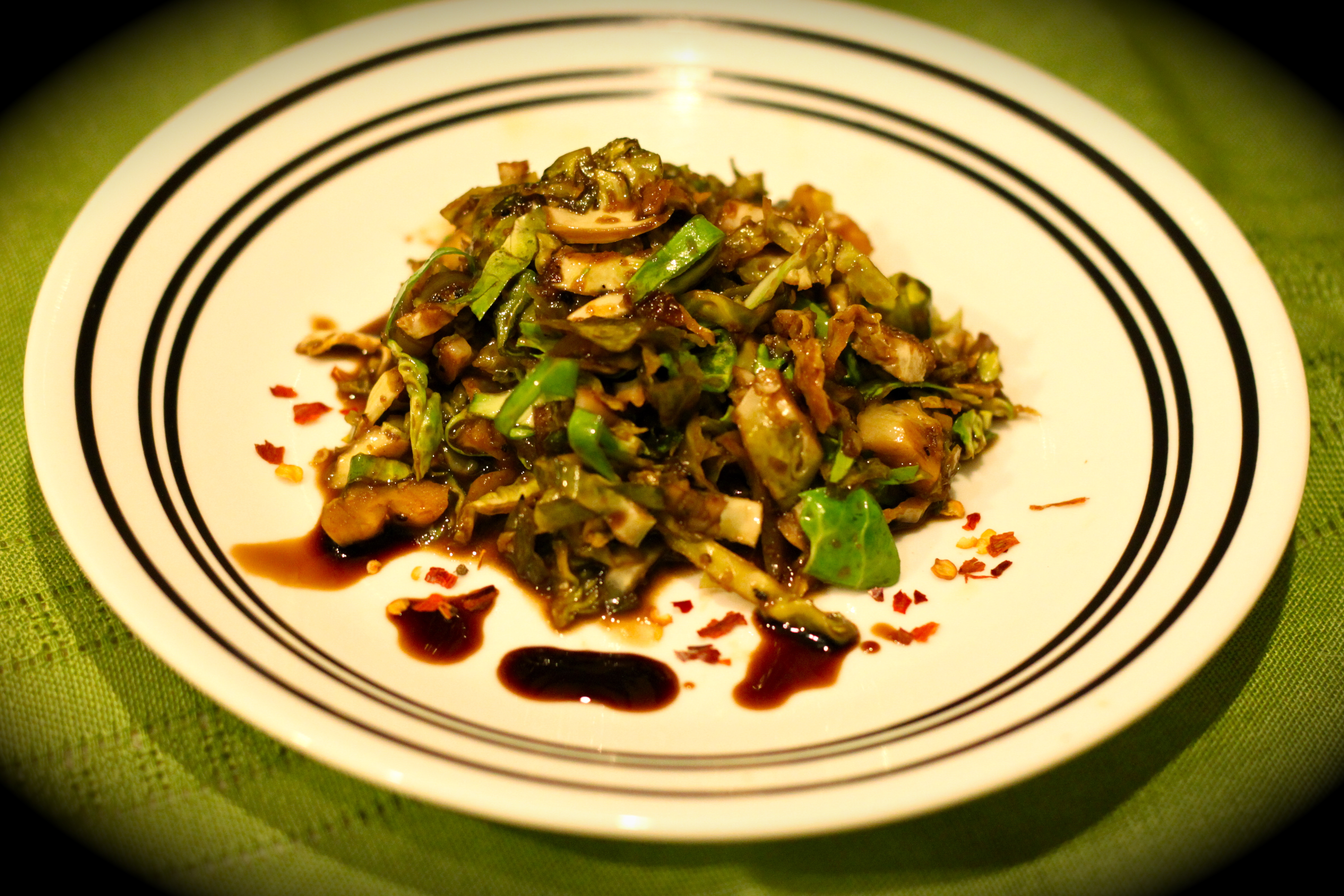 Up until a month ago, I had never tried brussels sprouts. I don't really care for cabbage and always imagined that's what brussels sprouts would taste like. A month ago, however, we were in San Francisco and ate at a restaurant called Heaven's Dog, where we indulged in pre-Prohibition drinks and modernized Chinese-influenced food. We shared the vegetarian pork belly  small plate, which included crispy tofu skin and shiitake mushrooms, flavored perfectly  in a steamed clamshell bun. We shared crab and shrimp stuffed peppers, and crispy tofu cubes that essentially melted in our mouths with each bite… But the dish that stood out the most (at least to me) was the shredded brussels with toasted garlic and black vinegar. Perfectly garlicky and tangy, I have been thinking about these brussels sprouts for the last month.
Last night I decided to create a version of this dish at home. I've never cooked brussels sprouts before. I often find that when I'm cooking something for the first time, I can't over-think what I'm doing. My best approach is to jump in, create something, and worry about what it will or won't taste like later. Sometimes that tactic doesn't work out well; most of the time, something good comes out of it.
While wandering through the grocery store at it's mad-hour (the awful dinner rush I so very much don't like to partake in!) I quickly decided on baked salmon with homemade barbecue sauce, steamed rice, and these shredded  brussels sprouts for dinner. I couldn't find black vinegar like Heaven's Dog used and picked up some Napa Valley Naturals Grand Reserve Balsamic Vinegar to use instead. The brussels sprouts came out better than I thought they could. 6-year-old Silas had a bite and said, "I LOVE these brussels sprouts!" Although, that boy loves things like kombucha, pickled okra, wasabi peas, sheets of seaweed, etc., so I don't know if his 6-year-old review is in tune with other kids, to qualify this as a kid-friendly side dish. ( ;  Try them though. They're delicious. And the balsamic vinegar adds a touch of sweetness along with its tang.
Shredded Brussels Sprouts with Garlic and Balsamic Vinegar
Ingredients:
½ lb. of brussels sprouts
½ tbsp. olive oil
1 tbsp. unsalted butter
1 small shallot, peeled and sliced thinly
6 – 8 cloves garlic, minced
¼ cup balsamic vinegar
2 tbsp. water
½ tsp. granulated garlic
¼ tsp. red chili pepper flakes
salt and pepper, to your taste

Directions:
Remove the core and harder outer leaves of each brussels sprout, then very thinly slice. Heat the oil and butter over medium heat, until the butter completely melts. Add in the sliced shallots, garlic, and red pepper flakes until the shallots are translucent and garlic's tender (5-10 minutes).
Add the shredded brussels sprouts to the garlic-shallot mixture, stirring to evenly distribute everything. Drizzle in the balsamic vinegar, then stir to evenly coat the brussels sprouts. Add in the water, granulated garlic, and chili pepper flakes. Allow the brussels sprouts to sauté over medium heat for about 10 minutes. Add salt and pepper to your liking and serve immediately.