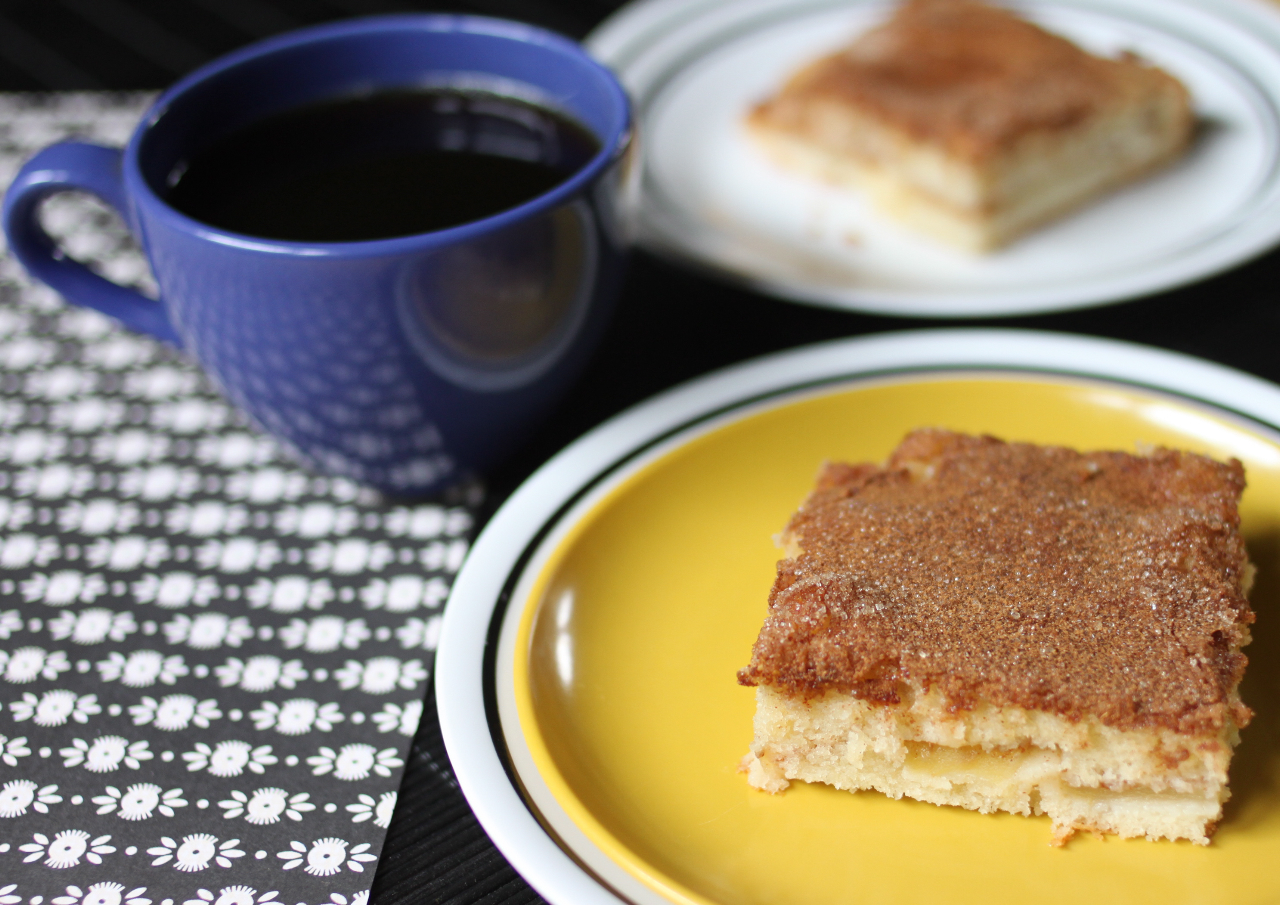 Fall is officially here and it's time for baking things, filling our home with warmth and scents of this season: soups galore, slow roasted vegetables and fruits, the delirious smell of slow-cooked beans and overnight oats.  Perhaps Autumn means finding excuses to bake cinnamony-apple laden cakes for dessert, for breakfast… And it means without effort, all I want to do is cook homey, filling, comfort foods, hide under the covers, drink warm boozy cocktails, and watch the leaves change colors from the cozy indoors.
That's not entirely true. I love the crisp air that fall brings after a warm, often overly hot summer around here. I enjoy the way the colors change and the hills surrounding this little valley radiate golden-hued as the sun sets. I especially love the flavors that this time of year brings around Oregon – artichokes, apples, brussels sprouts, plums, chiles, eggplant, leeks, winter squash, to name a few. I suppose I love all seasonal flavors, but especially the way these ingredients transform dishes month-by-month. I'll guarantee you that in the middle of July I would not look forward to turning on our oven for any reason. Even to bake a cake.
However, here we are, into October and my hesitancies for baking are few. This cake is not overly sweet, which I like. It's tender, moist, and easily fits the role of dessert or breakfast – whichever better suits your mood. I enjoy coffee cakes because they tend not to be too heavy. There's no frosting involved. True, some are quite crumbly with sugar coatings, although this one isn't. The apple offers a delicacy to the final cake, keeping the inside light and soft while the top crisps just enough to offer a subtle difference in texture bite-by-bite.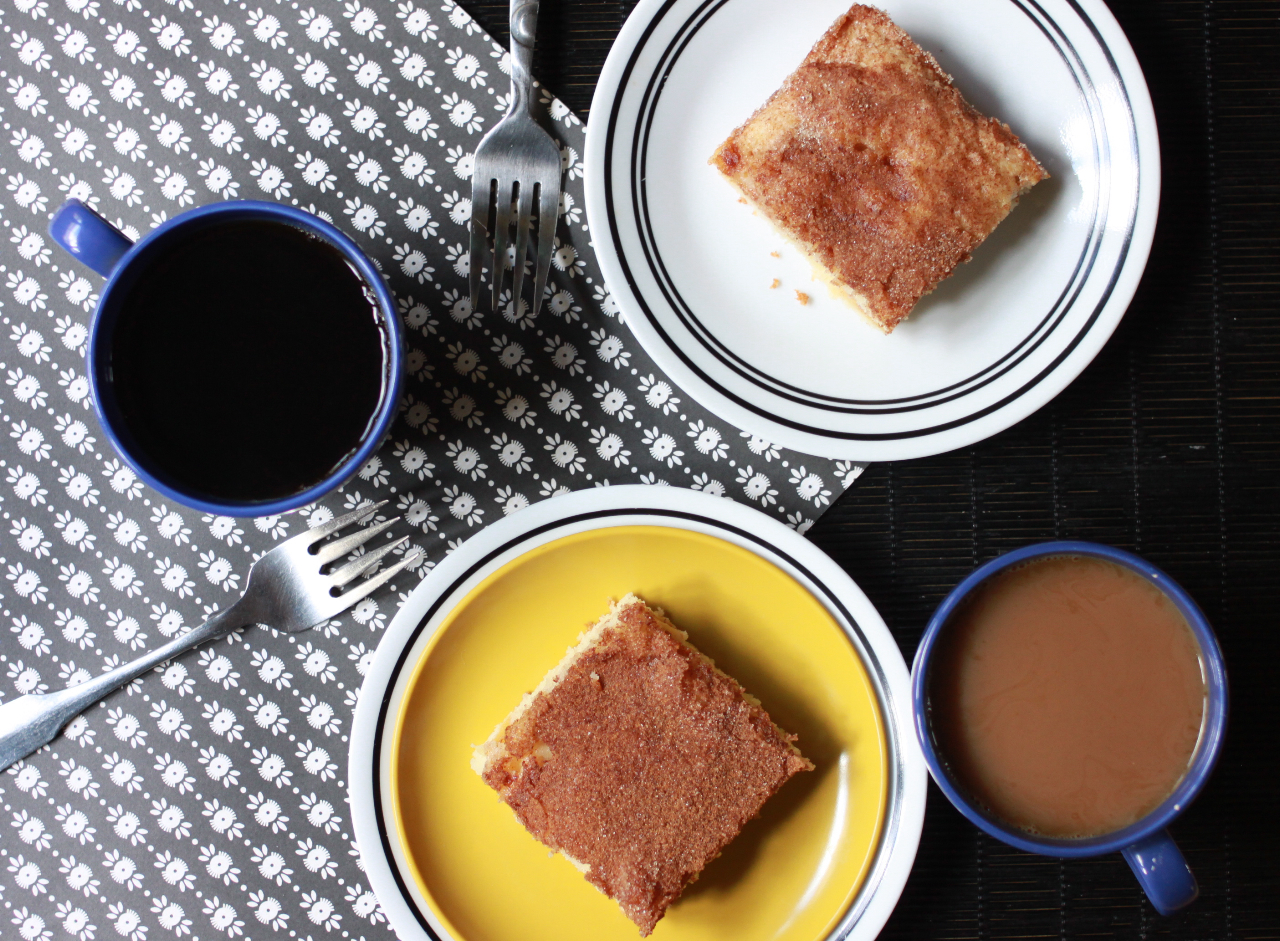 Cinnamon Apple Coffee Cake
Makes one 9-inch cake
Ingredients:
1½ cups all-purpose flour
1½ teaspoons baking powder
¾ teaspoon kosher salt
¾ cup granulated sugar
1½ teaspoons ground cinnamon
1 stick unsalted butter, melted and cooled to room temperature
2 eggs
½ teaspoon vanilla extract
¾ cup buttermilk, room temperature
1 large fuji, gala or granny smith apple cored, peeled, sliced into 1/8-inch thick rounds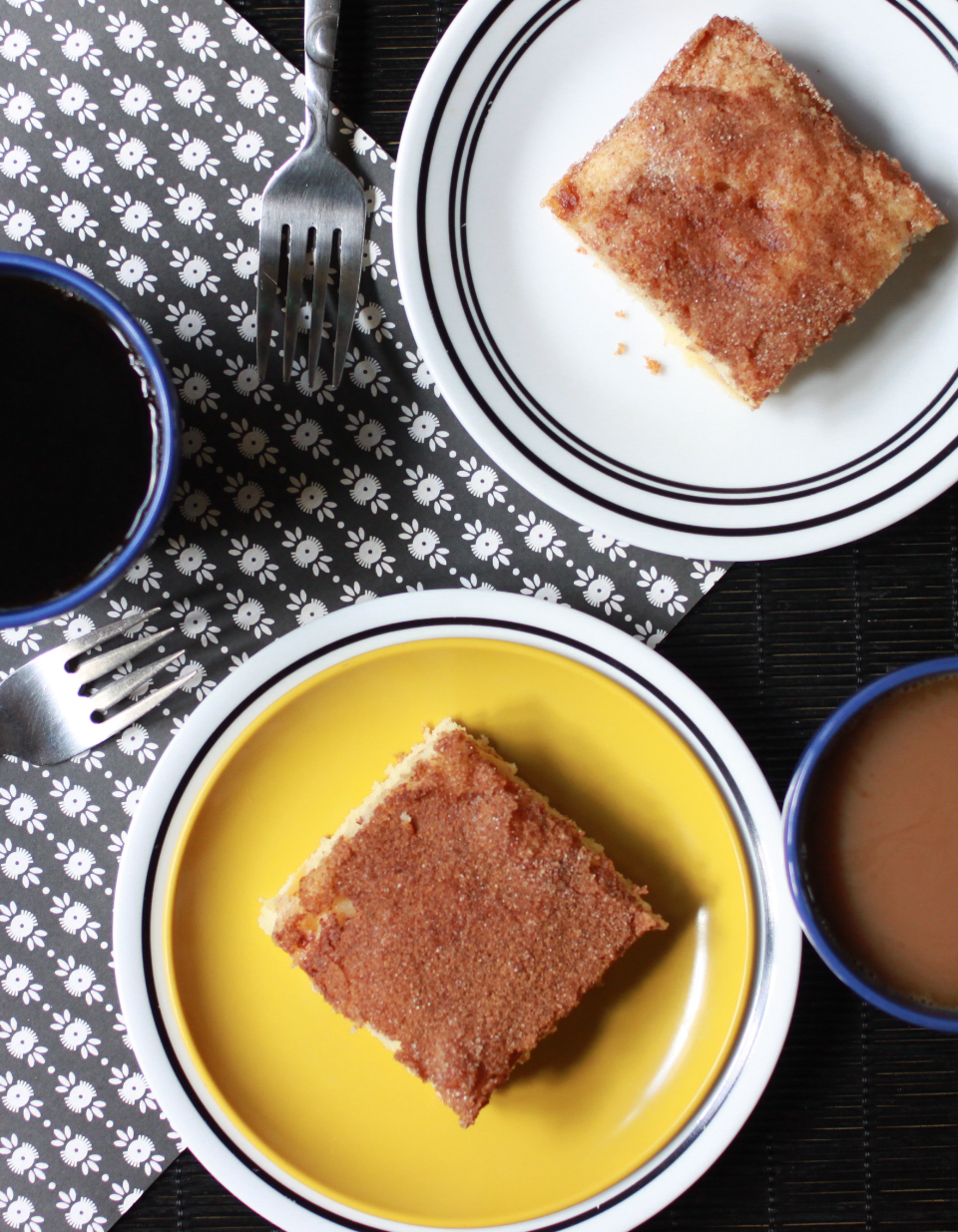 Directions:
Preheat your oven to 375 degrees F. Lightly butter or oil a 9×9-inch square pan.
Mix half of the sugar with the cinnamon. Set aside. Mix together the flour, baking powder and salt, then set aside as well.
Beat together the butter and remaining sugar until completely incorporated. Beat in the eggs, one at a time until the mixture is light and fluffy in consistency. Add in the vanilla, mixing until fully incorporated.
Add the dry ingredients to the butter mixture, alternating with adding the buttermilk, beginning and ending with the flour (flour, milk, flour).
Pour half of the batter into your prepared baking dish. Spread evenly. Arrange the apple slices over the batter, keeping them as even as possible (a little overlap is okay). Sprinkle half of the cinnamon sugar mixture over the apples, followed by the remaining batter. Spread the batter as evenly as possible. Sprinkle the top of the cake with the remaining cinnamon-sugar mixture.
Bake for 25-30 minutes, until a toothpick inserted in the center of the cake comes out clean. Eat while warm.