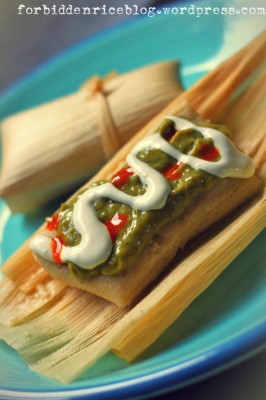 For quite some time, I was not a fan of tamales. I didn't care for all that dough and so little filling. I would've much preferred some tacos or even a burrito, for that matter. Then I had a horrible food poisoning experience after eating some chicken tamales and couldn't even think about eating one for nearly two years.
I'm really not sure when that changed, but happily, it has. I've learned that by making tamales at home, I can decide on my own masa to filling ratio. Also, traditional tamales often use lard in the dough, which is something I don't cook with, so I no longer have to think about that being in my own tamales. While the most common fillings are often pork and chicken in a red or green sauce, the truth is, you can fill these little pockets of goodness with whatever sounds good to you.
While jalapeños and cheese tamales are common enough, these aren't exactly traditional. I prefer some added flavor in my masa, which is why I add the dry spices to this dough and use broth as well as water. You can use all broth or all water for the dough, if you prefer. I like using jarred jalapeños because I've found that almost 99% of the time, they're less spicy than fresh jalapeños. Fresh peppers are so unpredictable in their level of spiciness, but feel free to use them if you prefer.
I should note, my method of folding these tamales is probably more OCD than your typical tamale-making lady. But I like creating something that's going to look appealing as well as taste good, which is why I don't mind my personal technique; it works for me!
Jalapeño Cheese Tamales
Ingredients:
18-24 corn husks, depending on their size
*Pick through the husks, getting rid of any debris/fibers. Sort out the larger husks for making the tamales. Keep some of the smaller husks so they can be cut into strips for tying the tamales when you're wrapping them.

for the dough:
6 cups masa
2 tbsp. ground cumin
1 tbsp. sea salt
1 tbsp. granulated garlic
1 tbsp. ground coriander
3 tbsp. oil (I use sunflower oil)
1½ cups vegetable or No-Chicken broth
3½ cups hot water
for the filling:
1- 12 oz. jar sliced jalapeños, roughly chopped
16 oz. cheese, diced into cubes (I used sharp cheddar, monterey jack and mozzarella)

Directions:
Soak the corn husks in hot water (completely submerged) for 15-20 minutes, to soften them up. Soaking will make them a little more pliable. Cut some of the smaller husks into long, semi-thin strips (cut 18-24 of them).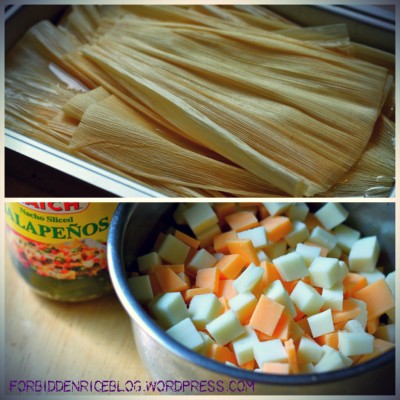 In a large bowl, combine the masa, cumin, salt, garlic, and coriander. Mix to combine well. Add the oil and broth. Use your hands to begin creating a soft dough. Add the hot water ½ a cup at a time. Your dough shouldn't be overly sticky. If it gets too wet, add a little more masa. If it's too dry, add a little more hot water. Unlike bread dough, masa is not at all temperamental. You can't mess it up.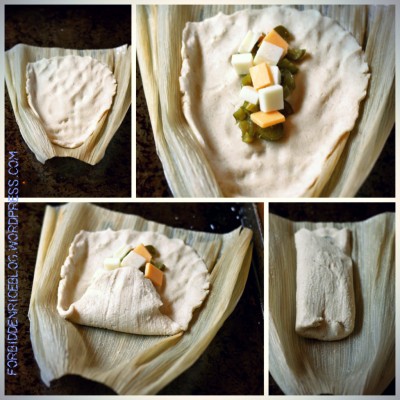 Adding the dough and filling for assembly: Lay one of the larger husks on a flat surface. Add about 2-3 tablespoons of dough onto the husk, depending on its size. Use your fingers to spread the dough evenly (about ¼-inch thick). Leave a space about 2 – 3 inches from the narrow end of the husk, about 1½ – 2 inches from the top, and anywhere from ½ – 2 inches from each side, depending on the overall husk size. Place about 1 teaspoon of chopped jalapeños and a generous amount of cheese cubes in the center of your dough.
Folding and tying the tamales: Fold up the bottom of the corn husk, enveloping the filling. Gently peel back just the husk, leaving the dough over the filling mixture. Next, fold in one of the long sides over the filling, then gently peel the husk back like you did with the bottom. Repeat on the other side. You should have a nice, rectangular masa pocket that completely envelopes the filling. Fold the bottom of the husk up again, then fold over the top of the husk. Fold either of the long edges of husk towards the middle of the tamale, then do the same with the opposite long-side, overlapping at the middle. (If the husk is too long, simply wrap it around the back of the tamale. Use one of the strips you cut earlier to tie the husk in place, by tying it in the middle of the tamale. Repeat until you run out of husks and filling.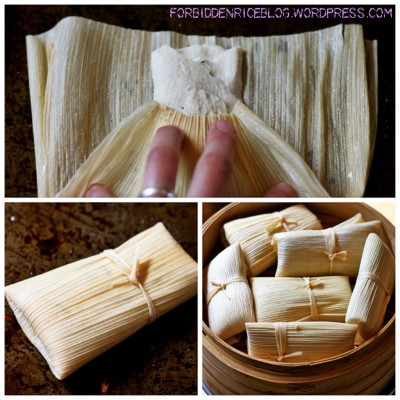 Steaming the tamales: Bring 1-2 inches of water to a boil in a steamer pot, or a large pot fitted with a colander/steaming basket. I used a 2-layer bamboo steamer as well as a colander for my tamales. Fill the colander or basket with one layer of tamales, trying not to overlap them too much. The tamales need to sit above the water, so they're cooked by the steam only. Cover the pot and steam them for 30 – 40 minutes, making sure to periodically check that there's still water in your pot.
When done, the masa should no longer be sticky. You'll notice the difference in its consistency. Serve the tamales warm, topped with sour cream, or this green sauce, or your preferred salsa, if you'd like.
* Tamales can easily be reheated in the microwave. Leave the husks on while you heat them. Once the tamales have been steamed, they can also be cooled completely and then frozen. To reheat after freezing, simply steam for 15 – 20 minutes.