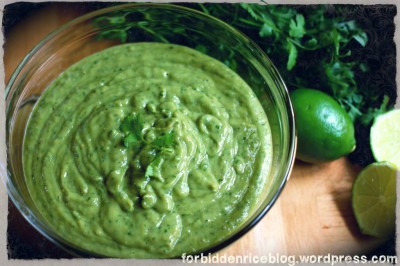 I love recipes that come from unplanned tweaking. Most of the time. For the last couple weeks, I've seen great, fresh tomatillos in the food co-op. When we planned a little dinner party for this week, I decided on black bean, corn, poblano empanadas.  To top them, a nice tomatillo avocado sauce sounded necessary. As it turned out, of course, the day I went to pick up these lovely green tomatillos, they were completely gone. What to do? Not what I did at first – walk around the grocery store flustered and befuddled about what to do when your main ingredient is nonexistent. Make a red salsa even though it doesn't sound nearly as good as an option for your empanadas? No. Scan the store for some pre-made version? No. Scour your brain for what you can use as a replacement to still make a green sauce? Oh yes.
I noticed red tomatoes on the vine that were very ripe. Didn't want to go there. Next, I noticed cherry tomatoes. Still, mostly ripe. Then I noticed one single pint of grape tomatoes under the cherry 'maters. Nearly every single one was green or yellow-green. Perfect. Now, a green tomato looks kind of like a tomatillo, but they're not the same thing. I wasn't sure this sauce would work, but decided to risk the chance anyway.
While typically you leave the skins on tomatillos, I decided to peel my little grape tomatoes. I didn't want tough, tart skin particles in the end results. The green tomatoes worked well and the sauce ended up creamy, green, delicious. I left mine a bit thick, almost to the consistency of guacamole, but you can thin it out with more lime juice if desired. I'd easily make this again as a side dish with chips, or as a sauce for fresh fish tacos. And my husband? He says it's his new favorite sauce for everything.
Avocado Green Tomato Salsa
 Ingredients:
1 pint green grape or cherry tomatoes
2 cloves garlic
1 poblano pepper, roasted (easy in the oven or open flame) and peeled
3 avocadoes, peeled and seeded
½ a sweet onion
1 handful of fresh cilantro
juice from 2 limes
¼ tsp. ground cumin
¼ tsp. ground coriander
salt and pepper to your liking
Directions:
First we want to peel the tomatoes. Use a paring knife and slice a shallow "X" in the bottom of each tomato. Bring a small pot of water to boiling. Dump the marked tomatoes into the boiling water for a minute, then fish out with a slotted spoon, plunging the tomatoes into cold water (this stops the cooking and also loosens the skin further). Peel the skin away from the cooled tomatoes.
Place the tomatoes in your high powered blender or food processor. Add the garlic, roasted poblano pepper, avocadoes, onion, cilantro. Blend until smooth, then add in the lime juice, cumin, and coriander. Blend again until smooth, then taste and add salt and pepper to your liking.
The sauce/salsa will last in the refrigerator up to one week, covered with plastic wrap (air pressed out) or in a airtight jar.