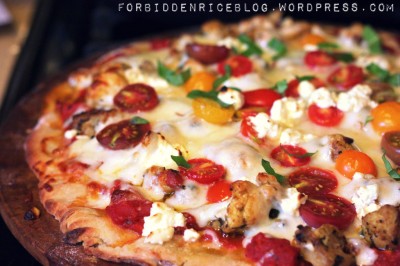 The other night, we had a dinner get-together fall apart at the last minute. At that point I had gone grocery shopping and had all the ingredients for two different curries, one of which included red lentils and cauliflower. When plans changed, I opted for just one green curry for my husband and I, leaving me with a head of cauliflower I wasn't sure what to do with the following day. I've got to tell you – generally, I am not much of a fan of cauliflower. Especially not raw (yuck!). One recipe I always enjoyed as a kid was the cauliflower spaghetti found in Molly Katzen's original Moosewood Cookbook. That cauliflower always sounded appetizing! So when the craving hit for homemade pizza, I thought, well – why not top it with the same sort of cauliflower I so loved as a child?
While I wandered around the internet trying to figure out what to pair with my cauliflower-topping, I came upon the Tomato Love Recipe Exchange that has been going on since last month, hosted by Cassie of Bake Your Day and Ali of Gimme Some Oven. The recipe exchange is eight weeks long, featuring tomatoes in recipes of different themes each week. Not only are there fantastic recipes to be seen and tried, there have been some great prizes to win as well! I got very excited when I saw that this week's theme was tomato pizzas, featuring a dank 7-piece pro pizza making kit being offered from Pizza Home Chef. I was sold immediately.
Lucky me, cherry tomatoes of any color you can imagine on a tomato, were on sale this week. I picked the pint of the most varied color assortment, knowing that the colors would create a beautiful pizza topping. Plus the sweetness of oven roasted cherry tomatoes would go great with the herbed cauliflower. I picked creamy fontina cheese and goat cheese in addition to mozzarella, creating a creamy accompaniment to the cauliflower and fresh tomatoes. It was an excellent balance and quite delicious. I enjoy homemade pizza crusts, especially made with my sourdough start, but use what you prefer. I like to prebake the crust slightly before adding my toppings, ensuring that the crust is cooked even under the weight of many toppings. 
Herbed Cauliflower, Cherry Tomato and Fontina Pizza
Ingredients:
1 medium head of cauliflower, cut into 1" pieces
4 cloves garlic, minced
2 tbsp. plus additional fresh basil, chopped
2 tbsp. fresh oregano, chopped
1 tbsp. fresh thyme, chopped
1 tbsp. fresh marjoram, chopped
2 tbsp. olive oil
2 tbsp. unsalted butter
1 bay leaf
sea salt and black pepper
½ pint cherry tomatoes, halved
4 oz. fontina cheese
2 cups shredded mozzarella
¾ cup marinara sauce (this is my go-to sauce)
1 18-inch pizza crust (this sourdough crust is my fave)
* optional ¼ cup fresh goat cheese
Directions:
Preheat your oven to 500° F, or the highest setting your oven will go. If using a pizza stone, place it in the oven to preheat as well.
In a medium-sized saucepan, combine the oil and butter over medium heat, until the butter has melted. Add the garlic and bay leaf, sautéing until fragrant. Add the cauliflower, stirring to evenly coat everything with the butter/oil mixture. Add in the basil, oregano, thyme, and marjoram, stirring again to evenly coat the cauliflower in herbs. Add a light sprinkling of salt, to your liking, and a generous amount of ground black pepper (I like a lot of pepper!). Put about 1 tablespoon of water into the saucepan, then cover and cook until the cauliflower is tender (10-15 minutes). Remove from heat.
Place your pizza crust on your preheated pizza stone, or a pizza pan. Evenly spread the marinara sauce onto your crust, then layer the cauliflower over the sauce, distributing evenly. Add your shredded mozzarella cheese, then break the fontina into bite-sized chunks all over the top. Do the same with your goat cheese, if using. Place the halved cherry tomatoes on your pizza.
Bake for 10-12 minutes, until the cheese on top of your pizza is melted and blistered to your liking. Top with more fresh chopped basil and let the pizza rest for about 5 minutes before cutting and serving.
Enjoy!
Come share in the tomato love at the Tomato Love Recipe Exchange, hosted by Gimme Some Oven & Bake Your Day, sponsored this week by Pizza Home Chef. Also visit Recipe for Change to learn more about how to support tomato farmers.